Long Canes Massacre of 1760
near Troy, South Carolina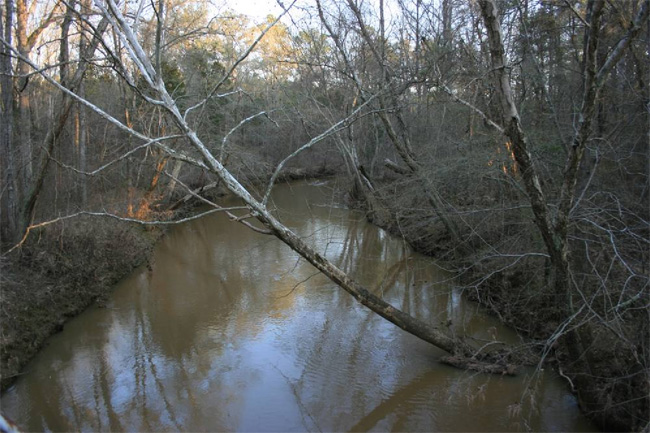 Long Cane Creek from Patterson Bridge -- photo courtesy of Nancy Lindroth , 2007

---

Long Canes separated British South Carolina from the Cherokee Nation. Since this was right on the edge of civilization it was a risky place to live. Forts were established to serve as protection for the region. The Cherokee had been useful to the British in resting the lands from the French control. After the French were driven out the British started moving in. The Cherokee Indians were probably incensed by the continued increase in the number of settlers in the region. In 1760 they attacked settlers as part of what has become known as the Cherokee War of 1759-61. It was front page headlines and a devastating event for the settlers. The story as it was told in the newspaper as well as from survivor retelling has been pretty well developed. It seems that the Indians were striking at isolated farms, stealing, and slaying anyone in the way. The settlers decided to band together and leave the region by wagon train. They were waylaid by about a hundred Cherokee on their way to Augusta. Of the hundred and fifty settlers there may have been fewer than seventy-five adults and perhaps forty male defenders based on newspaper records and the sizes of typical families. They were probably slowed down by the wagons and overtaken by surprise at a river fording. Its remarkable to me that only twenty-three settlers were slain. Several children were slain and scalped and a few were taken as prisoner. One very famous case was Ann Calhoun who was taken at age five and returned after twelve years of living with the Indians. She later married and had a normal life as the wife of a settler. One of my own families, Benj. Jones Esq., was here with his family. His daughter (unknown name) who had married a Mr. Rosemond was killed in the mailaee. Apparently about twenty-one Cherokee were also killed or wounded in the attack. One may have been a chief of the tribe.

I am attempting to put together a complete list of the families and individuals that were were involved in this event. I've divided the list into those that had been here survived and another list of those that were slain. If anyone has further information on the massacre or folks who were here please contact me.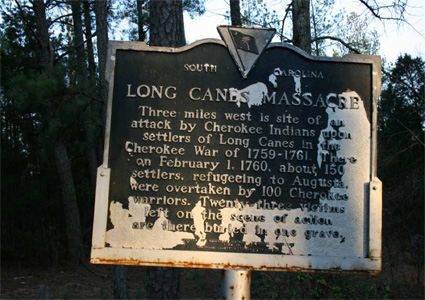 A South Carolina Historical Plaque to the Long Cane Massacre
is three miles outside of Troy, South Carolina.
[photo courtesy of Nancy Lindroth 2007]
"Three miles west is the site of an attack by Cherokee Indians upon settlers of Long Canes in the Cherokee War of 1759-1761. There on February 1, 1760, about 150 settlers, refugeeing to Augusta were overtaken by 100 Cherokee. Twenty-three victims left on the scene of action were buried in a mass grave."

This path leads to the burial place of Calhoun and Norris family members whose white markers can be seen just to the right of the large center tree.

photo courtesy of Nancy Lindroth , 2007

Folks who had been at Long Cane (should have been 150 people)
Andrew Pickens , age 17, Huguenot
Joseph Pickens, older brother of Andrew(see note below)
Patrick Calhoun, leader of Long Cane
Ezekiel Calhoun, the father of Rebecca
Rebecca Calhoun, dau. of Ezekiel, later wife of Andrew Pickens
William Calhoun, brother of Patrick (b 1723)
Agnes Long Calhoun, wife of William Calhoun (b1733)
Rebecca Calhoun,
Ann Calhoun, age almost 5, daughter of William Calhoun, taken captive, returned after 12 years)
Mary Calhoun, age almost 3, daughter of William Calhoun, later scalped
Joseph Calhoun, son of William Calhoun, made it to safety with mother.
Richard Clark
Margaret Clark (husband killed )
Jane Clark, 6 yrs, daughter of Margaret Clark (husband killed ) missing
Mary (sister of Catherine M. Calhoun) taken prisoner and never seen again
Mary Winifred Patrick Norris (cemetery memorial marker at Long Canes site, wife of John Norris, erected by son Robert Norris)(1689-1760)
Eliza Wrentz Norris(cemetery memorial marker at Long Canes site)(1726-1760)dates from Ellen Hazen
Ezekiel Norris(cemetery memorial marker at Long Canes site,)(1746-1760)dates from Ellen Hazen
William Norris(cemetery memorial marker at Long Canes site)(1748-1760)dates from Ellen Hazen
Sarah Norris(cemetery memorial marker at Long Canes site)(1759-1760)dates from Ellen Hazen
Robert Norris, hid in the woods (see note below6/17/09)
Benjamin Jones ESQ.
Daughter of Ben Jones, wife of Rosemonds.
One child carried off and never returned. (unidentified)
Anne Calhoun ( later at age 30 married Isaac Matthews), taken captive as young injured child of age 6, raised by Indians, and later returned after 12 years captivity



Long Cane Cemetery Site. markers are (l to r) for Mary Winifred Patrick Norris,

Catherine Calhoun and several unmarked graves.

[photo courtesy of Nancy Lindroth 2007]








Cathrine Calhoun's marker had been enhanced with felt marker by someone.

[photos courtesy of Nancy Lindroth]






Folks killed at Long Cane. (twenty three total according to plaque but list is incomplete)
Catherine Montgomery Calhoun, mother of Patrick Calhoun (died among her children) age 76
James (maybe the son of Catherine Calhoun) killed
James' wife, killed
Kitty Calhoun, daughter of William Calhoun, tomahawked in the back of the head
Daughter of Ben Jones, wife of Rosemonds.
One child carried off and never returned.
Mary Winifred Patrick Norris (cemetery memorial marker at Long Canes site, wife of John Norris pictured in center above)(1689-1760)
Eliza Wrentz Norris(cemetery memorial marker at Long Canes site)(1726-1760)dates from Ellen Hazen
Ezekiel Norris(cemetery memorial marker at Long Canes site)(1746-1760)dates from Ellen Hazen
William Norris(cemetery memorial marker at Long Canes site)(1748-1760)dates from Ellen Hazen
Sarah Norris(cemetery memorial marker at Long Canes site)(1759-1760)dates from Ellen Hazen
Richard Clark (buried in mass grave according to Clark relatives)
Nancy Davis Picken (See note below 6/17/09)

___________________________________________________________

The following items were printed in the South Carolina Gazette:

From Issue February 2-9, 1760:

The Long Cane Massacre

"Yesterday night the whole of the Long Cane settlers, to the number of 150 moved off with most of their effects in wagons to go towards Augusta in Georgia and in a few hours after their setting off, were surprised and attacked by about 100 Cherokees on horseback, while they were getting their wagons out of a boggy place.

They had amongst them 40 gunmen, who might have made a very good defense, but unfortunately their guns were in the wagons; the few that recovered theirs fought the Indians half an hour, and were at last obliged to fly. In the action they lost 7 wagons and 40 of their people killed or taken -- including women and children the rest got safe to Augusta whence an express arrived here with the same account on Tues. morning."



From Issue February 9-16, 1760:

Many children have been found wandering in the woods, of the party that were attacked removing from the Long Canes settlement; one man brought no less than 9 of them to Augusta, which he picked up in two different parties, some of them terribly cut with tomahawks and left for dead, and other scalp'd, yet alive.



From Issue February 16-23, 1760:

PATRICK CALHOUN, one of the settlers of Long Canes attacked by Cherokees on the 11th informs that of 250 settlers their loss amounted to about "50 persons, chiefly Women and Children, with 13 loaded waggons and carts; that he had since been at the place where the action happened, in order to bury the dead, and found only 20 of their bodies, most inhumanly butchered; that the Indians had burnt the woods all around, but had left the waggons and carts there empty and unhurt; and that he believes all the fighting men would return to and fortify the Long Cane Settlement, were part of the Rangers so stationed as to give them some assistance and protection."



From Issue No. 1334, March 1-8, 1760:

MISSING CHILD

MARGARET CLARK whose husband was killed with the Long Canes settlers, seeks her daughter, JANE CLARK, 6 yrs. who was not found dead among the dead.


Samuel Clarke <slclarke3131@earthlink.net>

Date: Sun, 25 Mar 2007

I have limited information on the

Richard Clark(e)

family. My ancestor Richard Clarke was among those

massacred 2/1/1760 and buried in the mass grave near Troy, SC.

According to family records, Richard and his wife Margaret C.

(possibly a Calhoun or Colquin) immigrated with the Calhoun family to

Philadephia in 1733 and then moved south to Virginia and ultimately

South Carolina. Richard was survived by children John (12), Sarah

(10), Margaret (8), and possibly Jane (6). I believe that the three

older children settled at Beech Island, SC, near Augusta. I am

descended from John, who is buried in a family cemetery at Beech Island.

______________________________________


The following land records constitute the records of owners but not necessarily residents of the Long Cane region before the massacre. Any land record before 1760 may have been in the area.


____________________

no date- Walter Trimble files a warrant for 200 acres in Granville Co., 0n Long Cane Creek. [South Carolina Archives. series S213184, vol. 11, page 80]

1758, Aug 7 -

Calhoun, James

. Plat for 200 acres in Granville County. [South Carolina Archives. series S213184, vol 6, page 383]

1758, Aug 20 -

Alexander, Adam.

Plat for 300 Acres in Granville County. [South Carolina Archives. series S213184, vol 7, page 296]

1758, Aug 22 -

Alexander, James

. Plat for 250 acres in Granville County. [South Carolina Archives. series S213184, vol 7, page 12]

1758, Aug 24 -

Mcalpin, John

. Plat for 250 acres in Granville County. [South Carolina Archives. series S213184, vol 6, page 395]

1758, Aug 30 -

Noble, Mary

. Plat for 300 Acres in Granville County. [South Carolina Archives. series S213184, vol 6, page 408]

1758, Sep 12 -

McCleland, Archibald.

Plat for 400 acres in Granville County. [South Carolina Archives. series S213184, vol 7, page 300]

1758, Sep 12 -

Giles, Edward.

Plat for 100 acres in Granville County. [South Carolina Archives. series S213184, vol 7, page 303]

1758, Sep 19 -

Swearingen, Joseph.

Land grant for 400 acres on Long Cane Creek. [South Carolina Archives. series S213019, vol 8, page 406]

1758, Sep 19 -

Alexander, Nathaniel

. Land grant for 400 acres on Long Cane Creek. [South Carolina Archives. series S213019, vol 8, page 419]

1758, Sep 20 -

Kerr, James

, Plat for 100 acres in Granville county. 1758, Sep 19 - Swearingen, Joseph. Land grant for 400 acres on Long Cane Creek. [South Carolina Archives. series S213184, vol 7, page 25]

1758, Oct 16 -

Morris, William

, Memorial for 350 acres on Long Cane, Granville County. [South Carolina Archives. series S111001, vol 7, page 190]

1758, Oct 17 -

Patton, Arthur.

Plat for 250 acres in Granville County. [South Carolina Archives. series S213184, vol 7, page 25]

1758, Nov 1 -

Adie, William

. Plat for 250 acres on Long Cane. [South Carolina Archives. series S213184, vol 7, page 10]

1758, Dec. 5 -

Messer, John.

Plat for acres in Granville County. [South Carolina Archives. series S213184, vol 7, page 13]

1758, Dec. 7 -

Calhoun, Hugh

. Plat for 100 acres in Granville County. [South Carolina Archives. series S213184, vol 7, page 3]

1758, Dec 20 -

Spratt, James

. Plat for 100 acres in Granville county. [South Carolina Archives. series S213184, vol 7, page 26]

1758, Dec 21 -

Norres, Thomas

. Plat for 300 acres in Granville County. [South Carolina Archives. series S213184, vol 6, page 42]

1758, Dec 27 -

Ker, William.

Plat for 100 acres in Granville County. [South Carolina Archives. series S213184, vol 6, page 421]

1758, Dec 27 -

Roberts, Reuben.

Plat for 350 acres on Savannah River. [South Carolina Archives. series S213184, vol 7, page 34]

1758, Dec 29 -

McNaught, James.

Plat for 300 acres in Granville County. [South Carolina Archives. series S213184, vol 7, page 25]

1759, Jan 4 -

Logan, John.

Plat for 100 acres in Granville County. [South Carolina Archives. series S213184, vol 7, page 1]

1759, Jan 16 -

Clark, Richard

. Plat for 250 acres in Granville County. [South Carolina Archives. series S213184, vol 6, page 422]

1759, Jan 23 -

Patton, Arthur

. Plat for 400 acres in Granville County. [South Carolina Archives. series S213184, vol 7, page 27]

1759, Feb 22 -

Anderson, John

. Plat for 100 acres in Granville County. [South Carolina Archives. series S213184, vol 7, page 4]

1759, Feb 23 -

Anderson, Daniel

. Plat for 200 acres in Granville County. [South Carolina Archives. series S213184, vol 7, page 63]

1759, Feb 24 -

Alexander, Zebulon

. Plat for 200 acres in Granville County. [South Carolina Archives. series S213184, vol 7, page 284]

1759, Feb 24 -

Alexander, Aaron

. Plat for 200 acres in Granville County. [South Carolina Archives. series S213184, vol 7, page 286]

1759, Feb 27 -

John Gilmer

files for 500 acres in Granville Co., on Long Cane Creek. [South Carolina Archives. series S213184, vol 7, page 406]

1759, Feb 28 -

Donaldson, Arthur.

Plat for 200 acres in Granville County. [South Carolina Archives. series S213184, vol 7, page 58]

1759, Mar 1 -

Wilson, Robert.

Plat for 200 acres in Granville County. [South Carolina Archives. series S213184, vol 7, page 299]

1759, Mar 2 -

Alexander, William.

Plat for 200 acres in Granville County. [South Carolina Archives. series S213184, vol 7, page 285]

1759, Mar 2 -

Alexander, Ezekiel

. Plat for 200 acres in Granville County. [South Carolina Archives. series S213184, vol 7, page 286]

1759, Mar 19 -

Calhoun, Ezekiel.

Memorial for two tracts on Long Cane Creek, Granville County, one for 350 acres and one for 150 acres. [South Carolina Archives. series S111001, vol 7, page 215]

1759, Mar 19 -

Calhoun, James

. Memorial for two tracts on Long Cane Creek, Granville County, one for 200 acresand one for 150 acres. [South Carolina Archives. series S111001, vol 7, page 215]

1759, Mar 19 -

Calhoun, William.

Memorial for 400 acres on Long Cane Creek, Granville County. [South Carolina Archives. series S111001, vol 7, page 215]

1759, Mar 19 -

Patton, Arthur,

Memorial for 250 acres on Long Cane Creek, Granville County. [South Carolina Archives. series S213184, vol 7, page 215]

1759, Mar 19 -

Swearingen, Joseph

. Memorial for 400 acres on Long Cane Creek. [South Carolina Archives. series S111001, vol 7, page 216]

1759, Mar 20-

Noble, Mary

. Memorial for 300 acres on Long Cane Creek, Graville County. [South Carolina Archives. series S111001, vol 7, page 216]

1759, Apr 7 -

White, William

. Plat for 200 acres on Long Cane Creek, Granville County. [South Carolina Archives. series S13184, vol 7, page 279]

1759, Apr 7 -

Burr, William

. Plat for 100 acres in Granville County. [South Carolina Archives. series S213184, vol 7, page 79]

1759, Apr 10 -

Barr, William

, Plat for 200 acres in Granville County. [South Carolina Archives. series S213184, vol 7, page 63]

1759, Apr 12 -

Clerk, Joseph.

Plat for 200 acres in Granville County. [South Carolina Archives. series S213184, vol 8, page 368]

1759, May 3 -

Breazele, John.

Plat for 150 acres in Granville County. [South Carolina Archives. series S213184, vol 11, page 26]

1759, June 16 -

Downs, Henry.

Plat for 400 acres in Granville County. [South Carolina Archives. series S213184, vol 7, page 88]

1759, Dec 22 -

Edwards, Mathew

. Plat for 300 acres in Granville County. [South Carolina Archives. series S213184, vol 7, page 22]

1760, Feb 14 - A memorial is filed by

Reuben Roberts

for 250 acres on Savana River. [South Carolina Archives. series S111001, vol. 7, page 280]

1760, Feb 14 - A memorial is filed by

Reuben Roberts

for 250 acres on Savana River. [South Carolina Archives. series S213019, vol. 9, page 214]

1761, May 11 -

James McCullough

files a memorial for 200 acres on Long Cane, Granville Co., [South Carolina Archives. series S111001, vol 14, page 85]

1762, 22 Oct - A warrant for 20,500 acres is set aside for Irish Protestants.


"Pursuant to an order by His Excellence the Governor in found and laid out for the aim of

Irish foreign Protestants from the Kingdom of Ireland

containing twenty thousand acres. That the above plat represents Five hundred acres more which I was informed was surveyd in differnt tracts for perons to me unknown. Some time ago situate lying and being in Berkley County on the waters of Long Cane Saluda and Little Rivers, Bounding to the South East Post on Lines laid out for Archibald McDowell and par on Vacant Lands and on all the other Sides On Vacant Land Racing such shapes forms and Marks as appears by the above Delimited Plat.

Certified the 2oth Day of Decr. Anno Domini 1762

Sur Genl Office Wm. Jnoh Livington

A true copy from the original David H. Tollighast(Livingston), Sur. Genl. "

[South Carolina Archives. series S213187, vol.1, page 20)

1762, Dec 15 - A warrant is filed for a plat of 200 acres in Granville Co. for

Moses Davis

on the branch of the Savannah River called the N. W. fork of Long Cane Creek. Certified 18th day of Decb 1762 by Pat. Calhoun. D. S.
[South Carolina Archives. series S213184, Vol 7, page 325]

1763, 29 June -

Pat Calhoun Jr.

files a warrant for 100 acres on a branch of the Savannah River called Long Cane. [ South Carolina Archives. Series S213184, vol 8, page 00316]

1767, June 20 -

John Jones

files for a 250 acres of land in the Long Cane settlement. land located near Joseph Moon and Ezekiel Alexander. [ South Carolina Archives. Series S213184, vol 17, page 337]

1775, May 20th-

Frederick Grimke

files for a Warrant on 1000 acres situate in the Long Cane Settlement in Granville County the District of Ninety Six by Pat Calhoun D. S. land bounded by Hough Simpson, John McCreedy, John Jones, Feline Hughes, Hugh Simpson, John Rutledge Esqr, Giles Williams and James Averton. [South Carolina Archives.


_____________________________________
Other coorespondents comments:



6/17/09


I am a direct descendant of the

Joseph Pickens

and

Robert Norris

families involved in the Long Cane Massacre. Joseph Pickens was the older brother of

Andrew

. Their mother

Nancy Davis Pickens

was killed there. Joseph said that he was so upset by the massacre that he gave up trying to settle in the Abbeville area and returned to the Waxhaws. He was living there in 1781 when he joined Andrew at the siege of Fort Ninety-Six and was killed by a Tory.

Robert Norris

was old enough to hide in the woods during the massacre and survived. He lost his mother, grandmother, and three siblings.

Mary Winifred Patrick

was from Maryland as was her daughter

Eliza

. I am amazed that she was willing to accompany her daughter in settling the SC frontier at age 70 years!

Jim Nettles netfamgen@gmail.com

204 Horse Head Point Drive

Seneca, SC 29672




sources:

Clark, Samuel - records about Richard Clark. email of 25 Mar 2007
Hazen, Ellen Z. - records and dates - Ellen@ellzwhere.com
Lindroth, Nancy- photos of Long Cane Massacre site and cemetery.

ndlind@knology.net


Nettles, Jim. netfamgen@gmail.com
South Carolina Gazette, Feb., 1760
U. S. National Historical Plaque, Long Cane, Troy, South Carolina.




Return to Family Index | Ancestral Chart 193 | Return to Surname Index



---






All information and photos included within these pages was developed by the help of hundreds of researchers. The information here is for the express purpose of personal genealogical research and is freely offered as long as this site is listed as a source. It may not be included or used for any commercial purpose or included in any commercial site without the express permission of Elroy Christenson. Copyright Elroy Christenson 1998-2010.


web pages created by Elroy Christenson- elroy@next1000.com - last updated 8/10/10