Theodore Kiesel Family
Germany, Hawaii & Washington


Theodore Heinrich Friedrich Julius Kiesel
b. 9 Sept 1872 Bremen, Germany
d. 23 Aug 1916 Honolulu, Hawaii
buried: with 1st wife family plot, Koolauloa, Hawaii (unknown location)

1m. "Victoria" Hookano

Kahue

Palule

about 1893

in a church in Koolauloa

[US Census 1900]
b. 1876 Lale, Oahu, Hawaii
d. Oct 28 1904 Kailua, Hawaii (in child birth of Charles according to Magnolia Soares)
buried: ? family plot, Koolauloa, Hawaii with Theodore
her father:

Palule


her mother:

Kahue



2m.

Nancy Kuwekaa Kaonohi

5 Sep 1908 Koolauloa, Oahu, HI [Hawaii Archives O-80:41]
("mistress until 1908 when married", Mag. Soares)

(1910 census)
b. 1885 Hawaii


d.


her father:

Kaonohi

her mother:

Kuewaa

[Magnolia Soares 2/28/12]




his father: Karl Kiesel (b 1840 Ger.)
his mother:

Frieda Funne

(b. 1840 Ger.)

Children with "Victoria" Hookano Kahue


Victoria M. Kiesel





b. 5 Aug. 1898 Kahuku, Oahu, HI [Passenger ship 1939]







1m. John Ah Leong Akana 18 Sep 1915 Honolulu, HI [Hawaii mar. LDS]
(b. 1 Mar 1894 Koloa, HI d. May 1981 Hilo, HI)[SS Death Index]
parents: Ahana and Genovega [LDS]


Theodore Marx Kiesel Jr.





b. 17 Oct 1892 Hawaii*
census lists his age as 3 in 1900 meaning that he should be b. 1897


d. 19 Aug 1950 San Francisco, CA (age57)*
buried:Woodlawn Mem. Park

1m. Lulu Vail 5 Dec 1916 Honolulu, HI [HI Archives O-97(7):293]
2m. Mary E. ? [SF city dir. 1930 and 31]
m. Anna Winifred Prisk (b. 27 Dec 1891 CO d. 7 Sep 1963 SF, CA) parents: Michael Prisk and Anna E. Richards*

George Akeo Kiesel
b. 21 Oct. 1899 Kahuku, OA, Hawaii # **

d. May 1987 # Honolulu, Hawaii

m. Josephine Lee Hong 27 Mar 1920 Honolulu, HI
(b. 16 Jun 1900 d. Dec 1984 Honolulu, HI#) (had son George Kiesel Jr. , dau Josephine)

Fred "Freddie" Kiesel

b. 1 Apr 1899 Hawaii*

d. 12 Dec 1973 Los Angeles, CA*

m. Hazel Viola Tannehill about 1921, in California 1930 Census(b. 1 Jan 1901 d. 19 Jan 1989 ?Glendale, CA) [SS Death Index]

Thomas Kiesel
b. 1901 Hawaii
d. by 1930 Hawaii

m.


Lyon Kiesel Naone (changed last name to Naone, hanai family)
b. 24 Jul 1902 Hawaii#

d. Dec 1984 Wailuku, Maui, Hawaii#

1m. Helen Auoholani 7 Sep 1918 Honolulu, HI [Hi Archives O-97(17):28]
2m. Julia Kapoi 21 Aug 1920 Honolulu, HI [HI Archives O-97(20):222] (b. 1896 HI d. ? )


Charles Haleakala
Kiesel

b. 14 Dec 1903
 Laie, **
Laie, Oahu, Hawaii#

d. Mar 1986 Honolulu, Honolulu, Hawaii#


m. Christina Yokotake 15 July 1921 Honolulu, HI
[HI Archives O-99(5):223]
2m. Magnolia Naipuone Carrillo 
(from Nawiliwili, Kaua'i)(eight children)
(b. 15 Oct 1914   
d. 15 Jul 1998 Honolulu, Hawaii #)

Children with Nancy Kuwekaa Kaonohi

?Thomas H. Kiesel
b. Oct 1897 Hawaii
d.

m.

Augusta "Gussie" Kiesel (f)

b. 28 May 1907 Hawaii

d. May 1987 Honolulu, Hawaii

m. George Ai (b. 2 Jul 1901 HI d. May 1985 HI)#

Thomas "Tom" Kiesel

b. 7 Mar 1907 Kona, Oahu, Hawaii [census]

d. after 1926 before 1930 census

m. Mary Ann Naehu 30 Mar 1926 Honolulu, HI [HI Archives O-98(16):24]
(one son Thomas Jr.,(b.1926 d. 2006 )

William Kuekaa Kiesel

b. 6 Aug 1908 ** Honolulu, OA, Hawaii#

d. Dec 1972 Honolulu, Hawaii#

m. Dorothea Low 30 Apr 1925 Honolulu, HI [HI Archives O-95(4):137] (Chinese)
(b. 7 Aug 1901 d. 16 Jun 1996 Honolulu)**

Julius Kiesel

b. Jan 10, 1909 Honolulu, Hawaii
[SF Funeral doc.]
d. July 20, 1951 San Fran., CA
buried: Aug 23, 1951 Woodlawn Mem. Park, SF. [SF Funeral doc.]

m. Ida F. ? by 1936, (b. 15 Aug 1915 d. 19 May 1992) [SS Death Index]

Nancy Kaonohi Kiesel

b. 22 July 1911 Honolulu, OA, Hawaii**#

d. 4 Jun 1991 Waimanolo, Honolulu, HI #

m. Moses Piohia 21 Feb 1928 Honolulu [Hawaii Archives O-93(2):89]# [b. 16 Octt 1901 d. Sep 1974 Waimanolo, Honolulu, HI]
* California Death Index, 1940-1997 on Ancestry.com
#SS Death Index
**Hawaii births, LDS records



1886, May 2 -Although Theodore had been in Hawaii since 1881, he is reconfirmed in the Lihue Lutheran Church on Kauai.

Date of confirmation 2 May 1886
1. Heinrich Theodor Friedrich M(illegible) Julius Kiesel,
legitimate son of the laborer Karl Kiesel of Lihue and his wife Augusta nee Funke,
born on 6 January 1872 in Nienburg an der Weser and
baptized there on 28 January 1872
1887 - Karl Kiesel applies for immigration and states that he was a resident of Washington State. [immigration application papers]
He apparently brings most of the family with him and may have come to Seattle with other German immigrants from Hawaii.

1890 - Honolulu, Hawaii Directory, dedicated

To his Majesty


King Kalakaua


who, by




Enlightened and Enterprising Statesmanship


has advanced his realm


to a


Respected Rank
In the Family of Independent Nations,"
Honolulu, and Island of Oahu
Palule, laborer, mail and res Leiea


Honolulu, Oahu City Directory [Directory and Handbook of the Kingdom of Hawaii, 1890]
Kahue, laborer, res Kukuluaco
Kahue, laborer, res Kailua
Kahue, laborer, res Koolauloa
Kahue, tailor, res Waialae
Kahue, David, laborer, res Queen

Island of Maui.
Kahua Kekia, r and Post Office Honokohau
Kahue, r and Post Office Paia

Islands of Kauaia Niihau
Kahue, res Mana
Kahue, res Waimea

Island of Maui
Kahue, farmer, res Honokohau
Kahue, kamana, res Kipahulu
Kahue, laborer, Paia
Kahue, laborer, res Makawao
Kahue, laborer, res Lahaina
Kahue W, laborer, res Kaupo
Kahue, laborer, res Paia
Kahue, laborer, res Kipahulu
Kahue, taro planter, res Nahiku
Kahue, teamster, Kula


In 1892 Theodore seems to have gone to Tacoma, Washington with his parents but goes back Hawaii where he shows up on the 1900 census with a wife and two sons so he marries Victoria in 1894.

1892, April 1 - Washington Territorial Census, Pierce Co., Tacoma. (page 210 Ancestry.com)


Kiesel, Carl 52 laborer mar. Ger

, A. 52 wife mar. Ger

" ,

T. 20 plumber s Ger

" , Carl 16 laborer s Ger

" , Fred. 12 student s Sandwich Islands (Hawaii)

" , George 8 student s " " (Hawaii)


1896, about - Theodore Kiesel must have married "Victoria" Kahue. There are no records in the Hawaii Archives but he could have married in a church leaving no government record. They could also have had an native family wedding also leaving no record. They show themselves as married for six years in the census records of 1900.

Magnolia Soares writes on 29 Feb 2012


I do not know why Victoria's children were "hanai" to family members. However, I do know that Victoria Kahue was married in a church in Koolauloa. Maybe I will find it in the Mormon records.

The custom before 1860 was only one name was used for Hawaiians. Kuewaa (wahine) m Kaonohi (Kane) Christen names were added after 1860 by law. Therefore, Nancy's mother is Kuewaa and her father is Kaonohi. Nancy's daughter Nancy Kaonohi married Moses in 1928. She was her last child. We are trying to get the genealogy for Hookano Kahue. We are evidently descendents of Kamehameha I and Keopuolani through Princess Victoria Kamamalu who had an affair with a married man named Monsarrat. The royal ar

tifacts and royal pictures were placed in the care of George Kiesel and then his daughter Josephine Kiesel Lee, who passed on recently has turned everything over to someone in the family. It is the custom that one family be custodian of all these special treasures and nothing be sold.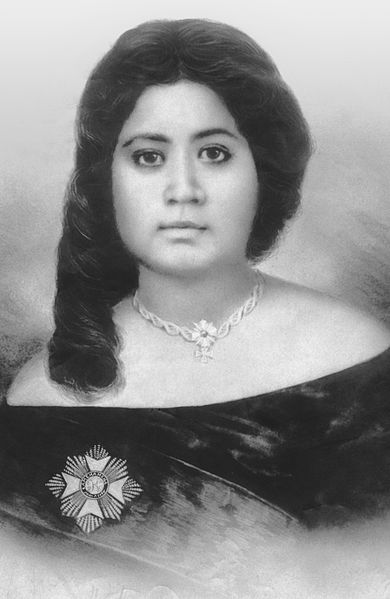 I was able to see a number of pictures of Hawaiian Royalty when I visited Josephine the day after the funeral services for her brother George Kiesel, Jr. It was like entering a museum.
Victoria and Theodore are buried on property that was originally owned by Ulei in Laie. This is where Victoria, sister of my father Charles were raised before Ulei's passing. The property was sold by Whitney Akana, a descendent of V
ictoria Kiesel and John Akana. Other family members are buried there
also.
Princess Victoria Kamamalu

,
(1838–1866
)[wikimedia.org]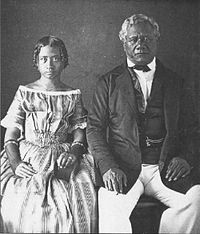 Victoria Kamamalu and her father, Kekuanaao'a [wikimedia.org]


1900 -

US Census, Hawaii, Oahu, Koolauloa dist.

Series:

T623

Roll:

1835

Page:

56

(note the spelling variation of the last name. CA stands for Caucasian, Ha is Hawaii, and PH is part Hawaiian, in 1910 it is CH meaning Caucasian and Hawaiian)




Kiesel, Charles W.

head m Mar 1876 CA 24 s Germany Germany Germany Engineer

Hawaii, Oahu,

Koolauloa Series:

T623

Roll:

1837

Page:

184


Keisel, Theodore

head Ca m Jan 1873 27 mar 6yrs Germany Germany Germany 1879 NA 21yrs in Hawaii overseer


Keisel, Victoria

wife Ha f Jan 1876 24 mar 6yrs Hawaiian

Hawaiian

Hawaiian


Keisel, Theodore

son PH m Oct 1894 3 s Hawaiian Germany Hawaiian


Keisel, George

son PH m Oct 1899 8mo Hawaiian Germany Hawaiian

I''m grasping at straws here with the census for the Hawaiian connection. There are a great many variations of similar names. This particular one is as close as I can find. If I'm correct this Kaonobi is "Nancy" in the 1910 census. The "partner" is probably Williams and his child. This would also mean that "Nancy's" father is dead.
US Census, Hawaii, Oahu, Honolulu dist. Ed. Dist. 22, sheet 2
Kuekaa, Mrs head H f 1835 65 wd 5 3 Hawaiian

Hawaiian

Hawaiian

laborer (perhaps for William)

" , William son H m 1873 27 s

Hawaiian

Hawaiian

Hawaiian

" , Kaonohi dau H f 1884 16 s

Hawaiian

Hawaiian

Hawaiian

Kaihumua, Emily partner H f June 1886 13 s

Hawaiian

Hawaiian

Hawaiian


Kaloahalaui baby H f Aug 1899 ? s

Hawaiian

Hawaiian

Hawaiian


1910 - In this particular census we have an unusual marking of the race or origin of the individuals. Theodore seems to marked as "CA" I believe to mean "Caucasian", HA would be Hawaiian and CH would be Chinese. Theodore are also married for 4 years so obviously the two oldest children have a different mother. It seems in this census Theodore has remarried by 1908 and that Victoria and George of the earlier relationship have been adopted by their mother's family, Kahaluha Cadule, while Lyon is living with Lyon Naone.


Series:

T624

Roll:

1753

Page:

116/117

Kiesel, Theodore

, head m CA 38 m 4

Germany

Germany Germany carpenter

" ,

Nancy

wife f Ha 25 m 4 4/4

Hawaii Hawaii Hawaii

" ,

Theodore Jr.

son m CH 13 m

Hawaii

Germany

Hawaii

" ,

Fred

son m CH 9 s

Hawaii

Germany

Hawaii

" ,

Augusta

dau f CH 4s

Hawaii

Germany

Hawaii

" ,

Tom

son m CH 3s

Hawaii

Germany

Hawaii

" ,

William

son m CH 1yr8mo

Hawaii

Germany

Hawaii
" ,

Julius

son m CH 3mo

Hawaii Germany

Hawaii

Hawaii, Honolulu, Ewa

Series:

T624

Roll:

1753

Page:

221

(brother of Theodore K.)




Kiesel, Charles W.

head m OC 33 m 8

Germany

Germany Germany 1882 NA overseer sugar plantation
" , Mary wife f OC 32 m 8

Germany

Germany Germany 1884
" , Wilhemina dau f OC 7 s Hawaii Germany Germany
" , Anna dau f OC 6 s Hawaii Germany Germany
" , Margaret dau f OC 4 s Hawaii Germany Germany
" , Norbert son m OC 10mo.

Hawaii Germany Germany





Washington, Pierce Co., Tacoma Series:

T624

Roll:

1665

Page:

119

(brother of Theodore K.)

Kiesel, George H,

head m 25 m

Hawaii

Germany Germany carpenter

" , Ernestine wife f 25 m

Missouri Missouri Missouri

" , Ernest son m 5 m Washington Hawaii Missouri

" , Chester dau f 3 s

Washington Hawaii Missouri

" , Edith dau f 1 9/12

Washington Hawaii Missouri

Hawaii, Honolulu, Kaluanui,

Series:

T624

Roll:

1754

Page:

54


Naone, Lyon K.

head m Ha 49 mar 17 Hawaiian

Hawaiian

Hawaiian Sheriff District
" , Emily P. wife f Ha 49 mar 17 3

Hawaiian

Hawaiian

Hawaiian
" , Josephine dau f Ha 17 s

Hawaiian

Hawaiian

Hawaiian
" , Margaret g.dau f Ha 3 s

Hawaiian

Hawaiian

Hawaiian


Kiesel, Lyons

boarder m CH 7s

Hawaiian

Hawaiian

Hawaiian

(son of Theodore K. and Victoria)

Kahaskumoku, John boarder m Ha 56wd

Hawaiian

Hawaiian

Hawaiian



Hawaii, Honolulu, Laie,

Series:

T624

Roll:

1754

Page:

45
Palule, Kahalaulei head m Ha 43 mar 1 23

Hawaiian

Hawaiian

Hawaiian laborer
" , Mary wife f Ha 37 mar 1 23 0/0

Hawaiian

Hawaiian

Hawaiian
" , Armea mother f Ha 71 mar2 18 4/1

Hawaiian

Hawaiian

Hawaiian


Kiesel, Victoria

niece f CH 11 s

Hawaiian

Hawaiian

Hawaiian

(dau. of Theodore K. and Victoria)

" , Charley

nephew m CH 6 s

Hawaiian

Hawaiian

Hawaiian

(son of Theodore K. and Victoria)

Palule, Lucy niece f HA 6 s

Hawaiian

Hawaiian

Hawaiian




According to Magnolia, Lyons Kiesel was "

hanaied" which I take as a being adopted , at least temporarily. Victoria and Charley apparently moved back to Theodore's home. Lyons adopted the name of his family.

Hawaii, Maui, Lahaina. page 9

Kaonohi, Jack P. head m Ha 44 m1 16yrs

Hawaiian

Hawaiian

Hawaii

foreman roadwork

" , Abigail wife f Ha 34 m1 16yrs

Hawaiian

Hawaiian

Hawaiian

" , Kaili dau f Ha 14 s

Hawaiian

Hawaiian

Hawaiian

" , John son m Ha 13 s

Hawaiian

Hawaiian

Hawaiian

Enera , Obed nephew m Ha 16 s

Hawaiian

Hawaiian

Hawaiian

Hawaii, Honolu, Oahu, Koolauloa Dist, page 49

Kashiai, Piko head m Ha 47 m1 26yrs

Hawaiian

Hawaiian

Hawaiian

" , Leihulu wife f Ha 42 m1 26yrs

Hawaiian

Hawaiian

Hawaiian

Paohiai, Kealora son m Ha 19 s

Hawaiian

Hawaiian

Hawaiian

" , Benjamin son m Ha 17 s

Hawaiian

Hawaiian

Hawaiian

" , Rebano P. son m Ha 14 s

Hawaiian

Hawaiian

Hawaiian

" , Ben son m Ha 2/12 s

Hawaiian

Hawaiian

Hawaiian

Naone, Julia dau f Ha 20 m1 7yrs

Hawaiian

Hawaiian

Hawaiian

Naone Rebano soninlaw m Ha 28 m2 7yrs

Hawaiian

Hawaiian

Hawaiian

" , Praimaku gr.dau. f Ha 1/12 s

Hawaiian

Hawaiian

Hawaiian

next door

Akan , George head m Ha 51 m1 14yrs

Hawaiian

Hawaiian

Hawaiian

" , Kapcha wife f Ha 36 m1 14yrs

Hawaiian

Hawaiian

Hawaiian

Puninani, Josephine boarder f Ha 15 s

Hawaiian

Hawaiian

Hawaiian

Kiesel, George

boarder m Ha 10 s

Hawaiian

Hawaiian

Hawaiian

(son of Theodore K. and Victoria)

1915, June 29 - PACIFIC MAIL STEAMSHIP COMPANY. cabin passengers Honolulu to San Francisco. [p618] This seems to the first trip to San Francisco for Theodore M. Kiesel. He is traveling by himself, should be age 19.
Keisel, Theo. M. Mr. #51 [ California Passenger and Crew lists, 1893-1957, ancestry.com]


1916, Aug 23 - Theodore H. Kiesel dies in Honolulu, Hawaii at age 44.


1917, Nov. 2 - California Passenger and Crew lists, 1893-1957, ancestry.com
"S. S. Wilhemina" sailing from Honolulu Nov. 20 to San Francisco arriving Nov. 27..
Kiesel, Theodore M. age 21 m mar born Hawaii Oct 16, 1896
Kiesel, Lulu (overwritten "wife") m mar born Canada Jan 1, 1893


1919- San Francisco City Directory,
Kiesel, Theo M (Lulu) shipftr r 1739 Pine,


1920 US Census, Hawaii, Honolulu. Series: T625 Roll: 2035 Page: 219
Here we see Augustine and Thomas, the sister and brother of Victoria, daughter of Theodore.


US Census, Hawaii, Oahu, Honolulu, Naopala Lane. Enum. Dist. 30, Sheet 17B

Akana, John head m CH 25 mar Hawaii Hawaii Hawaii timekeeper Plantation

, Victoria wife f CH 22 mar Hawaii Hawaii Hawaii

, Theodore son m CH 2 3/12 s Hawaii Hawaii Hawaii

, Bernard son m CH 6/12 s Hawaii Hawaii Hawaii

Keohokis, Kanimea grandmother f Ha 76 wd Hawaii Hawaii Hawaii

Kiesel , Augusta

sisterinlaw f CH 14 s Hawaii Hawaii Hawaii

(dau. of Theodore K. and Victoria)

,

Thomas

brotherinlaw m CH 13 s Hawaii Hawaii Hawaii

(son of Theodore K. and Victoria)

US Census, Hawaii, Honolulu, Hauula, Dist. 142

Naone, Lyon K. head m HA 59 mar Hawaii Hawaii Hawaii none

" , Ponoluna wife f HA 52 mar Hawaii Hawaii Hawaii

" , Puhi dau f HA 27 mar Hawaii Hawaii Hawaii

" , Margaret dau f HA 13 s Hawaii Hawaii Hawaii

" , Mary grddau f HA 6 s Hawaii Hawaii Hawaii

Nui, George soninlaw m HA 28 mar Hawaii Hawaii Hawaii laborer sugar plantation

next door

Naone, Lyon head m HA 18 mar Hawaii Hawaii Hawaii laborer Taro Farm

, Helen wife f HA 27 mar Hawaii Hawaii Hawaii

" , Herbert son m HA 1 2/12 s Hawaii Hawaii Hawaii




1930 - US Census, California, San Francisco City, enum. dist. 38-5, page 7-a


Ai, George head m w 28 mar 23 Hawaii Hawaii Hawaii tobacco clerk tobac co.

" ,

Augusta

wife f w 24 mar 19 Hawaii Germany Hawaii

" , Raymond son m w 3 11/12 s California Hawaii Hawaii

" , Amelia dau. f w 2 8/12 s California Hawaii Hawaii

" , Thomas son m w 11/12 s California Hawaii Hawaii

Kiesel , Julius

bro-in-law m w 20 s Hawaii Germany Hawaii laborer tobacco Co.

(son of Theodore K. and Nancy)

Arnold , William roomer m w 22 s Hawaii Germay Hawaii sea man shipping

US Census, California, Los Angeles, enum. dist 384. sheet 16B

(son of Theodore K. and Victoria)

Kiesel, Fred head m w 31 mar 21 Hawaii Germany Hawaii clerk stock broker firm

" , Hazel wife f w 29 mar 19 Colorado Missouri Illinois

" , Fred T. son m w 8 s California Hawaii Colorado

" , June E dau f w 5 s California Hawaii Colorado

US Census, Hawaii, Honolulu, District 58. Enum. Dist. 2-58, Sheet 13B

(widow of son Thomas K. and Nancy)

Kiesel, Mary Ann head f AH 21 wid Hawaii Hawaii Hawaii stenographer attorney

, Thomas son m CH 3 1/2 s Hawaii Hawaii Hawaii none

Spencer, Enoch stepbrthr m CH 24 s Hawaii Hawaii Hawaii ship fitter Navy

Paing, Evelyn sister f AH 25 div Hawaii Hawaii Hawaii school teacher public School

, Clarissa dau f AH 2 1/2 s Hawaii Hawaii Hawaii none

Neaelu, Moses brother m AH 18 s Hawaii Hawaii Hawaii mechanic garage

US Census, Hawaii, Honolulu, Dist. . Enum. Dist. 2-11, Sheet 3B

(son of Theodore and Nancy). He is Caucasian/Hawaiian his wife, Dorothea, is Chinese.

Kiesel, William head m Ch 24 mar Hawaii Hawaii Hawaii Electrician Electric Co.

, Dorothea wife f Chin 26 mar Hawaii Hawaii Hawaii teacher School

, Myrtle dau. f AH 4 5/12 s Hawaii Hawaii Hawaii

, Dorothy dau. f AH 3 3/12 s Hawaii Hawaii Hawaii

, Oulani dau. f AH 1 7/12 s Hawaii Hawaii Hawaii

Lono, Louise servant f AH 17 s Hawaii Hawaii Hawaii maid Private family

US Census, Hawaii, Maui, Hana, Dist. 6 , enum. dist 5-6, sheet 1B

Naone, Lyons

head m CH 29 mar Hawaii German Hawaii

" , Julia K. wife f AH 34 mar Hawaii Hawaii Hawaii

" , Gladys dau f AH 11 s Hawaii Hawaii Hawaii

" , Lyons son m AH 8 s Hawaii Hawaii Hawaii

" , Leslie son m AH 7 s Hawaii Hawaii Hawaii

" , Julieus son m AH 3 5/12 s Hawaii Hawaii Hawaii

US Census, Hawaii, Honolulu, Oahu, Honolulu City. Enum. Dist. 2-44, sheet 3A.

Akana , John head O m AH 36 mar Hawaii China Hawaii attendant Hospital

,

Victoria

wife f CH 32 mar Hawaii Germany Hawaii matron Police Station

, Theodore son m AH 12 s Hawaii Hawaii Hawaii

, Bernard son m AH 11 s Hawaii Hawaii Hawaii

, Victoria dau f AH 10 s Hawaii Hawaii Hawaii

, Antionette dau f AH 8 s Hawaii Hawaii Hawaii

Puhi , Emma servant f HA 17 s Hawaii Hawaii Hawaii servant private family

1930- San Francisco City Directory, Polk's Crocker-Langley San Francisco City Directory. p. 291
Kiesel, Theo M. (Mary E) clk r 83 Eddy

1932, April 14 - A murder trial of a Mrs. Fortescue, Lieut. Thomas H. Massie, E. J. Lord and Albert O Jones accused of lynching Joseph Kahahawai in "an honor slaying" for the beating of Mrs Fortescue's daughter. The accused are defended by Clarence Darrow. The trial was held in Honolulu with "the matron Mrs Victoria Akana" as a witness for the prosecution and a police station matron who had found her with an incriminating piece of sheeting. ["Darrow Ready for Action in Murder Trial", Appleton Post Crescent, Appleton, WI. page 3]
"

Victoria Akana

, a matron at the police station, was summoned to testify that she took from Mrs. Fortescue's person after the latter's arrest a strip of cloth apparently torn from a sheet. this strip fits the missing part of one of th sheets which was wrapped about Kahahawai's body." by William H. Ewing. [Moberly Monitor-Index, (Moberly, Missouri) April 13, 1932]

1933- San Francisco City Directory, Polk's Crocker-Langley San Francisco City Directory. p. 632
Kiesel, Theo M. clk r76 3d (

It seems that Theo is single but still a clerk, now living at 76 3rd str.



1935 - Theodore Kiesel is listed on the California Voter Registrations, 1900-1968

1936 - Theodore Kiesel is listed on the California Voter Registrations, 1900-1968

1939, June 9 - California Passenger and Crew lists, 1893-1957, ancestry.com
"S. S. Matsonia" sailing from Honolulu June 9 to Los Angeles arriving June 14.
Kiesel, William age 32 m country born USA country where going to live USA
Kiesel, Dorothea age 36 f " " " '" "

1939, June 15th - Honolulu, Hawaii Arrival Passenger lists, S. S. "Empress of Japan" sailing from Vancouver, Canada
Akana, John A age 45 m mar b. Mar 1, 1894 1741 Nuuanu St, Honolulu, T. H.
Akana, Victoria M. age 40 f mar b. Aug. 5, 1898 1741 Nuuanu St, Honolulu, T. H.

1939, Aug. 9 - Honolulu, Hawaii Passenger and Crew lists, 1893-1957, ancestry.com
"S. S. Lurline" sailing from San Francisco Sep. 3 to Honolulu arriving Aug. 9 Ho.
Kiesel, William age 32 m country born USA country where going to live USA
Kiesel, Dorothea age 36 f " " " '" "

1941, Sept 23 - Naone, Lyons K. listed on Navy Muster Roles, laborer Palmyra Island
[Nat. Archives, US World War II Navy Muster Rolls, 1938-1949]

1945 San Francisco City Directory, Polk's Crocker-Langley San Francisco City Directory. p. 957
Theo M. Kiesel,(Anna) glazier Crowe Glass co. h136 Harvard.

1950 - California Death Index, 1940-1997 [California, San Francisco Area Funeral Home 1895-1985]


Theodore Mark Kiesel is listed as dying in San Francisco, CA. His mother is listed as Kahue. [California Death Index, 1940-1997, Ancestry.com]

Kiesel -- In this city, Aug. 19, 1950.

Theodore M. Kiesel,

beloved husband of

Anna W. Kiesel

and loving brother of

Charles and William Kiesel

of Honolulu, T. H.;

Lyons Naone

of Maui, T. H.;

Freddie Kiesel

of Los Angeles,

Julius Kiesel

of San Francisco and

Mrs. Nancy Piohia

of Oahu, T. H.[ also survived by several nephews and nieces and dear brother-in-law of

John A. Akana

of San Francisco; a native of Honolulu. T. H. , aged 57 years. A member of United Glass Workers Union and I. O. F. Court S. F. No. 10.

Friends are invited to attend the funeral services Tuesday at 2:30 p. m. at the Chapel of H. F. Suhr Co., 2919 Mission St. nr. 25th. Inurment, Woodlawn Columbarium. [Obituary. SF Newspaper]


1951, Jul 20-

Mrs. Ida Kiesel

, 16 Newton St, SF signs for the Funeral Service for

Julius Kiesel

, #21565


listed "in the USA 23 years" married wife

Ida Kiesel

, date of birth Jan 10, 1909, age 42 yrs 6 mo, 10 days

born Honolulu occupation Warehousman business South End Warehouse

father's name

Theodore Kiesel

birthplace Germany

mother's name

Nancy Kuwekaa

birthplace Honolulu

[California, S. F. Area Funeral Home Records, 1895-1985. ancestry.com]


1971 - the following was probably from an obituary in Seattle.,


"Mrs. Gustave (Marie) Kiesel

, 98, a Washington pioneer and former resident of Tacoma, died Friday in Seattle. She was born in Germany moved to Tacoma until 1942, when she moved to Seattle, Mrs. Kiesel was a member of the Lutheran Church. Survivors include two daughters, Mrs Anna Hail, and Mrs. Ella Butler, both of the family home in Seattle, two grandchildren, and two children, and two great-grandchildren.

Services are by Morely-Mellinger a...."




From: Magnolia_Soares/CAMPBELL/HIDOE@notes.k12.hi.us

Sent: Wed 8/1/2007 6:24 PM

To: Christenson, Elroy

Cc:

Subject: Re: Theodore Kiesel Family

I'm sorry I did not get back to you sooner. I am still trying to get more

information.

Theodore and Hookano (Victoria) Kahue

had a total of 10

children.

Theodore Kiesel Jr.

(moved to mainland California)

Thomas Kiesel

(died

early ). He married Mary Ann they had one son Thomas who just passed

away last year. Thomas and Betty had no children.

Lyons Naone

(changed name from Kiesel to Naone hanai family. G

eorge

Kiesel married to Josephine

. Son George Kiesel, Jr. and Josepine.

Victoria

Kiesel married John Akana

and had Bernard, Victoria, and Antonette all

deceased. Although all the Kiesel's in Hawaii are related we all do not

know each other or the relationship. You have my father & mother (

Charles Kiesel

)listed

and they had 8 children.

Victoria N. married Frank Niihau

( passed on

August 2002) and had 5 children. John K. C. never married is now

deceased.

Charles Haleakala Jr.

lives in Oregon with his family. He may

have passed on.

Henrick Kiesel married Adbe Gumanday

and have 5 children.

William Gustav

(passed on Dec. 2004) married and

divorced Kay Gumanday

has two sons living in California

Theodore K. married Carol Miur

a and

has two children,

Magnolia M. married Wayne G. Soares

(died 10/10/2003)

have 5 children.

Edward K. married Dorothy Amorin

and have 2 girls Krystal and Kory.

Charles M. Kiesel deceased. There is an Uncle Fred who used to visit my

father occasionally from the mainland when I was young but I don't know

if he was my father's brother.

Theodore married Nancy and had three children William, Johanna and Nancy.

1998, July 18 - Obituary- Honolulu, Hawaii, Star Bulletin, Honolulu, HI

Magnolia N. Kiesel, 83, of Honolulu died Wednesday in Queen's Hospital. Born in Nawiliwili, Kauai, she is survived by sons Charles Jr., Henrick, William, Theodore and Edward; daughters Victoria Niihau and Magnolia Soares; sister Marjorie Wessel; 30 grandchildren; 35 great-grandchildren; and a great-grandchild. Services: 11:30 a.m. Wednesday at Diamond Head Mortuary. Call after 9:30 a.m. Burial: Diamond Head Memorial Park. Aloha attire.



2004, Dec. 11 - Obituary,



William Gustav "Bill" Kiesel Sr.,

63, of Mililani died in St. Francis-West Hospice. He was born in Honolulu. He is survived by companion Kimiko; sons

Paul G.

and

William G. Jr.

; brothers

Charles, Henrick, Ted

and

Ed;

sisters

Victoria Niihau

and

Magnolia Soares

; and three grandchildren. A memorial program will be held 11 a.m. Sunday at Mililani Mortuary-Waipio, makai chapel. Call after 10 a.m.


2005, July 15 -


William Kahui Kiesel,

77, of Wahiawa, a retired telephone switchboard installer, died in Wahiawa. He was born in Honolulu. He is survived by wife

Carol "Tita,

" daughter

Wilmette "Lani

," brother

George Jr.

, sisters

Josephine "Josie" Lee and Mary Farm

, and a grandchild. Services: 7 p.m. Wednesday at Hawaiian Memorial Park. Call after 5 p.m. Burial: 11 a.m. Thursday at Hawaii State Veterans Cemetery, Kaneohe. Casual attire. Flowers welcome.


2008, June 8 - Obituary, Honolulu, Hawaii- George was born 2 Jan. 1923 and died 8 Jun 2008.


George Akao Kiesel Jr.

, 85, of Honolulu, a Hilton Hawaiian Village head doorman who retired after 25 years, died in the Queen's Medical Center. He was born in Honolulu. He is survived by

son George III

; daughters

Lynette M.K. Harp, Cynthia J. L. Mattson, Kristal-Lee Paulo, Erika Kiesel -Kaalekahi and Vivian Lanaris

; sisters

Josephine Lee

and

Mary Farm

; and five grandchildren. Services: 5 p.m. Thursday at Shriners Beach Club, 41-525 Kalanianaole Highway, Waimanalo. Call after 4 p.m. Scattering of ashes to follow. Aloha attire. Leis welcome.

March 27 -

Theodore "Ted" Kikala Kiesel,

65, of Honolulu, died March 27, 2008. Born in Honolulu. Retired firefighter. Survived by wife,

Carol

; son,

Atae

; daughter,

Kahiwa

; sisters,

Victoria Niihau

and

Maggie Soares

; Brothers,

Charles Jr., Henrick and Edward

; two grandchildren. Celebration of life 10 a. m. to noon Saturday at Maunalua Bay Park, Hawai'i Kai. Private scattering of ashes. Arrangement by Nuuanu Memorial Park & Mortuary. [Honolulu Advertiser April 9, 2008]

2010, Sept 16 - Honolulu Star-Advertiser, posted Oct 4, 2010


Victoria Naipuone Kiesel "Vickie" Niihau,

74, of Waimanalo, a retired state Department of Education Hawaiian Studies kupuna at Kaelepulu Elementary School, died in Kailua. She was born in Honolulu. She is survived by sons

Frank Jr.

and

Charles M.K

.; daughters

Johnette T. Stauffer, Juanita S.L. Kaopuiki, Victoria N.K. Wago, Naomi N. Ballesteros

and

Joann N.A. Tabara

; brothers

Edward Kiesel and Charles Kiesel Jr.

; sister

Magnolia K. "Maggie" Soares

; 13 grandchildren; and 14 great-grandchildren. Celebration of life: 10:30 a.m. Saturday at 41-692 Bell St., Waimanalo. Services: 11 a.m. Lunch to follow. Casual attire.

source:

California Death Index, 1940-1997
arrival passenger list, Hawaii State Archives
church records of Old Tacoma Cemetery, Tacoma, WA
Lane, J. C., ed.

Directory and Handbook of the Kingdom of Hawaii,

The Pacific Press Pub. Co., Oakland, CA. 1890
Passenger and Crew Lists, Honolulu
San Francisco City Directory, Polk's Crocker-Langley San Francisco City Directory
Seattle, WA records. death certificate
Soares, Magnolia Melehaulani Kiesel. records mmgw1627@yahoo.com
Hawaii Archives, Hawaiian Genealogy Index - ulukau.org



Return to Cheryl's Family Index | email to Cheryl Grubb


---







All information and photos included within these pages are here for the express purpose of personal genealogical research and may not be included or used for any commercial purpose or included in any commercial site without the express permission of Cheryl and Elroy Christenson. Copyright Elroy Christenson 1998-2010.


web pages created by Elroy Christenson- elroy@next1000.com- last updated 2/29/12