Machen Families
Scotland, England, South Carolina, Alabama, Arkansas

---

See the Machen Index for the lineage



We have not been able to identify the original immigrant for the family. There are several possibilities. Most of these individuals seem to have shipped from England and there are Machens found in a number of locations in England including Gloucester, York and London. If they came from Scotland it may have been even more distant and difficult lineage to trace. Laura Cleveland Edwards has done a great deal of research on the various lines of the family and lays out the problem very completely in her recent book, "Three Centuries in America: Thomas Machen of Middlesex County, Virginia." She states, "It is a name found in Wales and various parts of England, particularly in Yorkshire. There were also Machens in Gloucestershire in 15th century. The name Machen is not to be confused with the French name Machin, although Machin is frequently a misspelling of the name in many records. In fact, the name Machen may be one of the most misspelled names in the U.S. with a British origin. Other misspellings include Macken, Matchen, Micham, Macham, Mechem, Mechem, Meachum(which is a surname in its own right), Mackham, and even Machir."[Edwards. p1]

Other spellings of the name I found in the US census records can be found as Macen, McInne, Machin, Machan, Macken, Makin or Mackin although the family has spelled it as Machen from the early 1700's. One early example of another distant relation spells his name by another variation. A book published as The Diary of Henry Machyn, Citizen and Merchant-Taylor of London, from A. D. 1550 to A. D. 1563. edited by John Gough Nichols is interesting not only for its name but also for the status of the individual. This Henry Machyn was a royal tailor and merchant in London and obviously had some connection to the royal families. I have included a few passage here to give an idea of the dialogue and spelling used in this time period.

The XVIJ day of July was a scresmys a Margyson be-twyn the Englysmen and Frenchemen, and ther owre men had the beter and had good bote of cattel; and ther wher slayne ix men of armes and xviij taken presoners of Frenche-men, and of owrs iij takken presoners and v hurtt, by the helpe of men of Gynes and Calles horse-men.

The xxvy day of July wa bered masteres Draper of Camurell, with ij whytt branchys and xii stayff torchys, and iij grett tapurs, and ij dosen of skochyons of armes.

The xxix day of July was fechyd out of Westmynster by the constabyll of the Towre of London, the wyche ya constabull, and browth on (blank) Waxham, the wyche he brake out of the Towre, and wa browth thrugh London.
My own preference, although unproved, is that our relative is one of the seven sons of Thomas Machen of Gloucestershire, England. This Thomas was quite well-to-do, having inherited an estate. He had been sheriff of the region, was elected mayor of Gloucester three times and to Parliament twice. He had seven sons and six daughter. Only the two youngest of his sons were included in his will. I propose that the other sons emigrated to the colonies to land that their father had invested in. We are missing the name of the connecting generation father but the naming pattern is similar to the other known families.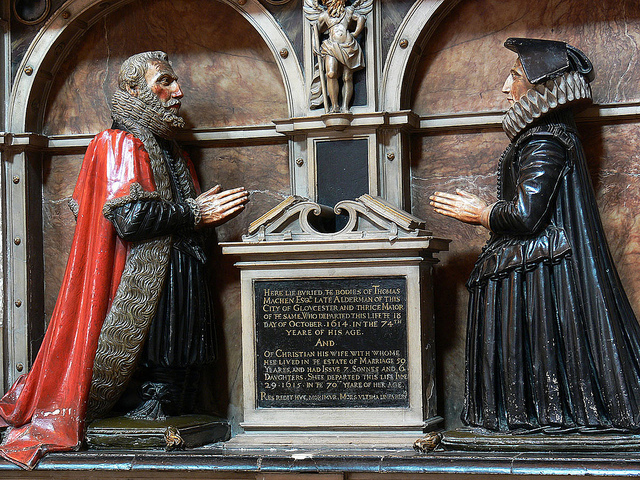 The tomb of Thomas Machen, Gloucester Cathedral, Gloucestershire, Great Britain.
sculpture included portraits of their seven sons and six daughters
created by Samuel Bladwin, photo courtesty of Julian P. Guffog 2011
Thomas Machen
(b. 1541 d. 18 Oct 1614)
son of Henry Machen of Gloucester and Elizabeth Baugh
m.
Christian Barston
(b.1546 d. 1615)
dau. of Walter Barston of Nether Swell, Glos.
although they had 13 children, none seem buried in the Cathedral


From

The History of Parliament web site.

extracted
http://www.historyofparliamentonline.org/volume/1604-1629/member/machen-thomas-1540-1614
Family and Education
b. c.1540, 1st s. of Henry Machen of Gloucester and Elizabeth, da. of one Baugh. m. c.1564 (with £100), Christian (d. 29 June 1615), da. of Walter Barston of Nether Swell, Glos., 7s. (5 d.v.p.) 6da. (3 d.v.p.). suc. fa. 1567. d. 18 Oct. 1614. sig. Tho[mas] Machen
Offices Held
Common councilman, Gloucester 1567, sheriff 1572-3, 1576-7, alderman 1574-d., mayor 1579-80, 1588-9, 1601-2, dep. lt. 1587-at least 1612, master, St. Mary Magdalene hosp. 1603-d. dep. mayor 1604, commr. subsidy 1604.
Biography
Machen, the son of an alderman, inherited property at Gloucester and Tewkesbury. A mercer, he also engaged in the wheat and malt trade, and was able to purchase the manor of Condicote, near his wife's home. In 1604 he was one of the candidates approved by the corporation but was defeated by John Jones. In one of the Star Chamber actions which followed he was accused of improperly persuading his fellow-commissioners to reduce his subsidy rating some six weeks after the election from £20 in goods to £10 in lands. It was alleged he was 'as rich an alderman as any in Gloucester', with a yearly income of £400 and between £5,000 and £10,000 'in money and other his personal goods and chattels'. He was obliged to admit that one of his three colleagues was his son-in-law and another his uncle, but refused to give details of his estate, protesting only that he had 'departed with a great part of his substance' in marrying four daughters.
In 1614 Machen himself seems to have defeated a corporation candidate. He left no mark on the records of the Addled Parliament, and did not long survive it. He was already ill when he made his will on 9 September 1614. He had settled his farm of Crickley in Badgeworth on his wife, with remainder to his eldest son and his grandson, but he was able to provide other lands and £2,500 for his two surviving younger sons. He left £100 to the corporation, to be put out at interest every five years to 'four poor honest tradesmen that are mercers', largely for the benefit of 13 poor men and women 'now newly by me placed and hereafter to be placed in their stead as poor almspeople in the hospital or house of St. Mary Magdalene near the city of Gloucester'. He was buried in the cathedral, and his widow bequeathed £100 for a monument. No later member of the family sat in Parliament.
Ref Volumes: 1604-1629 Author: Alan Davidson
[Trush, Andrew ed. and John P. Ferris.
The History of Parliament: the House of Commons 1604-1629
. 2010]
The Machen family is connected with Gloucester by the 10c. "About the year 967, in the time of Morgan hen, it appears taht after a long contest Owen ap Howel Dda obtained possession of Caerleon, Eddlogan, and Machen, with the consent of the Saxon King Edgar, leaving the remainder of the district, which is now called the Lordship of Wentllywch, in the possession of Margan." [page24]
The Machen family seems to have been very established in Gloucester from the 10c to the 17c. The 1700's brought change and challenges to the family. This era had been difficult for people involved in governmental change. The supporters of royalty found themselves defending the abuses of power heaped on the population. Gloucester, being one of the five larger trade centers in England was urged to support the king.
At the election of M.P. s in 1597 it was alleged that the bench had deliberately excluded from the poll numerous freemen who were supporters of Atkyns. The corporation was divided between an establishment group, led by
Alderman Thomas Machen
and his son-in-law Thomas Rich, which was sympathetic towards puritan ideas, and a more populist faction, led by Alderman Garnons and Alderman John Jones, which endeavoured to mobilize the freeman vote and had stronger ties with the cathedral close (Jones was diocesan registrar under eight bishops). When Rich became mayor in 1603 it was said he spent 'the greatest part of his time and study that year to be revenged upon his enemies and such as were not of his faction, to weaken, charge, and defame them'. It was further alleged that he tried to rig the council meetings. The elections to parliament in December 1603 were particularly turbulent. Rich and his allies on the corporation tried to delay the execution of the election writ in order to prevent the return of Jones. In the meantime Jones canvassed freeman support, promising to get more fairs for the city and the redress of various popular grievances. When Jones was eventually chosen Rich tried to hold another poll, though without success. Disputes continued through 1604, and in 1605 a series of cases involving leading members of the corporation was heard in Star Chamber and the Exchequer. Further outbreaks of factionalism occurred in 1608 and the 1610s, but they were on a lesser scale. During the second half of James I's reign there are signs that the magistracy, by then dominated by committed puritans, sought to curb internal conflict and consolidate oligarchic power by restraining abuses in city government.
[Herbert, N. M.
A History of the County of Gloucester
: Vol. 4: the City of Gloucester.]
1599, April 25 - Oliver Cromwell is born in Huntington.
1642 - 1646 The English Civil War - Oliver Cromwell and Charles I
1643 August 10th - Gloucester town's support for Oliver Cromwell identified the town as dangerous to the Royalist. The town, with a population of about 5,000, was put under siege by Royalist troops. Even they had run out of food and though were near expiring, they had got word out, and 15,000 troops were sent on the way from London for their relief. The Royalist troops stayed trying to force the surrender of the city until the Parliamentary troops arrived for the rescue. The reprieve for the town was brief. Cromwell dies of malaria and the royalty is restored to power. The Machens were banished to parts unknown. Some suggest to the island of Madeira, and other say to the colonies.
Here are a few of his know children. All the listed children here seems to have establish lives in England. There have to be others.
Known Children of Thomas Machen and Christian Baston

Henricus Machen de Creckley do com cicitatn Glouc
b.

d.prior to 1614

m.Anna Walker de com Bucks

Ricardus Machende Benckington in com Oxon Grantee of Machen Arms

b.

d.
1m. Margareta Davenport de Daven port in Com Cestris 1600
2m Maria "Mary" Tucker de Gravesend 1634 (d. 1677)

Edward Machende Matherley and Donington

b.
d.

m. Francesca Gaynsford de com Kent )(d. 1671)

Mary Machen
b.
d.
1m. Richard Parker 1585
2m. George Wyrall esq. to King James I

Anne Machen
b.

d.
m. Robins

Daniel Machen
b.

d.
m.

[Machen, H. A. The Machen Family, Gloucestershire. 1943, Vol. 64, 96-112, from the Transactions of the Bristol and Gloucestershire Archeological Society]

1688- the Monarchy is restored. In a complicated series of events between the new parliament, James II, and Charles II and William of Orange (France) the Civil War is ended and the Monarchy is restored. Cromwell's supporters were convicted of regicide which could be varied from execution to banishment.
---
Origin of the Machen Names and heraldry from England
"Machen
- East back court and Whitemead Park, co. Gloucester: descended from
Thomas Machin, three times Mayor of Gloucester
, buried in that city in 1614, granted to Richard Machen co. Gloucester, 1615, the present representative is Rev. Edward Machen, of Eastback Court and Whitement Park). Gu. a fesse vair betw. three pelicans' heads erased or vulning themselves ppr. granted to Richard Machen, of Gloucestershire, in 1615.
Machen, Machin, or Machon. Same arms crest- a lion's head erased. sa. on the head a cap of maintenance.
"pelican" - is always represented w/ her wings endorsed, neck embowed and pecking her breast, from which issue drops of blood.
"erased"- forcibly from the body; a head, limb, or other object erased, has its severed parts jagged."
[Burke, Sir Bernard. The General Armory of England, Scot, Ireland and Wales. Harrison, 59 Pall Mall, London. 1878]
The symbol of the pelican pecking at her breast seems to be used as a symbol of self-sacrifice. One version has the pelican bleeding drops of blood into the open mouths of her nestlings.

Origin of the Machen Names from Scotland
"There was a tenement of this name in the Vale of Clyde. Adam Machan witnessed two
charters by Orabile, who died c.1203. Thomas, son of John of Machan, was juror on a an inquest made by Sir Aleander Uviet, sheriff of Lanark, 1262-63".
source: Black, George T. The Surnames of Scotland, their Origin, Meaning, and Hist. The N. Y. Pub. Lib., 1962 N.Y.
According to the clan guide on the www this family is connected to the MacDonald clan of Scotland. The Vale of Clyde is the valley of the Clyde River which runs near Glasgow. The river also creates a bay known as the Firth of Clyde.

MacDonald Tartan
---
source:
Black, George T. The Surnames of Scotland, their Origin, Meaning, and Hist. The N. Y. Pub. Lib., 1962 N.Y.
Edwards, Laura Cleveland. Three Centuries in America: Thomas Machen of Middlesex County, VA, 816 Perry
Herbert, N.M. A History of the County of Gloucester: Vol. 4: the City of Gloucester1988
Howard Rd., Fuquay-Varina, N. C. 27526, 1999. email - jledwards@mindspring.com
Machen, H. A. The Machen Family, Gloucestershire. 1943, Vol. 64, 96-112, from the Transactions of the Bristol and Gloucestershire Archeological Society.
Nichols, John Gough edited by. The Diary of Henry Machyn, Citizen and Merchant-Taylor of London, from A. D. 1550 to A. D. 1563. printed for the Camden Society, J. B. Nichols and son, 35, Parliament Street. 1868
Trush, Andrew and John P. Ferris.

The History of Parliament: the House of Commons 1604-1629

. Cambridge University Press, 2010

_________________________________________________________________________________________________

All information and photos included within these pages was developed by the help of hundreds of researchers. The information here is for the express purpose of personal genealogical research and is freely offered as long as this site is listed as a source. It may not be included or used for any commercial purpose or included in any commercial site without the express permission of Elroy Christenson. Copyright Elroy Christenson 1998-2010.