Wm. Meares Family
South Carolina
---
William Meares
b. 23 September 1797 Greenville Co., SC
d. 28 March 1863 Greenville Co., South Carolina
buried: Pisgah Methodist Church Cem.(Terry's Chapel), Fountain Inn, S.C

m. Rebecca Terry before 1829 S. C.
b. Nov. 1802 SC
d. Aug. 13, 1890 SC# South Carolina
buried: Pisgah Methodist Church Cem., Fountain Inn, S.C (Terry's Chapel)
her father: Thomas Terry
her mother: Nancy Ann McDowell

his father: Thomas Meares ( b. 1763 Ireland d. 1822 Greenville SC)
his mother: m. Lavina (?) (b. 1765 Ireland d. 1835 SC)
Children with Rebecca Terry
Thomas Asbury Meares
CSA Pvt. 2nd SC Cavalry, Co. F
b. 20 May1829 Greenville Dist., SC
d. 15 Jan 1915 Anderson Co., SC
buried: Williamston Cemetery, Anderson County, S. C.
m. Elizabeth Morgan Elrod 1858 Anderson Co., SC
(b. 5 Dec1834 Anderson Co., SC - d. 24 Oct 1908 Anderson Co., SC)dau. of Adam Elrod and Sarah Moore
Mary Ann Meares
b. 9 Oct 1830 Greenville Co., SC
d. 16 Jul 1918 Alphretta, GA
buried: Wafford Crossroads Bapt. Ch. Cem., Bartow County, GA
m. Benjamin Francis Gilstrap abt. 1853
(b. 9 Sep 1828 Pickens Co, SC d. 1 May 1911 Alphretta, GA)
son of John Gilstrap and Martha Durham
Elizabeth Meares
b. Jan1832 Greenville Co., SC
d. 1913 Anderson Co., SC
m. Elijah W. Elrod (b. 1830 d. Oct 4 1864 Richmond, VA CSA Pvt. 7th SC Infantry Regiment, Co. H)
son of Adam Elrod and Sarah Moore
Samuel Morse Meares
(CSA Pvt, SC Hampton's Legion, Co. E)
b. 23 Dec 1834Greenville Co., SC
d. 15 Feb 1934
m. Charlotte Eliza Nash 10 Dec 1860 SC
(b 28 Oct 1838SC d. 10 Feb 1910 SC)
dau. of Miles Nash and Mary Gray
Harriett Meares
b 8 Aug 1837 Greenville Co., SC
d. 30 Mar 1897
m.
Wyatt Terry Meares
(CSA Pvt. Hampton Legion SC Infantry, Co. E)
b. 3 Mar 1840 Greenville Co., SC
d. November 25, 1932, Seneca, Oconee County, SC
1m. Sarah E Eliss c1870, dau. of Gideon Ellis and Susan A. (b. 1849 Pickens, NC d. c1883 Pinckens Co., NC)
2m. Marth J Mauldin c1884, (b. 4 jul 1855 Oconee Co., SC, d. 20 Dec 1926 Oc., SC) dau. of William Mauldin and Sarah Whitmire
George Washington Meares
(CSA, Home Guards Greenville, SC)
b. 8 Jul 1842 Greenville Co., SC
d. 25 Nov 1932 Seneca, Ocoree Co., SC
buried: Williamston Cemetery, Anderson County, SC
m. Edith Olivia Russell December 1873 Abbeville SC, (b. Nov 1845)
Emma Eliza Meares
b. 3 Jan 1845 Greenville Co., SC
d. July 16, 1924, Anderson County, SC.#
m. Elias Franklin Elrod, JR 22 Jul 1839 Anderson Co., SC (b. 2 Jul 1839 SC d. 8 Jun 1927 Anderson Co., SC) CSA Pvt. SC 4th Infantry Regiment, Co. D (son of Elias Elrod and Mary Dothit)
Sarah Jane Fletcher Meares
b. 1847 Greenville Co., SC
d.
m. William Alvin McKelvey (b. c 1845) CSA 1st Sgt. SC 14th Infantry Regiment, Co. F



#records of Paul Mears, 405 Hazel St., Walterboro, S. C. 29488

The spelling of this family varies. It is sometimes Meares or Mears in the census.

before 1829 - Rebecca Terry is married to William Meares.

after 1830 - 1843 - Rebecca, a married woman, and William Meares are engaged in the probate of the estate of Thomas Terry. Rebecca raises a large family of at least nine children. By 1850 she also assumes some care and responsibility for her aging mother.

1850 - Rebecca Terry shows on the US Census married to William Meares age 53, farmer worth $1300 in this census. They have a large family. It is the first census that list all the names of the relatives in the household. We see that she also is taking care of her mother, Ann Terry, age 90 from Ireland along with, Rebecca Mears, age 65, born in South Carolina. Rebecca Meares, b. 1785 is supposed to be born in Ireland and the sister of William.
[US Census, Greenville Co p404.]

1850 [Greenville Co. p. 404a-b]
William Meares 53m farmer 1300 SC
Rebecca (Terry) 47f SC
Thomas 21m SC
Mary 19f SC
Elizabeth 18f SC
Samuel 15m SC
Harriet 13f SC
Wyatt 11m SC
George 10m SC
Emma 5f SC
Sarah 3f SC
Ann Terry 90f Ireland
Rebecca Mears 65f SC
1852- Nancy Ann Terry dies at the home of her daughter Rebecca and William Meares with whom she had been living since at least the 1850 census.
Headstone marker in Laurens Co SC, lists Ann Terry b. Mar 14, 1764 d. Jan 3,1852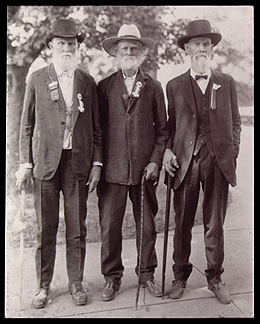 Samuel Morse Meares, Thomas Asbury Meares and George Washington Meares,
sons of William Meares and Rebecca Terry of Greenville Co., S. C.
photo courtesy of Debbie Millias of California, Paul Mears web site.

1860- [Greenville Co., p. 424]

Wm. Meares 63m farmer 3360/3000 SC
Rebecca 58f housekeeper SC
Harriet 23f seamstress SC
Terry 20m farmer SC
George W. 18m farmer SC
Emma E. 15f student SC
Sarah J. 12f "
Rebecca 75f SC
The Meares family became quite well established in South Carolina but a few families moved on into Georgia and Texas. During the Civil War most of the male members of the family enlisted to fight for the Confederacy. Several members may have been at Fredericksburg and Gettysburg. Elijah W. Elrod was killed in Richmond, VA and was probably buried there. All the other Meares soldiers returned home to die later after unbelievably long lives.
1880- US Census, Pickens C.H., Pickens, South Carolina
Wiet T. MEARS Self M Male W 40 SC Wagon Buggies ... SC SC
Sarah E. MEARS Wife M Female W 31 SC Housekeeper SC SC
Lillian J. MEARS Dau S Female W 9 SC Attending School SC SC
John B. MEARS Son S Male W 7 SC Attending School SC SC
Ella MEARS Dau S Female W 5 SC SC SC
Saml. I. MEARS Other S Male W 3 SC SC SC
Lena R. MEARS Other S Female W 6M SC SC SC
Source:

return to Terry Family Index || Return to Elroy's Family Index || Ancestoral Chart #12
---






All information and photos included within these pages was developed by the help of hundreds of researchers. The information here is for the express purpose of personal genealogical research and is freely offered as long as this site is listed as a source. It may not be included or used for any commercial purpose or included in any commercial site without the express permission of Elroy Christenson. Copyright Elroy Christenson 1998-2010.


web pages created by Elroy Christenson- elroy@next1000.com - last updated 8/10/10