Chris Rohne Family
Texas

Christian "Chris" Ludwig Rohne
b. 28 Apr 1899 Cranfills Gap, Bosque Co., TX [TX Death Certificate 57555]
d. 9 Oct 1957 Fort Worth, Tarrant Co., TX [TX Death Certificate 57555 ]
buried: St. Olaf's Rock Church Cemetery, Cranfills Gap, TX


m. Marie Pernella Bronstad 16 Jun 1921 St. Olaf's, Cranfills Gap, TX
b. 30 Jun 1899 Cranfills Gap, Bosque Co., TX
d. 17 May 1985 Ft. Worth, Tarrant Co, TX
buried: St. Olaf's Rock Church Cemetery, Cranfills Gap, TX
her father:

Gulbrand Olson Bronstad

(Nor.)
her mother:

Laura W. Hansen




his father: Evan Rohne
his mother: Marianne Oleanna Rohne

Children with Marie Pernella Bronstad

LoVerone Marcella Rohne

b. 19 May 1923 Cranfills Gap, Bosque Co., TX [Texas, Birth Cert. #25292]

d. 5 Jun 2003 Huston, TX (80)
buried: Oslo Lutheran Church Cem., Hansford Co., TX [usgwarchives.net]

m. Winloe Ray Schibler 4 Aug 1946
(b. 27 Jan 1923 d. 27 Jun 1980)

Geraldine Elmira Rohne

b. 1926 probably Bosque Co., TX

d.

m. Joseph Harvey Eidson
(b. 2 Jul 1918 d. 19 Feb 1983 Ft. Worth, TX)
(son of Joseph Harvey Aidson and Alma Grace Witty)

Charlotte Marynell Rohne

b. 1931 probably Bosque Co., TX
[Texas, Birth Certificate #78023]



m. _____Wallace


Chris Rohne was for many years the main banker in Cranfills Gap, Texas for the 1st Security State Bank.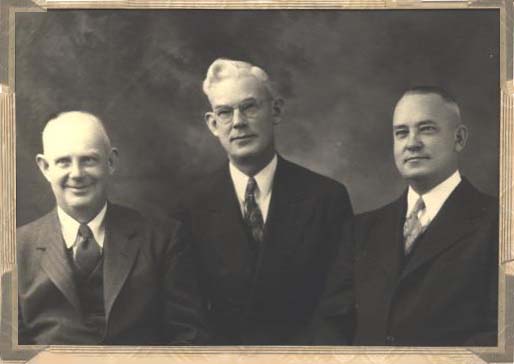 Paul Bernhard Rohne(left), and his brothers Magnus and Chris Rohne.
photo courtesy of Tony Rohne

1918-20 - Chris Ludvig Rohne attends Luther College. This the same college that his brother Magnus Rohne attends.
Chris does not receive a degree but starts his career as a cashier at the local Cranfills Gap bank. He eventually works his way up to "Banker". He was probably instrumental in providing loans to local farmers for new equipment, land purchased and other farm improvements.

1930 - US Census, Bosque Co., TX. enun. dist 18-18, sheet 9a

Rhone, Chris L. head m w 30 mar age 22 Texas Norway Norway cashier Bank
, Marie wife f w 30 mar age 22 Texas Norway Norway
" , La Verne , dau f w 6 s Texas Texas Texas
" , Geraldine , dau f w 3 9/12 s Texas Texas Texas


1940 - US Census, Texas, Bosque Co., Precinct 8, Cranfills Gap, e. d. 18-20, sheet 2b

Bronstad, Mrs G O head f w 66 wd Texas
" , Margaret dau f w 30 s Texas
Rhone, Chris son in law m w 40 mar C1 Texas Banker 1st Security State Bank
" , Marie wife f w 40 mar H3 Texas
" , Loverne dau f w 16 s 7 Texas
" , Geraldine dau f w 13 s 7 Texas
" , Marynell dau f w 8 s 2 Texas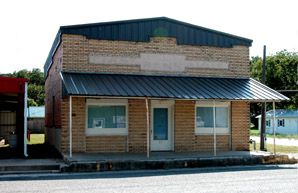 The 1st Security State Bank building, business now moved to a new building
1947 - Geraldine Rohne attends North Texas State College, Denton, TX

Source:

Bosque County History: Land and People, Bosque Co. Hist. Commission, 1985, Bosque Co, TX
Texas State Death Certificates
United States Census


Evan Rohne family || Elroy's Family Index || Ancestor Chart #3
---






All information and photos included within these pages was developed by the help of hundreds of researchers. The information here is for the express purpose of personal genealogical research and is freely offered as long as this site is listed as a source. It may not be included or used for any commercial purpose or included in any commercial site without the express permission of Elroy Christenson. Copyright Elroy Christenson 1998-2010.


web pages created by Elroy Christenson- elroy@next1000.com - last updated 3/10/14