Evan Rohne Family History


Norwegian Ancestors Immigrants to Texas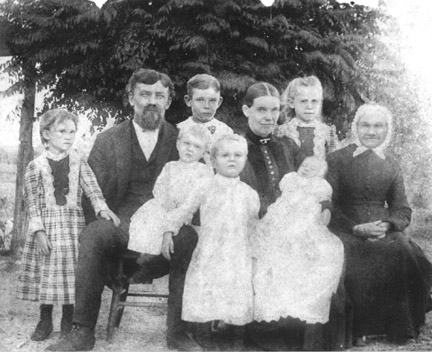 click on the photo to get a 200 dpi enlargement, 416K file

Even and Marianne (Egeberg) "Rohne family with Grandma Egeberg
Evan and Olianne (Egeberg) Rohne and family. (top- left to rt.) Cora, Evan, Oscar, Olianne,
Minnie, Grandma Olea Egeberg. (on lap) Emma, Pauline, (on lap) John Magnus.
photo taken about 1891-92 courtesy of Tony Rohne, retouched by Elroy Christenson 2002

Even "Evan" Paulsen (Rohne)
b. 22 Sept, 1848 Tomterieie, Romedal, Hedemarken, Norway [Norway. Archives, see 1848]
d. 11 May 1901 at home Boggy Community, Bosque Co., TX
buried St Olaf's Church, Cranfills Gap, TX
USA naturalized by 1900

m. Marianne Olianne Egeberg 15 Dec. 1880 Limestone Co., TX
b. 24 May 1858 Aadalen, Løiten Paprish, Hedemarken Co., Norway
d. 25 Feb. 1947 at son, Paul Bernhart Rohne, Cranfills Gap, Bosque Co., TX [TX Death Cert.]
buried St Olaf's Church, Cranfills Gap, TX
was not naturalized by 1900
her father - Knud Olsen Egeberg
her mother- Olea Olsdatter Aadalen

his father - Poul "Paul" Nielsen
his mother- " Marte" Martha Eriksdatter
Their Children
Minnie Rohne
b. 16 Sept 1882
bapt-15 Oct 1882

d. 19 Oct 1941
buried St Olaf's
1m. Christian Anders Christensen
d 1912 (four children) brother of P. L. Christenson
2m. Chris C. Hansen c1917 (one child)
3m. Martin Julius Mickelson (no issue)
Oscar Rohne
b. 20 Feb. 1884 Boggy Community, TX.
d. 21 Feb 1930 Cranfills Gap, Tx buried St. Olaf's
m. Malinda Josephine Olson 29 Nov 1904 St Olaf, (b. 14 Apr 1886 d. 17 June 1971- 85 yrs old of cancer)
dau. of John and Marie Arneson Olson
Cora Rohne
b. 8 Nov 1886 *
Norse Church rec.- 8 Nov 1885

d. 22 Oct 1922 Boggy Com., Bosque Co., TX buried St Olaf's
m. Peder Legind Christensen (brother to C. A. Christensen)
Pauline Rohne
b. 9 Apr 1888 Bosque Co., TX
d. 16 Sept 1971 Bosque Co., TX
buried - St Olaf's Rock Church*
m. Gustave "Gus" Syverin Knudson (b 30 Jan 1887 Bosque Co., TX d 25 Nov 1907 Bosque Co., TX)* buried: St. Olaf's Rock Church.

Emma Mathilda Rohne
b. 1 Dec. 1889 bapt.-26 Dec 1889

d. 1 Aug 1968 Sunset home, buried St Olaf
m. Rev. Canute Thorvald Jenson (preacher in Minn.)
Rev. Dr. John Magnus Rohne
b. 18 Jul 1891 Boggy Com.
bapt. 30 Aug 1891

d. 19 Feb 1958 Phoenix, AZ
m. Louise Rebecca Jensen, 21 Sep 1921 Ft. Wayne, Allen Co., Indiana
(b1899 Albert Lea, Minn d 1981 Phoenix, AZ) (no issue) father: T. P. Jensen, mother: Anne Louise

Paul Bernhart "Tom" Rohne
b. 28 Jan 1895 Boggy Commmunity, TX

d. 10 Dec 1981 Clifton, Bosque Co., TX

m. Alma Bendina Tergerson 1929 Waco, b1897 TX (d. 27 Apr 1998 Bosque Co, TX)

Helen Magdalena Rohne
b. 30 Sept 1897
bapt. 7 Nov 1897

d. 29 Aug 1996 Baytown, Harris Co., TX

m. Jesse Justin Jenson 1919 St Olaf, d. 1958 Baytown, TX

Christian Ludwig Rohne
b. 28 Apr 1899
bapt. 28 May 1899

d. 9 Oct 1957 Tarrant Co., TX

m. Marie Pernella Bronstad 16 JUN 1921 Bosque Co., TX (b. 30 Jun 1899 C. Gap, Tx d. 17 May 1985 Ft. Worth, TX) her parents Gulbrand Olson Bronstad (Nor.) and Laura W. Hansen

*There is some confusion about the year. An old bible record that has been over written says 8 Nov 1886,
1900 census records say Nov 1885. The death record is from Social Security records.




1848 - Sept. 22 - Even is born to Poul Nielsen and Marde Eriksdatter in Tomterieie, Romedal, Hedemarken, Norway. Marde was apparently Paul Nielsen's second wife. [Hedmark County, Romedal, Parish register copy nr. 9 (1846-1866) Birth and baptism records 1848, page 21. http://www.arkivverket.no/URN:NBN:no-a1450-kb20070513090537.jpg


His last name is more properly Poulsen, after Poul Nielsen his father. When Even comes to the United States he seems to have adopted the name Rohne for the last name. The name is according to family lore taken from a farm on which he worked. The only farm that comes close to this name in the Løten/Romedal area is "Röne" or "Rönne"[Rygh]. This particular farm has three separate locations near Romedal in the 1862 map. In the later map below it is in two locations, one near Romedal and another is about 2 kilometers north of Løten.

I reconfirmed on a trip in 2016 to Norway that Even was not born on a Rohne farm but on the Tomter farm some where, however, he did attend classes in the Rohne School District, sort-of. I actually held a "protocol" book which is a register of the students every six months. It gives a list of areas of study that they attended as well as their level of competence. These books record classes from 1856 to 1867. By the history of the classes, we have documented changes that Even and his sibling had to endure. We know that Even's father died in 1857 and Even was only nine years old. Since his mother had lost the primary bread winner she had to figure out how she could care for the children and herself. Even is actually sent to the Bjornerud farm for the next few years. His mother takes care of her youngest daughter and her eldest son Magnus remains with her, probably to help out. Magnus is only two years older than Even. Both boys were probably tall for their age which made them capable of doing young adult's work. The Bjornerud farm is about 1-2 kilometers from Tomterieie where the rest of the family resided. Tomter is the main farm whereas Tomterieie can refer to several separate homes on the estate. Each building could hold three to five families of farm workers. The one that probably was the original home for the Nielsen family has since been reclaimed by the forest. The Bjornerud farm has lost a few building but had been remodeled and retains much of it character.

Basically Marte/Marthe Eriksdatter was very poor. Poul Nielsen was probably buried in the church ground in grave marked by a wooden cross. The tradition in Norway is that the grave site will be reused if the someone doesn't pay the maintenance each month. At any rate the bones will be dug up after about thirty years. Grave markers will be moved out of the plot and stone markers will be broken up and ground reused for a new tenet.

Although the family lore is that Evan Rohne took his name from the school district, it was not one in which he spent the most years. That honor goes to the Tomter or Vallset school. The building is in the corner of what used to be called the Tomter school after the name of the farm and church. It is presently named the Vallset Kirke. It is a small building that held about 30 students. It still stands there and is apparently used for Sunday School classes. A more modern Vallset school was built up the road in 1905 but now works as a cottage for summer travelers. Even started school here in 1857 at the age of 8 1/3. He had classes in writing, math, religion, language, and singing. His brother Magnus Paulsen is also here at the age of 12 1/2. There were up to five farms in the area that were titled Rohne/Ronne/Rone. Since it was one of the most well known farm names I believe this is why Even chose it. It does not seem as though his father ever worked on the Ronne farm but it is possible that Even may have since one Rohne farm is very near the Romedal church which was also very near where his family lived on the Romedal Prestegjeld (priests farm) in 1865. Because this is a major church it also had several properties that supported the parish. In 1865 they seemed to be living on this one.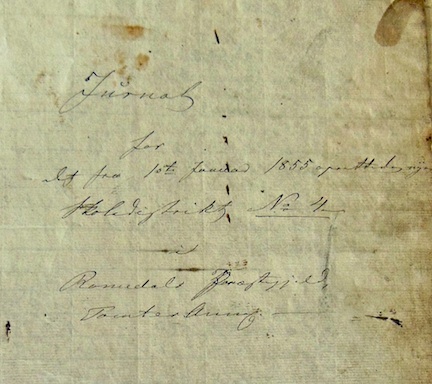 Title page of the protocol book,(journal) for Romedal Prestejeld, Tomter School book #4, 1855
photo Elroy Christenson, 2016
The Vallset School protocol of 1858


(Even's name is fourth from the bottom)
photo Elroy Christenson 2016


Vallset Kirke School building
photo Elroy Christenson 2016



According to the Vallset School district protocol we get a picture what happened to this family.


1855 - 31st May to end of the year.
Magnus Paulsen 11 is living at Tomter
1857, 1st Jan to May 31st
Magnus Paulsen 12 1/2 is living at Tomter
Even Paulsen 8 1/3 is living at Tomter
Helena Paulsdatter 7 is living at Tomter
1857, 31st May to end of the year
Magnus Paulsen 13 1/3 is living at Tomter
Even Paulsen 9 is living at Tomter
Helena Paulsdatter 7 is living at Tomter
1858, 1st Jan to May 31st
Magnus Poulsen 13 1/2 is living at Tomter.
Helena Paulsdatter 7 1/2 is living at Tomter.
1858 1 Jan to May31st
Even Poulsen 9 1/4 is living at Bjornerud. He seems to be one of only two school age children from this farm although there are four children from an adjoining farm of Bjorneruderie
1858, 31st May to end of year
Even Paulsen 9 3/4 is living at Bjornerud
1861, 31st May to end.
Helene Paulsdatter 10 1/2 is living at Tomter
1863, for 65 days
Even Paulsen Bjornerud (no age given) at Bjornerud
Helene Paulsdatter Tomter (no age given) at Tomter
1864,
Even Paulsen Bjornerud (no age given)
Helene Paulsdatter Tomter (no age given)
1865,
Helene Paulsdatter Tomter (no age given)




Vallset Kirke panorama, 2016
photo Elroy Christenson 2016
Transcription of "Rohne" or "Oudlen" would probably be difficult into English at the time of immigration so I'm assuming that Even got as close to it as possible. Marianne is said to have been born at Aadalen while Evan's parents, Poul and Marianne stated that they are from "Tomterieie" or "Tomter" in the upper left near "Vestgd" on the following map. According to the history of farms, "Aadalen" was later named "Oudalen".[Rygh]. This farm is just to the east of Romedal in the 1862 map. It is about 2.5 kilometers to the south of Løten and about 1 kilometer from one of up to five "Röne" farms. Marianne and Even apparently did not know one another until they moved to Texas. There were as many as 161 immigrants from Løten living in the Clifton, Texas area by the 1900's. [Syversen]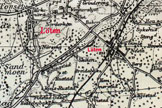 map button to 1900's map of Løten.
(unknown source, cleaned for better readability- EC)

"Rohne Family History: Norwegian Immigrant Started Farm Here with Yoke of Oxen" written by Alice Easum - As printed in the Cranfills Gap Index, Bosque County, Texas, vol. 47, no. 44, Nov. 27, 1964. Alice seems to have done an extensive interview with Paul Bernhard Rohne for this article. He lived until 1981 and had first hand knowledge and experience of his immigrant parents.

"The story of P. B.(Paul Bernhart) Rohne and his family began in Norway in the middle 1800's
P. B. 's father, Evan Paulson, was born in Rondal, Norway. As Evan grew up, he worked as common laborer on a farm owned by a man named Rohne. Since Evan worked for Mr Rohne, he inherited Mr. Rohne's name, which was the custom of the day and his name became Evan Paulson Rohne.
P. B.'s mother, Mariannne Olianne Ekberg was born in Loiten, Norway. Her father was a tailor and she helped with the making of woolen cloth for garments. The wool had to be scoured, corded, spun into thread, and made into cloth.
A few years prior to 1878, Henrick Dahl of Norse paid for Evan Paulson Rohne's passage to America. There was an understanding between Rohne and Dahl the he would worked for one year for Dahl to pay his jorney to his new homeland.
Miss Ekberg's brother who was already residing in America, paid for her voyage to the new country, America. He lived in Mexia, Texas where there was a small Norwegian settlement. She arrived in Mexia in 1878.
Mr. Rohne and Miss Ekberg had made the long and arduous journey from Norway to America at different times. Neither brought any personal belongings except their clothing and non-perishable food to be eaten during the voyage. Their primary food during the journey were dried beef, cheese, and bread. The Two young people had never met in Norway.
Marianne Ekberg's brother, Bernt Frederick Johnson, was living at Mexia and working for Munger Gin Co. He helped Marianne get a job as a housemaid for Colonel Hendricks, who owned a large plantation outside of Mexia. She did the light housekeeping while the Negroes, did the heavy work, such as washing clothes, scrubbing floors and ironing, even though slavery had been abolished.
(page 6)
She did not know any English except perhaps"Yes" and "no" and the Hendricks Family could not speak Norwegian. Gradually, through continuous usage of the English language, she learned to speak, read and write English.
Even Evan had worked for one year as an indentured worker to pay for his passage and had earned enough money to make a down-payment on a farm about 4 miles of what is now Cranfills Gap, he moved to Mexia where he had heard there was a small Norwegian settlement Evan worked for the railroad at Mexia probably taking care of baggage and freight. He also did not learn the English language until after he came to America.
Evan and Marianne probably met at a get-together while they were living in Mexia and later married. They were married in the home of Colonel Hendricks for whom Marianne worked. Folks from all around Mexia were invited to the gala event. P. B. Rohne recalled his mother saying that the Hendricks really gave her a "swell wedding".
The newly married couple honeymooned from Mexia to Cranfills Gap in a wagon with grocery boxes for seats and a span of mules for transportation. After several days of travel the Rohnes arrived at the farm Evan had purchased from Berje Rogstad. This farm is now owned by Mr. and Mrs. Robert Prokschl.
The Rohnes farm consisted of 360 acres. Evan paid $200 as a down-payment and paid two other notes on the farm making the total cost of the farm $600. At this time his taxes were $11.00 per year.
When the Rohnes moved into their log cabin, there was probably nothing more than a general store at Cranfills Gap. They had to travel to Clifton to grind wheat. The Rohnes used grocery boxes and crates for their tables, and chairs in the beginning of their married life.
Evan began farming with yoke oxen. He later acquired another span of mules and bought a 10" moldboard walking plow which can now be seen in the Clifton Museum.
P. B. recalls his parents talking about the difficulty of locating their cows in th brush. When the cows got in the brush and couldn't see, they would just stay in that spot and not return home. It was very important then for the cows to be wearing bells. P. B. still has a cow bell from his parent's early farming days.
Other heirlooms in the Rohne family are a beer stein, scissor tongs, a meat chopper, and a cheese box.
In Norway a lot of ale was brewed and drank just as Americans drink water or milk. The water was usually poor for drinking and the poor people of Norway could not afford cows. The an antique beer stein was brought to America by P. B.'s grandmother's grandfather and dates back to at least 1775 or perhaps ever-earlier.
Sugar was very scarce in the first years of this new land so the settlers improvised. They boiled sugar and water together until it was almost like candy. It was then poured out to make very thin sheets. The scissor tongs were used to cut small strips of the sugar-wafer mixture after it had hardened somewhat. The strips were used to sweeten coffee and also one could bite a piece off.
Young wives and mothers of pioneers days were budget minded as much then as now. An heirloom piece still in the Rohne Family is a meat chopper. This was used for shopping left-over meat to be used in hash.
The wooden box, which P. B.' grandmother used for carrying cheese on her voyage to America is still in the family. This box is unusual in that it has no nails. The box has been sewn together with a fiber that was moistened to make it pliable. The cheese box was then placed in water which caused the box to swell.
There are also several trunks in the Rohne family that made the journey from Norway to America.
Evan and Marianne had nine children. With the exception of two, all of their children. With the exception of two, all of their children married and reared families in this vicinity. Their children are Minnie, Oscar, Cora, Paulie, Emma, P. Bernhart, Helen, and Chris. Emma married a minister and they moved to Minnesota where they spent approximately 32 years. Magnus who became a Doctor of Divinity, lived in Minnesota and later in Arizona until his death several years ago. Chris was the banker at Cranfills Gap for about 30 years. In 1897 the Rohnes moved out of the log cabin into a newly built house which is still standing today. P. B. as the first child born in the new house. The three oldest children, Minnie, Oscar, and Cora attended elementary school at the Shell Rock School which can be seen on the highway between Cranfills Gap and Clifton.
There were not enough children in the area to attend this school so Evan told his neighbors that he would provide the land in his pasture if they would help him build a school-house. This was known as the Rohne School.
A teacher, H. W. Ericson, who graduated from Upsla University in Sweden was secured to teach at the Rohne School. He taught four subjects which were penmanship, grammar, English, and mathematics. Mr Ericson probably boarded with various neighbors of Rohnes because P. B. remember his staying in their home. He was paid $30 per month.
After a while the remaining children attending the Rohne School transferred to the Cranfills Gap School or the Boggy School.
Both Evan and Marianne were Lutheran and they attended the Lutheran Church at Norse. Minne, Oscar and Cora were confirmed at Norse.
His father helped build the Rock Church near Cranfills Gap and in 1886 they transferred their membership to the Rock Church.
The kids bedded down in the back of the wagon and his parents rode on spring seats. He said, "the preacher would put in about 2 hours and then the family piled back into the wagon and drove about four miles over the rocky hills in the hot sun to heir home. There was quite a bit of bedlam getting a bath and getting the hair slicked down on Sunday morning It took about an hour and a half to drive to church and the same to go home."
Once Marianne dressed Magnus in a spanking white suit While she was dressing the other children, Magnus sat down on a wash pot. Magnus spanking white suit got spanked.
The youngsters sometimes spent Sunday afternoons picking blackhows (berries) or playing baseball. "By the time I was old enough to dance, the Rock Church had a preacher that preached hell fire and brimstone and dancing was tabooed," said P. B. He never danced but he remembers seeing his parents and the older brothers and sisters dance.
The men often played cards and dominoes for entertainment.
His family often had devotionals and they were taught to read the Bible, pray, and learn the ten commandments.
Once his grandmother brewed some ale. Every time the immigrant boys from Norway loaded some corn onto the wagon they drank some ale. P. B. said that by the time they had the wagon fully loaded, they were pretty high.
Marianne was the disciplinarian in the family. She laid down a few simple rules and expected the children to tow the line. Evan was a little more liberal concerning punishment than Marianne was.
At the age of 54, Evan Paulson died of bronchial pneumonia. He had been rattle snake bitten a few years prior to his death that had caused him to be in ill health for several years. A doctor from Cranfills Gap came to the Rohne home shortly before his death. The doctor called in another doctor from Turnerville for consultation. Evan expired in May and is buried at the Rock Church Cemetery near Cranfills Gap.
P. B. was only 5 when his father passed away and he recalls the his parents were just coming into fairly good circumstances. His father had purchased another farm, some cattle, implements, and teams of mules.
His mother, Marianne, managed both farms with the older children helping with the work. After six years, Marianne sold the second farm to one of the children and set up a trust fund for the younger children with Oscar as their guardian.
In 1917 the whole congregation of the Rock church moved its membership to St. Olaf Lutheran Church at the Cranfills Gap. Among that membership were several members of the Rohne family.
Marianne later made her home with her son P. B. She gathered eggs on P. B. 's farm until she was 89 so that she might get enough exercise and she always helped with the dishes after meals. She remained very active until she developed a heart condition and passed away in 1917.
From this family of nine children came a minister, the wife of a minister, a banker, farmers --- good American citizens. It is upon the arduous toil, continuous determination, and the dauntless spirit of people such as these that our American heritage was built. Let us all look at ourselves and ask if we will be stepping stones for greater future American generations or will we be stumbling blocks."

Rohne family name history may be attached to the farm Røhne. There are a couple of locations - Røhne norde (north), Røhne sødre (south). See the complete history of the Røne/Rønne/Røhne farms here. These records go back to about 1615 but are too extensive to be included in this page and not directly related to Evan Rohne whe probably lived and was born on one of these farms. I have so far not been able to identify which farm is most closely connected to Evan.

1848 - Sept. 22 - Even is born to Poul Nielsen and Marde Eriksdatter in Tomterieie, Romedal, Hedemarken, Norway. Marde was apparently Paul Nielsen's second wife. [Hedmark County, Romedal, Parish register copy nr. 9 (1846-1866) Birth and baptism records 1848, page 21. http://www.arkivverket.no/URN:NBN:no-a1450-kb20070513090537.jpg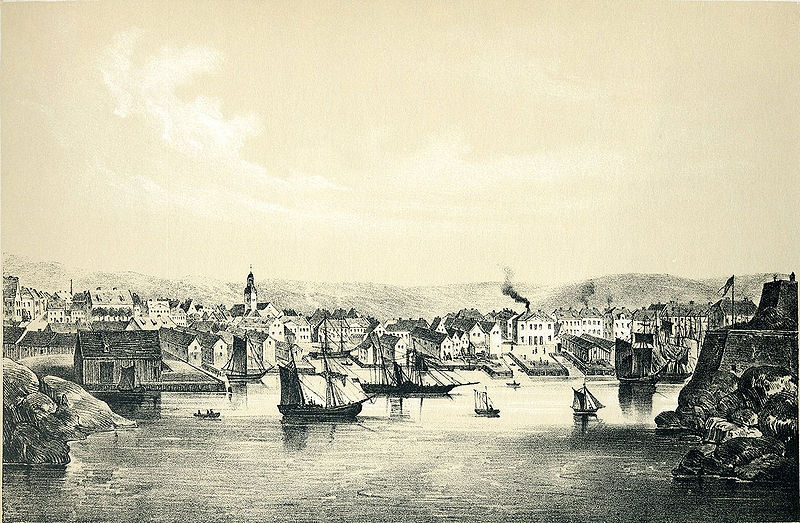 Christiansand, Norway in 1848, one of the ports through which Evan travels to Hamburg about twenty three years later.
print by Chr. Tønsberg courtesy of Wikipedia Commons

1854 - The first Norwegians start to settle in Bosque County. The county itself is created on Feb. 3, 1854. Cleng Peerson (b. 1782 Nor) came to assist settlers as he had in Minnesota. Here he died in Norse community, Dec. 16, 1865 where he is buried. This area was also visited by the King Olav V of Norway, on 10 Oct. 1982 to commemorate the birth of Cleng Peerson. [Bosque Co. Hist. , p35]
1857- Paul Nielsen, Even's father, dies leaving him to be raised by his mother from the age of nine.

1858, "Mai" 24 - Oliane Marianne is born (difficult to read) parents Knud Olsen Egeberg and Olia Olison Egeberg of Lilles An Dalem. (parish) [Hedmark county, Løten, Parish register (official) nr.7 (1850-1859), Birth and Baptism records 1858, page 104, [http://www.arkivverket.no/URN:NBN:no-a1450-kb20060412030553.jpg] Also given is the sponsor for baptism.

1865- Census records of Romedal Parish, Norway (Rohne Census dist.) shows Even Pauls (Paul's son). with his mother, Marthe Erikd. (Erik's daughter) living on the land of Mathias Christians. Sund, a parsonage lessee within the "Rohne Skoledistrikt" (school district) It seems times were tough for Even's mother, at this time 45 years old. Even's father had died when he was about 9 years old. His mother is apparently working here for the parish lessee's family as a milk maid as part of the support needed for the family. Even is eighteen and working on the farm with his brother Johan Magnus and his sister Pauline. Another sister, Martha, seems to working for another family in the area. They are living on the Romedal's Praestegaard (Romedal's Parish farm #72a) in the Røhne Skuledistrikt (Rohne School District).

Mathias Christiansen Sund


Forpagter af Præstegaarden
(lessee of the parsonage)
(head of houshold)
38
(male)
Vang Hed
(born)
Marthe Pedersdatter


Forpagterens Kone
(lessee's wife)

(married)
37
(female)
Elverum
Johanne Marie Sund*


Deres Datter (their dau.)
(unmarried)
13
(female)
Vang
Mina Sund*


Deres Datter(their dau.)

(unmarried)
8
(female)
Stange
Petter Christian Sund*


Deres Søn (their son)
(unmarried)
5
(male)
Romedal
Olaf Sund*


Deres Søn (their son)

(unmarried)
2
(male)
Romedal
Siri Olsdatter


Tjenestepige
(unmarried)
31
(female)
Romedal
Necoline Sophie Hansd.


Tjenestepige
(unmarried)
26
(female)
Stange
Lisbet Mekkelsdatter


Tjenestepige
(unmarried)
21
(female)
Vang
Marthe Eriksdatter



Budeie (milk maid)

(widowed)

45

female

(born) Romedal

Pauline Paulsdatter


hendes Barn (her child)

(unmarried)
13
"
Romedal
Johan Magnus Paulsen


Tjenestedreng (farm hand)
(unmarried)
22
male
Romedal
Even Pauls.


Tjenestedreng (farm hand)
(unmarried)
18
male
Romedal
Mikkel Thores.


Lægdslem (welfare recipient)



76
male
Romedal



[Census records of Norway, web site - http://digitalarkivet.uib.no/cgi-win/webcens.exe?slag=visbase&sidenr=10&filnamn=f60416&gardpostnr=222&personpostnr=1296&merk=1296#ovre]

This is the Romedal Prestegjeld (priest farm) which was the last residence of Even Poulsen in Norway. The main building was probably replaced fairly recently. Usually these farms were two stories and had several out building for the workers. It took several years for Marthe Eriksdatter to gather all her children under one roof but by 1865 she was successful. Unfortunately Johan Magnus Poulsen drowns at a young age. He was known to have been a fisherman. I don't know if he was fishing off the coast or in nearby Lake Mjøsa. The lake is large enough to have an industry for fishing and it could have created some very rough conditions.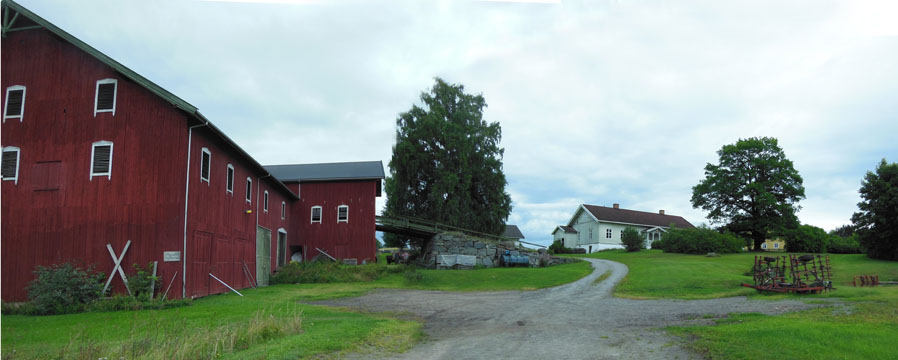 The Romedal Prestegjeld #2 is a short distance from the Romedal Kirke.

photo Elroy Christenson 2016


A further explanation of this census was provided by Gunnar Nerheim, a historian from Oslo, Norway:

"prestegårdsforpagter" ... means is this. After the reformation and throughout the 19th Century, every parish pastor was given his own farm as part of the salary. Pastors seldom operated these farms themselves. They rented them to someone else and took the rent Money.

That is the case with Evens mother. she was a milkmaid, working for a farmer who did not own his land, but rented it. Nevertheless, it was a big farm and high social standing was attached to renting such a farm. Your list shows that the farmer had many people in his employ, Even, his Brother and mother among them. There probably was also an expectation in these days without social Security that the person renting a parsonage farm would show some willingness to employ and help poor people. The Rohne Family was such a Family, and at the end of your list you also find a person on "legd". This means that some People were so poor they could not even take care of their parents in the old age. They were shuttled around from farm to farm - living three weeks here, two months there and so on....
What I just have written gives you further proof that Evan Rohne came from a poor background. He had good reasons to accept an indenture contract with Henrik Dahl. There was not many possibilities for a young person like him in inland Norway. Had he lived by the sea it could have been a different ball game." [Nerheim, email 2/18/15]

1871- Even emigrated from Norway through Galveston, TX according to Wayne Rohne, however, I believe he first landed in New Orleans. By the time Even emigrated the path into the new land was well established. Scandinavian settlements were made in New York, Indiana, Illinois, Wisconsin, Minnesota, North and South Dakota. Kleng Peerson who had helped make those settlements and bring in the settlers to the north in his last years moves to Texas and aids in settlements there. He eventually dies in Norse, Texas near the community of Cranfills Gap. [Babcock 28]

"Even was a laborer on a farm in a school district named Rohne and took the name of Rohne as his surname. "Evan" was taken as the spelling of his first name upon immigrating to Galveston in 1871." [Wayne Rohne's records]

Researcher, Judge Derwood Johnson, says that Even Rohne was on the SS Ganger-Rolf. According to the Norway-Heritage Hands Across the Sea which lists many ships that brought immigrants to America, the Ganger Rolf in 1871 in August, September, and two voyages in October. All trips traveled from Christiania (now Oslo) to Arendal then to Christiansand and then to Hamburg. I believe this is where Even picked up the Hammonia for the remainder of the voyage. He probably stayed in Hamburg for a couple of months waiting for the right ship. [Norway-Heritage Hands Across the Sea]
Even Rohne came into New Orleans on Dec 4, 1871. His ship was the Hammonia with T Meyer, skipper, which started in Hamburg, Germany and Le Havre, France for New Orleans. He identifies his age as 23, male, farmer, "the country to which they severally belong" is Denmark. He's listed to be become an inhabitant of the United States. He is traveling "Betweendeck". Now although being from Denmark may seem incorrect, at one time time Norway was ruled by the King of Denmark and Sweden. I suspect that Evan shipped out of New Orleans to Galveston where he made the trip up to central Texas by ox cart. [New Orleans Passenger list, 1820-1945, 1871]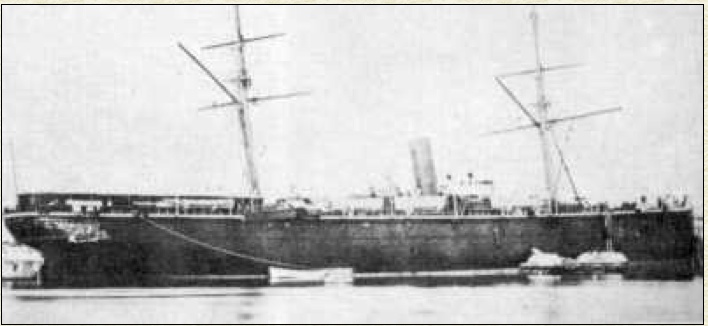 The steamship
Hammonia
, the second of three vessels of this name of the Hamburg-America Line,
built by Caird & Co., Greenock, launched 12 August 1866.
photo Peabody Essex Museum, Salem, Mass. - Palmer list of Merchant Vessels
The Hammonia could carry 58 passengers in 1st class, 120 in 2nd class, and 500 in steerage. This is page 3 of 10.
http://search.ancestry.com/Browse/View.aspx?dbid=7484&path=1871.12.Hammonia.1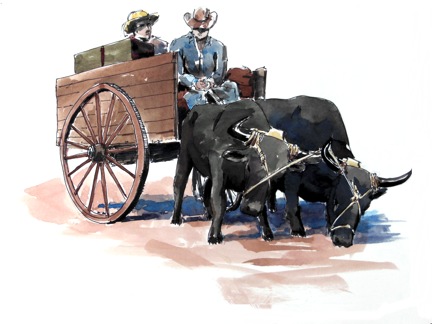 Ox Cart of Texas,
watercolor by Elroy Christenson, 2013
The family story is that Even Rohne traveled into central Texas by oxcart. This is a typical cart that could have been used. There also existed a four wheel cart but it was not as typical. He was probably met at the boat by a worker of Hendrik Dahl, his sponsor. Norwegian immigrants across the country had a rather useful method toward economic growth. They often would work for the railroad in some capacity, building it, maintaining it, establishing stations etc. With some of the money they made they would first buy a pair of oxen. Some money would be sent home to help or bring other relatives to the states. When they felt able they would buy some property to start farming. This was a technique that worked well to settle areas of Wisconsin, Minnesota, North and South Dakota in particular. The Norwegians as a group were responsible for establishing more farms than any other group of immigrants, .

1878 - "Evan worked one year for Hendrik Dahl of Clifton to pay for his passage to America. Evan also worked for others and saved enough by October of 1878 to buy 320 acres of land in the John Pool Survey about four miles from Cranfills Gap in the Boggy Community. He also lived in Mexia, Limestone County, where there was a Norwegian settlement. Here he worked for the railroad, perhaps taking care of baggage and freight.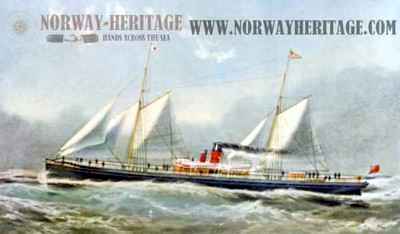 1878, 30 Aug - Mariane Oliane Egeberg started her voyage to America. She boarded the ship "Hero" of the Wilson Line in Christiania bound for Waco, Texas. The "Hero" was a "feeder ship" that carried immigrants from Christiania (Oslo) and Christiansand, Norway to Hull, England. Once they arrived there they were funneled onto trains that took them to other ports of departure. The dominate port for ships to America was Liverpool which lies a short distance across England from Hull. I have so far been unable to find a record of her voyage from England, if in fact that was her port of departure.

Mariane first went to Waco and then to Mexia where her brother Bernt Fredrik Johansen Egeberg lived and worked for the Munger Gin Co. Mariane, with help from her brother, gets a job as a housemaid for Colonel Henry. He owned a large plantation near Mexia." [Wayne Rohne's records]
1878 - By deed, recorded in Volume R, page 151, Deed Records, Bosque County, Texas, dated October 12, 1878, Hugh S. Dickson and wife, Sarah Dickson of Philadelphia, Pennsylvania, conveyed 320 acres in the John Pool Survey, Bosque County, Texas to E. P. Roahne. The consideration recited in $275.00 cash paid and a promissory note executed E. P. Rohne, due on or before the 4th day of January 1879, bearing 10% interest and in the amount of $275.00 [Volume R, page 151, Deed Records, Bosque County, Texas]
1880, US Census, Iredall, Bosque Co., Texas. Series: T9 Roll: 1291 Page: 385
Rohne, Evan w m 31 (single) farmer Norway Norway Norway

1880- 15 Dec - Evan and Mariane are married by Minister John S. McCarver at Mexia, Limestone County, Texas. [vol B, page 466, Marriage Records, Limestone Co., Texas]

"...the wedding was held at the mansion of Colonel Henry who gave them a "swell wedding" and reception according to family tradition. The newlyweds honeymooned from Mexia to Cranfills Gap in a wagon pulled by mules with grocery boxes for seats. After several days they arrived at Evan's farm near Cranfills gap and lived in a log cabin. Evan used a yoke of oxen and a 10" moldboard walking plow in farming his land . The plow is now on display in the Bosque Museum."
[Wayne Rohne's records]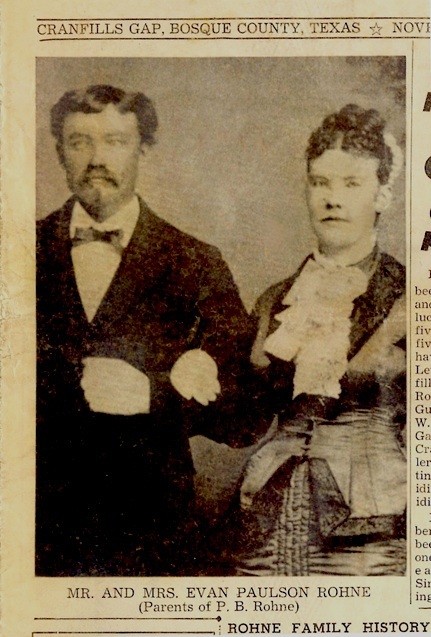 This is probably an anniversary photo. possibly taken about 1885.

Photo from the Clifton Record, Texas




1882 - Helene Paulsdatter, Evans sister (b. 22 Jun 1850), 1st married Rasmus Olsen and 2nd marries Ole Julius Olsen. Her eldest son, Martin Rasmussen, emigrated to the USA and lived with Evan and his wife after 1882.
[Wayne Rohne's records]

1882, Sept 16 - first child is born, Minnie.


1882, Sept. 18 - Evan Rohne applies for citizenship in Meridian, Bosque Co., Texas. He applies as "E. P. Rohne" and swears "that he absolutely renounce and abjure all allegiance and fidelity to any foreign Prince, Potentate, State or Sovereignty whatever, and particularly to the King of Norway & Sweden of whon he was subject."
[photocopy from Wayne Rohne in collection of Elroy Christenson]



1882 - Martin Rasmussen Rohne is urged by Evan to come to Texas. He may have helped to finance the journey for the eleven year old son of his sister Helene Paulson. Martin is broght to Texas with an uncle who was a carpenter. He stays with Evan's family for a number of years. Evan also makes it possible for another son of Helene, Olaf Rohne to come over about 1905. See Martin Rohne's story.


1884, Feb. 20 - second child born, Oscar.
"The Rohne home also was the first American home for other relatives, viz. Pete Lahlum, August Lahlum, Martin Rohne and Olaf Rohne. For almost 30 years Mariane's mother Olea Olsdatter Egeberg resided in the Rohne home until her death on August 14, 1911, at the age of 94 years." [Wayne Rohne's records]

1886, Nov 8 - third child born, Cora. The census record of 1900 states that she was born in 1885. An old bible record states 1886.
Minnie, Oscar, and Cora are baptized at the Norse Church.
"Evan and Mariane firmly believed in education for their children and others in the community. Evan donated land for the Rohne School, District no. 26, which was located on FM 219 near the present road by the old Rohne homeplace. One of th teachers was Professor Hugo W. Ericson, a Swedish nobleman and graduate of Upsala University in Sweden. He taught penmanship, grammer, English and mathematics." [Wayne Rohne's records]

1886 - Evan helped to build the St. Olaf Lutheran Rock Church between Norse and Cranfills Gap. The family then transferred its membership to St. Olaf's from Norse. [Wayne Rohne's records]

c1890- Evan is bitten by a rattlesnake in a grain field on the farm. He had been sitting on grain bundles at the time listening to his son, Oscar, recite his catechism. From that day on he had remained in ill health. [Wayne Rohne's records]


1891, July 18 - son, Magnus is born.
"Besides their own children they also raised their nephew, Charles O. Johnson. He was nursed by Mariane along with her own son, Magnus. Charlie (son of Marianne's brother, Bernt, whose wife, Konen, dies three months after Charlie is born -note EC) remained in the Rohne home until he was four years of age when his father B. F. Johnson remarried. " [Wayne Rohne's records]

1900- Even(sic) Rohne is in Meridian Precinct no.1 of Bosque Co. TX. with all of the above listed children as well as with his mother-in-law Ekeberg, Olea (age 82,widow) (sic)b.July 1817, not naturalized, and a boarder Neils Johnson (age 34)

Rohne, Evan P. head Sep, 1848 51 (m.20yrs) Norway Norway Norway 1871 29 na(naturalized) farmer
--------, Mary A. wife May, 1858 42 (m. 20yrs) Norway Norway Norway 1879 21 na( " )
--------, Minnie dau. Sep, 1882 17 s Texas Norway Norway
--------, Oscar son Feb, 1884 16s Texas Norway Norway
--------, Cora dau Nov, 1885 14s Texas Norway Norway
--------, Paulina dau Apr, 1888 12s Texas Norway Norway
--------, Emma dau Dec, 1889 10s Texas Norway Norway
--------, Magus son July, 1891 9s Texas Norway Norway
--------, Bernhardt son Jan, 1895 5s Texas Norway Norway
--------, Helen dau Sep, 1897 2s Texas Norway Norway
--------, Christian son Jan, 1899 1s Texas Norway Norway
[U. S. Census, Bosque Co., Meridian Prect.1, enum. dist. 2. p. 15 & 16, Series: T623 Roll: 1613 Page: 170]
sheet 16
Ekeberg, Olea mother-in-law w f July 1817 82 widow Norway Norway Norway 1880 20
Johnson, Neils boarder w m Apr 1866 34 s Norway Norway Norway 1885 15 N (naturalized) farm lab.

The School District No. 26, produces a card with several Rohne children as well as listing E. P. Rohne as one of the directors.

School Dist. No. 26 Rohne, Texas
Winter Term of 1900
Directors A. A. Andersen, E. P. Rohne, and Mastin Larson
teacher - Inez Lane

GIRLS
Emma Skramsted, Selma Skramsted, Cora Rohne, Emma Rohne, Pauline Rohne, Minnie Larson, Annie Olson, Gine Olson, Alma Enger, Malinda Olson

BOYS
Charlie Johnson, Emil Skramsted, Thilden Skramsted, Gunder Larson, Ole Larson, Magnus Rohne, Conley Cox, Dude Cox Emil Enger, Otto Enger, Bernt Anderson, Albert Anderson, Bernt Olson, Louis Olson, Ole Olson, Chris. Wallum, Harry Wallum

[Souvenir School list, 1900, Rohne Texas]









1901- May 11 - Evan died of bronchial pneumonia which he had contracted while out soliciting funds for a parochial school with a new immigrant and teacher, Otto C. Orbeck. [Wayne Rohne's records]
He is buried in a plot in the Rock Church Cemetery, Cranfills Gap, with Marianne, his wife, and Olea, his mother-in-law.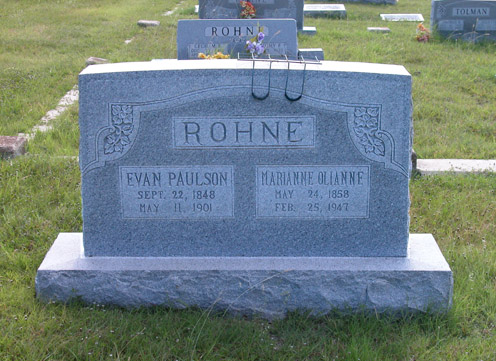 Tombstone marker in the Rock Church Cemetary.
1907, January 30, Oscar Rohne, as Guardian, made Application to the Bosque County Court to sell the minors' interest in the 312 acres in Hamilton County. The sale was authorized on March 5, 1907. P. L. Christenson, the husband of Cora, bought the deed from Oscar as Guardian to P. L. Christenson dated 23 March, 1907, is recorded in Volume 33, page 600 of the Deed Records of Hamilton Coutny, Texas. By deed dated 23 march 1907 recorded in Volume 33, page 603, Mariane Rohne, a widow, Minnie Christenson and husband, C. A. Christenson and Oscar Rohne conveyed their interest to P. L. Christenson and wife Cora Christenson. Thus Pete and Cora became the owners of what was called the Hinchman Ranch. [Records of BosqueCo. TX]
1907, March 30, Oscar Rohne, as Guardian, made application to the County Court to sell the minors' interest in the 320 acres in the John Pool Survey, the homeplace. The sale was authorized on May 6, 1907. Mariane Rohne bought the 1/3 undivided interest of her minor children in the homeplace for $1,706.66. By Records, Bosque County, Texas, Oscar Rohne, Cora Christenson, joined by her husband C. A. Christenson conveyed all their interest in the Rohne Homeplace to Mariane Rohne. Mariane also bought the minors' interest in the personal property, i.e. cattle, horses, farm implements, etc. for $343l.98. The Deed from Oscar Rohne Guardian to Mrs. Mariane Rohne dated May 22, 1907 [records in Volume 55, page 608, Deed Records, Bosque County, Texas/ records of Wayne Rohne]


1910 - US Census, Justice Precinct #8, Bosque Co., TX Roll: 1533 Page: 207
Rhone, Mary A. head f w 42 wid. 9 / 9 Norweigian Norwegian Norwegian 1880 farmer gen. farmer
_____, Emma dau f w 20 s Texas Norwegian Norwegian
_____ , Martin son m w 18 s Texas Norwegian Norwegian farm laborer home farm
_____ , Bernhart son m w 15 s Texas Norwegian Norwegian farm laborer home farm
_____ , Helena dau f w 12 s Texas Norwegian Norwegian
_____ , Christian son m w 10 s Texas Norwegian Norwegian farm laborer home farm
Egeberg, Olia mother f w 92 s Norway Norwegian Norwegian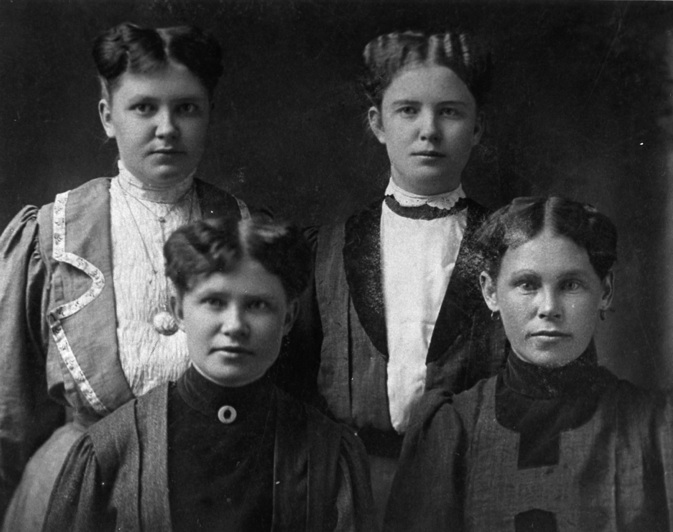 Emma (top L), Pauline(top R), Cora(frt L), and Minnie Rohne(frt R) about 1901
My cousin, Linnell (Witte) Bower, inherited a watch similar to the one hanging around the neck of Emma. She believes this photo and the watch signify a special event such as her graduation from high school. Linnell's watch is engraved on the back. Trying to date this by Emma's age at about fourteen years puts the photo at about 1905. The other girls are older and it is probably after they marry. Minnie marries in 1902 at age 20. To me she seems about 19 here. Cora marries in 1906 and seems about 15 here but if 1905 for Emma's age then Cora would be 20 here. Much of this doesn't make sense. I hope some relative has a better date for this.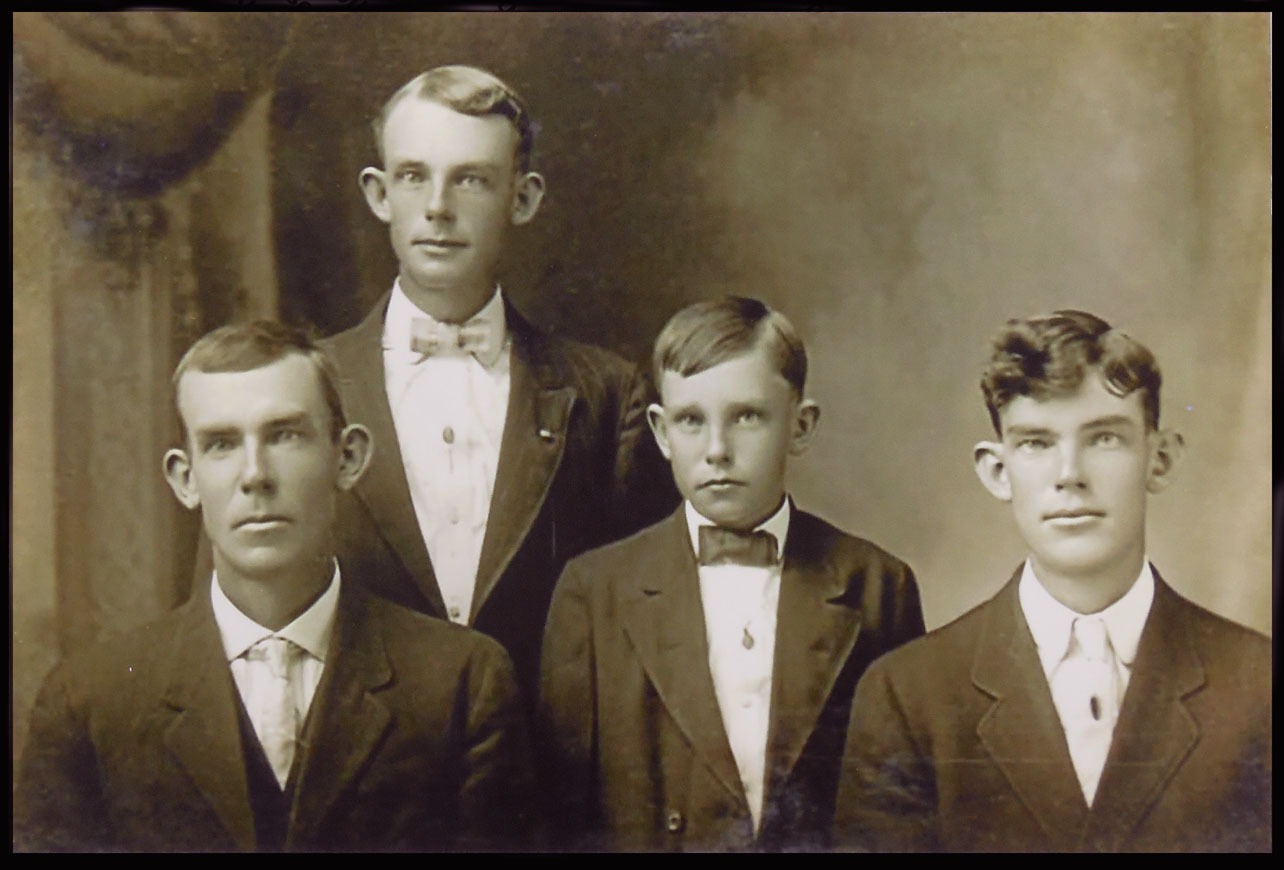 Oscar Rohne (bottom left) w/ brothers, Paul, Chris and John Magnus about 1910

1920- April, Closing of the Guardianship Account. The proceeds from the sales of the minors' interest, usually at 8%. From the funds, education expenses were paid to the minors. As each minor became 21 years of age, her or his part of the Estate was paid over to her or to him. The Guardianship continued until it was closed out upon Chris' reaching age 21 on April 28, 1920. Oscar filed 12 annual accounts and Final Account. [records of Wayne Rohne]

1920 - US Census, Precinct #8, Bosque Co., Texas. Roll: 1781 Page: 221 - Marriane is here with her son, Bernard, and nephew, Charlie.

Rhone, Marie Anne head F W 62 wid 1875 na un Norway Norwegian Norway " Norway manager farming
_____, Bernard ` son M W 25 s Texas Norway Norway
Johnson, Charlie hired hand M W 28 s Texas Norway Norway


Hamilton Co., Texas enum. dist. 94, sheet 14.


Knudson, G. S. head m w 33 mar Texas Norway Norway farmer home farm
" , Pauline wife f w 31 mar Texas Norway Norway
" , Oscar son m w 10 s Texas Texas Texas
" , Milton son m w 9 s Texas Texas Texas
" , Maxine dau f w 7 s Texas Texas Texas
" , Glenn son m w 5 s Texas Texas Texas
" , Era May dau f w 2 s Texas Texas Texas


on the same page


Rohne, Oscar head m w 35 mar Texas Norway Norway farmer home farm
" , Melinda wife f w 32 mar Texas Norway Norway
" , Ernest J. son m w 14 s Texas Texas Texas
" , May dau f w 12 s Texas Texas Texas
" , Juliette dau f w 9 s Texas Texas Texas
" , Olga dau f w 6 s Texas Texas Texas
" , Cora dau f w 3 s Texas Texas Texas
" , C. M. B. son m w 6/12 s Texas Texas Texas



1921, 21 Sept - J. Magmus Rohne marries Louise R. Jensen, a student, in Fort Wayne, Allen Co. Indiana. Her residence is listed as Cambridge, Mass. His father's name is listed as E. P. Rohne. Other parts of the document state that she was 33 years old and her parents were T. P. Jensen, her mother: Anne Louise. She was born in 1899 in Albert Lea, Minn. [Indiana Marriage records]

J. Magnus Rohne is listed in

Who Was Who among North American Arthors,

1921-1939, Compiled from Who's Who among North American Authors, Volumes 1-7, 1921-1939. Two volumes. Detroit: Gale Research, 1976. (WhNAA)


1925 - Iowa State census , 1925 Winneshiek Co., Decorah


Rohne, J. Magnus head/husban m 30 mar 6 year in Iowa
Rohne, Louise R. wife f 36 mar 25 years in Iowa
(other information on Ancestry.com state that his father is Evan P. Rohn born in Norway, mother Marriane Egeberg b. abt 1859


1926 - John Magnus Rohne has a book published. Norwegian American Lutheranism up to 1872. The Macmillan Co., 1926, The University of Michigan, digitized Jun 13, 2007


The excerpt below is from John Magnus Rohne's, The Historical Value of Church Records, Vol. III, page 73:

"The early Norwegian-American Lutheran church fathers belong to the Norwegian-Americans as a group, and in a broader sense to all Americans. Consequently the records of their activity are of general rather than of merely local or partisan interest. The task of the Norwegian-American historian is to have constantly wider groups view the church and other Norwegian-American institutions as integral parts of the great American life about us. The Norwegian-American skolemester did not realize that he was writing American and even world history when he, like the monk of old, bent over his papers in the bleak log hut and' wrote his records in Norwegian script. Those who are intrusted with the responsibility of keeping the church records should get some of the spirit of the old monks who were vividly conscious that they were "making" history. Let them feel that it is to the interest of generations not yet born that none of these records be lost.

1930- Oscar Rohne dies of Hodgkins disease and age forty six. In his brief life he was a very active member of the St. Olaf Lutheran Church. He served as trustee, deacon, and delegate to the church convention in Iowa. He was a member of the building committee when the church wa built. He also served on the building committee for the Clifton College administration building. He was director of the First Security Bank in Cranfills Gap for many years as such provided loans to many of the local farmers and committee members.

Oscar and his wife, Malinda Olson, raised six children. They are Ernest Jewell, born Nov 5, 1905 m. Clarice Belle Bertelson; Marian Mae, born 3 Feb 1908 m. Jim Jenson; Beatrice Juliette, born 22 Mar 1910 m. Thomas Barrett Tolman; Olga Mathilda b. May 26 1913 m. Odell Knudson;Cora Pauline born 24 Aug 1916 m. Jimmie Goodman; Cecil Molden Belford b. 30 Dec 1919 m. Dorothy Anderson.
1891-1947 Mariane Rohne raised nine children who ranged in age form 19 years to 2 years. She was mother and father to the children for 46 years.


1930 - US Census, Iowa, Winneshiek County, Decorah, Sheet 7a, page 101.


Rohne, J. Magnus head owner 38 W M Texas Norway Norway Teacher college
" , Louise R. wife 41 W F Minnesota Denmark Iowa

US Census, Texas, Bosque County, Precinct 19, enum. dist. 18-19, sheet 5b
(note that Paul Bernhardt Rohne had only been married a year at this census)
Rohne, P. B. head renter 35 W M mar Texas Norway Norway farmer farming
" , Alma wife 35 w F mar Texas Texas Norway
" , Mary A. mother 74 w f wid Norway Norway Norway Norweigian


1940 - US Census, Texas, Bosque Co., Precinct 8, Cranfills Gap. enum. dist. 18-20, sheet 2B
Bronstad, Mrs. G. O head f w 66 wid Texas
" , Margaret daughter f w 30 s Texas
Rhone, Chris son in law m w 40 m Texas Banker 1st Security State Bank
" , Marie daughter f w 40 m Texas
" , Loverne gdaughter f w 16 s Texas
" , Geraldine gdaughter f w 13 s Texas
" , Marynell gdaughter f w 8 s Texas


US Census, Texas, Bosque County, enum. dist. 18-20, sheet 6A. one column here lists the highest grade of education - H meaning High School with number of years
Rohne, P. Bernhart head m w 45 mar H4 Texas farmer farming
" , Alma wife f w 43 mar H2 Texas
" , Maurine dau f w 9 s 3 Texas
" , Arlen son f w 8 s 1 Texas
" , Paul son m w 6 s 1 Texas
"

, Marianne mother f w 81 wid H2 Norway


Torkelson, Torbald laborer m w 56 s 5 Norway laborer farming

1947- 25 Feb. - Mariane dies and the age of 89 years at the family home of her son, Paul Bernhart Rohne where she had lived for some 68 years. When she died she had nine children, 40 grandchildren, and 36 great-grandchildren or 85 direct descendants. She is buried at St Olaf's Rock Church near Cranfills Gap, TX. [Wayne Rohne's records]


The death certificate states that she was a resident at Star Rte., Clifton, Bosque Co. for 68 years. It stated also that she died of "heart failure' and "senility".


Jesse Justin Jenson, husband of Helen Magdelena Rohne, was quite a photographer and had taken a number of early photos of the Rhone family. In his later years he moved to Baytown, Texas where a hurricane came through and flooded his house ruining whole chests of photos. I'm still trying to track down some original prints of the family. [Wayne Rohne, interview 6/24/01]


2014 - A plaque listing the names of Scandinavian immigrants is engraved with Even and Marianne's names on the main monument stone of the Leif Erikson Memorial at Shilshole Bay Marina in Seattle, Washington subscribed to by Elroy Christenson. This memorial is sponsored by the Leif Erikson International Foundation which "Symbolizes the courage to venture to a new land" and so far contains 2,276 names.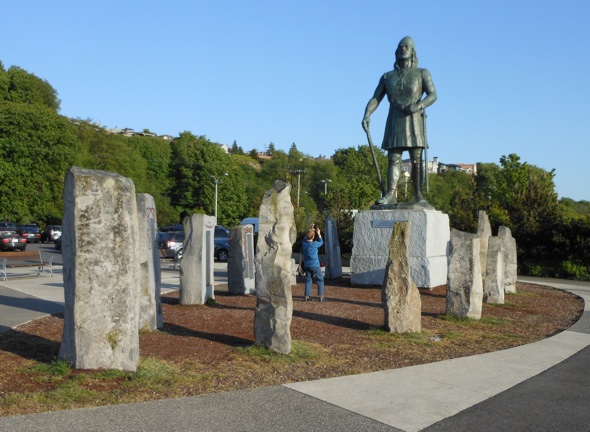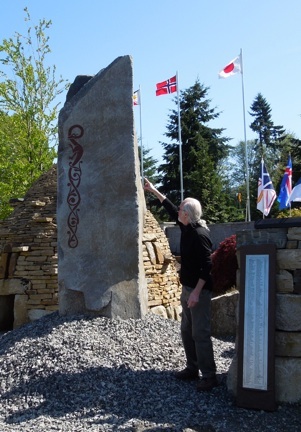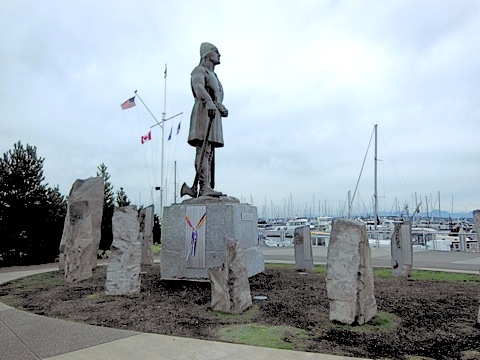 Leif Erikson Memorial, Shilshole Bay Marina, Seattle, Washington and the new "runic stone"
Peder Legind Christensen is listed in the far left column, the fifth name from the bottom in the photo. His bother Jacob Moller and Chris Andrew Christensen are just above. Their names paid for by Minnette Christensen Shipley
Photo Elroy Christenson, Oct 2014


Sources:

Arkivverket Digitalarkivet (Norway National Archives) http://arkivverket.no/arkivverket/Digitalarkivet/

Babcock, Kendric Charles. The Scandinavian Element in the United States. Univ. of Ill. Studies in Social Sciences. Vol. III, No. 3, Sept. 1914

Bosque County History: Land and People, Bosque Co. Hist. Commission, 1985, Bosque Co, TX

Census records of Norway, web site - http://digitalarkivet.uib.no/
Cranfills Gap Index. Bosque Co., Texas. vol. 47, no. 44, November 27, 1964
Digitalarkivet of Norway. http://digitalarkivet.uib.no/

Indiana Marriage Collection, 1800-1941. orig. records Allen Co., Ft. Wayne, Indiana
Johnson, Derwood and

Odd Syversen.

Norge in Texas

. pub. in Norway (in Norwegian) in 1982 by Stange Historielag, ISBN 82-7104-097-9

Leif Erikson International Foundation, 2245 NW 57th, Seattle, WA 98107. http://www.leiferikson.org/

Nerheim, Gunnar, a historian, University of Stavanger Norway. author of "The Legacy of Cleng Peerson"

Norway-Heritage Hands Across the Sea. web site. http://www.norwayheritage.com/


Rygh, O.

"Norske Gaardnavne" (Norwegian Farm Names in Norwegian) (17 vol. for seventeen counties) our principal county is
Hedmark (Hedemarkens amt) translations according to Google translator. digital reference at Dokumentasjonsprosjektet - http://www.dokpro.uio.no/
Stange bygdebok del 6 - Hedmark Slektshistorielag - http://www.hedmarkslekt.no/Stangeboka/


Syversen, Odd Magnar.

"Omvendte" Amerikabrev ("Reverse" America Letter.)

Lautin,

1979.

Souvenir School list, 1900, Rohne, Texas [photocopy collection of Elroy Christenson]

Tony Rohne's records, Another Rohne family web site
United States Census

Wayne Rohne's records, 915 W. 7th St., Clifton, TX 76634. phone (817)675-4329
Wikipedia Commons.

print by Chr. Tønsberg

Egeberg Family Chart || Christenson Image Map || Pete Christenson

Elroy's Family Index || Ancestor Chart #1 || Løten, Norway Regional History || The Røne/Røhne farm history

---






All information and photos included within these pages was developed by the help of hundreds of researchers. The information here is for the express purpose of personal genealogical research and is freely offered as long as this site is listed as a source. It may not be included or used for any commercial purpose or included in any commercial site without the express permission of Elroy Christenson. Copyright Elroy Christenson 1998-2014.


web pages created by Elroy Christenson- elroy@next1000.com - last updated 2/25/17