Rev. Dr. John Magnus Rohne Family
son of Evan Rohne
---
Rev. Dr. John Magnus Rohne
b. 18 July 1891 Boggy Community, TX
d. 19 Feb 1958 Phoenix, AZ.,
buried - St Olaf's Church(Rock Church), Cranfills Gap, TX

m. Louise Rebecca Jensen 21 Sep 1921 Ft. Wayne, Allen Co., Indiana [Indiana Mar. Coll.]
b. 1899., Albert Lea, Minn.
d. 1981 Phoenix, AZ
her father - T. P. Jensen mother - Anne Louise


his father: Evan Rohne
his mother: Mariane Egeberg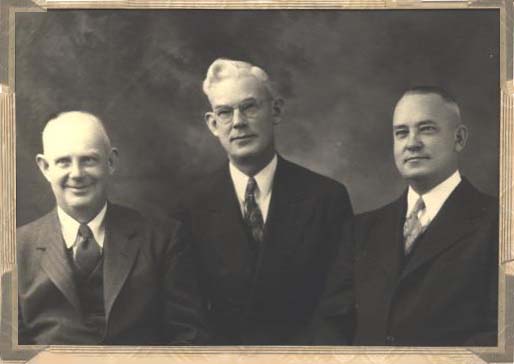 Paul Bernhard Rohne(left), and his brothers Magnus and Chris Rohne. photo courtesy of Tony Rohne

1891 - John Magnus Rohne is born in the Boggy Community, just south of Cranfills Gap, TX. This community no longer exists except for as cemetery on a nearby hillside.

1900- Even(sic) Rohne is in Meridian Precinct no.1 of Bosque Co. TX. with all of the above listed children as well as with his mother-in-law Ekeberg, Olea (age 82,widow) (sic)b.July 1817, not naturalized, and a boarder Neils Johnson (age 34)

Rohne, Evan P. head Sep, 1848 51 (m.20yrs) Norway Norway Norway 1871 29 na(naturalized) farmer
--------, Mary A. wife May, 1858 42 (m. 20yrs) Norway Norway Norway 1879 21 na( " )
--------, Minnie dau. Sep, 1882 17 s Texas Norway Norway
--------, Oscar son Feb, 1884 16s Texas Norway Norway
--------, Cora dau Nov, 1885 14s Texas Norway Norway
--------, Paulina dau Apr, 1888 12s Texas Norway Norway
--------, Emma dau Dec, 1889 10s Texas Norway Norway
--------, Magus son July, 1891 9s Texas Norway Norway
--------, Bernhardt son Jan, 1895 5s Texas Norway Norway
--------, Helen dau Sep, 1897 2s Texas Norway Norway
--------, Christian son Jan, 1899 1s Texas Norway Norway
[U. S. Census, Bosque Co., Meridian Prect.1, enum. dist. 2. p. 15 & 16, Series: T623 Roll: 1613 Page: 170]
1911 - 12, 1913- 17 --- John Magnus is attending Luther College in Decorah, Iowa. He graduates with an A. B. in 1917.

1918-20 - Chris Ludvig Rohne attends Luther College. he received no degree.

1920 - US Census, Minnesota, Ramsey, St. Paul Ward 10, Dist. 0122
John Rohne is a "lodger" in the house of Amanda Chandler, her daughter, Mahle, and her aunt Anna Peterson along with 55 other young men of a similar age. It seems to be more of a dormitory of the Lutheran College. He seems to be a student.
Rohne, Johan M. lodger m w 28 single Texas Norway Norway no occupation

1921- John Magnus is located at the Hartford Theological Seminary and has a Master of Sacred Theology. [Luther College Through Sixty Years, 1861-1921]

1921 - John Magnus Rohne publishes Luther's Case Against Rome.

1921, 21 Sept - J. Magnus Rohne marries Louise R. Jensen, a student, in Fort Wayne, Allen Co. Indiana. Her residence is listed as Cambridge, Mass. His father's name is listed as E. P. Rohne. Other parts of the document state that she was 33 years old and her parents were T. P. Jensen, her mother: Anne Louise. She was born in 1899 in Albert Lea, Minn. [Indiana Marriage records]

J. Magnus Rohne is listed in Who Was Who among North American Arthors, 1921-1939, Compiled from Who's Who among North American Authors, Volumes 1-7, 1921-1939. Two volumes. Detroit: Gale Research, 1976. (WhNAA)

1925 - Iowa State census , 1925 Winneshiek Co., Decorah

Rohne, J. Magnus head/husban m 30 mar 6 year in Iowa
Rohne, Louise R. wife f 36 mar 25 years in Iowa
(other information on Ancestry.com state that his father is Evan P. Rohn born in Norway, mother Marriane Egeberg b. abt 1859

1926 - John Magnus Rohne has a book published. Norwegian American Lutheranism up to 1872. The Macmillan Co., 1926, The University of Michigan, digitized Jun 13, 2007

The excerpt below is from John Magnus Rohne's, The Historical Value of Church Records, Vol. III, page 73:

"The early Norwegian-American Lutheran church fathers belong to the Norwegian-Americans as a group, and in a broader sense to all Americans. Consequently the records of their activity are of general rather than of merely local or partisan interest. The task of the Norwegian-American historian is to have constantly wider groups view the church and other Norwegian-American institutions as integral parts of the great American life about us. The Norwegian-American skolemester did not realize that he was writing American and even world history when he, like the monk of old, bent over his papers in the bleak log hut and' wrote his records in Norwegian script. Those who are intrusted with the responsibility of keeping the church records should get some of the spirit of the old monks who were vividly conscious that they were "making" history. Let them feel that it is to the interest of generations not yet born that none of these records be lost.
1930 - US Census, Iowa, Winneshiek, Decorah, Dist 13.
Rohne, J. Magnus head O 7000 R no m w 38 m 29(age at mar) Texas Norway Norway teacher college
" , Louise R. wife f w 41 m 32(age at mar) Minn. Denmark Iowa

1940 - US Census, Minnesota, Sherburne, Orrock, enum. dist 71-15, sheet 2a. one column here lists the highest grade of education - H meaning High School with number of years. C4 means college 4 years.

Rohne, Magnus J. O. head m w 48 mar C4 Texas Minister Country Church
" , Louise wife f w 51 mar C4 Minn


Sources:

Bosque County History: Land and People, Bosque Co. Hist. Commission, 1985, Bosque Co, TX
United States Census
Wayne Rohne's records, 915 W. 7th St., Clifton, TX 76634. phone (817) 675-4329
Tony Rohne, records and photos, Another Rohne family web site by Tony Rohne
Another Rohne family web site by Tony Rohne
Ancestor Chart #1 | Elroy's Family Index
---






All information and photos included within these pages was developed by the help of hundreds of researchers. The information here is for the express purpose of personal genealogical research and is freely offered as long as this site is listed as a source. It may not be included or used for any commercial purpose or included in any commercial site without the express permission of Elroy Christenson. Copyright Elroy Christenson 1998-2010.


web pages created by Elroy Christenson- elroy@next1000.com - last updated 3/10/14