P. B. Rohne Family
son of Evan Rohne
---
Paul Bernhart Rohne
b. 28 Jan. 1895 Boggy Community, TX
d. 10 Dec., 1981., buried St Olaf's Church(Rock Church), Cranfills Gap, TX
buried - St Olaf's Church(Rock Church), Cranfills Gap, TX

m. Alma Bendina Tergerson 1929
b. 1897., Mustang Community, Bosque Co., TX
d.
her father - William Tellef Tergerson mother - Annie B. Lee

his father: Evan Rohne
his mother: Mariane Egeberg
Children
Maurine Estelle Rohne
b. 2 Jun 1930
d. 5 Sept 1987
m. Perry Suter of Austin
Wayne Arlen Rohne
b. 8 Sept 1931
d.
1m. Jurdiss Marie Colwick
2m. Marge Wilhelm
Paul Bernhart Rohne, Jr.
b. 28 Jun 1933
d.
m.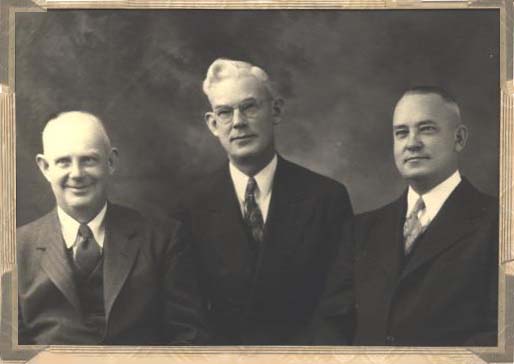 Paul Bernhard Rohne(left), and his brothers Magnus and Chris Rohne. photo courtesy of Tony Rohne
1895, 28 Jan. - Paul Rohne was born the seventh of nine children. "Paul's father died when he was six years old. "Prior to Evan's death Evan and Mariane had chosen P. B. to stay at home with them. Even at such tender years P. B. exhibed a sunny disposition and the promise of an industrious, strong. dutiful and devoted son. So it was the P. B. stayed on the farm and provided a home for his widowed mother until she died in 1947." [Wayne Rohne,Bosque County History: Land and People, p. 640]

1918 - "He enlisted the United States Army in 1918. He trained at Camp Mabry in Austin and then went to France as a forward observer in Battery B, 131st Field Artillery of the 36th Division. He was honorabley discharged in 1919, and returned to the family farm. "[Wayne Rohne,Bosque County History: Land and People, p. 640]

1920 - US Census, Precinct #8, Bosque Co., Texas. Roll: 1781 Page: 221
Rhone, Marie Anne head F W 62 wid 1875 na un Norway Norweigian Norway " Norway manager farming
_____ , Bernard ` son M W 25 s Texas Norway Norway
Johnson, Charlie hired hand M W 28 s Texas Norway Norway

"Alma received her early education in the Mustang School and at Cranfills Gap. She took nurses' training at Providence Sanitarium in Waco, graduating in 1926. She passed the State Board exams and became a Registered Nurse in 1926. She worked at Providence Hospital and as a private duty nurse until her marriage." [Wayne Rohne, Bosque County History: Land and People, p. 640]

1940 - US Census, Texas, Bosque County, enum. dist. 18-20, sheet 6A. one column here lists the highest grade of education - H meaning High School with number of years
Rohne, P. Bernhart head m w 45 mar H4 Texas farmer farming
" , Alma wife f w 43 mar H2 Texas
" , Maurine dau f w 9 s 3 Texas
" , Arlen son f w 8 s 1 Texas
" , Paul son m w 6 s 1 Texas
" , Marianne mother f w 81 wid H2 Norway
Torkelson, Torbald laborer m w 56 s 5 Norway laborer farming

1980 - "In 1980, P. B. and Alma moved to the Clifton Lutheran Sunset Home where P. B. (nearly 87 years old) died in 1982. Alma is still a resident of the home. P. B. and Alma were active members of St. Olaf Lutheran Church at Cranfills Gap, he was serving as trustee and deacon, she as Sunday School teacher and organist, and both singing in the choir. P. B. served for many years as trustee of Clifton Junior College." [Wayne Rohne, Bosque County History: Land and People, p. 640]
2001, June - Wayne Rohne has come out of retirement and is still practicing law in Arlington, Texas. His wife is a principal of a school in Fort Worth, Texas. Her children live in Washington state.
Sources:

Bosque County History: Land and People, Bosque Co. Hist. Commission, 1985, Bosque Co, TX
United States Census
Wayne Rohne's records, 915 W. 7th St., Clifton, TX 76634. phone (817) 675-4329
Tony Rohne, records and photos, Another Rohne family web site by Tony Rohne
Another Rohne family web site by Tony Rohne
Ancestoral Chart #1 | Elroy's Family Index
---






All information and photos included within these pages was developed by the help of hundreds of researchers. The information here is for the express purpose of personal genealogical research and is freely offered as long as this site is listed as a source. It may not be included or used for any commercial purpose or included in any commercial site without the express permission of Elroy Christenson. Copyright Elroy Christenson 1998-2010.


web pages created by Elroy Christenson- elroy@next1000.com - last updated 4/10/12