James Roney Family
North Carolina, Georgia, Alabama, and Arkansas

---
James Roney (Ronay/Ronie)
b. 1825 S. C.
d. 1862 during Civil War of disease

m. Mary Martha "Polly" Spann 20 Aug 1846 Henry Co., AL
b. 1830 SC
d. 1852 buried Spann-Roney Cem., Henry Co., AL
father: John Edward Spann mother: Marcilla Odom

2m. Elizabeth ? after 1852 (1860 census)
b. ?1822 SC
d.


his father - Hugh Roney
his mother- Nancy ?

Children with Martha Spann
Nancy Roney
b. 1848 AL
d. 1 July 1926 Ashley Co. Ark.
m. 25 Aug. 1866 Henry Co., AL
Elijah A. Kirkland, CSA,
John E. Roney
b. 1849 AL
.
m.
Probable Child with Elizabeth ?
Elias I. Roney
b. about1857 AL
.

m.

I don't know of any other children at this time but one or two more possible
about 1825- James Roney is born to Hugh and Nancy Roney apparently in South Carolina.
1830 - Hugh and Nancy Roney family moved to Georgia where the next three children are born. He shows up here in Thomas Co., Georgia, near the border with Florida.
@1840 - The Roney's then move to Henry Co. Alabama where they seem to settle for few more years.
1846 - Hugh Roney, Jr. is born to Hugh's family while there is more than twenty years difference between the birth of their oldest child, James and the youngest, Hugh. James is still at home but will marry in a couple of years.
1846, 20 Aug. - James Roney marries Mary Martha Spann in Henry County, Alabama.
[Marriage records of Henry Co., AL]
1850 - James Roney is here (age 34, born in South Carolina) with Mary, age 20 born in South Carolina. Also with them is Nancy, age 2, and John I., age 1, both born in Alabama. [Henry Co., p.433]
Hugh Roney and Nancy are also in Henry Co . with their eight children [Alabama, Henry Co., p.423]
1852- Mary Martha Spann dies, possibly in childbirth. James is left to take care of the children for a few years.
MARY MARTHA SPANN RONEY,1830 1852
WIFE OF JAMES RONEY
DAU OF JOHN EDWARD & MARCILLA SPANN
[tombstone inscription from the Spann-Roney Cemetery, Henry Co., Alabama, Ancestry.com]

By 1857- James apparently marries again to Elizabeth. She is 35 years old and born in South Carolina. If they have a child Elias in 1857 he doesn't show up in later census. Elizabeth
1860 - James Roney is in Henry Co., AL with his apparently new wife and children.
US census Henry Co p246
Roney, James 34m farmer 2400/552 SC b. 1826
Elizabeth 35f (?Mathis) SC
Nancy 12f Ala
John E. 10m AL
Elias I. 3m AL

Hugh(69) is living next door to Nancy and the children, Alfred(17), Wm. (15), Hugh(14), and Nancy J. (19) is still here. [Alabama, Henry Co., p. 197]
1861- James Roney enlisted in the CSA. Probably because of this enlistment Nancy, his daughter, is primarily taken care of by her grandparents, Hugh and Martha Roney.
1862- James Roney is enlisted as a soldier in the CSA. As a member of the army, he dies of some contracted disease only one year into the war. He may have served in the same regiments as his brother Alfred Roney, 15th Alabama, Company 1. This company fought at Gettysburg where Alfred Roney was wounded. Alfred was taken prisoner here but later exchanged. He returned to serve again until the end of the war. [records of Rise Roney Tally]
1866, 26 August - Nancy Roney, James' daughter marries Elijah Kirkland. When James Roney's child, Nancy, gets married she does this at the home of Hugh Roney, her grandfather who helped raise her after James Roney died. Since Hugh Roney also had a daughter born in 1841, only seven years older than James' Nancy there was confusion of which Nancy shows up at the marriage records.
[records of Rise Roney Tally]
1870 - Hugh is living with Nancy in Abbeville, 5th precinct, Henry Co. Alabama.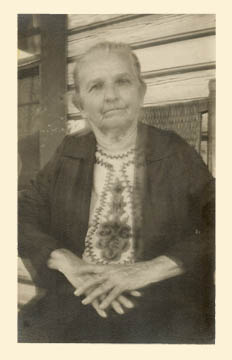 Nancy Roney Kirkland about 1918 in Arkansas
photo in collection of Elroy Christenson

sources:

U. S. Census records
Records of Rise Roney Talley, email - Tallymon@aol.com
Records of Barbara Spann, email - BSpann1234@aol.com
SPANN - RONEY CEMETERY (complete listing), Henry County Cemetery records. http://www.rootsweb.com/~alhenry/spann_roney.htm

Elroy's Family Index || Ancestor Chart #11

______________________________________________________________________________________








All information and photos included within these pages was developed by the help of hundreds of researchers. The information here is for the express purpose of personal genealogical research and is freely offered as long as this site is listed as a source. It may not be included or used for any commercial purpose or included in any commercial site without the express permission of Elroy Christenson. Copyright Elroy Christenson 1998-2010.


web pages created by Elroy Christenson- elroy@next1000.com - last updated 8/10/10