"Zachious/Zachens" Gower Family


Tennessee, Missouri, Texas
---
Zacheriah "Zachkious"/"Zackens" Gower
b. 17 Nov 1816 Memphis, Tenn
d. 27 Oct 1878 Sunset, Montague Co., TX

1m. Mary (?Runyun) (see notes below)about 1835
b. abt 1815
d. c1848 Wright, MO

2nd m. Polly Amanda Stewart 27 Dec 1849 Wright, MO
b. 22 Feb 1827 Decatur, Macon Co., IL
d. 15 Sept 1897/98 Linden Pottawatomie, OK
her father: unknown her mother: unknown
her 1m. A. McThompson about 1847
her 2m. Zachious Gower about 27 Dec 1849 Wright Co., Missouri
her 3m. J. L. Moore 29 Jan 1884 Decatur, Wise County, Texas



his father: John S. Gower (b. 1797)
his mother: Elizabeth A. ? ? (b. 1807)


Children with Mary (?Runyun)
Rebecca Gower
b. 1836 TN
d. 1915

m. Andrew Lackey
William M. Gower
b. 1839 TN
d. 1862

m. Frances E. c 1860
James M. Gower
b. 1841/2 TN
d. 1861

m.
Mary Gower
b. 1846 MO
d.
m.
Willamena Gower
b. 1847 MO
d.
m.
Samantha Gower
b. 1848 MO
d.
m. Sam Patrick
Children with Polly Amanda Stewart
Pernetta Permillia Gower
b. 19 Nov 1850 Wright, MO
d. 15 Dec 1920 Raton Colfax, NM
m. Washington Lafayette Popejoy 28 Oct 1866 Ft. Scott, Bourbon Co., Kansas by Rev. E. M. Marshall
Sarah Elizabeth Gower
b. 7 Apr 1852 Marshfield, Wright, MO
d. 17 Jun 1918 Tacoma, Pierce Co, WA of chronic bronchitis
m. John Wesley Marshall 28 Feb 1867 Timberhill Township, Boubon Co., Kansas
Thomas Larkin Gower
b. 1854 Marshfield, Webster Co., MO
d. 1879
m. Olly V. Lakey 28 Dec 1876 Montague Co., TX
Casewell Round Rowen Gower (twin)
b. 17 Nov 1855 Olathe, Linn, KS
d. 23 Dec 1926 Eckert, Delta, CO
buried: Eckert Cem, Eckert, CO
m. Mahala "Hailley" Jane Moore 14 Jun 1877 Montague Co., TX
2m. Myrtle Grimmett 25 Aug 1914 Montrose, Montrose Co., CO
Calvin Stewart Gower (twin)
b.17 Nov 1855 Olathe, Linn Co, KS
d. 12 Nov 1929 Grand Junction, Mesa, CO
killed by drunken driver
buried Municipal Cem., Grand Junction, Mesa Co., CO
m. Mary Emeline Jones, 12 Apr 1885 Wise Co., TX (17 May 1864 Decator, IL d. 1 Mar 1927 Grand Junction, Colorado)
Josephine "Josia" Adeline Gower
b. 31 Jul 1859 Mapleton, Bourbon, KS
d. 17 Jan 1909
buried: Current Creek, CO.
m. Wesley A. Cariker, 16 Aug 1877
Amelia Francis Gower
b. 20 Aug 1861/4 Mapleton, Bourbon, KS
d. 23 Sep 1951 Chickasha, Grady Co., OK
buried: Mausoleum, Rose Hill Cem. Chickasha, OK
m. Hardy Newton Woods 10 Dec 1876 Montague Co., TX
Amanda Jane Grant Gower
b. 14 May 1864 Mapleton, Bourbon, KS
d. 24 Nov 1941 Delta, Delta, CO
buried: Muni. Cem., Delta, CO.
m. Thomas Woods 2 Nov 1882 Sunset, Montague Co., TX
Laura Belle Gower
b. 23 Jun 1869 Mapleton, KS
d. 15 Jul1946 Calpatria, Imperial, CA
m. John Mack Caldwell
Margaret Cornelia Gower
b. 9 Aug 1871 Fort Scott, Bourbon Co., KS
d. 28 Feb 1949 Montrose, CO
buried: Delta Cem., Delta, CO
m. John Bowerman 25 Nov 1888 Wetmore, Custer, CO
Child of Polly Amanda Stewart and A. McThompson
Samantha McThompson
b. 1848 MO
d.
m. Sam Patrick
c1818 -" Zachious" or "Zachens" Gower seems to have been born in Memphis, Tennessee and continued to live there until at least 1842. According to the birth places of his children, he moved from Tennessee between 1842 and 1846 to Marshfield in Wright Co.,Missouri.[census records, Tenn. 1840, 1850]
A number of researchers have assumed that Zachious Gowers first name may be William although no records have been found to date by Sue Keller that use William or "W" in any form. They all use Zachens or Zachious with the probate records reading as Zacheriah. [Keller]
1835 (about)- It has also been assumed that Mary (of an unknown family) may have been his first wife although no source has been found to substantiate this opinion. Since this name only shows on the 1850 census it is conceivable that "Mary" may be a shortened or misspelled version for Polly or Amanda or Mandy the theorical 2nd marriage of Zacheous. If Polly marries in 1849 then her name should be on the Census of 1850 and we would have no idea who the 1st marriage may be. [1850 and 1860 census Wright Co., MO]
In the records on Florence Rayl now in the possession of Harry W. Gower, Mary is listed as a Runyun. We have found no record to date that can verify this.
1854, Dec 15 - Zacheus Gower of Wright County, Missouri files for a land patent in "the south west quarter of section nineteen in township thirty, of Range seventeen in the district of lands subject to sale at Springfield Missouri containing eighty acres. #15152 [Bureau of Land Management]
By 1855 he moves to Linn, Bourbon Co, Kansas. His profession according to most sources is as Baptist minister.
19 May 1862- A probate record of William Gower lists Zachious Gower as administrator of the estate. This William Gower could be the father of Zachious but since this is the middle of the Civil War we believe it is more likely that this record is the estate of his son, William who was probably killed during the war. There are no details to the probate, no property listed, no heirs listed drawing us to conclude that William was single but had a few assets and debts that had to be handled. It was signed by Zachens Gower, Horatio and John Knowles for bond.
[probate records of Kansas Territory Records, Federal Records]
1866, Dec 5th - Prenetta P. Gower marries Washington Popejoy in Fort Scott, Kansas. The following document states that the ceremony was performed by J. E. M. Marshall, reverend E. M. Marshall of the Christian Church. The Popejoys, Marshall and Gower are very interconnected. The differing spellings are transcribed as per the document.
Washing L. Popejoy
Prenetta P. Gower Recorded Dec 5th 1866

J. E. M. Marshall Elder of the Christian Church do hereby certify that I did on the 28th day of October A. D. 1866 Soleminze the rite of Matrimony between Washing L. Popejoy Pernetta P. Gower all of Bourbon County Kansas.
(seal) E. M. Marshall
1870 - US Census, Kansas, Bourbon Co., Timberhill., page564.

Gower, Zachaius 54 m w Preacher $13500 $650 Tenn
" , Polly A. 43 f m housekeeper Tenn
" , Thomas R. 15 m w Farm Laborer MO
" , Saswell R. 14 m w Kan
" , Calvin S. 14 m w Kan
" , Josephine E. 11 m w Kan
" , Amelia F. 8 f w Kan
" , Amanda J. 6 f w Kan
" , Laura I. 1 f w Kan

1875, March1. Kansas State Census, Bourbon Co., Timberhill, page 20. (1st col. is birth place, 2nd col. is where from)

Z. Gowers 58 m w Faarmer 680 300 Tenn Mo
P. A. Gowers 48 f w " Ill
T. R. Gowers 21 m w Mo Mo
C. S. Gowers 19 m w Kas
C. R. Gowers 19 m w Kas
J. Gowers 16 f w Kas
1876 - Thomas R. Gower marries Olly V. Lakey on 28th Dec 1876. Montague Co., TX
Marriage License
To all who shll see these presents. Greeting! Know ye, that any person, legally authorised to celbrate the Rites of Matrimony is hereby licensed to form in marriage as husband and wife Thos R Gower and Mis Olly V. Lakey. and for so doing this shall be his sufficient authorites and due retun make in sixty days after solemnization

In testimony where of it as clerk of the county court hereunto subscribe my nime and affix the Seal of Said Court this 26th day of December 1876
W. A. Williams
Clerk County Court M Co

Texas to wit: Montague County SS
This certifies that I joined in Marriage as husband and wife Thomas R Gower and Miss Olly V Lakey on the 28th day of December 1876
R C Wight,
Filed and Recorded January 25, 1877
[marriage license, 1876 Montague Co, TX]
1878, Oct 27th - Mr. Z. Gower is buried at Sunset, Montague Co., TX.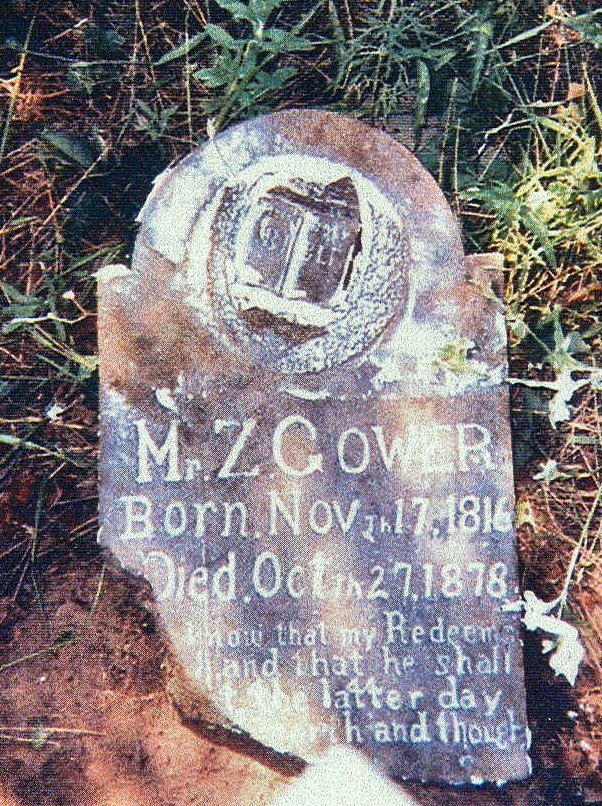 Originally submitted by famgen36 to Florence L Graham Ancestors on 29 Nov 2006
1880- US Census, film T9-1320, Prececnt #1, Montgomery Co., TX p. 29B
William Gower,	    self   m mar    w  31 TN
Sarah Jane Gower,   wife   f mar    w  30 IL
George W. Gower,    son    m single w   3 TX

1880 - Pueblo Co., Colorado census.
Polly Amanda Sewart Gower is living with her three children, Amanda, Laura, and Margaret in the house of C. H. Coricker family. This is the C. H. Colerick family, Amanda Gower's daughter and son-in-law. [census records]
1900 - This is the few pictures of the Gower family that we have. This picture of Calvin and Caswell Gower may have been taken in Colorado. Calvin S. Gower was killed by a drunken driver.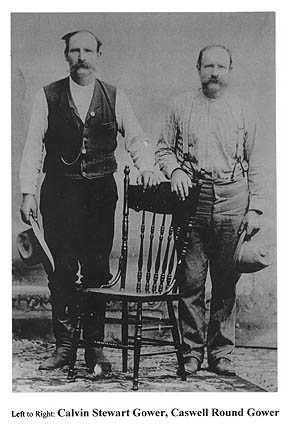 photo courtesy of Harry W. Gower



1918, June 17 - Sarah E. Marshall dies in Tacoma General Hospital, Tacoma, Washington of "Chronic Bronchitis". Her father is listed as Zacheriah Gower and her mother as Amanda Steward (sic). The information was provided by John G. Marahall, her son. [Death certificate]

1920, Dec 15- Mrs. W. L. Popejoy dies in Raton, Colfax Co., New Mexico as a widow of W. L. Popejoy. Her father's name is listed as Zachariah Gower and mother's name listed as Amanda Steward(sic). Her mother's birth place is listed as Tenn. Her death is listed from "Senility." She seems to have been admitted to a clinic for a broken femur and with compilations over a five day period. Information given by Earnest Popejoy (his signature) [Death certificate. Colfax Co., N. M. Dec 15, 1920]

Source:
Gower, Harry W. records of , 4739 So. 275 West, Ogden, UT 84405, (719) 495 4892, email - sheep03@hotmail.com
Records of Sue Keller
LDS Records show him to be a farmer and Baptist Minister
Death Certificate of Sarah E. Gower Marshall, Jun 17, 1918.
Death Certificate of Mrs. W. L. Popejoy, Colfax Co., N. M. Dec 15, 1920
Civil War Pension File
Marriage certificate, Mr. J. L. Moore and Mrs P. A. Gower, 29 JUN 1884, photocopy provide by Harry W. Gower
US Census: 1850, 1860 Wright Co., MO
1880 Pueblo Co., Colorado
Return to Cheryl's Family Index | email to Cheryl Grubb
________________________________________________________________________









All information and photos included within these pages are here for the express purpose of personal genealogical research and may not be included or used for any commercial purpose or included in any commercial site without the express permission of Cheryl and Elroy Christenson. Copyright Elroy Christenson 1998-2010.


web pages created by Elroy Christenson- elroy@next1000.com - last updated 8/15/10