William Jones Family
Tennessee and Alabama

William Jones
b. 1809 KY
d. 27 Mar 1856 Tishomingo, MS

1m. Eleanor Brashears about 1831
b. 1811 Leome, Lawrence Co., TN
d. 1845 Sommerville, Morgan Co., AL
her father: Robert B. Brashears
mother: Sarah R. Hankins

2m. Susan Green about 1848
b. abt 1830 AL
d. unknown
her parents: unknown

his father: ? unknown
his mother: ? unknown
Children with Eleanor Brashears
Robert Jones
b. 1832 TN
d. Apr 1856 Tishomingo, MS
m. Sarah A. Hunter
Francis Jones
b. abt 1834 AL
d.
m. Thomas Stewart
Sarah Jones
b. abt 1836 AL
d.
m. Mortimer Rogers
Wm. Robert Jones Jr.
b. 10 Sep 1839 Sommerville, Morgan Co., AL
d. Sep 1863 Battle of Chickamauga, GA
m. Sarah A. McKee 26 Sep 1858 Lauderdale, AL
Jesse G. Jones
b. 1842 Sommerville, Morgan Co., AL
d . 12 Apr 1917 Knox City, TX
1m. Susan F. Varnell
2m. Permelia Varnell
Mary Jones
b. 1845 AL
d .
m.
Children with Susan Green
Catherine Jones
b. about 1849 AL
d .
m.
James Jones
b. about 1849 AL
d .
m.
Lewis Jones
b. abt 1853 Tishomingo, MS
d .
m.
John Allen Jones
b. 8 Apr 1854 AL
d. 30 Sep 1920 Odell, TX
m. Tex

to quote Nova Wade:
"Eleanor (Brashears) and William Jones lived most of their married life in Morgan Co., AL. Eleanor died prior to Aug 1852, for their six children were named in the settlement of her father's estate: Robert Jones, Frances Jones, Sarah jones, William Jones, Jesse G. Jones, b. Feb 1842, and Mary Jones. Jesse G. Jones had a son named Jesse Brashears Jones."
This source also lists the marriage at 1830-31.
1853? - William becomes co-owner of a store in Tishomingo, MS. possibly with his eldest son, Robert.
1856, 27 Mar - Tishomingo, MS , William Sr. dies. His son Robert dies only two weeks later. I suspect an epidemic of some sort.
Court records tell how William Sr. died leaving all of the Jones children orphans. When William Jones Sr died the oldest son, Robert, was very ill. Robert was married and had two sons of his own, Addeson G. Jones and Robby E. Jones. Robert was the only Jones child old enough to be an administrator. Because he was so ill when his father died, Robert asked a friend to be the administrator of his father's estate and died two weeks later. The two oldest Jones girls, Sarah and Francis, were married and living in Alabama. Francis and her husband adopted the youngest child of Eleanor Brashears and William Jones, Mary. The children from the second marriage with Susan Green, were left with various relatives and we have no information them.
William Jr. was sixteen at the time of his father's death and had a guardian that put him to work on a farm. Another source says that William and Jesse Jones enlisted in the Civil War in 1861. William was killed in the Battle of Chickamunga in Georgia. This William was married prior to the Civil War and had two children, only one of which survived. His daughter was Sara Francis Jones.[Wade records]

"Jesse G. Jones, the son of William Jones Sr., was orphaned at the age of 14. Jesse's mother was Eleanor Brashears, the daughter of Esq. Robert Brashears and Sarah Hankins. The Brashears were married and lived in Lawrence Tennessee. Eleanor died during the birth of her seventh child, when Jesse was five years old. He had two older brothers, Robert and William. He also had older sisters Sarah, and Francis. His younger sister was Mary. After Mary's birth, William Jones Sr. married Susan Green and they had four more children, Catharine, James, Louis and John Jones. March 27th 1856 William Jones Sr. died, leaving a large number of orphans. The court clerk in Tishomingo County Mississippi was very detailed in his documentation of the Jones family. He records that the only heir who qualifies to administer the estate of William Jones Sr. is the oldest son, Robert. He then documents that Francis is married to Thomas Stewart of Morgan county Alabama, Sarah is married to M.B. Rogers, also of Alabama. William is sixteen years old, Jesse is fourteen years old and Mary is twelve years old. The court records list these six children as heirs/grandchildren of Esq. Robert Brashear deceased of Lawrence county Tennessee. The younger children are listed as Catharine, Lewis, James and John Jones. Jesse Jones' brother Robert Jones petitions the court stating that he is too ill to fulfill his role as administrator and requests that his friend E.L. Welch be the administrator of William's estate. Mr. Welch becomes the administrator of the estate and describes to the court that William Jones Sr. was an equal owner of a mercantile store with Jonathan McMaster and property on which McMasters now lives. William Jones Sr.'s assets are cashed out in order to provide for the support of the orphans. A local business man John Taylor becomes the guardian of Jesse G. Jones and petitions the court for Jesse's inheritance from the Robert Brashear estate to send Jesse to boarding school. Robert Davenport becomes the guardian of William Jones, age 16. William works on the Davenport farm until he enlists in the Civil War in 1861. The Jones family story is a tragedy. Robert Jones, the oldest child of William Jones ,Sr. died about three weeks after his father died, leaving a widow and two young children. His wife was Sarah Hunter. Sarah becomes the administrator of Robert's estate and guardian of their two children. Thomas Stewart petitions the court to become the guardian of Mary, the youngest child of William and Eleanor Jones (both deceased). Again, the court clerk documents that his wife Francis is the granddaughter of Robert Brashears and the older sister of Mary Jones. Thomas Stewart takes Mary to Morgan county Alabama to join his family. The youngest children, the children of Susan Green, remain in the court system for years and slowly find guardians. (Robert Jones died and neither Sarah nor Francis take in the four youngest children.)

Jesse G. Jones was put in boarding school by his guardian John Taylor. His inheritance from his grandfather Esq. Robert Brashear paid for his room board, books, tuition and clothing. This is how Jesse Jones became a journalist and photographer. Unfortunately, Jesse completed school just prior to the beginning of the Civil War. Jesse G. Jones and his older brother William Jones enlisted in Mississippi together in 1861. William Jones was killed in battle in the Civil War. Jesse G. Jones was captured and became a prisoner of war four times; however he made his quick escape each time. Jesse leaves a record of two love letters to his new bride Susan Varnell Jones in 1861. He wrote his Civil War Story in the Knox City Herald in 1917 when he was a journalist for the newspaper. As a young man, Jesse had a photograph tent and produced many of the surviving photos that we have inherited as his descendants."[article on "Orphan Jesse G. Jones Story' of Sue Keller, Ancestry.com]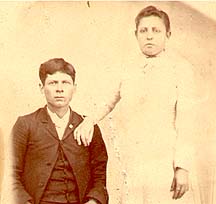 William Jones Jr. and Sara McKee Jones
between 1858 and 1863.(photo probably by Jesse Jones)
There were several Sarahs in this family which made it very confusing. Robert Jones married a Sarah, William is said to have married a Sarah and his daughter was Sarah. To make matters worse some were also called "Sallie."
Jesse was only fourteen when his father died but found a guardian who saw potential in him and sent him to boarding school for two years. From this start Jesse grows to become an artist and journalist.

1900- US Census, Texas, Montague co., Series: T623 Roll: 1660 Page: 253

Jones, John A. head w m Apr 1854 46 mar 5yrs Ala Tenn Ala merchant
" , Tex wife w f Sept 1869 30 mar 5yrs Geo Geo Geo
" , Ellen dau w f Feb 1896 4 s Tex Ala Geo
source:
The Southwestern Journal of Knox City, Knoxville Co., TX , Newspaper articles
Confederate Civil War pension records
Hipple, Mrs. Maxine. records Austin, TX , now deceased
Keller, Sue. records and article
Wade, Nova. records 401 Rusk Street, Pittsburg, Texas 75686, email - Davon104@aol.com
US census records of Hopkins Co., TX
Return to Cheryl's Family Index | email to Cheryl Grubb
---







All information and photos included within these pages are here for the express purpose of personal genealogical research and may not be included or used for any commercial purpose or included in any commercial site without the express permission of Cheryl and Elroy Christenson. Copyright Elroy Christenson 1998-2010.


web pages created by Elroy Christenson- elroy@next1000.com - last updated 2/25/10