Jesse G. Jones

Jesse Jones Family

Alabama,Texas, Washington State


Susan and Jesse Jones Jr. photo probably by Jesse about 1866

Jesse G. Jones
b 26 Feb 1842 Sommerville, Morgan, AL
d. 11 Apr 1917 Knox City, Knox, Texas [pension appl. 1930]
buried: Knox City Cemetery, Knox Co., TX


1m. Susan Francis Varnell
b. 17 Oct. 1841 Franklin Co., Tenn
d. 1876 Miller Grove, Hopkins Co., Texas
their father: Richard Varnell - - their mother: Arta Macy Fowler

2m. Permelia Varnell
b. 10 Feb 1844 Franklin Co, Tenn (younger sister to Susan above)
d. 24 Dec 1935 at home, Knox City, Texas
buried: Knox City Cemetery, Knox Co., TX
their father: Richard Varnell - - their mother: Arta Macy Fowler


his father: William Jones (d. 1856 Ala)
his mother: Eleanor Brashears b.1811 Tenn
Children of Susan Varnell
Jesse Brashear Jones
b. 27 Aug 1866 Bonham, Fannin Co., TX
d. 24 Jul 1943 Knox City, Texas
m. Lillian Katherine Pollard 27 Jan1889 TX (b 21 Sep 1871 Sedalia, MO)
2m. Marion Augusta Lucas Bonnell 27 Dec 1911
William Richard Jones
b. 6 Jan1869 TX
d. 1 Mar 1952 Knox City, Texas
1m. Ida Pratt 17 Aug 1890 TX
2m. Minnie White
Ida Oppie Jones


b. 5 Apr 1871 Miller Grove,
Hopkins Co., TX
d. 12 Feb. 1949
1m.Thomas Marshall, Montague, TX
2m. Dutton
Olive Eugenia Jones
b. 3 Mar 1875 Millers Grove, TX
d.
m. J. T. Pollard 1890 Montague, TX



No known children of Permelia Varnell
Although Permelia didn't have any children of her own she raised her sister's children into caring adults.




1856 - Jesse was orphaned by the age of fourteen in Mississippi. He was adopted and educated by a businessman who saw potential in him even as a teenager. Jesse's sisters were raised in Alabama where they had previously lived.

1860 - US Census, Alabama, Morgan Co., Alabama.

Series:

M653

Roll:

19

Page:

307


Henry, Turney 34 m w farmer $500 $7600 Alabama

Jane M., Turney 38 f w housewife Tennessee

Renet E. W. Turney 14 f w Alabama

Mary T. A. Turney 12 f w

Alabama

Peter J. Turney 10 m w

Alabama

(?Wallrom) E. P. Turney 8 f

Alabama

Julia E. M. Turney 4 f

Alabama

Jesse Jones

19 m (?Ambnotypet ) Alabama
(we can't figure out what Jesse's career is here Am??otyp?t, It may be a "hypnotist". The family that he is staying with seems to have a number of slaves)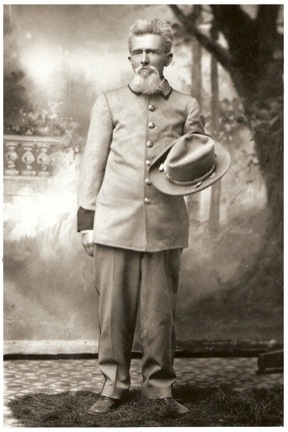 A late photo of Jesse Jones in Confederate uniform.
photo probably by Jesse, collection of Sue Keller

1862 February.- As a young man he enlisted in the Confederate Army in 7th Ala. Cavalry. He was19 years of age when taken as a prisoner of the war on16th of February of 1862. This was the date when Fort Donaldson in western Tennessee was surrendered to the Union army commanded personally by General Ulysses S. Grant. Grant insisted on "No terms except an unconditional and immediate surrender can be accepted." This battle and the "unconditional surrender" statement made Ulysses S. Grant a national hero. [World book Encyclopedia, World Book Inc. Chicago.1987]
Jesse was one of about 13,000 troops stationed here. Although taken prison for period Jesse some how escaped through deep snow and cold rather than being sent to the Chicago prisoner of war camps. According to the pension records he re-enlisted in 28th Miss. Cavalry in Malone's Regiment. He was also wounded in the battle at Murfreesborro in the left elbow.[Pension records, 1930]


The US War Department stated that he enlisted as a private in Company G, 28 miss. Cavalry, of the Confederate States Army on the 14th of February, 1864 in Fannin, Mississippi for a three year period. Company muster rolls list him for March and April of 1865. His name appears on a roll of Prisoners of War, surrendered May 4, 1865, and paroled at Gainesville, Alabama, May 12, 1865. [pension application , 1930] Jesse was proud to have been a veteran of the Civil War and having fought for the South. During the war he carried the mail primarily as a cover for his spying activities for the Confederate Army. He was captured and escaped several times. He was wounded at Murfesboro but was not discharged till the 15th of May 1865 at Donville Ala. His story is best told in his own words.

The Affidavit of Witness from Richard F. Varnell, Permelia Varnell Jones brother, stated, "I was raised in same community with Jesse Jones, husband of applicant, Mrs. Permelia Jones. I was about fifteen years of age at the time of his enlistment. I remember distinctly whe he left home for Fort Donaldson and also remember of return home after the fall of Ft. Donaldson and his re-enlistment into Wheeler's Brigade. I also remember of his being at home on a furlough with a wounded arm. I can't say that I knew personally of the army service of Jesse Jones, but know that he visited home in the unniform(sic) and accoutrements of a confederate Soldier. " signed Richard F. Varnelll, 8 August, 1930. [pension application, 1930]
1870 - US Census, Black Jack Grove Post Office, Precinct no.4, Hopkins Co., TX Roll: 1592 Page: 151
house 158
Jones, Jesse		28	m	w	Artist	100	Alabama
       Susan		28	f	w	Keeping house	Tennessee
       Jesse             4      m       w
       William		 1	m	w			Texas

next door to Jesse Jones is a believed relative to Elroy Christenson. If this is the same Dempsey Cain as in his line Dempsey marries four times and has at least four children by Rebecca Hollaway in Mississippi before starting his migration to Arkansas where the other Hollaway family moved.
 house 157
Cain, Dempsey		56	m	w	farmer	200	Tennessee
      Mary		36	f	w	keeping house	Arkansas
      Humpton		19	m	w	farmer		Arkansas
      Georgia		16	m	w			Arkansas
      Alabama		11	f	w			Arkansas
      Tennessee		14	f	w			Arkansas
      William		7	m	w			Texas
      Mary		4	f	w			Texas
      Martha		1	f	w			Texas

1871 - Jesse Jones lived in Miller Grove, Hopkins County, Texas. Ida Oppie Jones is born here this year. Here he made his living as a photographer and journalist. As a photographer he claimed to have taken photographs of most of the people in Hopkins County "since I came to this Contry, ten years ago, many of my kind patrons have died, leaving with their frinds Pictures which they prize as precious jewels. He wrote the following poem on an advertisement given out locally.
Think not these pictures, by the sunlight made,
Shade though they be, will like a shadow fade,
No, when the loved one's form in earth shall lie,
And death has closed forever the beaming eye,
Their lifelike portraits, mocking at decay,
Will still be fresh and vivid as to day.
He wrote many regular articles on his war escapades in the local newspaper. These have been collected and put into the historical section of the University of Texas archives. They have been transcibed by Marlene Grubb with printed typos and listed here with an index of their contents.

Jesse G. Jones "Reminiscences of the Civil War"
1876 - Miller Grove, Hopkins Co., Texas - Susan Varnell Jones dies. She was quite a beautiful woman and had at least four children. She unfortunately dies in the birth of her last child. Her sister, Permelia Varnell, perhaps comes in to take care of the infant. He marries Permelia but she never had any children of her own but raised her sisters children to adulthood.
1880- US Census, Hopkins Co, TX p.227B

Jessie G. Jones
self mar m w 36 Alabama
Permelia Jones
wife mar f w 34 Tennessee
Jessie Jones son single m w 13 Texas
Willie Jones son single m w 11 Texas
Ider O. Jones dau single f w 9 Texas
Ollie U. Jones dau single f w 5 Texas
Richard Varnell fatherinlaw mar m w 83 Tennessee
Ardy Macy Varnell motherinlaw mar f w 81 South Carolina
1900- US Census, Montague Co., Texas. Roll: 1660 Page: 246

Jones, Jesse G.

head w m Feb 1842 68 mar 38 yrs Alabama Kentucky Texas
,

Permelia

wife w f Feb 1834 56 mar 38 yrs Alabama Tennessee S. Carolina
Series:
T623
Roll:
1659
Page:
3

Pollard, Jesse T. head w m Oct 1863 36 mar 38 yrs Texas Georgia Texas

, Permelia wife w f Feb 1834 56 mar 38 yrs Alabama Tennessee S. Carolina
1910, August 10 - Jesse Jones sends out the minutes of the Annual Reunion fo the Sam Lanham Camp. The note is handwritten on letter head stationary. The U. C. V. probably stands for the United Confederate Veterans
Adjt. Jesse G. Jones
Sam Lanham Camp
no. 1677 U. C. V.


Sam Lanham Camp

U. C. V. No 1677

Knox City, Texas

Annual Reunion


3rd day of August 1910

The only business before the Camp being the Election of Camp Officers for another year Comrade G. E. Chilcoat officiating commander took Chair Comrade J. F. Cummings the Adjt place in harmony and regular order the old officers, being B. T. Lanier Commander Jesse G. Jones Adjt and J. F. Cummins Chaplin were reElected for the ensuing year

Jesse G. Jones Adjt.

1910- US Census, Texas, Knox Co.

Series:

T624

Roll:

1571

Page:

76 ( next door is who we believe is

Richard Furman Varnell,

Permelia's brother)


Jones, J. G.

Head m w 69 mar 39 Alabama Alabama Alabama own income

" , Permelia wife f w 66 mar 39 Alabama Tennessee South Carolina none

Pollard, Gusta grdson m w 14 s Texas Missouri Texas

next door

Varnell, R. T head m w 62 wid Tennessee Tennessee Texas farmer gen. farm

" , Richard W. son m w 36 s Alabama Tennessee Georgia farm laborer home farm

" , Moris son m w 28 s Texas Tennessee Georgia farm laborer home farm

" , Daisy dau f w 24 s Texas Tennessee Georgia

" , Ula dau f w 22 s Texas Tennessee Georgia

" , Arthur son f w 20 s Texas Tennessee Georgia farm laborer home farm



1917- 11 Apr. - Jesse Jones dies in Knox City, Knox, Texas according to the Widow's Application for Condederate Pension filed by Permelia Jones on the 8th of August 1930. Another obituary listed his death on the 12th of August of 1917.

1920- US Census, Texas, Knox Co.,

Series:

T625

Roll:

1825

Page:

263


Varnell, Richard F. head m w 72 wid Alabama South Carolina Tennessee farmer

" , Daisy J. dau f w 35 s Texas Alabama Georgia none

Jones, Jessie P.

sister f w 75 wid Alabama Tennessee South Carolina none

1930, Aug 11 - Permelia Jones applies for a Pension for Confederate Soldiers. Several documents give credibility to Jesse's claims as a Confederate Soldier. Through this we also confirm that Permelia had a brother of Richard F. Varnell along with her death date. [pension application, 1930]
A note attached to this application states -"My memory is the the 26th Mississippi Regiment was captured at the fall of Ft. Donaldson, but my husband made his escape from the Fort before the Regiment was sent away to a Northern prison, returned home and re-enlisted in a campany made up by Capt. John Luster, I think going into Malone's regiment, Wheeler's Brigade. he served much of his time as a scout."
1930-US Census, Texas, Knox Co., 5 J-PCT (West Part) Series: T626 Roll: 2367 Page:250


Jones, Will. R.

head renter m w 61 mar 21(at mar) 30(yrs mar) Texas Mississippi Alabama

" , Minnie I. wife f w 53 mar 23 30 Alabama Georgian Alabama

" , Robert son m w 15 s Texas Alabama Alabama

" , Ines dau f w 16 s Texas Texas Alabama

Next door

Jones, Fred E.

head r m w 20 m 18 Texas Texas Alabama

" , Oma T. wife f w 19m 17 Texas Texas Texas

Same page

Tidwell, Jacob A. head owner m w 50 m 29 (pos. father of Jesse (f) Marshall) Texas Mississippi Mississippi

" , Julia T. wife f w 42 m 21 Texas Mississippi Mississippi

" , James M. son m w 29 s Texas Texas Texas

Varnell, Pharman T. head m w 83 wd Tennessee Tenn So. Carolina

" , Walter J. son m w 49 s Texas Tenn Georgia

" , Daisy J. dau f w 46 s Texas Tenn Georgia

Jones, Permelia

sister f w 86 wd Tennessee Tenn Georgia

Next door

Marshall, Jesse D. head m w 29 m 24(

son of T. H. Marshall

) Washington Texas Texas

" , Jessie F. wife f w 26 m 21(prob. dau. of Jacob Tidwell) Texas Texas Texas

" , Hersey D. son m w 2 s Texas Washington Texas


1935, Dec. 24th- Permelia continues to live in the area and dies 23 Dec 1935 Knox City, Texas. The Application for Mortuary Warrant is filled out by her step-son, Benjamin Jones, signed J. B. Jones. It states that Permelia Jones died at her home in Knox Co., Texas on 24th December, 1935. "... Mrs Permelia Jones.. in his last illness, and am of the opinion that his ailments.. were heart disease Patient was found dead - There were no sighs of violence. Death I am sure were from natural causes; probably an acute coronary occlusian or acute cardiac dilatation." signed D. C. Eiland, M. D., physicians address in Knox City, Texas. Jan. 17, 1936 [ Application for Mortuary Warrant, Knox Co., Texas. Jan 17, 1936]

source:
Application for Mortuary Warrant, Knox Co., Texas. Jan 17, 1936
Confederate Civil War pension records of Permelia Jones, 11 Aug 1930
Hipple, Mrs Maxine, records of , Austin, TX , now deceased
Wade, Nova, records of , 401 Rusk Street, Pittsburg, Texas 75686, email - Davon104@aol.com
The Southwestern Journal of Knox City, Knoxville Co., TX , Newspaper articles
US census records of Hopkins and Knox Co., TX


Return to Cheryl's Family Index | email to Cheryl Grubb
---







All information and photos included within these pages are here for the express purpose of personal genealogical research and may not be included or used for any commercial purpose or included in any commercial site without the express permission of Cheryl and Elroy Christenson. Copyright Elroy Christenson 1998-2010.


web pages created by Elroy Christenson- elroy@next1000.com - last updated 2/25/10