Gustave Schock Family
Prussia & Washington



Gustave Frederick Michael Schock
b. before 1833 Dandinzig, Prussia
d. possibly about 1887 Germany
buried: ? Germany

?1m. possible first marriage based on the 1900 census of Rosy,
who says she had only three births with two surviving

?2m. Rosalie Rich/Reich
b. 18 Aug 1833 Dandinzig, Prussia
immigrated in 13 August 1888 through New York
d. 30 Jan 1907 Tacoma, Pierce Co., WA
buried: Old Tacoma Cem., Tacoma, WA
her father: ? mother: ?

his father:

unknown Schock


his mother: unknown


Children of probable 1st m. (The first two children here may not be Rosy's- see 1900 census)

John A. Schock
b. 26 Dec 1850 Bromberg, Prussia

d. 6 Apr 1934 Tacoma, WA*
m. Berthe Stienke (b. 10 Aug 1850 Germany d. 23 Mar 1926 Tacoma, WA)
Theresa Juliana "Tracy" Schock
b. 1856 Prussia
d. 2 Oct 1944 Tacoma, WA*
m. John Charles Wessels about 1888
(b. about 1853 d. after 1930)

Children of Rosa Reich

Gustave C. Schock
b. 11 Mar 1862 Dandinzig, Prussia
d . 7 Aug 1936 Tacoma, WA
m. Matilda A. Gubbe (b. Nov 1869 Detroit, MI d. 19 Jun 1951 Tacoma, WA)
Emma Rosalie Schock
b. 30 Mar 1869 Danzig, Germany
d. 5 Dec 1923 Tacoma, WA
m. Emil Albert Kiesel 29 Mar 1891 Tacoma, WA(b. 2 Sep 1868 d. 19 Jan 1943 Portland, OR)
*obituary Tacoma News Tribune


According to John Schock's immigration records the family starts their travels from Bromberg, Prussia which is now almost in the center of present day Poland under the present Polish spelling of Bydgoszcz. However, Gustav Schock states that he started in Breman, Germany but was last a resident in Thuringia which is about in the center of present day Germany. The German states were united under Prussian rule in 1871. The free state of Prussia was created in 1917. Theresa and Gustave Schock stated in the 1920 census record to come from Danzig. Danzig is an earlier name for the present coastal city of Gdansk, in Northern Poland. Danzig is on the coast in the state of Westpreu
B
en or West Prussia in the map below for 1871. Danzig had been for a period of time a free city state. We are still trying to understand the discrepancies of these statements. Carol Wilkenson, grand daughter of John Schock, remembers her mother saying that John was a spy during the Franco-Prussian War. I wonder who he may have been spying for. The war started 19 July 1870 and completed 10 May 1871 with the total defeat of France. The outcome of the war brought the defeat of Napoleon III, the new possession for Germany of Alsace and Lorraine, and unification of Germany which included all of Prussia. German peasants, however, remained yoked to the wealthy land owners where mechanized farms were created to the detriment of the workers. Protests and strikes were common.
Danzig was a port city or city state on the Baltic Sea. Historically it was probably originally settled by Scandinavians and used by Vikings as a trade route down the Vistula or (
Polish
-Wisla) river to Warsaw and Krakow or the Ukraine. Ultimately goods could be transferred to another river complex leading toward the Black Sea on the Danube (
Romanian
- Dunarea) river. Being at the cross roads of so many competing interests Danzig and Gdansk was fought for and burned to the ground on many occasions including by the Teutonic Knights, the Grand Prince of Moscow, the King of Poland, and Elizabeth of Austria It was a key member of the Hanseatic League of trade which held a monopoly of trade in the Baltic from about the 14th to the 17th centuries. As a major grain and timber supplier it drew a population from all over Europe. In the 19th century there was a major infusion of German immigrants. Consequently it is difficult to say whether the Schock family were ethnic Poles or Germans.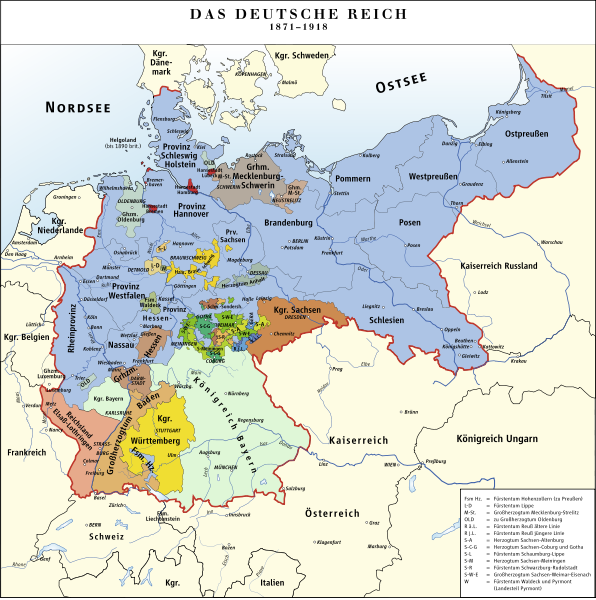 The blue area above is old Prussia.
map from Wikimedia.org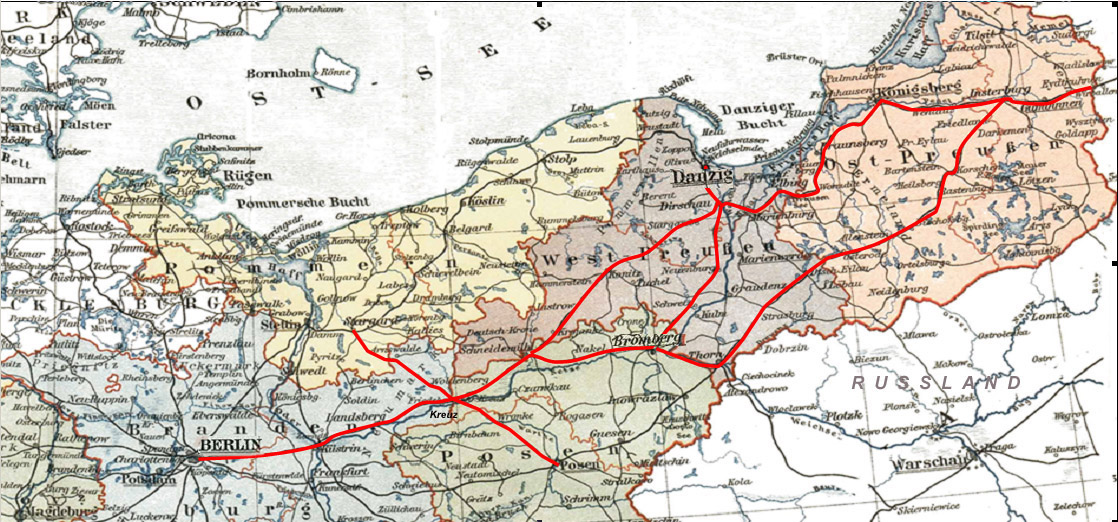 The Prussian rail system helped trade and economic development along with the unification of the many different Prussian principalities.
[wikimedia common, 2015]



1882, March 30 - John Schock immigrates with his family from Bromberg, Prussia on the ship "Polynesia" shipping line of Edward Carr. Departure was from Hamburg, Germany with the destination New York. He is 31 years old and his wife Berta is also 31. His occupation is listed as "Arbeiter" which means "laborer". They must have entered the United States through the Castle Garden immigration center on the tip of Manhattan Island, presently Battery Park. [Hamburg shipping manifests, microfilm K-1727, p. 451; Ancestry.com]
The family is listed:


Schock , Johann

31 Bromberg,

" ,

Berta

31 "

" , Oscar 7 "

" , Emil 6 "

" , Artur 5 "

" , Alfred inf


1882, April 20 -

Johs. Schock

, laborer, age 31 arrives in New York at Castle Garden immigration center from Prussia. The family is listed as Johs. 31, Bertha 31, Oscar 7, Arthur 6, Emil 6, Alfred 11months. [CastleGarden.org]

Interestingly, Gustav Schock, his brother last resided in Thuringia, which is in the middle of the present state of Germany.

1885, 20 Feb. -

Gustav Shock(sic)

, age 22, from Bremen, Germany, last residence Thuringia. From Germany on the ship "Hermann". His occupation is listed as "joiner". passage paid by self. [CastleGarden.org]

1888 - The earliest record that we have so far found is the ship manifest record for the ship Arizona. John Schock came over as early as 1881. Kiesels and Schocks didn't seem to associate with one another until they arrived together in Tacoma, Washington. Rose arrived in New York on the ship "Arizona" on 13 August 1888 from Germany with stops in Liverpool, England and Queenstown(now known as Cobh), Ireland. The ship departed Liverpool on Aug. 4th.

Rose Schock

55 is traveling with her two daughters,

Tressa

33, and

Emma

19. They are listed as passengers "#169, 170, and 171. They all enter New York through the Castle Garden immigration center. [New York Passenger Lists, 1820-1957, August 13, page 4, Ancestry.com] [CastleGarden.org]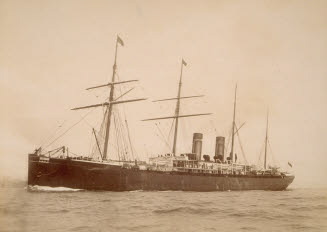 The S. S. Arizona


According to one researcher Rosalie Schock immigrated as a widow. Her husband seems to have died before arriving. It is interesting that his oldest son, John Schock, immigrated about seven years earlier than his mother or step-mother in 1881, Gustave, the second son, immigrated in 1883. This give credibility to the argument that Gustave died in Germany. We suspect that after his death the women sold everything to pay for their passage.


Elsie Kiesel Marshall wrote that her mother's father's name was Gust Schock.

His daughter's death certificate says her father's name was Fred, born in Germany, mother UNKNOWN; informant was Fred F. Kiesel, 1112 So 58th St (I believe he was her son) He probably was named both Fred and Gust and maybe more, who knows.


1889- Nov 16- Charles Wessels and Therese Wessel, both of Europe, give birth to a son in Tacoma, WA. no name is given.
[Washington Births 1891-1907]


The Pioneer of Washington Book listed this name Michael as the father's name. We knew him as Gust or Fred or both.

See the history of the Sugar Plantation on Kaua'i, Hawaii.

1890 -


In the Superior Court of The State of Washington
for Pierce County, United States of America


Present: F. Campbell Judge
In the matter of John Schock } In this Twenty Fifth
An Alien, } day of October 1890
To become a citizen of the United States of America }


At the appearance to the satisfaction of the court, by the oaths Fred A. Meier and Andreas Fritz, citizens of the United States of America, witnesses for the purpose, firsts duly sworn and examined John Schock of a native of Germany


has resided within the limits and under the jurisdiction of the United States five years at least, last past, and within the state of Washington for one year at least, last passed; and that during that time he has behaved as a man of good character, attached to the principles of the Constitution of the United States, and well disposed to the good order and happiness of the same; and it also appearing to the court, by competent evidence, that the said applicant has heretofore, and more than two years since, and in due form of law, declared his intention to become a citizen of the United States, and that he doth absolutely and entirely renounce and abjure all allegiance and fidelity to every foreign prince, potentate, state, or soverienty whatsoever, and particularly to

The Emperor of Germany

It is therefore ordered, adjudged and decreeded by the court that the said

John Schock

be and here by admitted and declared to be a citizen of the United States of America. #337

(a note written next to the document:)

Cert copy issued Jan 24 1926 Geo. F. Murray Clerk by Libb

y

1892- Washington Territorial Census, Pierce Co., page 338 This is an interesting census, in particular, John Schock was married in Germany and emigrated with four children with only one born in Minnesota. Emil also seems to have come over with his family from Germany, moves to Minnesota by 1883 and then to Washington by 1889.


Schock, J.

(John) 38 m w hacksmith Germany

" , B. (Berthie) 38 f w "

" , O. 14 m w "

" , Arthur 13 m w "

" , Arnie 13 m w "

" , Alfred 8 m w "

" , Paul 5 m w Minn.

page 342- April 1st

Schock, Emil

40 m w policeman Germany (this person may be a child of Gustave but no proof)

" , Bertha 40 f w Germany

" , Paul 18 m w "

" , Otto 19 m w "

" , Emil 19 m w "

" , Alfred 11 m w "

" , Paul 9 m w Minn.

" , Bertha 3 f w Wash.

page 316, [Ancestry.com]

Schock, Emma

20 f w none listed Germany

page 333 [Ancestry.com]

Shock G.

29 m w brewer Germany

" M. 19 f w wife Canada

" Otto 3 m w at home Washington

" Louisa 5 days f w " " "

"

Rosa

50 m w domestic Germany

page 396 [Ancestry.com]

Wessels, Chas. 36 m w engineer Germany

" ,

Theresa

35 f w H. W. Germany

" , Emma 4 days f w at home Wash.

1892 - Tacoma City directory, alphabetical order. [Ancestry.com]


Schock, Authur, tinner Peters & Miller Co., bds 2712 S. Tacoma Ave.
Schock, Emil, tinner Peters & Miller Co., bds 2712 S. Tacoma Ave.
Schock, Gustave brewer, res S 47th, Lakeside add.
Schock, John A. policeman, res 2712 S. Tacoma Ave.



1896- In the Superior Court of The State of Washington


for Pierce County, United States of America


Present: Hon. Emmett N. Parker Judge
In the matter of Gustav Schock } In this 2nd
An Alien, } day of June 1892
To become a citizen of the United States of America }


At the appearance to the satisfaction of the court, by the oaths Thomas Desmond and J. A. Schock, citizens of the United States of America, witnesses for the purpose of a native of Germany


has resided within the limits and under the jurisdiction of the United States five years at least, last past, and within the state of Washington for one year at least, last passed; and that during that time he has behaved as a man of good character, attached to the principles of the Constitution of the United States, and well disposed to the good order and happiness of the same; and it also appearing to the court, by competent evidence, that the said applicant has heretofore, and more than two years since, and in due form of law, declared his intention to become a citizen of the United States, and that he doth absolutely and entirely renounce and abjure all allegiance and fidelity to every foreign prince, potentate, state, or soverienty whatsoever, and particularly to

The Emperor of Germany

It is therefore ordered, adjudged and decreed by the court that the said

Gustave Schock

be and here by admitted and declared to be a citizen of the United States of America. #2016

1900 - US Census. Washington, Pierce Co., Tacoma. Series: T623 Roll: 1749 Page: 193 (Rosy is living next to Karl Keisel (Sr.). However in this census he is listed as Keiser. One thing we see here is that John Schock, the son, proceeded his mother in immigrating to the USA by seven years.)


Pierce Co. Tacoma, Ward 4, page 193
Schock, Rosy head w f Aug '33 66 wd 3/2 Germany

Germany

Germany immig. '88 12yrs USA

Keiser, Carl

head w m Aug '31 68 m 35

Germany

Germany

Germany '87 13 na day laborer

, Augusta wife w f Dec '31 68 m 35 12/7

Germany

Germany

Germany '87 13

Washington, Pierce Co., Tacoma. Ward 5 page 202(son of Emill and Rosy


Schock, John

head w m Dec. 1850 49 mar 26yrs Germany Germany Germany 1881 19yrs USA Na policeman
" , Berthie wife w f Aug 1850 49 mar 26yrs 6/6 Germany Germany Germany 1881 19yrs USA Na
" , Alfred son w m May 1879 21 s Germany Germany Germany 1881 19yrs USA Na house painter
" , Paul son w m Nov 1883 16 s Minnesota Germany Germany
" , Bertha T. dau w m June 1889 10 s Washington Germany Germany
next door


Schock, Arthur

head w m Feb 1876 24 s Germany Germany Germany 1881 19yrs USA Na R. R. yard Laborer

Washington, Pierce Co., Tacoma . Ward 5, page 205


Schock, Oscar

head w m June 1874 25 mar 4 yrs Germany Germany Germany 1881 19yrs USA Na carpenter
" , Sophia wife w f Sept 1875 24 mar 4 yrs California Germany Germany
" , Laura dau w f Aug 1898 1 s Washington Germany Germany

Washington, Pierce Co., Tacoma. Ward 5, page 231


Schock, Gustave

head w m Mar 1862 37 mar 13yrs Germany Germany Germany 1883 17yrs USA Na Brewer
" , Matilda wife w f Nov 1869 30 mar 13yrs 2/2 Michigan Germany Germany
" , Arthur son w m Aug 1888 11 s Washington Germany Michigan
" , Louise dau w f Apr 1892 8 s Washington Germany Michigan
next door


Kiesel, Gustave

head w m Nov 1869 30 mar 10yrs Germany Germany Germany 1888 12 yrs USA Na Fireman
" , Mary wife w f Feb 1873 27 mar 10yrs Germany Germany Germany 1888 12 yrs USA
" , Anne dau. w f Sep 1890 9 s Washington Germany Germany
" , Ella dau. w f Sep 1894 5 s Washington Germany Germany
" , Albert son w m Feb 1897 3 s Washington Germany Germany

Washington, Pierce Co., Tacoma. Ward 4, page 285


Kiesel, Emil

head w m Sept 1868 31 mar 8yrs Germany Germany Germany 1887 13 yrs USA Na Day Laborer for RR
,

Emma

wife w f Mrch 1869 31 mar 8yrs Germany Germany Germany 1888 12 yrs USA
" , Fritz son w m Sept 1891 8 Wash Germany Germany
" , Rudolf son w m Sept 1893 6 s Wash Germany Germany
" , William son w m May 1895 5 s Wash Germany Germany
" , Edward son w m May 1896 3 s Wash Germany Germany
" , Elsie dau w f June 1899 0 s Wash Germany Germany


1910- US Census, Washington, Pierce Co., Tacoma. enum. dist. 256 sheet 2b


Schock, Gust

head w m 48 mar 22yrs Ger. German Ger. German Ger. German receiver

" , Mathilda wife w f 39 mar 22yrs 3/3 Minnesota Ger. German Minnesota

" , Arthur son w m 21 s Washington Ger. German Minnesota grocer grocery store

" , Louise dau w f 18 s Washington Ger. German Minnesota clerk grocery store

" , Hazel dau w f 8 s Washington Ger. German Minnesota

same page - (this is the son of John Schock)

Schock, Oscar

head w m 35 mar2 2yrs Ger. German Ger. German Ger. German

" , Millie wife w f 25 mar 2yrs Wisconsin Nor. Norwegian Nor. Norwegian

" , Laua dau w f 11 s Washington Ger. German Wisconsin

" , Glayds dau w f 8 s Washington Ger. German Wisconsin

Tacoma, Ward 5, enum. dist 262. sheet 5, page 78

Wessels, John G. head m w 54 mar 21 Germany Germany Germany

" ,

Juliane T.

wife f w 53 mar 21 4/1 Germany Germany Germany

" , Emma B. dau f w 18 s Washington Germany Germany

1918, Sep 12 - Alfred G. Shock registers for the draft in Tacoma, WA. #46-2-14c This is the son of John Schock.


Home address -

So. 23rd Tacoma,

Pierce,

WA

Age 39

date of birth -

May 26 1879

where born -

Tacoma, WA

father's birth place -

Germany

name of employer -

Todd Ship Yards

place of employment -

Tide Flats, Tacoma, WA

name of nearest relative-

Addie Schock

address of relative -

1214 So. 23rd Tacoma, WA

height tall slender eyes blue hair med. brown[WWI Draft Registration Cards, 1917-1918. ]


1920 - US Census, Washington, Pierce Co., Tacoma. enum dist. 299, sheet 1a page 196 Gustave is shown here with no job listed. Next to his birth place of Dandinzig is his native language of German. His mother and father are similar. "Na" means Naturalized Citizen.


Schock, Gustave

head owner m w 57 mar 1886 Na 1890 Dandinzig German Dandinzig German Dandinzig German none

" , Matilda wife f w 52 mar Michigan Germany German Germany German none

" , Arthur O. son m w 31 s Washington Dandinzig Germany grocer retail

" , Hazel dau f w 19 s Washington Dandinzig Germany stenographer, chemical plant

Washington, Pierce Co., Tacoma, enum. dist. 329, sheet 7A, page 153

Wessels, Chas. head owner m w 64 mar 1888 Na 1885 Germany German Germany German Germany German Engineer Stationary

"

, Tresia

wife f w 64 mar 1888 Na 1885 Germany German Germany German Germany German

Washington, Pierce Co., Tacoma, enum. dist. 329 sheet 4b, page 151

We don't know if this family is related but the fact that they are about the right age to be brothers of Gustave may mean that Charles is a cousin.

Schock, Charlie

head owner m w 69 mar 1882 Na 1890 Germany German Germany German Germany German none

" , Bertha wife f w 68 mar " Na Germany German Germany German Germany German none

Washington, Pierce co., Tacoma, enum. dist. 332 sheet 6a, page 174

Son of John A Schock.

Schock, Alfred G.

head owner m w 40 mar 1880 Na 1890 Germany German Germany German Germany German painting foreman shipyard

" , Addi wife f w 35 mar Iowa Germany German Iowa none.

" , Alice K. dau f w 16 s Washington Germany German Iowa packer wholesaler

" , Robert L. son m w 12 s Washington Germany German Iowa none

Washington, Pierce Co., Tacoma, enum. dist. 329 sheet 7a, page 1

53

dau of Gustave Schock.


Wessels, Chas. head owner m w 64 mar 1888 Na 1885 Germany German Germany German Germany Germany engineer stationary

" ,

Tresia

wife f w 64 mar 1888 Na 1885 Germany German Germany German Germany Germany none

1930 - US Census, Washington, Pierce Co., Tacoma. enum. dist 27-165, sheet 2b
Schock, Gustave C. head owner 2500 m w 68 mar at 24 Germany Germany Germany German no job naturalized 1885
" , Matilda A. wife f w 60 mar at 18 Michigan Germany Germany no job


US Census, Washington, Pierce Co., Tacoma. enum. dist 27-142, sheet 6b

Wessels, Chas. G. head owner 3000 m w 75 mar 34 (Breman) Germany Germany Germany German Na 1870 watchman city light

" ,

Therese

wife f w 74 mar 33 (Danzig)Germany Germany Germany German Na 1878 none

US Census, Washington, Pierce Co. Tacoma. enum. dist. 27-98 sheet 3a (Oscar is the son of John Schock)

Schock, Oscar E.

head owner 3500 m w 55 mar 21 Germany Germany Germany German Proprietor sheet metal shop

" , Millie wife f w 44 mar 22 Wisconsin Norway Norway

Majeskie, Gladys dau. f w 28 mar 20 Washington Germany California

" , Frank W. son-in-law m w 42 mar 34 Wisconsin Poland Swedish Proprietor gas station

" , Elizabeth granddau. f w 6 s Washington Wisconsin Washington

Ness, Nelda M. niece f w 12 s Washington Norwasy Wisconsin

1934, Apr 6 - Obituary, Tacoma News Tribune.


John A. Schock

, 83, the first Tacoma policeman to receive a pension under the present pension system. ... for 47 years a resident of Tacoma died Friday at his home, 2712 Tacoma Avenue. For 23 years Schock served as a policeman and was retired in --- at 61 years of age. He was one of the most popular membersof the department during his time and was known as a "Walking City Directory," answering travelers questions at the train depot. Schock was a member of the---------Lutheran Church and a native of Germany. He is survived by three sons;

Oscar E., Alfred G. and Paul

--- and a daughter,

Mrs. Bertha T. Boerner

, all of Tacoma; seven grandchildren; and one great-grandchild; a

sister Mrs. Charles Wessels

, and a

brother Gustave

of Tacoma. Buckley-King Mortuary. [US Naturalization Records]

1944, Oct 2 - Obituary, Tacoma News Tribune,.


Mrs. Theresa Juliana Wessels

, 88, of 823 North K Street, died at her home Monday, Born in Germany, she had been a resident here 55 years and was the widow of

John Charles Wessels

. She was a member of the Sisters of Herman and The German Lutheran church. Survivors are a daughter, Mrs Emma Sullivan; two grandchildren and a great-granddaughter. Funeral arrangements will be made by Buckley-King.


sources:

Hormann, Dr. Bernhard, The Germans of Kaua'i, Archeology Club of Kauai Community College, August 1981, vol. 9, No.2, issue 25
interview with Elsie Kiesel Marshall by Marlene Marshall Grubb
interview with Dolores Kiesel Auvil and Doug Auvil by Marlene Marshall Grubb
New York Passenger lists, 1820-1957
US Census, Washington state
US Naturalization Records, Washington State, Pierce County
Washington State and Territorial Censuses 1857-1892
Wilkinson, Carol. Records and correspondence. 7/15/10

Return to Marshall family photo | Return to Cheryl's Family Index
---







All information and photos included within these pages are here for the express purpose of personal genealogical research and may not be included or used for any commercial purpose or included in any commercial site without the express permission of Cheryl and Elroy Christenson. Copyright Elroy Christenson 1998-2010.


web pages created by Elroy Christenson- elroy@next1000.com - last update 2/10/16