Askov Christoffersen Family
Denmark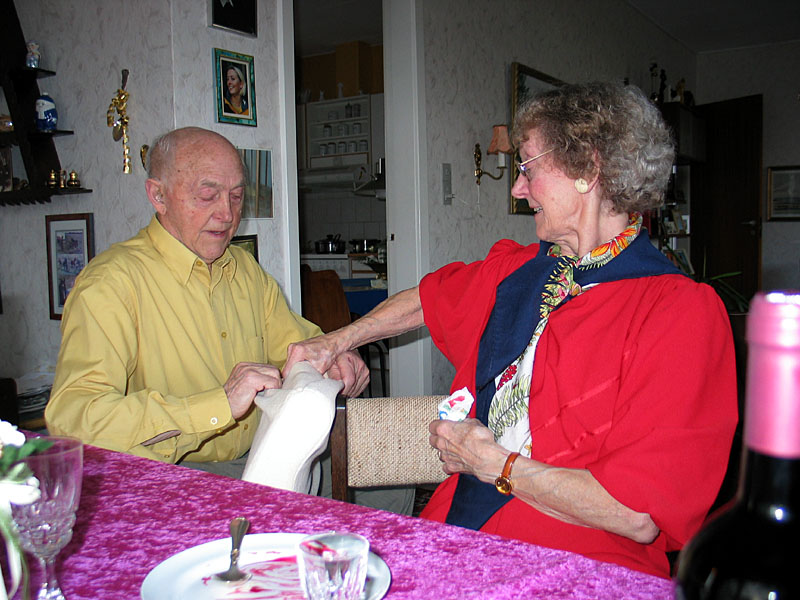 Askov and Cora (Hedegaard) Christofferen on their 50th Anniversary.
Photo courtesy Kent Christoffersen


Askov Christoffersen
b. Søndbjerg, Denmark
d. living Søndbjerg, Denmark

m. Cora Hedegaard about 1945
b. near Ydby, Thisted amt., Denmark
d. living Denmark
her father: Søren Hedegaard Christensen b. 19 Mar 1887 Søndbjerg, Denmark
her mother: Karen Marie Petersen b. Denmark


his father:
his mother:

Children

Steen Hedegaard Christoffersen

b. about 1943 n/dibdbhrerg, Den.
d. Denmark
1m. Jonna Brodersen in Fredrekssund
2m Birgit ?
Kent Hedegaard Christoffersen
b. about 1949 Hvidbjerg, Denmark
d.
1m. Elizabeth Studsgaard Sørensen 1972
2m. Lone Bergholdt Sorensen 1995 in Holstebro, Den.

Jennie Hedegaard Christoffersen

b. 1954 Hvidbjerg, Denmark
d.
m. Niels Jorgen Nielsen (born in Hvidbjerg)

Askov Christoffersen was born and raised in the area around Ydby, Thisted amt. on the Jutland Peninsula of Denmark. He was a farmer who raised a variety of crops but mostly wheat. He also had a building where he raised pigs and another where he had his high priced horses. The farm had a sweeping view of the Norre sound which led to the North Sea.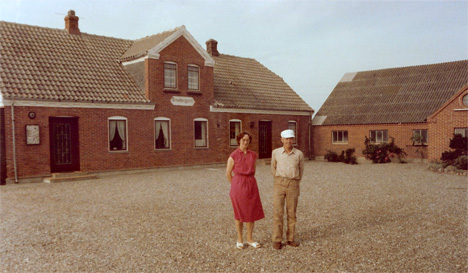 Cora and Askov in front of their farm.

photo by Elroy Christenson 1985


1942-45 - Askov was part of the Danish Resistance during WWII. They worked against the occupation of the Germans while trying to appear as normal citizens. Members were going out to blow up railway lines that ran from Germany to Norway. Askov became a member by following some of his fellow villagers to a pick up a load of weapons dropped by parachutes by the British at night. They caught Askov because he followed them, he demanded that he be taken into the movement or shoot him. He became a member. They listened to the shortwave radio for coded messages that told them when the weapons drop by parashute would happen. The Germans never discovered the Movement in the area although they raided many farms and sites. Askov kept some weapons in his barn for a few days before they were moved to a safer location. In August of 1943 the Danish Navy sunk all its ships for fear that they would be taken by the Germans.
[Kent Christoffersen 5/28/08]

After the war Askov goes back to farming does well selling his horses for thousands of dollars each. His children go off to form
careers of their own.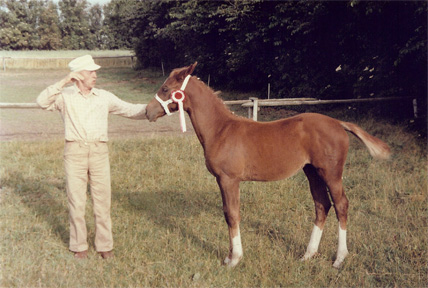 Askov and his young prize winning colt in 1985.

photo Elroy Christenson, 1985


1975-85 - Cora and Askov brought in tourist to have a farm stay like a bed and breakfast. They had as many as 20 family members at a time. They were mostly families from Germany. They would stay for a week or two with Cora cooking elaborate breakfasts along with as many as five meals a day.


about 1996 - Askov and Cora sell the farm.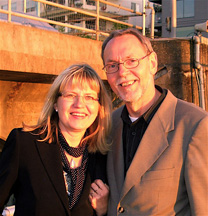 Lone and Kent Christoffersen in Seattle, May 2008

photo Elroy Christenson 2008


Kent Christoffersen worked as an engineer for a while on electricity generating wind mills projects that are presently scattered around Denmark and the world. He is presently working for a governmental agency that handles the promotion of new business ventures in Denmark. He does computer engineering.



Source:
Cora Hedegaard Christoffersen, Udby, Denmark

Kent H. Christoffersen, Vestervang 9, Aars 9600, Denmark +45 98626580 -
(his mother was the primary researcher on this line)
web site - http://familytreemaker.genealogy.com/users/c/h/r/Kent-H-Christoffersen-Aars
email - khc@vestervang9.dk


Christenson Index | Elroy's Family Index || Ancestor Chart #1
---






All information and photos included within these pages was developed by the help of hundreds of researchers. The information here is for the express purpose of personal genealogical research and is freely offered as long as this site is listed as a source. It may not be included or used for any commercial purpose or included in any commercial site without the express permission of Elroy Christenson. Copyright Elroy Christenson 1998-2010.


web pages created by Elroy Christenson- elroy@next1000.com - last updated 8/10/10