John Greer "the immigrant" Family
Ireland or Scotland and South Carolina

---
John Greer
b. before 1714 Ireland or Scotland
d. ? *
buried: ? SC

m. unknown*
b.
d.
buried:
her father:(?)* her mother: (?)*

his father: unknown
his mother: unknown
Possible children based on land grant of 1764
Joseph Greer *
b. ? probably in Ireland
d. before 1783 S. C.

m.
John Greer JR.
b.? probably in Ireland
d.
m.
Andrew Greer JR.
b. ? probably in Ireland
d.
m.
Jane Greer #
b. ? probably in Ireland
d.
m. John McCrary Sr.#
Sarah Greer
b.? probably in Ireland
d.
m.
*records and birth order of Janice Craft
#records of Amy McCrary.

John Greer is not positively identified as the father of Joseph Greer but there is good circumstantial evidence to support this notion. He is the right age and place to be Joseph's father. There is a record that John Greer came by the ship "Folk" from Ireland on 8 Jan 1764. John Greer's land on Duncan Creek was the same property that was owned by Joseph Greer. Janice Craft and Brent Holcomb believe he is the Irish ancestor based on some of the evidence listed here. [Craft 2]

I assume that John Greer was born before 1714 due to the fact that he filed for a land grant in 1737 and should have been at least twenty-one. With the reference to the name of the community in South Carolina that they lived in being "Belfast" it wouldn't surprise me that John Greer and his sons or possible brothers, Joseph, Andrew, were coming from Northern Ireland. When listed as protestants from Ireland this gives us clue as to other origins of the family. Greer is not a listed Irish clan name but Grier is an name in Scotland associated with the McGregor clan. I suspect that earlier history of this family will lead back to Scotland and the growth of the Presbyterian Church through the Covenanter Risings. They could easily have been forced out of Scotland for their beliefs and lived in Ireland for a couple of generations before immigrating to the Colonies. These Scottish immigrants in Ireland have been said to be "Scotch-Irish".


The Greer family name is a pseudonym for the MacGregor clan or son of Gregor. The Gregor clan had a long and troubled history in Scotland "located in Glenorchy as early as the reign of Malcom Caumore (1057-1093)". Although having a large territory that they used to raise cattle they became dispossessed by the various Campbell noblemen and became outlaws. They made raids on the families that had dispossessed them. "In 1488, soon after the youthful James IV, had ascended the throne which the murder of his father had rendered vacant, an act was passed "for staunching of thriftreif and other and other enormitied throw all the realme..." The enforcers were the Campbell of Glenorchy, Neill Stewart of Frotingall, and Ewin Campbell of Strachur. Things didn't get any better for the Gregors over the next two hundred years. At best they were serfs on the land and at worst they were hunted and at various times in full on war. "Rob Roy" MacGregor is a good example of one who had tended cattle, took out loans that he couldn't repay, eventually he turned to robbery. He is known as the Robin Hood of Scotland for robbing the rent collectors of the Campbells and giving the money back to the people. [Anderson p. 734] "When the MacGregor trapped and slaughtered the Colquhouns at Glen Fruin on 7 February 1603 , an Act was promptly passed by the Privy Council, on 3 April of the same year, proscribing the MacGregor name. 'Proscribe' sounds innocent, but what it actually meant was that anybody bearing the name MacGregor could be beaten up, robbed and killed by anybody who felt like it, with total impunity. Nobody with the name MacGregor could be baptized, married or buried by the Church, nor could they hear Mass or receive communion. " [McKinnon page 181] Because the name MacGregor was expressly abolished, it made living in Scotland difficult for any MacGregor and many immigrated shortly after this prohibition, usually changing their names to something more acceptable such as Greer.


An example of this comes from another family's document that is only superficially related to our family but may be somewhat similar to my projection of ancestry. It comes from a Revolutionary Claim from Robert Long who had served under Capt. Joseph Greer.
Revolutionary Claim. Book E Vol. 11 Page 73. No other ref. Robert Long was living in Laurens Co., S. C. in July 1833 has no record of his age, only told by his mother that he was born in County of Antrim, Ireland about year 1763, when four or five months old father came to Pennsylvania, thence two years later moved to the place where he now lives. His father died in 1776. Fathers people came fro Scotland originally, and were Presbyterians (Called covenanters) his family in Charles the second time fled to Ireland to escape his persecution. Lived in a neighborhood of Whigs during Rev. War. He was on the East Florida Expedition. Served un Capt. Joseph Greer, Capt. James Dillard, Col. Levi Carey, Col. Haynes Regt., Brig. Gen Andrew Williamson. Was in the battle of Cowpens. The Siege of Charleston. "Not expecting any advantage but liberty." Paid $40 per month. [Wooley 191]
1737 - John Greer is already listed on early land maps of South Carolina in 1737. He and Joseph Greer (upside down) are listed as a neighbors to property filed by James McCreary for fifty acres on Feb. 21st and also to the 1000 acres filed for by Capt. James Sunderland in Kingston township on May 18th. The following drawing comes from South Carolina archives. Note John Greer's land at the top of the page by the scale of the name he may own a parcel of land the size of Sunderland although no land record can be found to give either John or Joseph connected with these parcels, a scale or date before Sunderland's record in 1737. [S213184: Colonial Plat Books, South Carolina Archives]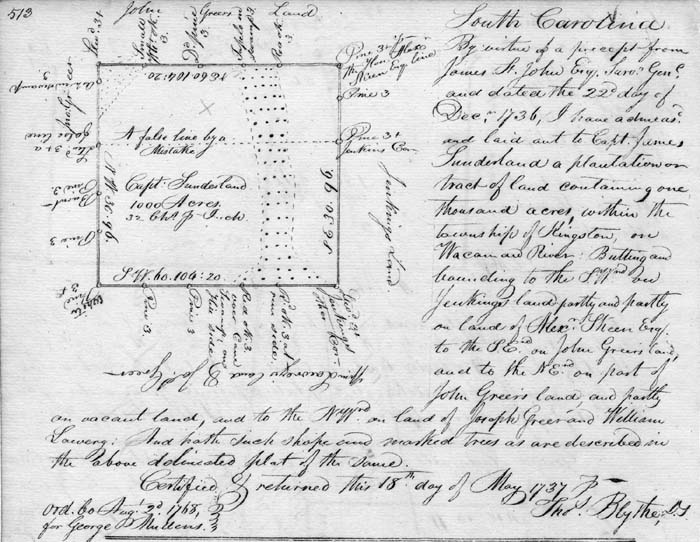 1755 - From Amy McCrary who found these land records in the South Carolina Archives in unrecorded claims. These records do not seem to be the same 100 acres that is granted in 1764 in the Council Journal. The original petition was written on July 4th 1755.
On 5 Aug 1755 John Greer petitioned the Gov. of SC for 100 acres for two persons in his family for whom he never had any warrant of survey or Grant of land in the Province on Duncan Creek near John McCrarey. Since this is several years earlier than is listed for the John Greer and family of 1864, I propose that John Greer came and established himself in the colonies and then went back to Ireland and picked up the rest of his family. I am attempting to get a copy of this land record which was recorded on the same day as McCrarey. [Council Journal p.290] [records of Amy McCrary]
From: Combined Alphabetical Index, Roll 12 [Lynah, James (1771) to Mikell, E phriam (1859)] ...........McCrarey, John unrecorded plat for land not granted - 100 acres on Duncans Creek between Broad and Saludy Rivers. Surveyed by Joseph Curry 1756/07/06 0009 018 0003 00795 00

There is a drawing of the plat and on the reverse side of the Platt is written: John McCrarey Platt 100 acres in the Fork----Warrant Aug 5 1755 ---Surveyed July 6 1756 by Jo. Curry....entered Oct 16 1756 .... Deld. to Recorded Book folio......[later writing] Recorded in State Records Misc. Plats. p.92 (and in pencil......."not recorded". This record establishes John's presence in SC at that date and he later had other recorded grants of land on Duncan's Cr. "Mr. Risher Fairey who was a compiler of the Unrecorded Platt portion of the Alphabetical Index at the SC Archives told me that the two persons in John McCrarey's family would have been his wife and a child, or two children and that John had undoubtedly already procured an earlier grant." [records and comments of Amy McCray]
1764 - John Greer is listed as immigrated to South Carolina from Ireland on 8 Jan 1764. He arrived on the ship "Folk" with Captain William Henry. [So. Caro. Council Journal, #30. pp 22-31, Meeting of 24 Jan 1764, as listed by Janice Craft p.3] This particular John Greer may be an additional Greer. It is unknown whether this person is the same or related Greer. According to the following document and its date this John may have come with his whole family and does fit the known family history. Since John and Joseph had already been here for about seventeen years, this John Greer may be the son of the earlier John who immigrated later.

Jan. 24, 1764 - John Greer, John Greer Jr., Joseph Greer, Andrew, Jane Greer, Sarah Greer each petitioned for land as immigrants from Ireland. All were protestants. We assume that these five Greer folks were all over 21 years old just to be allowed to apply for land. It is still a question in my mind about whether the women listed here were single, wives of Greer men or widows of Greer men. The McCrary researchers support with documentation that Jane Greer marries John McCreary .
Grants located at Boonesbough and Belfast, S. C.
One east of "Due West, SC" near Laurens Co.[Craft 3]
"Council Journal 30, page 20-31, Meeting of 24th January 1764. The following petitions for Warrants of Survey of lands on the bounty were presented and read...

JOHN GREER-150 acres
JOSEPH GREER-100
JOHN GREER, JR-100
ANDREW GREER-100
JANE GREER-100
SARAH GREER-100 ...
"The Petitioners were respectively sworn to their family rights and produced Certificates under the hands of Ministers and Church Wardens of Dissenting Ministers and Elders of Congregation in Ireland of their being Protestants and sett forth that they were arrived in this Province upon the encouragement and bounty allowed by the Act of the General Assembly of this Province passed 25 July 1761 and therefore humbly prayed an Order to the public Treasurer to pay the said Bounties and It appearing that they severally paid for their respective passages. Ordered that the Clerk do grant them Certificates to the Public Treasurer to pay the said Bounties and that the Secretary do prepare Warrant of Survey to the Surveyor General to cause the land prayed for to be run out to the petitioners in Boonesborough or ____ (Belfast?) Township." Revill, J. (1974). Protestant Immigrants to SC 1763-1773. [records of John Harrison on Genforum.com #3282]
Laurens County Deed Book lists these transfer of title to land on Duncan Creek.

John Greer Sr, To Ruth Adair, 180 & 154 acres on Duncan's Creek. Aug 1788 and June 1789 [Deed Book B, pp 416-417 or 417-418]

John Greer, Sr, land to James Greer, 150 & 150 acred, located Duncan's Creek. [Deed Book B, p 453]

Robert Greer to Joseph Greer, 60 and 200 acres on Duncan's Creek. [Deed Book G, p 608 & 617]
A map of land records shows that the McCreary/McCrary plots near or neighboring to John and Joseph Greer in Laurens Co., S. C. This map was greatfully provided by Ann McCrary, relative oCrary family indicate that they were very involved in their religion.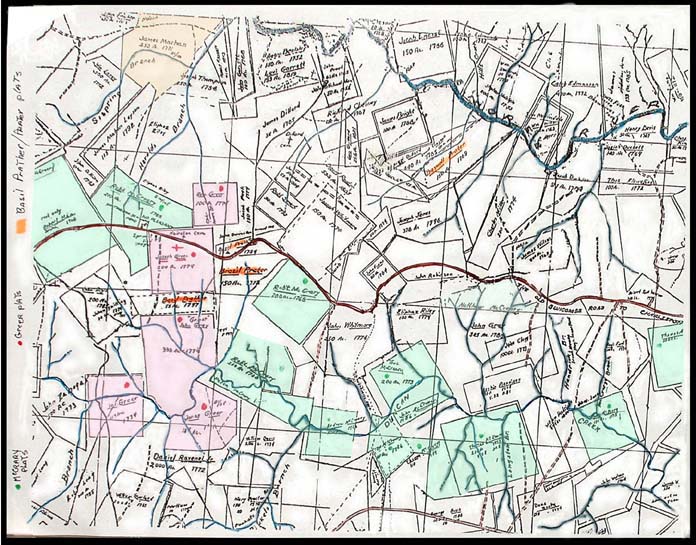 The pink blocks are for the Greer family, the blue blocks are for the McCrary family and James Machen's plot is yellow. I do have a larger version but it is a 4 mg jpg file for anyone that wants a copy emailed. [records of Ann McCrary]
There are twelve Greer men listed in the South Carolina Roster of soldiers in the militia during the War for Independence. We are uncertain if any of these are related to our family.
James Greer m. Sarah ? R4277
Resided in York, enlisted in 1780, served for 42 days in 1782 as a sergeant and 37 days as a horseman under Capt. George Neely.
James Greer
Served in the militia during 1778, 1780, and 1782.
John Greer R4290
Served in militia under Col. Anderson 1778 to the end of the war.
Joseph Greer
enlisted in the Third Reg. on 8 Mar 1778. N. A. 853
Joseph Greer R5328
served as a captain under Col. Anderson and Gen Marion.
Josiah Greer R6802
Served as captain in the Little River Ge. under Lt. Co. Robert McCrary and Ge. Williamson in 1770, was on the Florida Expedition. Also served as captain under Col. Hayes and Gen. Pickens and was in the siege of Ninety Six.
Richard Greer S3416
Served in Penn. units. After moving to Laurens Co., enlisted under Capt. Yarborough and Gen. Pickens, Anderson and Greene.
Robert Greer
Served in the militia during 1781 and 1782.
Thomas Greer
Served under Capt. Peter Burns and Gen. Sumter.
William Greer
Served in the militia under Capt. James Giles, Col. William Hill and Gen. Thomas Sumter.
William Greer
Served as horseman under Capt. Robert Thompson and Gen. Sumter during 1780 and as horseman under Capt. Henderson and Gen. Sumter in 1781. [Moss p 385]
1790- There are six Greer heads-of-family in Laurens County but Joseph Greer was the only one who had two males over 16. [Craft]
1790 - Head of families lists Ninety Six Dist. which included at present time the area of Laurens, Pendleton, Greenville, Abbeville, Edgefield, Newberry, Spartanburg and Union Counties. Note the spelling of John and Joseph as Greir not Greer.
page number

name of family

free males
16+ yrs
free males -16
females
other
slaves
p. 74 Laurens
Greir, Joseph
2
3
4
_
_


Greir, John
1
3
5
_
_


Greir, Richard
1
2
3
_
_
p. 75 Laurens
Greer, Robert
1
1
2
_
_
p. 83, Pendleton
Greer, James
2
1
4
_
1


Greer, Equilla
2
4
2
_
5


Greer, Solomon
2
-
4
_
1
p. 84 Pendleton
Greer, John
2
4
5
_
_


Greer, James
1
5
2
_
_
p. 83
Burns, Alex.
1
3
6
_
_
p. 58 Abbeville
Jones, Adam Cr. Esq.
3
1
1
_
25
1799 - Joseph Greer bought from Robert Greer 200 acres on Duncan Creek. Robert Greer Adm. of estate of Joseph Greer, Deceased. Located between Enoree and Duncan's Creek.
Bounded by lands belonging to John Greer. witnesses: John D. Kern, Samuel McConahey [Laurens Co., Deed Book G, p 617. 15 June 1799]
1803 - Robert Greer sells 20 and 200 acres to Joseph Greer on Duncan Creek. This could only be to Joseph Greer Jr. born in 1770, his father died before 1799. This is probably part of the property that was originally own by John Greer "the immigrant". [Laurens Co., Deed Book G, p 608 and p 617]
Source:
Anderson, William.

The Scottish Nation: or, The surnames, families, literature, honours, and biographical history of the people of Scotland,

Volume 2, A. Fullerton & Co., Edinburgh and London. 1863
Craft, Janice. Greer/Davis families personal research , privately published July 10, 2000. Janice Barnett Craft, 1166 Cloverdale Dr, Greenville, Miss 38701-8301, email - jrcraft@tecinfo.com
MacKinnon, Charles.

The Scottish Highlanders, a Personal View

. Barnes and Noble, 1992
McCrary, Amy. 2216 Parkside Ct., VA Beach, VA, records 4/15/04 email - Annmccincor@cs.com
Moss, Bobby Gilmer. Roster of South Carolina Patriots in the American Revolution, Gen. Pub. Co., Inc., 1983
United States census records
Wooley, James E. A Collection of Upper South Carolina Genealogical Records. Vol. 1, So. hist. Press, Rev. Emmett Lucas, Jr. 1979



Regional History | Ancestor Chart #17
______________________________________________________________________________________

All information and photos included within these pages was developed by the help of hundreds of researchers. The information here is for the express purpose of personal genealogical research and is freely offered as long as this site is listed as a source. It may not be included or used for any commercial purpose or included in any commercial site without the express permission of Elroy Christenson. Copyright Elroy Christenson 1998-2012.


web pages created by Elroy Christenson- elroy@next1000.com - last updated 5/10/12