Pete Christenson's 2nd Family

Texas
---
Pete Christenson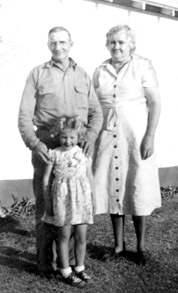 Pete, Eva and Ima Jean (my sister) about 1950
2m. "Eva" Evalinda Mariana Johnson 4/30/1924
b. 27 Jun 1899 (tombstone says 29th)
d. 2 Jan 1986 Dallas, TX*
her father: Bernt Johnson (Nor)
her mother: Carrie Nielson (Den)


Children of "Eva" Johnson with Pete Christenson
Burton Paul Christenson
b. 13 Sept, 1926 Cranfills Gap, Bosque Co., TX
d. 31 Oct 2005 Seymour, Baylor Co., TX

m. Mozelle Chandler Neskorik 3 Nov., 1948
(b. 24 Aug 1920 Baylor Co.,TX d. 18 Mar 2001 Seymour, TX)
(widow of George Neskorik)
Leldon Dale Christenson
b. 1 May, 1928 Cranfills Gap, Bosque Co., TX
d. 11 Feb 1997
buried Boggie Cem., Bosque Co.,TX
m. Bette Lou Wimberly
Although Grandma Eva Christenson was my step-grandmother, she was the only grandmother on this side of the family that I ever knew. Eva was particularly hard working and a very strong woman physically . She had learned to cook from her Norwegian parents with her sisters. Pete hired her first as a live-in nanny and housekeeper. After they eventually married she raised her five step children from Pete's first marriage as well as having two of her own. Her chores included milking the cows, feeding the chickens as well as cooking the meals and occasionally going to get the sheep or driving the tractor. She did laundry by boiling the clothes in a big black cast iron kettle in which she also made lye soap. She did most of the cooking during threshing or harvesting season for the many hands that showed up for the Thrashing Bee.

1926 - Although I had great love and respect for Eva, I have had to wait years until Burton died to tell this story about my grandfather and his relationship with her. According to my aunt Clarice, who told me this about 1990, before she succumbed to Alzheimer's. She said that when she was a child, Eva had come to work for Pete, her father, to take care of the the children. Eva had apparently been dating or dated after she started working for Pete a fellow named +++++Stamford. Eva apparently became pregnant with a child with ++++ Stamford and confided in my grandfather that she was with child. He knew that he was not the father and confronted the man in the middle of the street in downtown Cranfills Gap. He apparently tried to get him to do the right thing by marrying her but he refused. They had a fist fight in the middle to of the street. This was, of course, the talk of the town. Since nothing was resolved my grandfather took the responsibility and married Eva. Burton, even as a child, seemed different that than the other children and came to resemble more and more the unrecognized father in looks and attitude. He also may have heard of these stories in this small town. I believe that Burton, as he grew older, understood this difference and did isolate himself somewhat from the family by physical distance and work. I liked Burton but as friendly and jovial as I remembered him he was also somewhat aloof and distant. I do believe that this story explains alot about his relationship with the family. [Clarice Witte, Aug 1990]


1930 - US Census, Justice Precinct #2, Hamilton Co.,

Roll:

2340

Page:

54 a &b.


I don't know who gave some of the statistics on this page but they didn't obviously know about Pete's family. One thing this shows is that Pete and Eva had only been married about four years. Both Burton and Leldon had been born shortly before this census.




Christensen , Pete L. head mw 47 mar. (at age 22) Denmark Norway Norway farmer 1898

" , Evalina wife f w 30 mar. (at age 26) Texas Norway Norway

" , Emroy son mw 22 s Texas Norway Texas

" , Marie dau f w 20 s

Texas Norway Texas

" , Clarice dau f w 18 s Texas Norway Texas

" , Chris son m w 16 s Texas Norway Texas

next page

Christensen, Ane dau f w 15 s Texas Norway Texas

" , Jake son m w 12 s Texas Norway Texas

" , Burton son m w 3 6/12 Texas Norway Texas

" , Eldon son m w 11/12 Texas Norway Texas




Both Burton and Leldon graduate from Cranfills Gap High School. Eva's sons both go off to war. Burton was in the Merchant Marines and Leldon was in the Army and posted in Korea on the front line.

Burton Christenson marries the widow Mozelle Chandler Neskorik. She had been married to George Neskorik who was killed by a truck. Although she had a daughter by this marriage, the daughter dies in 1942. Burton and Mozelle had no other children of their own and lived most of the life in Seymore, Texas.

Leldon marries Bette Lou Wimberly. Her family had lived just over the mountain from the Christenson farm. They had two boys, Dale and Larry, who together had a successful cabinet making business south of Fort Worth. Both have several children of their own. Leldon worked for many years with General Motors in Arlington, TX. He developed Parkinson disease which caused an early retirement. After his lingering illness and death, Betty Lou remarries to real estate developer, N. D. Hopkins.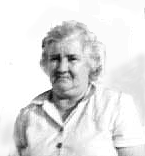 Eva was a terrific cook. Breakfasts consisted on coffee, eggs, smoked ham slices, home-made biscuits, with an additional finishing course of home-made wild plum jam mixed on the plate with sweet cream and sopped up with more biscuits. If there were no biscuits we would use her home-made crusty bread. Her four inch high cinnamon rolls with hot real butter icing bring back wonderful childhood memories. Since she never measured anything the recipes that were copied down by relatives were inaccurate but Cheryl Grubb with her magic in the kitchen was able to correct the mistakes in the following recipes.
Eva Christenson's Cinnamon Rolls

1 cup milk (scalded) heat to scumming-over
1 tsp salt
2 tbsp sugar
4 tbsp butter
1 pkgs yeast
3 cups flour or more as needed

Add yeast and 1/2 cup warm water to get it started and doubled
Put warm milk, salt, sugar, butter and blend in large bowl.
Add yeast mixture when it has doubled in size.
Beat, add remaining flour and knead, add more flour to acheive the bread dough consistancy. (Cheryl says that it very much depends on weather conditions how and when to add more flour)
Place in greased bowl - spread with melted butter and cover with a towel in a warm place.
Let double.
Knead and roll to 1/2" thick on a large counter, spread with butter, and sprinkle with cinnamon and sugar mixture
Roll and cut into 1 1/2" length disks.
Place in a large (3" deep x 12"x 8") baking pan.
Let rise to double height
Bake 400¡ F. for 20 min.
When cooled cover with butter and sugar (powdered) icing


Dale and Larry Christenson, Leldon's sons, established a cabinet making company that proved very successful. Both have gone off independently but work together on various jobs.


about 2004 - Dale Jr. and his wife, Marla, bought a mining ghost town in Colorado in which to retire. They had made several trips there taking up supplies and tools. They were taking one of there final trips and went off the road and over a cliff. His wife was killed in the accident. He at least two children and several grandchildren by this marriage. He has since remarried.

Source:


Interview with Clarice Christenson Witte, August 1990, Grand Prairie, TX
Recipe as copied by Violet Christenson and corrected by Cheryl Christenson for workability.






Ancestor Chart #1 | Thrashing Bee | Egeberg lineage chart
---
Return to Elroy's Family Index
________________________________________________________________






All information and photos included within these pages was developed by the help of hundreds of researchers. The information here is for the express purpose of personal genealogical research and is freely offered as long as this site is listed as a source. It may not be included or used for any commercial purpose or included in any commercial site without the express permission of Elroy Christenson. Copyright Elroy Christenson 1998-2010.


web pages created by Elroy Christenson- elroy@next1000.com - last updated 8/10/10