Bernt Johnson Family
Norway and Texas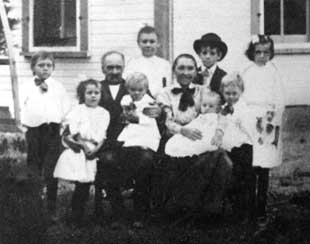 Bernt & Carrie (Nielsen) Johnson family
about 1908 in Bosque Co., Texas
---
Bernt F. Johnson
Bernt Fredrik Johanson Egeberg
b. 22 Oct 1848 Arstad farm, LÝten, Hedmark, Norway)
d. 23 Jul 1912 Cranfills Gap, TX after being kicked in the chest by a mule at age 64
buried: "Rock Church", St Olaf's Cemetery, Cranfills Gap, TX. plot 47.3


1m. Konen Olava Antonette Simpson*
b. 27 Aug 1864 probably Texas
d. 1 Dec 1891 Dallas, TX
buried:"Rock Church" St Olaf's Cemetery, Cranfills Gap, TX plot 47.4
her father: unknown ............. her mother: unknown

2m. "Carrie" Karen Nielsen abt Jan, 1894
b. 12 May 1870 Esbjerg, Denmark
d. Aug. 29, 1934 of cancer of jaw
buried: "Rock Church", St Olaf's Cemetery, plot 47.7
her father: unknown ............. her mother: unknown

his father:Johan Borreson Egeberg b. Stange, Hedmark, Norway d. c1849
his mother:Olea Olsdatter Aadalen b. Jul 16, 1817 LÝten, Hedmark, Norway d. Aug. 14, 1911 TX
Children with Olavia Antoinette Simpson
Annett M. Johnson
b. *
d. TX
died as infant
Charles Oscar Johnson
b 16 Aug1891 Dallas, TX*
d. 28 Dec 1977 Clifton, TX*
buried"Rock Church", Cranfills Gap, TX plot 149.1

m. Edith Carlson
Children with Carrie (Karen) Neilson
Ella Annette Johnson
b. 12 Dec 1894 *
d. 18 Sep 1896 Coryell Co, TX, buried Post Oak Cem.
dies as child
Cora Olia Johnson
b. 5 Aug. 1896*
d. 3 Nov 1989 Bosque Co., TX* buried: "Rock Church" plot 47.8

m. ? unknown rumor says Berry Sanford
Christian Anton Johnson
b. 24 Dec. 1897
d. 11 Feb 1979 Bosque Co., TX* buried: "Rock Church", Cranfills Gap, TX plot 226.8

never marries
Evalinda Marianna Johnson
b. 27 Jun 1899
d. 2 Jan 1986 Dallas, TX*
buried: "Rock Church", Cranfills Gap, TX plot 92.2

m. Peder Legind Christenson (2nd m)4/30/1924
Eddie Monroe Johnson
b. 18 Apr 1901
d. 25 Jul 1987 Fort Worth, Texas
buried: "Rock Church" Cranfills Gap, TX plot 226.1

m. 31 Jul 1934 Sara "Sadie" Holloway Kirkland
(her second marriage)

Clara Johanne Johnson
b. 4 Oct 1902 TX
d. 30 Dec 1973 Bosque Co., TX*
buried: "Rock Church" Cranfills Gap, TX plot 47.8

m. never marries
Collett Belvin Johnson
b. 5 Feb 1904 TX
d. 15 Apr 1982 Bosque Co., TX* Texas, buried: "Rock Church", Cranfills Gap, plot 226.5

m. never marries
"Bill" Willie Nils Johnson
b. 6 Sep 1905 TX
d. 6 Feb 1993 Bosque Co., TX
buried: "Rock Church" plot 226.3

m. never marries
"Buck" Sylvester Nicalie Johnson
b. 15 Oct 1907(twin) TX
d. 23 Mar 1981* Texas
buried: "Rock Church", Cranfills Gap, TX plot 226.7

m. m. Melba Collier 1/13/1940 (Div. 1963)
son
b. 15 Oct 1907(twin) TX
d. 15 Oct 1907* Texas
m. died as infant
son
b. 1 Dec 1911
d. 1 Dec 1911*Texas
m. died as infant

*buried at St. Olaf Lutheran Church Cemetary"Old Rock Church", Cranfils Gap, Bosque Co, TX

He came to Texas from Hedmark region, Norway at the age of 22.

1848- Bernt is born in Arstad, Stange Paprish, Loten, Norway as Bernt Fredrik Johanson Egeberg. He is identified as being illigetament even though his parents are identified. This means they were not married at the time, perhaps because of the expense. After immigrating he changed his name to Bernt Johnson

1863, Apr 10- Bernt is confirmed in LÝten, Nor. [records of Norway]
1870- He immigrated on board the Bystenor of the Cunard Line from Christiana(Oslo), Norway on September 16, 1870. He arrived in Dec 9, 1870 New York, NY . [Bosque Co: Land and People]

1870's late- "In the mid to late 1870's records show that Bernt Johnson resided with and was working for Robert Sylvester Munger in Limestone County, Texas. It was during this period Johnson and Munger studied the lint problem of ginning. In the 1880's R. S. Munger is credited with building a suction pipe to carry the cotton to and from the gins as well as three gin stands instead of the required eighteen. The invention made R. Munger a pioneer in the improvement of ginning machinery in the United States. Robert Munger started a business "Munger Improved Cotton Machine Manufacturing Company" in Dallas. In the 1880's it is believed that Bernt Johnson spent much of his time in Dallas during the early stages of this business as he met and married both of his wives in that county. "
[F. W. Johnson - Bosque Co: Land and People]

1877 - B.F. Johnson and T. J. Robinson, as partners, bought 221 acres in Bosque Co. TX. for $498.73

1878 - He was living near Mexia in Limestone Co. Tx. He makes arrangements for his half sister, Mariane Oleana Egeberg, at age 20 to come to Texas. She gets a job as a house maid for a Colonel Henry near Mexia.

1880 - US Census shows that he and Olava Johnson are living in the same house with Anna M. and Carl Oliving in Clifton, Bosque Co. Tx.. He was also listed as living in the Munger Community, Limestone Co, Tx in the household of Robert Sylvester Munger (age 26). Here he ran a cotton gin and probably was here during the ginning season. [1880 census, Bosque Co. ]

1880 - US Census, Mexia, Limestone, Texas. Series: T9 Roll: 1317 Enum. Dist. 97, Page: 437 June 1880 He is living with Robt. Munger's family. Robt Munger is the miller who is his boss.

Munger, Robt. S. w m 26 head Miller
Texas Conn Tenn
" , Mary C. w f 22 wife keeping house Texas Virginia Ala
" , Henry C w m 1 son Texas Virgina Conn
" , Charity mulato f 20 servant Texas Texas Texas
Johnson, Bernt w m 27 boarder boarder laborer Norway
Norway
Norway
Ross, J. A. w m 30 boarder laborer KY KY KY
Jensen, Hawkins w m 27 boarder laborer Norway Norway Norway

He was a machinist by trade and helped keep the gin in operation. As the chief mechanic for the gin he also created a new suction pipe system to unload and transport the cotton which improved the efficiency from the previous eighteen stations to using only three. [Records of Melba Johnson]
Melba Collier Johnson, my aunt, who was a librarian and did a lot of genealogy on the family and probably wrote most of the story of Bernt Johnson under the name of her son F. W. Johnson. I don't know how she knew of Bernt having a "machinist by trade" career. He was only 22 when he came to Texas. Certainly many of Bernt's children had mechanical aptitude. They had to repair their farm equipment all the time and Eddie Johnson actually went off to auto mechanical school afterwards establishing a garage in Cranfills Gap. He could have received some training in Norway perhaps working for the Adalbruk foundry near where his mother was raised.

1881- B. F. bought 100 acres on Neils Creek from Mrs. Sarah Brasher for $350.00. [Bosque Co: Land and People]
In this year also Olea Olsdatter, his mother, is brought to the United States. Her husband had died and her only children were in Texas. They probably jointly helped arrange for her passage. Olea lives for a while with Bernt but spends most of her next thirty years with her daughter, Marianne's family.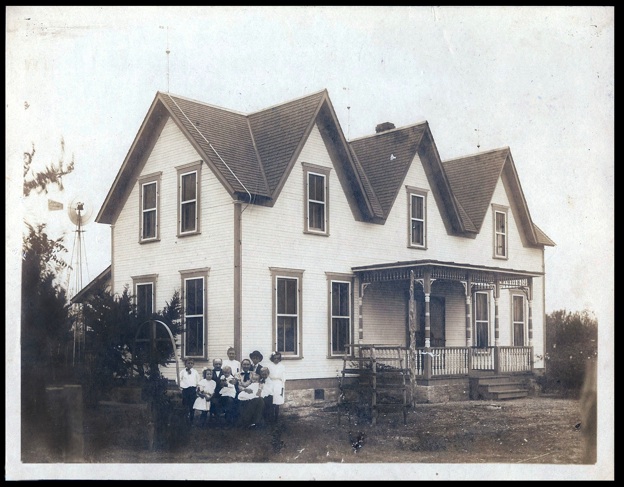 Bernt Johnson built a great house on Neil's Creek, outside Cranfills Gap, Texas.
photo collection of Elroy Christenson

about 1885 - Bernt's new and improved suction device was patented in the United States by the Munger family. Bernt later moved to Dallas to oversee the manufacturing of this new machine for cotton gins. Here he meets Olava A Simpson in Dallas, Texas.
about 1889 - Bernt Johnson marries Konen Olavia Simpson probably in Dallas.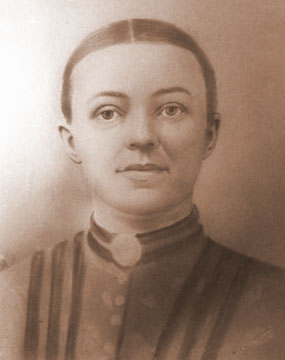 Konen Olavia Simpson
photo courtesy of Charles Johnson
about 1890- His first child is born, probably in Dallas.
1891- He applied for US. citizenship on April, 1891 in Dallas Co. TX, where he said he was living at the time.[Bosque Co: Land and People]
1891, 1 Dec Dallas, TX - Olava (Simpson) Johnson, his first wife, dies four months after giving birth to his second child, Carl Oscar (Charlie) Johnson. The infant Charlie went to live with Bernt's sister, Oleana "Mariane Egeberg and her husband, Evan Paulson Rohne. Mariane nurses him along with her own new born son. Charlie remains with this family until Charlie is about four years of age or until Bernt remarries. [Interview with Ed Johnson]

1893- Bernt marries Carrie Nielsen whom he met in Dallas. "After the marriage they moved to the farm on the Bosque and Hamilton county line. In 1893 Bernt Johnson and J. C. Westley purchased two-thirds interest in a gin owned by M. B. Hill. The gin was on the St. Louis, Arkansas and Texas Railroad, Oglesby, Coryell County, Texas. The Johnsons lived in Oglesby for a short time. Their first child, Annette, died in 1896 and is buried in Post Oak Cemetery, Oglesby, Texas. In 1898 Bernt sold his on-third interest in the gin to the Munger Mfg. Co. and Arnold Schibler. [F. W. Johnson - Bosque Co: Land and People]

1898 - He purchased 100 acres for $435.00. [Bosque Co: Land and People]

1900- US Census, Hamilton Co., TX, Series: T623 Roll: 1641 Page: 74

Johnson , Brant head w m Oct 1848 51yrs 6yrs mar. Norway Norway Norway 1872 na (naturalized) farmer
" , Carrie wife w f May 1870 30 6yrs mar. Denmark Denmark Denmark 1890
" , Carl O. son w m Aug 1881 8 s Texas Norway Denmark
" , Cora O. dau w f Aug 1895 4 s Texas Norway Denmark
" , Christen son w m Dec 1897 2 s Texas Norway Denmark
" , Eva dau w f June 1899 4/12 s Texas Norway Denmark
1907 - He names is child Sylvester Nicole Johnson after Robt. Sylvester Munger.

1909 - He became a US Citizen on Sept. 3, 1909 in Hamilton, Hamilton Co., TX [Bosque Co: Land and People]

1910- US Census. Texas, Bosque Co., Enum. Dist., 66, sheet 19a, page 167.

Johnson, Bernt F head m w 61 m2 16yrs Norway Norway Norway 1870 na farmer gen. farming
, Carrie wife f w 39 m 16 yrs 11preg. 8 survived Denmark Denmark Denmark
, Carl O son m w 17 s Texas Norway Norway farm laborer home farm
, Cora O. dau f w 13 s Texas Norway Denmark
, Christian ? son m w 12 s Texas Norway Denmark farm laborer home farm
, Evilina M dau f w 10 s Texas Norway Denmark farm laborer home farm
, Eddie M son m w 9 s Texas Norway Denmark farm laborer home farm
, Clara J. dau f w 7 s Texas Norway Denmark
, Collatt B. son m w 6 s Texas Norway Denmark
, Willie N. son m w 4 s Texas Norway Denmark
, Sylvester N son m w 2 s Texas Norway Denmark


1911- Dec. 1 - His last son is born and dies.

1912- July 23 - Bernt died after being kicked by a mule in the chest, 64 years of age. [Story of Ed Johnson]
proof of Annette Johnson, Coryell C. TX Cemetery Records.
1920's - The children had to pool their resources after the death of their father. Edith and Clara Johnson worked as cooks for the thrashing parties and went from farm to farm preparing meals for the hands at probably about $1 dollar a day. For this they had to fix five meals a day for at least 25 people for each meal. [Violet Christenson 7/21/03]
1929, Jan 5 - Vernell Johnson is born to Cora Johnson. The father is unknown. Vernell is raised in the household of the Johnson brothers and sisters. She was always excessively shy as were her mother and uncles. 1930's - Carrie Johnson is brought to Dallas frequently for visits to the doctor for cancer of the jaw. This is where Ed Johnson is introduced to Sadie Hollaway Kirkland and her children. [Interview with Ed Johnson]


1940 - US Census - Texas, Hamilton Co., Precinct 2. Enum. Dist. 97-4, sheet 8A
name relations sex age mar ed.
Johnson, Chris A. head m w 42 s 6 Texas same house farmer farm
, Cora sister f w 43 s 7 Texas same house
, Clara sister f w 37 s 7 Texas same house laborer farm
, Collet brother m w 36 s H2 Texas same house laborer farm
, Willie brother m w 34 s 6 Texas same house laborer farm
, Sylvester brother m w 32 m 7 Texas same house laborer farm
, Melba Sister-in-law f w 24 m H4 Texas same house
, Vernell niece f w 11 s 3 Texas same house

US Census, Texas, Bosque co., Precinct 8. enum. dist, 18-20, sheet 11 B Irvin marries Vernell, dau. of Cora.
Grimland, Oscar head m w 45 mar 4 Texas same house farmer farm
, Amle wife f w 42 mar 8 Texas same house
, J. C. son m w 21 s 8 Texas same house
, Irvin son m w 17 s 8 Texas same house
, Allen son m w 15 s 7 Texas same house
, Milton son m w 11 s 4 Texas same house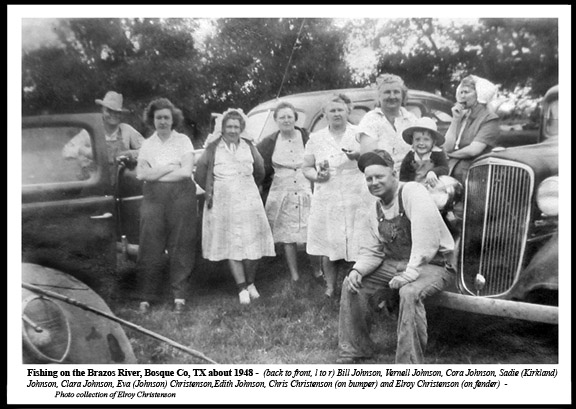 Fishing on the Brazos. Bosque Co., TX
(back to front, l to r) Bill Johnson, Vernell Johnson next to Cora Johnson (her mother), Sadie (Kirkland) Johnson(my gmother), Clara Johnson, Eva (Johnson) Christenson(my step gmother), Edith Johnson, Chris (on bumper) and Elroy Christenson (on fender). Bill, Cora, Clara and Eva are brothers and sisters.

The personalities and skills of the brothers and sisters made them into a successful family group. Collet was the only college educated while the others depended more on their developed skills. Chris was the main mechanic with the help of Bill. They all were involved with slaughtering the beef or pigs which mostly happened in the Fall. The harvest in the late summer usually involved the entire community. Collet seems to be involved with the calendar of planting and figuring out which crops to plant any particular year. Cora and Clara did the cooking and cleaning but also took care of the chickens. Bill seems to have been involved with the raising of the cattle while Chris was in charge of the pigs. They had a three hole outhouse which seemed cold anytime of the year backed up to the pig pen. As a kid I didn't like hearing them rooting and snorting behind my behind. [Elroy's recollections.]

from about 1949 - 1960 - Our family went down to Cranfills Gap for Christmas. There were always a lot of people. It depended who was coming down for Christmas as to where we would end up sleeping as a children. Leldon and Betty Lou Christenson usually stayed at Pete and Eva's whereas we would get shared beds at the Johnson's. I would usually sleep with Collet in his upstairs room. He was about 250 lbs. and slept in the same bed for 40 years which created a huge sway to the bed. I usually had to hang onto the side of the bed to keep from slipping under him in the middle of the night. Quite an adventure. I usually didn't get a lot of sleep. My sister, Ima Jean, slept with one of the other aunts who usually weighed about the same. If we were lucky we might sleep on a palette on the floor at Pete and Eva's with several other cousins. A wood stove in the middle of the center bedroom would keep us very toasty but the floor was very hard. My Dad and Mom would usually end up on the folding couch in the living room. Chris Johnson, my uncle, had a bed on the covered porch which was very cold in the winter and occasionally my cousin Darrell would sleep with him. Bill Johnson had his own very small but cozy room off the porch, no one slept with him. Cora and Clara slept in the same large open room on the main, level in seperate beds.

The Johnson's would always have plenty of food and Cora and Clara were terrific cooks although pretty basic, Norwegian based. The brothers butchered their own beef, pork and chickens. They smoked their own bacon, hams and sausages. Thick crusted homemade bread was always on the menu. Water came from a pump off the windmill but they always had the back up of the bucket in the well just out the back door. The dining room had about 10 feet long and 4 feet wide red plaid oil cloth covered table with a couple of benches against the wall and wicker bottomed chairs on the other sides. It would easily seat 12 people but there was space in the room for another table of the same size which would have been used during harvest. Sweet cream, homemade crusty bread, sweet butter, hard boiled eggs, homemade wild plum jams and jellies, thick sliced ham or bacon were always on the menu for breakfast. [recollections of Elroy Christenson]

1949- Vernell Johnson marries Irvin Grimland at St Olaf's Church, Cranfills Gap, Texas. Elroy Christenson is the "ring bearer" and Ima Jean, his sister, is the "flower girl".

1952, Oct 1, Irvin Joel Grimland (male) born to Irvin Joel Grimland and Vernell None Johnson [1952-_0006 Texas birth Index, 1903-1997]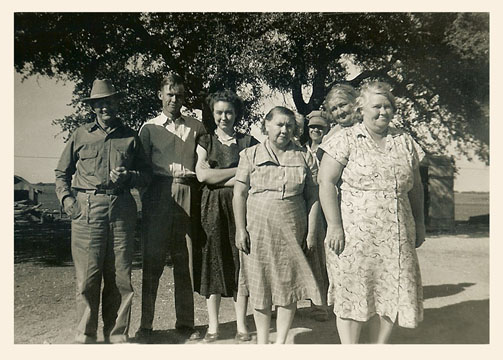 Pete Christenson, Irvin Grimland, Vernell (Johnson) Grimland, Cora Johnson,
Chris Johnson(back), Eva (Johnson) Christenson (back), Clara Johnson.
[photo in collection of Elroy Christenson]
1979, about Feb. 15th - Obituary for Chris A. Johnson.

Chris A. Johnson's Funeral Rites are Held
Funeral services for Christian Anton Johnson of Cranfills Gap were held Tuesday, Feb. 13, at St. Olaf Lutheran Church. The Rev. Howard Ollilla, pastor, officiated.
Pallbearers included Ivan Johnson, B. A. Johnson, Irvin Grimland, Burton Christenson, Leldon Christenson, and Herman Reesing. Burial was in St. Olaf Lutheran Cemetery. Clifton Funeral Home was in charge of arrangements.
Mr. Johnson died Sunday, Feb. 11 at the age of 81 years.
The deceased was the son of Bernt and Karen (Neilsen) Johnson. He was born Dec. 24, 1897, at Cranfills Gap. He was baptized and confirmed at St. Olaf Rock Church.
Mr. Johnson spent his entire life farming and ranching in the Cranfills Gap area.
He was preceded in death by two sisters, Ella Annette Johnson and Clara Johnson; one brother, Charley O. Johnson; his parents. Survivors are two sisters, Cora Johnson of Cranfills Gap and Eva Christenson of Arlington; four brothers, Collette Johnson, Willie Johnson, Sylvester Johnson, and
Eddie M. Johnson
, all of Cranfills Gap. (NJ) [newsclipping from an unknown newspaper possibly the Clifton Hearld]
Sources:
Arkivverket Digitalarkivet (records from the Norway National Archives) -
http://arkivverket.no/arkivverket/Digitalarkivet
Ed Johnson Story, as interviewed by Elroy Christenson, about 1978
Fred Johnson, writer of article on Bernt Johnson, Bosque Co: Land and People(A History of Bosque Co.), Bosque Co. Hist. Society, 1985
Obituary for Chris A. Johnson,. possibly from the Clifton Hearld. Texas 1979
Photos, collection of Elroy Christenson.
US Census records,

Johnson/Rohne/Christenson Photo Map || Cranfills Gap, TX

Egeberg/Johnson lineage map || Johnson Family Index

Elroy's Family Index || Ancestor Chart #1
---






All information and photos included within these pages was developed by the help of hundreds of researchers. The information here is for the express purpose of personal genealogical research and is freely offered as long as this site is listed as a source. It may not be included or used for any commercial purpose or included in any commercial site without the express permission of Elroy Christenson. Copyright Elroy Christenson 1998-2014.


web pages created by Elroy Christenson- elroy@next1000.com - last updated 41/10/14