Peter Legind Christenson History


Grandfather of Elroy Christenson
---
Peder "Pete" Legind Christensen/Christenson
b. May 18, 1882 Søndbjerg, Thisted amt., Denmark
d. June 25, 1962 Grand Prairie, TX (age 80 of Alzheimer's)[Texas Death Index #35171]
buried: St Olaf's Church, Cranfills Gap, TX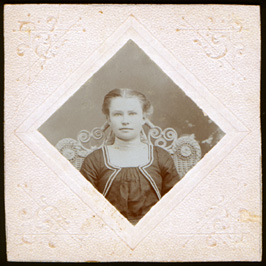 Cora Rohne about age sixteen.
photo in collection of Elroy Christenson


1st m. Cora Rohne, Aug. 12, 1906 St. Olaf Church, Bosque Co. TX [TX Mar., 1837-1973]
b. Nov 8, 1885 Neil's Creek, Cranfills Gap, Bosque Co., TX # [also Norse Church rec.]
baptized 20 Dec. 1885, confirmed 16 June 1901, Norse, Bosque Co., TX [Norse Church rec.]
d. Sep 7, 1922 Valley Mills, TX [according to family bible and Jacob C.] Oct 22, 1922 of ruptured appendix (age 36)
buried: St Olaf's Church, Cranfills Gap, TX
her father : Evan Paulson Rohne (Nor.)
her mother: Marianne Olianne Egeberg (Nor.)

2nd m. Evelina Majeane Johnson, 4/30/1926 (year according to census mar. at age 26) (cousin of Cora Rohne)
b. June 27, 1899 Bosque Co, TX (29th accord. to tombstone)
d. Jan 2, 1986 Dallas, TX. (age 97) [Texas Death Index]
buried: St Olaf's Church, Cranfills Gap, TX
her father: Bernt Fredrik Johansen Egeberg (Nor.) half brother of Marianne (Egeberg) Rohne
her mother: Karen (Carrie) Nielsen (Den.)

his father - Paul Møller Christensen (Den.)
his mother- Anne Johanne Pedersen (Den.)
Children with Cora Rohne
Emroy Princeton Christenson
b. 12 July 1907 Cranfills Gap, TX
bapt. 11 Aug. 1907
[US Lutheran church records]

d. 17 Jan 1996, Kermit, Winkler Co.,TX at home, buried Kermit, Winkler Co.,TX cem. had Alzheimer's disease
m. Lois Lorraine Fellers 1 Sep 1940 Cranfills Gap, TX
Marie Johanna Christenson
b. 4 May 1909 Heinchman Ranch, Jonesboro, Hamilton Co., TX
bapt. 27 Jun 1909
[US Lutheran church records]

d. 29 August, 1999 Clifton Lutheran Sunset Home, Clifton, TX, Alzheimer's disease
m. Herman Reesing
Clarice Pernella (Panella in Church rec.) Christenson
b. 24 Nov 1911 Heinchman ranch, Jonesboro, Hamilton Co., TX [Texas Birth and Death Index, 1903-1993]
bapt. 4 Jan 1912 [US Lutheran church records]
d. 7 Apr 1999 Christus St. Joseph Hospital, Paris, TX of "cardio vascular accident"
buried: St Olaf's Lutheran Rock Church, Norse, Bosque Co., TX
m. Alton Bradley Witte - div.
(b. 6 Nov 1914 d. 12 Jan 1999 Paris, Lamar co., TX)

Christian Monroe Christenson
b. 2 Sept 1913 Heinchman Ranch, Jonesboro, Hamilton Co., TX[Texas Birth and Death Index, 1903-1993]
bapt. 2 Nov 1913 [US Lutheran church records]
d. 26 July 1989 Grand Prairie, TX of heart and Alzheimer's
buried Boggy Cem. Cranfills Gap., TX
m. Violet May Kirkland
alive 2014

Ane Tomina Christenson
b. 18 Feb. 1915 Cranfills Gap, TX [Texas Birth and Death Index, 1903-1993]
bapt. 28 Mar 1915
[US Lutheran church records]

d. 23 oct 2016, Orlando, FL
(age 101)

m. Dr. Wrenn - div.
Jacob"Jake"
Bernhart Christenson
b. 25 June 1918 Jonesboro, Rt.1, TX
(unreadable bapt.)

d. 9 April 2002 Clifton, Texas after prostrate cancer and Alzheimer's
buried Rock Church, Norse, Bosque Co., TX

m. Margie Lou Harrison 27 May 1970 Dallas (div. 27 Sep 1977) no issue


Children with Evelina "Eva" Johnson
Burton Paul Christenson
b. 12 Sept. 1927 Hamilton Co, TX[SS rec.](this different from the bapt. rec.)
bapt 14 Aug. 1927
[US Lutheran church records]

d. 31 Oct 2005 Seymour, Baylor Co., TX

m. Mosel Chandler Neskorik, 3 Nov., 1948 (b. 24 Aug 1920 Baylor Co., TX d. 18 Mar 2001 Seymour, TX) widow of George Neskorik, killed by a truck in 1940's, no issue with Burton, one daughter, Beth Ellen Neskorik, died 17 Dec 1942*
Leldon Dale Christenson
b. 1 May 1928 Hamilton Co,TX
[Texas Birth and Death Index, 1903-1993]
(this different from the bapt. rec.)bapt. 4 Aug 1929[US Lutheran church records]
d. 11 Feb 1997 Texas
buried Boggy Cem., Bosque Co., TX

m. Bette Lou Wimberly in Cranfills Gap, TX (her 2m. N. D. Hopkins)
#There is a discrepancy in the birth date. An old bible record that was over written has 8 Nov. 1886, 1900 census records has Nov 1885.
*info from Denise Neskorik and obituary
1882 - Peder Legind Christensen born in Søndbjerg, Denmark on May 18th as the sixth child of nine births with four surviving to Paul Møller Christensen and Anne Johanne Pedersen. His parents operate a bakery in this small farming community in the center of the Jutland peninsula in Hvidbjerg, Denmark.
1890's - His father and mother operate a small bakery in Søndbjerg. Peder learns the trades of baker, bricklayer and blacksmithing. Because of economic pressures of a large family and little possibility of prospering his oldest brother, Christian Anders, goes to the United States by 1891. Once established he sends for his other brother, Peder. [interview by EC 1966]

1901, Feb 18 - Peder Legind Christensen, age 18 is registered to emigrate from Copenhagen. Destination is listed as Clifton. Last residence in Sandbjerg, Contract #39900 Occupation: Bager "Baker" [Statens Arkiver Dansk Data Arkiv http://ddd.dda.dk/]

1901- Peder L. Christensen, at age 18, boards the ship SS Numidian of the Allan Line in Esberg, Denmark for the trip via Liverpool. It leaves Liverpool on Feb 23 and arrives at Portland, Maine on March 18th. He travels by himself from Portland with $10 and is scared by the stories and having to travel through Indian country.
[ March 18, 1901 SS Numidian manifest / immigration/naturalization documents]

According to the Danish emigration web site his contract #39900 lists that he was supposed to have emigrated on 18 Feb 1901. His occupation was listed as "Bager" or baker with his destination listed as Clifton, Texas. Last residence: Sandbjerg. Ship listed as "Indireckte" ID #10001C1907 I believe this means that was to take a ship from a non-Danish port to the USA. [http://www.emiarch.dk/home.php3?l=en]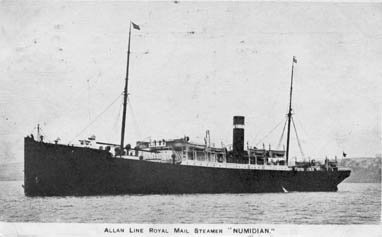 S. S. Numidian of the Allan Line. photo courtesy of Jerry Longstrom
He arrives in Meridian, Texas about 28th of March, 1901 by train. He is met by a black man who speaks perfect Danish. He introduces himself and tells him that he is there to pick him up and take him to meet his brother, Christian Anders Christensen. Pete looked a bit puzzled at a black man speaking perfect Danish. The black man said with a smile, "You seem confused about my color." He says "don't worry, we all look like this after we've been here for a while."
[story as told to Elroy Christenson by Pete Christenson]

1906, Aug. 12- Pete L. Christenson gets a marriage license 8 AUG 1906 in Bosque Co., TX. He marries Cora Rohne in St. Olaf Church, Cranfills Gap. She is the sister of Minnie Rohne, the wife of Pete's brother Anders. Cora's family had done very well. They were very successful farmers and Grandmother Marianne Rohne had urged the education of the children even hiring a live-in school teacher for the brood. All the kids were given the choice of a college education or land when they became adults. As a wedding present Pete and Cora are given 500 acres in Jonesboro, Hamilton Co., TX to farm, the Heinchman Ranch. He does blacksmithing, bricklaying, and dry land farming of wheat, and grains. [story as told by Violet Christenson]

Cora Rohne was the third of nine surviving children of Evan Paulsen Rohne and Marianne Oliana Egeberg.
Evan and Marianne were Norwegian immigrants to Texas in 1871. They came to this region as indenture laborers and had to work for seven years before paying off the debt. The Norwegian community was formed in the central Texas area around Meridian and Cranfills Gap through a land grant to the King of Norway. The land was settled by the efforts of Cleeng Peerson who was instrumental in settling Minnesota with Scandinavians.
Cora Rohne was educated at home. Her parents would hire a teacher who lived on their farm. The Rohne children and a few other families helped to pay the teacher besides the room and board.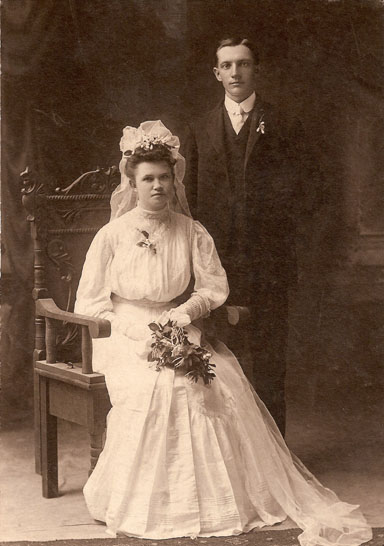 Pete and Cora get married 1906 in

the Rock Church

.


Cora's family gave her and her new husband 500 acres of land on their wedding. This dowry was very important to sustaining them in hard times. She bore six children but ended with her tragic death at age thirty-six.

1907, July 12 - Emroy Princeton, their first son is born in Possum Trot, Tx( I have no idea why, but that is what Clarice says).

The name change.
At some point before 1908, another P. Christensen in the area caused some confusion with the mail so Pete, changes the spelling of his last name from Christensen (Danish spelling) to Christenson. (the Norwegian spelling) I've since discovered that this is a more modern rule of spelling. There are many records in Norway using Christensen/Christiansen earlier than the 1600s. Denmark also ruled Norway for many generations. Spelling conventions varied greatly until modern times and nationalistic fervor.


1908, Dec 1 - Peder Legind Christenson fills out the Petition for Naturalization to become a citizen. Struck through are the orginal initials "P. L." and replaced with "Peder Legind" In this document he says that he is farming in Cranfills Gap, Texas. He was born on 18 May 1882 in Sundburg Denmark. He emigrated from Esberg Denmark on the 5th of March of 1901 and arrived in Portland Maine on the ship "Allan".He says that he "declared my intention to become a citizen of the United States on the 8th of August, anno domini 1906 in Meridian, Texas in the Dist. court of Bosque County. His wife's name is Cora Rohne Christenson and he has a son, Emroy Preston Christenson born at Cranfills Gap, Texas on July 12, 1907. He is a resident of Cranfills Gap, Texas.

"Eighth. I am not a disbeliever in or opposed to organized government or a member of or affiliated with any organization or body of persons teaching disbelief in organized government. I am not a polygamist nor a believer in the practice of polygomay. I am attached to the principles of the Constitution of the United States, and it is my intention to become a citizen of the United States and to renounce absolutely and forever all allegiance and fidelity to any foreign prince, potentate, state, or sovereignety, and particulary to Frederick VIII King of Denmark of with at this time I am a subject, and it is my intention to reside permanently in the United States."

He has receded in the State of Texas since the 28th day of March of 1901. Signed "Peder Legind Christenson" in three different places.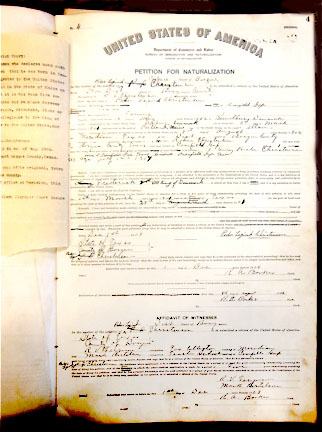 Petition for Naturalization, 1908



It is interesting that he declared his intention to become a citizen four days before he marries Cora Rohne.


1908- Peder L. Christenson files for a Patent for a Stubble Plow. No exact date is given and I doubt that he ever made any money off this invention. [photos collection of Elroy Christenson]

[photos and documents in the collection of Elroy Christenson]
1909, May 4- Marie Johanna their first daughter is born. They are living on the Heinchman Ranch between Cranfills Gap and Jonesboro, Hamilton Co. TX. This ranch used to be part of a large Spanish land grant which was divided by a rock fence, supposedly built by Indian slave labor. When Pete and Cora first lived there they could still see the Indians periodically gambling on horse races held in the fields below the house. According to Clarice, the third child,


"Our 'ranch house' home was a historical place. The lumber was hauled from East Texas by ox wagon. It was a two-story with ten rooms, six fireplaces and a open air sleeping porch on the second floor. We children had many happy hours sliding down the mahogany bannister on the staircase. There was a storm cellar under a hinged trap door on the porch area; also a hand dug well as part of the "Ranch House". The kitchen was a separate rock house with root cellar and storage. Mr. Heinchman raised thoroughbred horses and had a race track west of the 'ranch House'. I'm sure many of the deaths attributed to the place was the caused by this fact. My father said he would stand on the porch and see the Comanche Indians race and wager on their horses as they passed by on their way to the Texas coast."
(Bosque County: Land and People, p. 208)

Violet Christenson says that this house was very large and drafty. It had a large front porch that was torn off in the photo left. It had a fireplace in most rooms with a large open sleeping room on the 2nd floor. With no insulation it became a full-time job to keep it warm with firewood in the winter. They finally took off the whole upper floor to make it more efficient. The house stood for many years in this remodeled state after the land and house was sold off so Pete could keep his family alive during the Depression. [interview by EC 2008]

1910- Apr 27 - P. L. Christiansen is listed as head of the family in Hamilton Co., age 27 and married for 4 years. with his wife, Cora, (23) and two children, Emroy (m3), and Mary (f 11/12). Living with them is Pete's brother, Jacob Christianson, (m 19) a farm laborer. Cora is listed as having given birth to two children with two living. Pete is said to be naturalized in 1901.
[US Census, Hamilton Co. TX.. roll 1558, ed 67, sheet 13]


US Census, Justice Prect. 3, Hamilton Co., Texas, Roll: 1558 Page: 187
"Jake"Jacob is listed here with his brother P. L. Christenson, the different spelling in the census makes it tricky to track these individuals. He indicates he arrived in 1908 and is a farmer at this time.


Christiansen, P. L. Head m w 27 m(mar.) 4 (yrs) Denmark (Danish overwritten)

Denmark

Denmark 1901

NA

English Farmer

" , Cora Wife f w 23 m 4 2 (child. born) Texas Norway Norway English none

" , Emroy son m w 3 s Texas Denmark Texas

" , Mary dau. f w 11/12 s Texas Denmark Texas

" , Jacob brother m w 19 s

Denmark (Danish overwritten)

Denmark

Denmark 1908 al. English Farmer

laborer

His brother Christian Anders Christianson is on the previous page with his wife Minnie, (27), their children Ervin (m 7) , Jennie (f 5), Paul (m 2)
[US Census, Hamilton Co. TX.. roll 1558, ed 67, sheet 13 ]

1911, Nov. 24- Clarice Pernella is born on the Heinchman Ranch. [Texas Birth and Death Index, 1903-1993]

1913, Sept. 2 - Christian Monroe is born on the Heinchman Ranch, Hamilton Co. The crops are prosperous but he is doing well mostly on blacksmithing. [#30124 Texas Birth and Death Index, 1903-1993]


1914 - Pete is doing more work and making more money by doing blacksmithing, bricklaying and well drilling so they decide to move to Cranfills Gap, TX nearer to work, where they build a house across the street from the cotton gin.

1915, Feb. 18 - Anne Tomina is born in the new house in the Gap, [Texas Birth and Death Index, 1903-1993]


1918- Sept. 18 - US Draft Registration, Serial Number 356, Order Number A377, Pete Legin Christenson registers for the draft in Jonesboro, Hamilton Co., Texas.
He is 36 years old, born May 18, 1882. His occupation is listed as Farmer, wife is Cora Christenson of Jonesboro, Hamilton Co, Tex. He is described as "medium" height, "slender" build, "gray" eyes, "light" hair. [draft card image, Family Search, ]


1918, June 25 - Jacob Bernhart is born in the Gap.


1920- Jan 28 - US Census, Precinct #8, Bosque Co., Texas, enum. dist 49, sheet 58, Roll: 1781 Page: 225
Pete and family are living in the town of Cranfills Gap, Texas. He lists himself as having immigrated to the USA in 1901 and year naturalized as 1912. His parents are Danish and hers are Norwegian. He is spelling his name with an "son".


Christianson, Pete L. head m w 38 m 1901 na 1912 Denmark Danish Denmark Danish Denmark Danish farmer gen. farm.
__________ , Cora wife f w 34 m Texas Norway Norwegian Norway Norwegian
__________ , Emroy son m w 12 s Texas Denmark Danish Norway Norwegian
__________ , Marie dau f w 10 s Texas Denmark Danish Norway Norwegian
__________ , Clarice dau f w 8 s Texas Denmark Danish Norway Norwegian
__________ , Christian son m w 6 s Texas Denmark Danish Norway Norwegian
__________ , Anna dau f w 5 s Texas Denmark Danish Norway Norwegian
__________ , Jacob son m w 1 s Texas Denmark Danish Norway Norwegian


1920, June 17- Peder L. Christenson applies for a US passport. stamped Certificate of Naturalization Seen. (italicised words below were hand written)


I swear that I was born

Sondbjerg, Denmark

on

May 18, 1882

that my father was

Paul Moller Christenson

was born in

Denmark

,Sondbjerg, Denmark

that I emigrated to the United States, sailing from

Esbjerg, Denmark

about

March 1st, 1901;

that I resided

19

years, uninterruptedly in the United States from

1901

to

1920

at

Cranfills Gap, Texas;

that I was naturalized as a citizen of the United States before the

District

Court of

Bosque County at Meridian, Texas

on

Apr. 10, 1911

as shown by the naturalization presented herewith, that I am the identical person described in said Certificate; that I have recided outside the United States since my naturalization at the following period

None

from ______________ to __________________

and that I am domiciled in the United States , my permanent residence at

Cranfills Gap

in the State of Texas , where I follow the occupation of

farming.

My last passport was obtained from

None

to go abroad temporarily, and intent to return to the United States within

three

months with the purpose of residing and performing the duties of citizenship therein; and I desire a passport for use in visiting the countries hereinafter named for the following purpose:

Denmark Visit my Parents

England Travel

I intend to leave the United States from the port of New York sailing on board the American-Scandivian Line on July 20, 1920.


He signs an Oath of Allegiance. number 11262 [US Passport applications]


1920- Pete makes a trip to Denmark to see his family. Pete Christenson visits his parents in Denmark according to his passport application in June. This photo does not identify the individuals except for Pete (third from the left). The first person on the left we assume to be Paul Møller Christenson next to his wife. They should both be 70 year old here. Pete would be 38.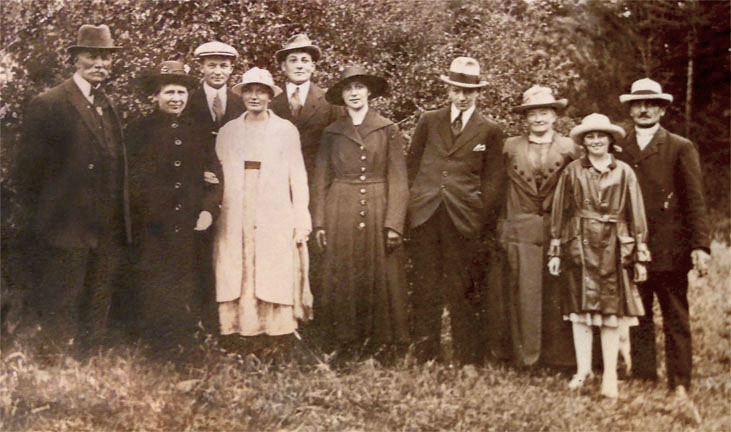 Poul Møller Christensen, Ane Johanne Pederdatter,(his parents) Pete Christenson, and several other unknown relatives. 1920 Denmark. The two women in the middle could be sisters of Pete or wives of the other brothers. It is unknown whether Pete traveled to Denmark alone or with one of his brothers. Both Poul Moller and Ane died in 1934 within days of one another.
photo from the collection of Elroy Christenson. 2015
1922, The story of Cora's death has two versions. It was corrected by Wayne Rohne in 2014 as a person who knew the people who drove Cora to the hospital in Waco. I had thought she was pregnant again and something goes wrong. Apparently, according to relatives of Wayne, she had an appendicitis attack. Pete and some others load her into a Model "T" car for the long fifty mile ride into Waco for the doctor. The appendix ruptures and she hemorrhages and dies on the way. Another version of this story by Emroy, Pete's oldest son who was fifteen at the time, is told to his son Dan. He stated that Cora had had a couple of miscarriages prior to this and that she was hemorrhaging and taken to the doctor. In either case she bleeds to death on the trip to Waco. Pete has a tough time taking care of six young kids and doing his work to support the family. He falls apart and starts to drink heavily. Wayne Rohne states, "I believe Jake and Ann lived with Grandma Rohne and my Dad for some period of time. Clarice and Marie lived with the Martin Rohne family a mile or so from Grandma's place. There were two girls in the Martin Rohne family about the same age as Clarice and Marie, so this was a good fit. The rest of Pete's family stayed with the B F Johnson brothers and sisters about two miles from the home place ". Pete finally pulls himself together and moves everyone back the Heinchman ranch where Eva, the youngest Johnson sister, became the housekeeper for Pete.
[story told by Eddie Johnson]

This is an Image Map to the Peter Legind and Cora (Rohne) Christenson family taken about 1922. She may be pregnant here by the age of the children.

Click on any figure to find out more about each member.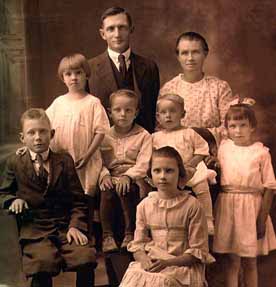 (top lft to rt) Pete, Cora, Emroy, Ane, Chris, Jacob, Clarice, (bottom) Marie
photo in collection of Elroy Christenson

Pete's second family begins in 1926.


Burton Christenson
1940-41


Pete, Eva
and Ima Jean (my sister) about 1950


Leldon Christenson
1940-41

1926 - "The Story of Eva's Marriage" according to Clarice Witte.
Although I had great love and respect for Eva, I have had to wait years until Burton died to tell this story about my grandfather and his relationship with her. According to my aunt Clarice, who told me this about 1990, before she succumbed to Alzheimer's. She said that when she was a child, "Eva had come to work for Pete, her father, to take care of the the children. Eva had apparently been dating or dated after she started working for Pete a fellow named +++++Stamford. Eva apparently became pregnant with a child with ++++ Stamford and confided in my grandfather that she was with child. He knew that he was not the father and confronted the man in the middle of the street in downtown Cranfills Gap. He apparently tried to get him to do the right thing by marrying her but he refused. They had a fist fight in the middle to of the street. This was, of course, the talk of the town. Since nothing was resolved my grandfather took the responsibility and married Eva." Burton, even as a child, seemed different that than the other children and came to resemble more and more the unrecognized father in looks and attitude. He also may have heard of these stories in this small town. I believe that Burton, as he grew older, understood this difference and did isolate himself somewhat from the family by physical distance and work. I liked Burton but as friendly and jovial as I remembered him he was also somewhat aloof and distant. I do believe that this story explains alot about his relationship with the family. [EC and interview with Clarice Witte, 1990]

1926, Sept.13 - Burton Paul Chrstenson is born.
1928, May 1, - Leldon Dale is born.
1930, The Depression caused low prices on products and no one had money. He sold half the farm to pay the taxes and keep the family alive.

US Census, Texas, Hamilton County, Justice Precinct One. enum. dist. 97-4, sheet 10A and B

Christenson, Pete L. head m w 47 mar 22 Denmark/Nor. Norway Norway general farmer Naturalized 1898
" , Eveline wife f w 30 mar 26 Texas Norway Norway
" , Emroy son m w 22 s Texas Norway Texas
" , Marie dau f w 20 s Texas Norway Texas
" , Clarice dau f w 18 s Texas Norway Texas
" , Chris M. son m w 16 s Texas Norway Texas
" , Ane dau f w 15 s Texas Norway Texas
" , J. B. son m w 12 s Texas Norway Texas
" , Burton son m w 3yr 6mo Texas Norway Texas
" , Eldon son m w 11 mo Texas Norway Texas
1938-45 -The war brought prosperity back with good prices and steady gains.

1940 - US Census, Texas, Hamilton County, enum. dist. 97-4, sheet 4A. the H4 indicates the highest grade of education, H4 means High School 4
Christenson, Pete. L. head m w 57 mar H4 Denmark farmer farm
" , Evalina wife f w 40 mar 7 Texas
" , Burton son m w 13 s 5 Texas
" , Leldon son m w 11 s 4 Texas

Both Burton and Leldon graduate from Cranfills Gap High School. Eva's sons both go off to war. Burton was in the Merchant Marines and Leldon was in the Army and posted in Korea on the front line.

1942- Burton Christenson serves in the merchant marines during the war. He returns to meet and marry the widow Mozelle Chandler Neskorik. Mozelle Chandler Neskorik, the wife of George Neskorik gives birth to a daughter who died shortly after birth in Seymour, Baylor County, Texas. George is apparently killed after being hit by a truck sometime afterwards. After Burton and Mozelle marries he works for the oil companies in west Texas for the remainder of his life and makes periodic trips back to Cranfills Gap to see his parents. [Denise Neskorik 7/11/02]
1948- The war over, the military started to tear down structures that they had used. Pete built a new house out of Ft Hood barracks and put in electricity because Leldon was working for the Tennessee Valley Authority at the time. [story told by Violet Christenson]
Burton Christenson marries the widow Mozelle Chandler Neskorik. She had been married to George Neskorik who was killed by a truck. Although she had a daughter by this marriage, the daughter dies in 1942. Burton and Mozelle had no other children of their own and lived most of the life in Seymore, Texas.
Leldon marries Bette Lou Wimberly. Her family had lived just over the mountain from the Christenson farm. They had two boys, Dale and Larry, who together had a successful cabinet making business south of Fort Worth. Both have several children of their own. Leldon worked for many years with General Motors in Arlington, TX. He developed Parkinson disease which caused an early retirement. After his lingering illness and death, Betty Lou remarries to real estate developer, N. D. Hopkins.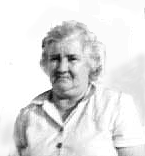 Eva was a terrific cook. Breakfasts consisted on coffee, eggs, smoked ham slices, home-made biscuits, with an additional finishing course of home-made wild plum jam mixed on the plate with sweet cream and sopped up with more biscuits. If there were no biscuits we would use her home-made crusty bread. Her four inch high cinnamon rolls with hot real butter icing bring back wonderful childhood memories. Since she never measured anything the recipes that were copied down by relatives were inaccurate but Cheryl Grubb with her magic in the kitchen was able to correct the mistakes in the following recipes.
Eva Christenson's Cinnamon Rolls

1 cup milk (scalded) heat to scumming-over
1 tsp salt
2 tbsp sugar
4 tbsp butter
1 pkgs yeast
3 cups flour or more as needed

Add yeast and 1/2 cup warm water to get it started and doubled
Put warm milk, salt, sugar, butter and blend in large bowl.
Add yeast mixture when it has doubled in size.
Beat, add remaining flour and knead, add more flour to acheive the bread dough consistancy. (Cheryl says that it very much depends on weather conditions how and when to add more flour)
Place in greased bowl - spread with melted butter and cover with a towel in a warm place.
Let double.
Knead and roll to 1/2" thick on a large counter, spread with butter, and sprinkle with cinnamon and sugar mixture
Roll and cut into 1 1/2" length disks.
Place in a large (3" deep x 12"x 8") baking pan.
Let rise to double height
Bake 400¡ F. for 20 min.
When cooled cover with butter and sugar (powdered) icing


1948-58 Pete and Eva lived and worked the farm raising sheep, about 100 chickens and, about six head of cattle. Eva would milk the cows by hand and churns the cream into butter as well as feed the chickens and all the relatives when they come. She was renowned for her homemade bread and four inch high sweet rolls with butter icing. As the main person tending the chickens she also was the person to go after her grand kids for chasing them. She would grab me by the ears and twisting to make the point say, "Don't you chase my chickens". They also had dog named Laddie who used to be told to "go get the cows" and she would run out a quarter of mile on her own and bring them back nipping at the kicking heals.

Pete has an Allis-Chalmer three point tractor which his grandson's learn to plow with during the summers. Harvesting of the wheat and oats is done with a Trashing Bee of about 25 males from the nearby farms and 6 or seven women who would do the cooking for the hands. Two or three hays stacks 20 feet high would be created each year by moving the thrashing machine to various locations on the property. Picking up the shucks of wheat out of the field had to be done with some alertness because of the great number of diamond back rattlesnakes in the region. A worker could accidentally pitch one onto the wagon where another man was stacking.
[Elroy's personal experiences]
1950 - about - We have this photo of Cora and Pete's adult children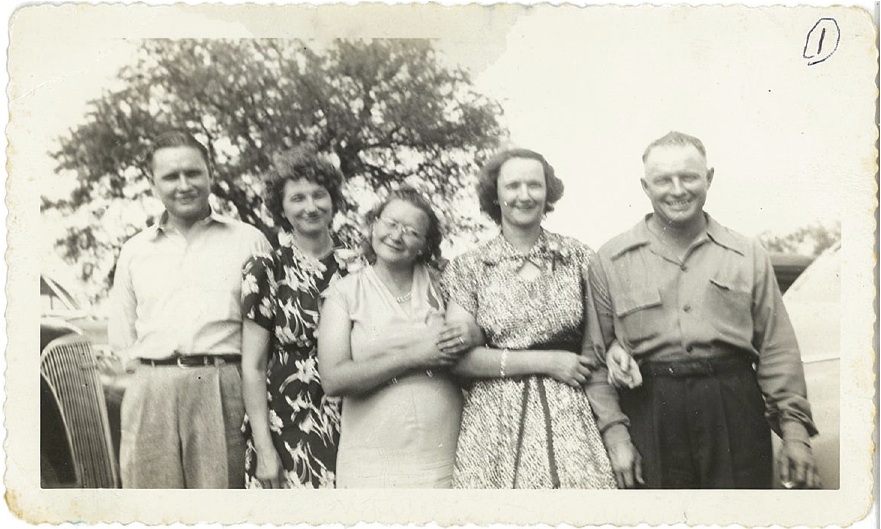 Jacob "Jake", Marie, Clarice, Ann and Chris
photo collection of Ann Wrenn
This is a Danish children's song that Pete Christenson used to sing frequently. I was surprised that when I tried to relate this song to some fellow travelers on a Danish train, even though my pronunciation was wrong, they knew the song very well.

Højt på en gren en krage sad
written by Johan Ludvig Heiberg and based on an old German folk melody.

Højt på en gren en krage,
- simsalabim bamba saladu saladim -
højt på en gren en krage sad.

Så kom en hæslig jæger,
- simsalabim bamba saladu saladim -
så kom en hæslig jæger hen.

Han skød den stakkels krage,
- simsalabim bamba saladu saladim -
han skød den stakkels krage ned.

Nu er den stakkels krage,
- simsalabim bamba saladu saladim -
nu er den stakkels krage død.

High on a branch a crow,
- Simsalabim bamba saladu saladim -
high on a branch a crow sat.

Then came a hideous hunter
- Simsalabim bamba saladu saladim -
then came a hideous hunter going.

He shot the poor crow,
- Simsalabim bamba saladu saladim -
he shot the poor crow down.

Now the poor crow,
- Simsalabim bamba saladu saladim -
Now is the poor crow death.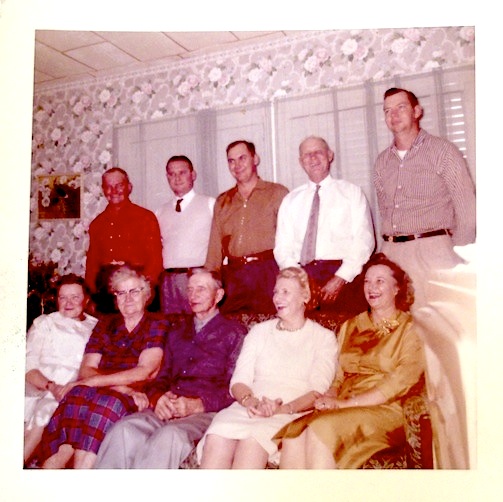 About 1956, probably at the 30th Wedding Anniversary of Pete and Eva.
(back L to front R) Chris, Jake, Burton, Emroy, Leldon, Clarice, Eva, Pete, Marie and Ane.
This the last known photo of all the children together. [photo collection of Elroy Christenson]
1958- He leases out the farm land to neighbors but lives on the property raising a few animals. Eva continues to milk the cow and feed the chickens although he is basically retired from farming. Various grand kids come and spend a few weeks during the summer doing chores such as plowing or helping with the harvest. He goes fishing periodically with relatives. On one occasion he allowed me, his 14 year old grandson, who can hardly reach the pedals of the '39 Chevy to chauffeur he and Eddie Johnson, his brother-in-law, to a nearby river. Ed gave remedial instructions on the cluch, brakes and gas pedal. They both climbed into the backseat and I drove scared to death down the dirt road to the river. [Elroy's personal experiences]
1960 - He starts to lose his memory so that Eva can't keep track of him. He is put into a nursing home in Grand Prairie and Eva moves in with Leldon. Chris, Marie, Leldon, Jacob, and Clarice are nearby with their families. Most of the relatives of the area are working for Temco Vought Aircraft company. They visit him frequently but he recognizes them seldom. [Elroy's personal experiences]
1962, June 25 - Pete dies in a nursing home in Grand Prairie, TX. He is buried in the Rock Church Cemetery, outside of Cranfills Gap, Tx.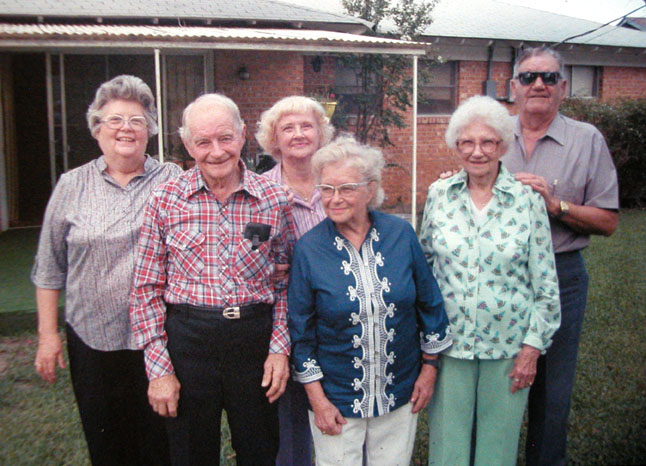 (l to r) Violet and Chris Christenson, Anne Christenson Wrenn(back), Clarice Christenson Witte, and Marie Christenson and Herman Ressing. I think the photo was taken in Merdian right after Herman had a cataract operation about 1980-85.

2005, Oct 31 - Burton Paul Christenson, 79, died in Seymour, Baylor Co., Texas. According to the obituary Burton had owned and operated Eastland Auto Service for 30 years. His only surviving relative was his sister Ann Wrenn of Orlando, Fla. He is buried in Riverview Cemetery. [obituary Nov 1, 2005, Wichita Falls, TX]

2014, October - A plaque listing the names of Scandinavian immigrants is engraved with Peder Legind Christensen, Evan Rohne, Marianne Egeberg, and Oleana Egeberg's names on base of the main monument in the Leif Erikson Memorial at Shilshole Bay Marina in Seattle, Washington subscribed to by Elroy Christenson. This memorial is sponsored by the Leif Erikson International Foundation which "Symbolizes the courage to venture to a new land" and so far contains 2,276 names. http://www.leiferikson.org/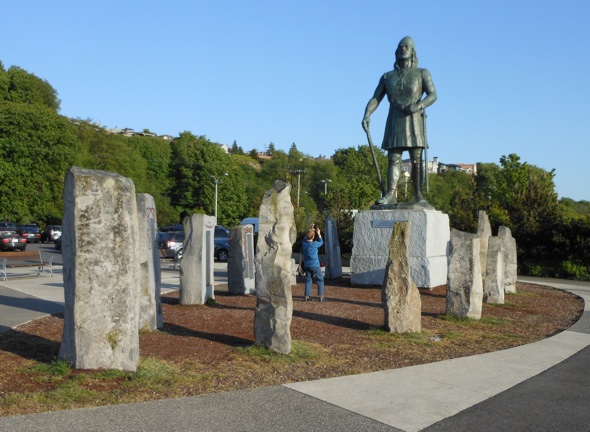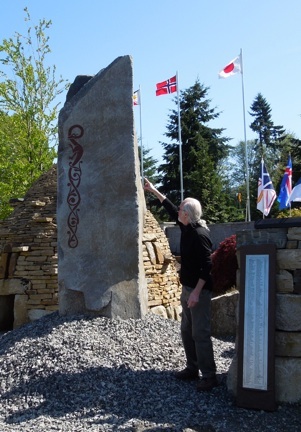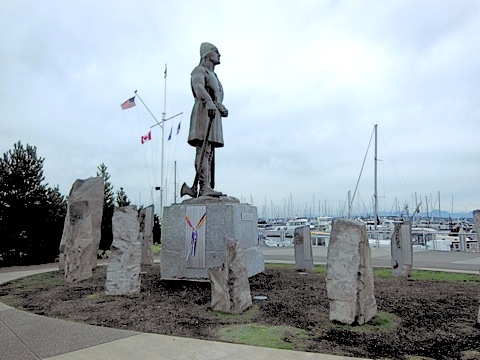 Leif Erikson Memorial, Shilshole Bay Marina, Seattle, Washington and the new "runic stone"
Peder Legind Christensen is listed in the far left column, the fifth name from the bottom in the photo. His bother
Jacob Moller
and
Chris Andrew Christensen
are just above. Their names paid for by
Minnette Christensen Shipley
Photo Elroy Christenson, Oct 2014
Sources:

Bosque County: Land and People, Bosque Co. Historical Society, 1985,

Danish Emigration database. - http://www.emiarch.dk/

Denise Neskorik 7/11/02- email - dneskorik8@netscape.net
Leif Erikson International Foundation, 2245 NW 57th, Seattle, WA 98107. http://www.leiferikson.org/
Norse Church records, Norse, Texas

Norway-Heritage Hands Across the Sea. web site. http://www.norwayheritage.com/
SS Numidian manifest March 18, 1901, immigration documents, National Archives, Wash. D. C.
SS Numidian photo courtesy of Jerry Langstrom - jelaz@cox.net
story told by Clarice Christenson to Elroy Christenson, c July 1986

story told by Eddie Johnson to Elroy Christenson, c July 1986

story told by Violet Christenson to Elroy Christenson, c July 1986-92
Texas Death Index.

US Census , 1910 Hamilton Co. TX.. roll 1558, ed 67, sheet 13
1920 - Texas, Bosque Co, enum. dist 49, sheet 58
US. Evangelical Lutheran Church of America, Records, 1875-1940, Ancestry.com

US Passport application, 1920

US Naturalization Documents, 1901-8, Meridian Co. Collection, Meridian, TX

____________________________________________________________________________________
Rohne Farm in Norway | Pete's Children

Cranfills Gap, TX || Trashing Bee || Egeberg lineage chart
---
Elroy's Family Index || Danish Jutland History || Ancestor Chart #1








All information and photos included within these pages was developed by the help of hundreds of researchers. The information here is for the express purpose of personal genealogical research and is freely offered as long as this site is listed as a source. It may not be included or used for any commercial purpose or included in any commercial site without the express permission of Elroy Christenson. Copyright Elroy Christenson 1998-2016.


web pages created by Elroy Christenson- elroy@next1000.com - last updated 10/29/16