Zachariah Taylor Kirkland Family
Alabama

---
Zachariah Taylor Kirkland
b. Aug 1850 Henry Co., Alabama
d. 12 Feb. 1929* or 2 Dec. 1929 Abbeville, Henry Co, AL
buried City Cem., Abbeville, Henry Co., AL

1m. Elizabeth Matilda Majors after 1 Feb1871 Henry Co., AL
b. b. 24 Apr 1854
d. d. 5 Feb 1927
her father: probably William Majors
her mother: Harriett Rebecca (Blackshear)

father : Zacheriah Kirkland(c1770-80 - d. c1840)
mother: Mary Cole
Children of Matilda Major
Mary Lena Kirkland
b. 17 Dec. 1871 AL
d. 14 Nov. 1917
m. John A. Peterman in Henry Co., 23 Feb 1890
Hosea Kirkland
b. 19 Jan 1874 AL
d. 29 Dec. 1919
m. Martha Linda (Pearl?) Whitehead in Henry Co,. 24 June 1897
Angus Kirkland
b. 10 Nov 1875 Abbeville, Henry Co., AL
d. 9 May 1934

m. Lucy Culpepper in Henry Co., 15 July 1899
Carrie Kirkland
b. 24 Sep 1877 AL
d. 24 Nov 1951
m. Carl Gordon Reynolds
Edward Seymour Kirkland
b. 25 July 1879, AL
d. 2 Mar 1941
m. Vallis Petty in Henry Co. May 1882
Oscar T. Kirkland (, )
b. 29 Jan. 1882 AL
d. 18 May 1901 by lightning while
m.
Curtis Robert Kirkland
b. 25 Jan 1889 AL
d.15 Nov 1945 Vienna, Georgia
1m. Sarah Hutto, (b. 1885 d. 1922) dau. of Augustus Jesse and Mary (Johnson) Hutto,
2m. Nannie ?

*death date according to the First Methodist Church in Abbeville.
# death date according to Mrs. Howell

First children are born to Zacheriah and Mary, a possible set of twins with only one, Alice surviving.
One researcher, Mrs W.E. Howell (KSBR v2 p463) attaches Allen A. , who has the same year birth and initials to this family, however, Allen is more properly part of the Isaac Kirkland/Mary Armstrong family even though buried near Z. T. Kirkland in Abbeville City Cem. They were neighbors and possibly cousins.


Zacheriah T. and Elizabeth Kirkland in front of their home on Kirkland Street, Abbeville, Alabama before 1929.

1845- Seymore (Tuck) is born. (see KSBR V2, 463 for more info on his family.also v1 p315)

1847- Elijah A. is born.[US Census records]

1848- Nancy is born.[US Census records]
Zacheriah and Zacheriah Jr make purchases at a sale of the estate of Moses Kirkland. This indicates to me that there are two adult Zacheriahs alive before Zacheriah T. is born in 1850 (see KSBR v1 p317 for more info on his family.)

1850- Henry Co., AL p.430 US Census (note the different spellings)

Zacariah Kirkland is 32 years old, farmer worth $200 from South Carolina.
Mary is 30 f years old from ?North Carolina
Alice is 7 f years old, born in Ala
Seymore is 5 m born in Ala
Eliza A is 3 f (Elijah is listed as a female here) born in Ala
Nancy is 2 f, born in Ala
Zaceriah is born 8/12, m , born in Ala (note the different spelling)

(Next door on one side is)
William Kirkland 53m farmer $500 SC (This is the son of Caleb Kirkland and Sara)
Rutha 53 f SC
Zaceriah 27m farmer Ala
Mahala 18 f Ala
Jas. M 14m Ala
Json 12m Ala

(Next door on the other side is)
Abriham Cole 70 m farmer NC
Elizabeth 25f Ala


(On the same page)
Zaceriah Kirkland 27 m farmer Ala
Matilda 24 f Ala
John 1m Ala
Berrymen F. 6/12m Ala


This particular page of census records lists four different Zaceriah/Zachariah Kirklands. A record exists of a marriage of a Zacheriah Kirkland to Sara Canady 10 June 1846. [Henry Co. marriages KSB V2, 36] This marriage is for the son of Wm. S. and Ruth Kirkland and cannot be to my particular Zacheriah. The marriage to Sara Canady could be an earlier marriage to one of the other 27 year old Zacheriah but since Mary Cole is still alive so this cannot be my Zachariah's marriage. The fact that my Elijah Kirkland is listed as "Eliza A" does give some question about the accuracy of this census but I assume the census taker was using the abbreviation for Elizabeth and misread his notes of Elijah. Abraham Cole listed here I believe is too old to be Mary (Cole) Kirkland's father but he could be her grandfather. He is the only Cole in Henry County.
William Kirkland, the neighbor, is the son of Moses Kirkland, the brother of Caleb, Zachariah's father, thus making them cousins.
[1850 US Census, the Southern Dist., Henry Co., AL p.430 ]

Zacheriah Taylor is born in this year. [see KSBR P 464 ]

1860 Zachariah Sr is widowed sometime before 1860 census. My guess is that Mary (Cole) Kirkland dies between 15 Feb.1856 and 1860, possibly at the birth of Caleb, (or unsubstantianted child, Mary,see 1860), who is raised over the next few years by Alice, the oldest daughter, and the other children.

1860- Zacheriah is single and has his children living with him, Alice(16), Semore(15), Elijah A.(13),Nancy(11), Zacheriah T.(9), George M. (8), Caleb R. (4) in Henry Co. Alabama. [US Census M653-11 Alabama, Henry Co,p430]
Mary Cole Kirkland must have died between 15 Feb 1856 (when her last child was born) and before the census was taken in 1860 because she doesn't show up in this census.

1862 - Zachariah's oldest son Seymour, enlisted in Confederate Army ,

"born March 23, 1845 at Abbeville, Henry Co., ALa. Present address; Abbeville, Ala. Served in State Militia, Home guards working (illegible), Georgia and Florida. Captured Oct. 1864 and released at once, came home & served as home Guard until April 1865. "[Confederate Soldiers census of 1907 Henry Co., AL, KSBR v2 p52]

1865, January 3 - his estate goes into probate, so Zacheriah has died by this date, [Estate Record Book P, p. 117]


Estate of Zachariah Kirkland - Andrew T. Owens, admr. "Sarah, widow of Zacheriah; Alice wife of F. M. Merritt; Seymour Kirkland, and four minors, Elijah, Taylor, George and Caleb Kirkland." The new born is not listed in this document [Henry Co., AL, Estate Record Book P, p. 117 & 549,[KSBR v1 p 319)]

1870 - The U. S. Census for Henry County

We find three of Zachariah's children together in the household of Edward Blackledge in the 8th Precinct, Abbeville, Henry Co., p. 370 a & b. They probably learned some of their wood working skills under the tutelage of this carriage maker. Notice that Seymore ends up marrying Sarah Blacklidge. Mrs. Howell has Sarah's father listed as "Edmond" Blackledge but although the census record is difficult to decipher I read it as Edward.[KSBR p463]

Blackledge, Edward 45 mw carriage maker $1500/1000 NC
" , Nancy C. 41 fw keeping house SC
" , Sarah 19 fw at home (she eventually marries Seymour Kirkland) FL
" , John R. 14 mw at school AL
" , Ellen V. 10 fw at school AL
" , Catherin 8 fw at school AL
" , Thomas h. 4 mw AL
" , Emily F. 2 fw AL
Fordhand, Sarah 75 fw AL
McLelland, Frank 27mw works in carriage shop FL
Kirkland, Seymour 25mw carriage trimmer $200 AL
" , Z. Taylor 20 mw carriage maker AL
Whidon, Alice 11f b domestic servant AL
[US census, Henry Co., p. 370]

If Zacheriah's widow, Sarah, is in the area, I haven't found her to date. George M. is the only other unaccounted for member of the family. He would be 19 years old and probably on his own.
15 or 18 Oct 1870 - Seymour applies for a marriage license to Sara Blacklidge [Henry Co., marriages, KSB v2 p36]
"Henry County Register" - Sat. Aug. 27, 1870 - Married on 24th inst. at the home of of the bride's father on the 13th inst., by Rev. A. L. Martin, Mr. Seymour Kirkland & Miss Sallie Blacklidge, all of Henry County. "
She is the daughter of Edmond and Nancy Blacklidge where "Sergeant" Kirkland was listed in his household in 1870 census. [Alabama Series Vol. 1 - Marriages by Helen Foley, 1971 as in KSBR v2 p51]

1871- 1 Feb - Z. Taylor Kirkland applies for a marriage license to Eliz. M. Majors [Henry Co., marriages, KSBR v2 p36]

1872, before Sep 20 - Alice (Kirkland) Merritt dies. She leaves her husband, Francis M. Merritt whom she married 19 Feb. 1864, the son of Jcob and Sybil (?) Merritt. Her issue was: Marry S. Merritt, (1m. J. Murphy 2m. J. D. Jackson); Malinda F. Merritt (m. P. S. Whitehead); Clifford L. Merritt (m. J. B. Whitehead) ; and an unknown child who died young. 1876- Friday, July 7 - "Mrs. Sallie Kirkland, wife of Seymour Kirkland, of Abbeville, died on 4th instant, at home of her father, Edmond Blackledge. She leaves a husband, mother, father, several brothers and sisters and four small children." [Death Notices, The Henry County Register, 1875, KSBR v.1 p313]

1896-Zacheriah T. Kirkland became a very skilled carpenter and designer. Along with one of his brothers , Edward Seymour "Tuck" Kirkland and cousins, Angus Allen Kirkland and Irving Kirkland, Zacheriah designs and builds the interior of the First Methodist Church in Abbeville, Henry County, Alabama then known as Methodist Episcopal Church. South in 1896. This building still exists and is considered one of the best historical buildings in Henry County for its supreme carpentery and design. This put it on the Historical Register.
"The parquet ceiling, the wainscoting and hand finished beams attest to their artistry. The fine architectural details of the bull's eye, which are typically corner blocks placed where architectural elements meet, repeat on the end of the pews, on the wainscoting, over the portals, over the windows and on the cross and book from doors. The pointed-arch design is seen on the end of the pews and is repeated in the pointed-arch of the windows. All of these design elements are typically seen in churches built between 1870 and1920.

Zacheriah Taylor Kirkland (b. February 11, 1850 d. February 12, 1929) did architectural designs and drew blue prints of plans for many of our structures in and around Abbeville including the Southeast Alabama Agricultural School, the first Henry County Courthouse (which has since been demolished), and for the First Baptist Church. It was reported in the Abbeville Times of Friday, July 1, 1898 that "Mr. Lawson Gregory has contracted with Taylor Kirkland for the erection of a large and commodious residence on the lot he recently purchased from Mrs. Freeman on the east side of town.." that house now belongs to Mrs. Edgar (Melinda) Gibbons. Mr Kirkland's home which he built for himself was located directly across the street from what is now the Carter home on Kirkland Street, formerly the home of Mollie Newman Martin.

Mr. Edward Seymore (Tuck) Kirkland was the brother of Zachariah Taylor Kirkland and was most noted for his excellent wood working skills. He also lived on what was later named Kirkland Street one house south of the Blacklidge home, now Southland Bank." [pamphlet of the 100th Anniversary of the Abbeville United Methodist Church, Abbeville, Alabama.]
1907 - "Cherokee Indian petition #23936- It seems that Mary Elizabeth Bradshaw, wife of Calip Ransom Kirkland, is part Cherokee Indian according to the following petition.
The petition reveals that Calip Kirkland was b. 15 Feb. 1856, m. Mary Elizabeth Bradshaw (d/o Sanford Fort Bradshaw and Pattie Jane Busby. In 1907 Mary Elizabeth Kirkland lived Ellisville, Jones Co., Miss. Her father, Sandford Fort Bradshaw was b. ILL., living in TX in 1851. Her mother, Pattie Jane Busby Bradshaw, was b. Wayne Co., Miss., d. 2 Feb. 1898. In 1907 Sandfort Bradshaw was still living. His father was Stephen Bradshaw. Pattie Jane's father was Nathan Busby. Chn. of Calip and Mary Elizabeth Kirkland:
1. Mary Lena, b. 5 Jun 1886
2. Rutha Viola b. 13 Mar. 1888
3. Sanford Zacheriah b. 10 Mar. 1892
4. Calip Ranson b. 20 mar. 1892
5. Minnie Eveline b. 7 Nov. 1893
[W. E. Howell, KSB v2 p463]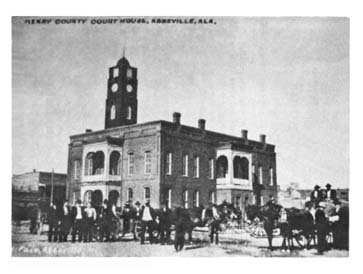 Henry County Courthouse, apparently designed by Zacheriah T. Kirkland. Demolished about 1950.

1929- there is confict with sources for the death date of Zachariah T. Kirkland. Mrs. Howell gives 2 Dec., 1929 where the First Methodist Church give 12 Feb. 1929.

sources:
100th Anniversary pamplet of the Abbeville United Methodist Church, Abbeville, Alabama. c1996
Kirkland Source Book of Records (KSBR), v.1 p 317, 319, 334 - v.2 p.51, 52, 463, 464 ,in two volumes, 1977 reprinted 1989. compiled by Mrs. Schlandensky, Mrs. Green, Mrs. Leonard, Mrs. John H. Kirkland. , Greenwood, S. C. 29649, out of print
Peacock, Dr. J. R., Kirkland Family Roots, Virginia, - South Carolina, Henry County, Alabama, 2002, J. R. Peacock, 1330 Eleventh St, Clermont, FL 34711-2815
Scott, Mrs. Marvin, History of Henry Co. Ala. , Frank R. Parkhurst & Son Printing, Pensacola, FL, 1961
U. S. Bureau of Land Management records web site. 2000
US Census 1850, 1860, 1870, 1880

Kirkland Family Index || Elroy's Family Index || Ancestoral Chart #10 || Kirklands of Henry Co., AL
---






All information and photos included within these pages was developed by the help of hundreds of researchers. The information here is for the express purpose of personal genealogical research and is freely offered as long as this site is listed as a source. It may not be included or used for any commercial purpose or included in any commercial site without the express permission of Elroy Christenson. Copyright Elroy Christenson 1998-2010.


web pages created by Elroy Christenson- elroy@next1000.com - last updated 8/10/10