Søren Lauritsen Family
Denmark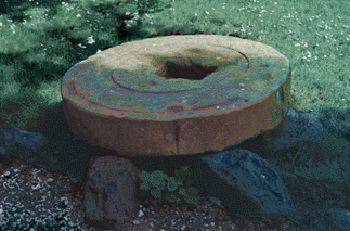 Morup Mølle (Morup Mill), Denmark.
This mill stone was once part of stream powered grain mill that gave the town its name. The mill has since been destroyed.

Søren Lauritsen
b. 9 May 1713 Refs Hedegaard, Ydby, Thisted, Denmark
d. 13 Feb 1771, Denmark

m. Zidsel Sørensdatter 3 Feb 1768 Bedsted, Thisted, Denmark [LDS mar.]
b. July 1744 Bedsted Søgn, Thisted, Denmark
christened: 1 Aug 1744 Bedsted, Thisted, Denmark [LDS family rec.]
d. 4 Sep 1820 Morup Mølle, Thisted, Denmark
her father: Søren Clausen
her mother:Johannne Stiesdatter


her 2nd m. - Mads (Christensen) Møller 18 OCT 1771 Bedsted, Thisted, Denmark [LDS mar. rec.]
b. about 1720
d. ? after 1787


his father: Laurits Madsen
his mother: Else Sørensdatter


Children with Søren

Kristine Sørensdatter
christened - 28 Nov 1768 Bedsted Søgn, Thisted, Denmark*
(b. 1768 according to the 1787 census)

d. 25 June 1821 Holmgaard Mølle, Ydby, Thisted amt., Denmark

m. Mikkel Paulsen Møller
23 Apr 1796

Else Marie Sørensen
b. 29 Sep 1770, Bedsted, Thisted, Denmark*
d.
m. perhaps to Peder Legind 19 OCT 1805 Bested, Thisted, Denmark [LDS ]

*records of Cora Christoffersen

Children with Mads
Zidsel Maria Madsen

christened: 13 Apr 1776 Bested, Thisted, Denmark
[LDS christening rec.]
d. 14 Jul 1776
m.

Søren Madsen
b. 1777 #




Zidsel Maria Madsdatter
b. about 1778 #
christened: 21 MAY 1777 Bested, Thisted, Denmark
[LDS christening rec. ]


m. Jens Christensen 07 OCT 1797 Bested, Thisted, Denmark [LDS mar. ]
Christen Madsen
(listed at "Xsten" in christening rec.)

b. 1781 #
christened: 18 MAR 1780 Bested, Thisted, Denmark
[LDS christening rec.]




Anna Madsdatter
b. 1785 #




#census records of 1787

Kristine Sørensdatter may have been born in Morup Mølle village but the census records are inconclusive on this point. It looks from the census that Søren Lauritzen may have been from another farm. Certainly Kristine did move to the mill with her mothers second marriage but I doubt she was born here.


This small town on the Jutland Peninsula still has a building on the site of the old mill but it now houses a restaurant next the stream. A two lane country road runs in front of the building and crosses the stream with a small bridge. A narrow park with walking path now extends up and down the stream through the hamlet. This was apparently a tourist spot in Denmark during the 1930's and 40's. People were primarily attracted by the nearby Northsea beaches and freshwater lake created by the stream.

There may be more children in this family but this is all that we have discovered to date.
1744, Aug 1 - Sidsen Sørensdatter is christened in Bedsted, Thisted, Denmark. Her father is identified as Søren Clausen.
[LDS fam. rec.]

1768 - Christening records show Kristine Sørensdatter with parents Søren Larsen and wife, Zidsel Sørensdatter 28 NOV 1768 Bested, Thisted, Denmark. [ LDS christening records for Bested, Thisted 1707- 1814]

1770 - Christening records show Else Maria Sørensdatter 29 SEP 1770 Bested, Thisted, Denmark parents are listed as Søren Møller and Zidsel Sørensdatter. This also identified Søren's occupation as a miller.
[ LDS christening records for Bested, Thisted 1707- 1814]

1771, February 11 - Søren Lauritsen dies making a widow of Zidsel Sørensdatter. She was caring for their two small kids at the age of 28. The mill is one of the few operating in the region. Most of the land including the mill is operated like it was in the Middle Ages with serfs tied to the land. Zidsel keeps the mill running with a worker but the landlord doesn't have a responsible person to insure the long term continuation of the mill. The landlord decided to solve the problem by having his number-one farm hand or overseer, Mads Christensen, take over and buy the mill. He sells the mill to Mads who was 58 years old but with the stipulation that he had to take the widow Zidsel as his wife along with two kids. In effect then Zidsel is sold along with the mill to Mads. Mads takes over the day to day operations of the mill. The relationship develops. Although rather quickly Zidsel marries Mads however it seems to take a few years for them to have any surviving children between them.
[Story of the Ancestors of the First Miller. Chapter 39]

1771 - 18 OCT - Zidsel Sørensdatter marries "Mads Xstensen", as spelled in the record, in Bedsted, Thisted, Denmark
[LDS mar. rec.]
This probably means that his name was Mads Christensen but he was also a miller therefore in census records we see Mads Møller.

1787 Census - This record doesn't show Søren Lauritsen since he is supposed to have died in 1771. It seems that Zidsel remarried to Mad Møller and has several other children. Her children by the earlier marriage are here.

thisted, Hassing, Bedsted, Fuglsang, , , 1, FT-1787
Name:
Age:
Marital status:
Occupation in household:
Occupation:
Birth place:
Mads Møller
60
gift
Manden
Møller og gaardbeboer


Zidsel Sørensdatter
43
gift
Konen
-


Kirstina Sørensdatter
19
ugift
Konens i første ægteskab




Else Sørensdatter
17
ugift
Konens i første ægteskab




Søren Madsen
10
ugift
Barn af sidste ægteskab




Zidsel Madsdatter
9
ugift
Barn af sidste ægteskab




Christen Madsen
6
ugift
Barn af sidste ægteskab




Anna Madsdatter
3
ugift
Barn af sidste ægteskab




Thøger Nielsen
18
ugift
Tjenestefolk




Anders Larsen
27
ugift
Tjenestefolk




Johanne Christensdatter
30
ugift
Tjenestefolk
1797, Oct 7 - a marriage is recorded for Zidsel Marie Madsdatter to Jens Christensen in Bested, Thisted county, Denmark. Her father is listed as Mads Møller maker the child of the second marriage. [LDS marriages]

1805, Oct 19 - There is a marriage of an Else Marie Sørensdatter to Peder Legind in Bested, Thisted county, Denmark. I don't know if this is the same person as the second daughter of Søren Lauritsen but there are few other choices of the correct age and location. One other thing that is interesting is that this may be where my own grandfather's middle name started. My grandfather's name was Peder Legind Christensen. [LDS records]
source:
census records of Denmark.
LDS records - International Genealogical Records, 1999- familysearch.org
christening records of Bested, Thisted 1707 - 1814, batch number C217411.
marriage records of Bested, Thisted 1710-1814, batch number M217411
records of Cora Christoffersen, Odby, Thisted amt, Denmark
Records of the LDS Family Center,
Story of the Ancestors of the First Miller. Chapter 39, written in Danish by an unknown arthor, translated by Kent Christoffersen,
Return to Pedersen Index || Return to Elroy's Family Index || Ancestoral Chart #2
---






All information and photos included within these pages was developed by the help of hundreds of researchers. The information here is for the express purpose of personal genealogical research and is freely offered as long as this site is listed as a source. It may not be included or used for any commercial purpose or included in any commercial site without the express permission of Elroy Christenson. Copyright Elroy Christenson 1998-2010.


web pages created by Elroy Christenson- elroy@next1000.com - last updated 8/10/10