Mikkel Poulsen Møller Family
Denmark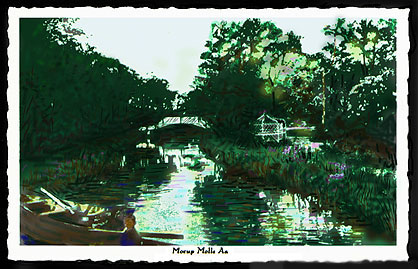 Morup Mølle (Morup Mill), Denmark.
Before and during the 1930's the lake behind the mill became a recreation area.
The mill by this time was already not functioning as a mill.
(this is digital painting from a b&w zerox by Elroy Christenson 2003)

Mikkel Poulsen Møller
b. 1767 Serup, Odby sogn, Thisted, Denmark


christened: 5 July 1767 Odby, Thisted, Denmark
d. 25 Oct 1841 Søndbjerg, Thisted, Denmark

m. Kirstine Sørensdatter 23 April 1796 Bested, Thisted, Denmark [LDS]


b. 28 No 1769 Morup Mølle, Thisted, Denmark
d. 25 Jun 1821, Holmgaard mølle, Denmark
her father: Søren Lauritsen -
her mother: Zidsel Sørensdatter



his father: Poul Jepsen
his mother: Johannne Michelsdatter

Children
Poul Mikkelsen

b. about 1796
(1801 census)

d.
m.

Søren Mikkelsen

b. about 1797
(1801 census)
d.

m.

possible dau. or other children

b.

d.
m.
Christen Mikkelsen Møller
b. 13 Mar 1805 Holmgaaard Mill, Thisted, Denmark
d. 17 Oct 1873 Søndbjerg, Thisted, Denmark
m. Bridget Marie Christensdatter
29 Mar 1831

Morup Mølle, the town, is the birth place of Kristine Sørensdatter. Michel Paulson comes to the town and eventually becomes "the miller." This how he came by the last name of Møller, meaning miller. He also dies here. [Christoffersen]

This small town on the Jutland Pennisula still has a building on the site of the old mill but it now houses a restaurant next the stream. A two lane country road runs in front of the building and crosses the stream with a small bridge. A narrow park with walking path now extends up and down the stream through the hamlet. This was apparently a tourist spot in Denmark during the 1930's and 40's. People were primarily attracted by the nearby Northsea beaches and freshwater lake created by the stream.


1796, Apr 23 - There is a marriage recorded for Michel Poulsen and Kirstine Sørensdatter in Bested, Thisted, Denmark. [LDS mar. of Bested]



1801- Census in Thisted county, Denmark. Mikkel and Kirstine are married here with two children. Mette Nielsdatter is a "maid".

thisted, Refs, Ydby, Holmgaard, , ingen, 4, FT-1801
Name:
Age:
Marital status:
Occupation in household:
Occupation:
Birth place:
Michel Poulsen
33
Gift
Hosbonde
Møller og har lidet jord


Kirstine Sørensdatter
32
Gift
Kone




Poul -
4
Ugift
barn




Søren -
2
Ugift
barn




Mette Nielsdatter
33
Ugift
Pige
1834 Census- Denmark. It seems that in the successive thirty years. He is already 67 years old and his wife has died by this time. He is living the family of his son Christen. Mikkel is listed here as a "widower" whose occupation is "pensioner".

Thisted, Refs, Søndbjerg, Søndberg Bye, , en Gaard, 38, FT-1834
| Name: | Age: | Marital status: | Occupation in household: | Occupation: | Birth place: |
| --- | --- | --- | --- | --- | --- |
| Christen Mikkelsen Møller | 29 | Gift | | Gaardmand | |
| Birgitte Marie Christensdatter | 29 | Gift | | Hans kone | |
| Søren Christensen | 2 | Ugift | | Deres børn | |
| Peder Stokholm Christensen | 1 | Ugift | | Deres børn | |
| Mikkel Poulsen Møller | 67 | Enkemand | | Aftægtsmand | |
| Johanne Sørensdatter | 17 | Ugift | | Tjenestepige | |


1840 Census. Denmark


Thisted amt, Refs herred, Sønderbjerg, Søndbjerg Bye, , En Gaard, 3, FT-1840



| Name: | Age: | Marital status: | Occupation in household: | Occupation: | Birth place: |
| --- | --- | --- | --- | --- | --- |
| Christen Mikkelsen Møller | 35 | Gift | | | |
| Birgitte Marie Christensd | 35 | Gift | | | |
| Søren Christensen | 8 | Ugift | | Deres Barn | |
| Peder Stokholm Christensen | 7 | Ugift | | Deres Barn | |
| Mads Christensen | 4 | Ugift | | Deres Barn | |
| N.N. Udøbt Søn | 1 | Ugift | | Deres Barn | |
| Kirsten Christensen | 2 | Ugift | | Deres Barn | |
| Mikkel Poulsen Møller | 73 | Enke | | Aftægtsmand | |
| Dorthe Marie Mikkelsdatter | 19 | Ugift | | Tjenestepige | |

Source:
Census records - Dansk Demografisk Database, http://ddd.dda.dk/
LDS records, www.familysearch.org
christening records of Thisted, Denmark 1710 to 1814 - batch no. - C204651
marriage of Bested, Thisted, Denmark 1710 to 1814 - batch no. M217411
Records and tour with Cora Christoffersen, Odby, Thisted, Denmark
Records of Kent H. Christoffersen, Vestervang 9, Aars 9600, Denmark +45 98626580 -
(his mother was the primary researcher on this line)
web site - http://familytreemaker.genealogy.com/users/c/h/r/Kent-H-Christoffersen-Aars/
email - khc@vestervang9.dk






Return to Pedersen Index || Return to Elroy's Family Index || Ancestoral Chart #2








All information and photos included within these pages was developed by the help of hundreds of researchers. The information here is for the express purpose of personal genealogical research and is freely offered as long as this site is listed as a source. It may not be included or used for any commercial purpose or included in any commercial site without the express permission of Elroy Christenson. Copyright Elroy Christenson 1998-2010.


web pages created by Elroy Christenson- elroy@next1000.com - last updated 8/10/10