Terry English Ancestor
England

---
John Terry [records of Ruth Miller Davis]
b. 20 November, 1727 Gisbro (now Guisbrough), (North Riding) Yorkshire, England
d. ? probably Gisbro (now Guisbrough), England [records of Ruth Miller Davis]
m. Elizabeth Day
b. 1 January 1724 probably in Yorkshire, England
d.
buried: Newton, England
her father: unknown her mother: unknown

his father: unknown
his mother: unknown

Children
Thomas Terry#*
b. 31 May 1750 Newton, N. Yorkshire, England@
d. 15 Nov 1820@
buried: Nov 22, 1820, Fountain Inn, Greenville Co., S. C.#
1m. Elizabeth Harrison(sister of John Harrison)
2m. Rebecca Nancy Ann McDowell
John Terry*
b.4 March 1752 Newton, N. Yorkshire, England@
d. Aug 1807 prob. in S. C.@
m. unknown
Elizabeth Terry
b. 8 Dec 1755 Newton, N. Yorkshire, England@
d. Aug 1807 prob. in S. C.@
m. unknown
William Terry*
b.11 May 1759 Newton, N. Yorkshire, England@
d. probably in S. C.
m. unknown
Ann Terry
b. 4 July 1761 Newton, N. Yorkshire, England@
d. Aug 1788 prob. in England@
m. unknown
George Terry*
b. 4 May 1764 Gisbro, England @[records of Eunice Terry]
d. 4 Sep 1838 @ Whitewater Twp., Franklin Co., Indiana (74 years)@
1m. Elizabeth Guy d. 1800 Newton, England
2m. Mary Fair, probably Yorkshire, England

@records of Ruth Miller Davis (1911-1998) from an apparent unknown bible record
#buried at the Pisgah United Methodist Church Cem. Fountain Inn, S. C.
* mentioned in letter of R. Y. H. Terry(grandson of Thomas Terry). [Norfleet ]
The latest information from the records of Ruth Miller Davis was discovered in papers after she died in 1998 and forwarded to me from another cousin, Susan Knight. The two pages of paper were typed and paper yellowed. The dates and places seem very specific so that I believe they came from an unknown bible record. The LDS records do not list any of these births in Yorkshire so I believe she saw an original source. We were pretty certain that Thomas and George Terry were brothers. We have finally been able to identify the father of Thomas and George Terry and are still checking the records to verify the other brothers. There are many Terry's in the Yorkshire area of England that we suspect may be the origination of the family.

According to R. Y. H. Terry, Thomas Terry's grandson, Thomas had three brothers that came to South Carolina about the same time. We are pretty certain of George Terry. [Norfleet 3/15/03]

We have not been able to find a good fit for the parents of John Terry. There are a number of choices but the legend from Ruth Davis' records says that they moved around a good deal. From the records so far the distances are within miles not across regions. They generally stayed in the area of Guisborough, North Riding, Yorkshire.

The area of Gisbro (now Guisbrough) is just to the south east of Middlesborough, the largest town of the region in North Yorkshire. It is just north of the North York Moors National Park. The region has mythically been known as a haunted area because of the fog and bogs. As a national park it is criss-crossed with trails and a few roads. It has become an area that caters to the tourist industry. The region has been realigned administratively with North Riding no longer used with duties being transferred to North Yorkshire. Middlesborough only became a city in the 1850's when iron mining was started in the area. There is a very nice brief history from earliest of times of Guisborough at this address.
History of Gisborough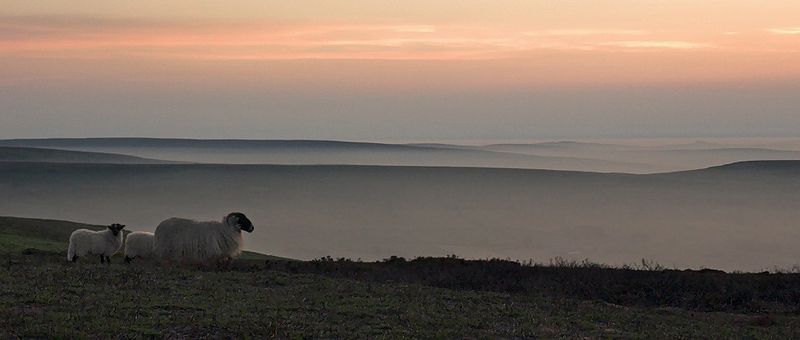 North York Moors
photo courtesy of Wikimedia Commons, photographer: Colin Grice 2006
1750 - Thomas Terry is born probably in the Yorkshire region, England, where his brother-in-law, John Harrison, claims to have been born.
1780's or '90's- Thomas first marries John Harrison's sister Elizabeth Harrison, of Yorkshire, England. I have not been able to identify any marriage for this couple or a Terry to a Harrison of the proper date.

I'm still uncertain whether I have the correct marriage records for Thomas but the dates and location fit perfectly. I hope its more than just a nice coincidence but this may take years to prove. Searching in Yorkshire marriage records I found these marriages:
Thomas Terry m. Ann Harrison 17 Sept 1779 Guisborough, Yorkshire, England.
Elizabeth Terry m. Christopher Sherwood 18 Dec 1775 Guiborough, England
William Terry m. Jane Harrison 10 Feb 1789 Guisborough, England

Mary Harrison m. John Alderson 21 Apr 1800 Guisborough, England
Thomas Harrison m. Elizabeth Harrison 01 Jan 1787 Guisborough, England
Moses Harrison m. Mary Petch 15 May 1798 Guisborough, England
[LDS Marriage Records, Yorkshire 1775-1812 file# M105372]
1790- Of the two brothers, Thomas came to the colonies shortly after the American Revolution. He seems to have come with the intent of setting up a ministry in the wilds of Fork Shoals, South Carolina. They had been introduced to Methodism through the teachings and preaching of John Wesley who came to Guisborough nine times. They probably were ordained ministers while in Guisborough and then well prepared to care on the ministry when they arrived to settle in the wilds of South Carolina.

1800 - US Census. In this record we see Thomas Terry and perhaps his brothers and their children living nearby.

| | |
| --- | --- |
| Terry, John [ Laurens 16 ] | 3 0 0 1 0 - 0 1 0 1 0 - 0 0 |
| Terry, John [ Edgefield 137] | 1 0 0 2 0 - 4 0 0 1 0 - 0 4 |
| Terry, Thomas [ Greenville 274 ] | 2 0 0 0 1 - 1 0 0 1 0 - 0 0 |
| Terry, William [ Greenville 265 ] | 1 0 0 0 1 - 0 0 2 1 0 - 0 0 |
| Terry, William Jr. [ Laurens 15 ] | 1 0 0 1 0 - 0 0 1 0 0 - 0 0 |
| Terry, William Sr. [ Laurens 15 ] | 0 1 2 0 1 - 0 0 1 0 1 - 0 0 |
1805- His apparent brother George came over with his family about this time. He settles in Greenville County until 1833 when he sells his land to move to Franklin Co., Indiana. According to R. Y. H. Terry he moved because of the slavery issue in South Carolina. R. Y. H. states, and it is because of this "It is very likely I met some blood kin on the battle field in the Civil War. " [Vance]

According to the Hopkins family records, Elizabeth Terry was the first and only child of Elizabeth Harrison Terry. Because of the birth date she must have been born in England and probably came over with her mother and uncle John Harrison. [email of 12 Mar 1999 from"Daniel Gannon" dannnan@bellsouth.net]

other probate records also support the inclusion of two other surviving children by Thomas's marriage to Elizabeth Harrison.

1788- Thomas remarries to Rebecca McDowell. She came from a prosperous family living in Charleston. She comes to South Carolina, probably with her family, from Ireland. [Holcomb 260]

R. Y. H. Terry states that she came with two brothers. She had an uncle John McDowell who was the wealthy merchant in Charleston. [Norfleet 2/15/03]

1810 - US Census, Greenville S. C.

Series:

M252

Roll:

62

Page:

103 All listed on the same page are a number of relations.


Thos. Terry 4 1 0 0 1 2 0 1 0 1 0 0

Wm. Paden 1 1 1 0 1 0 0 3 0 1 0 9

George Terry 0 3 0 0 1 6 0 0 1 0 0 0


Greenville

Series:

M252

Roll:

62

Page:

103


J. Terry 0 1 1 0 1 0 0 1 0 1 0 9

B. Terry 2 0 0 1 0 0 0 1 0 0 0 0
Greenville Series: M252 Roll: 62 Page: 125

Lees Terry 2 2 0 1 0 0 0 0 1 1 0 1
Laurens Series: M252 Roll: 61 Page: 40

John Terry 0 0 1 0 1 1 1 1 0 1 0 0
Joseph Terry 2 0 0 1 0 0 0 1 0 0 0 0
source:
Bolin, Ellen. records and transcription of letters to George and Mary Terry. 1139 Eastridge Drive, New Albany, IN 47150, forwarded by Hugh Corrigan, 26 Mar 1996
Corrigan, Hugh. records of George Terry., 21 Apr 1999. 3809 Shenandoah St., Dallas, TX 75205 ,
Davis, Ruth Miller - records that may be from an unknown bible, interviews with relatives and other research. forwarded by Susan Knight
Holcomb, Brent. Marriages and Death Notices from the Southern Christian Advocate 1837-1860, Vol. 1 & 2, Southern Historical Press, Abbeville, S. C.
History of Pisgah United Methodist Church, 200th Anniversary,1993 Fountain Inn, SC
Greenville So. Carolina Cemetary Survey in 5 volumes, Vol. I, Pisgah Methodist Church, Fountain Inn, S. Carolina
Norfleet, Mary Vance. records and history as recorded by her grandmother, Anne Elcybeth "Elsie" Terry Vance. 63090 Opossum Lane, Montrose CO 81401-9603, 3/5/03 - email- mvn471@montrose.net
Terry, Wilma. letter and records to Hugh Corrigan of 31 Oct 1995, 281 Hamilton Ave. #615, Norwich, Ct 06360
Terry Family Index || Elroy's Family Index || Ancestor Chart #12

______________________________________________________________________________________






All information and photos included within these pages was developed by the help of hundreds of researchers. The information here is for the express purpose of personal genealogical research and is freely offered as long as this site is listed as a source. It may not be included or used for any commercial purpose or included in any commercial site without the express permission of Elroy Christenson. Copyright Elroy Christenson 1998-2017


web pages created by Elroy Christenson- elroy@next1000.com - last updated 9/10/17