Thomas Homer Marshall Family

Texas to Washington by covered wagon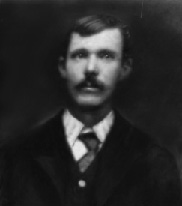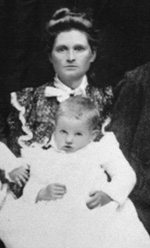 Thomas & Ida Oppie (Jones) Marshall with Jesse c1901

Thomas Homer Marshall
b. 22 Jul 1868 Bourbon, Kansas
d. 27 Feb 1904 Tacoma, Pierce Co., WA

m. Ida Oppie Jones 1888
b. 5 Apr 1871 Miller Grove, TX
d. 12 Feb 1949 Tacoma, Pierce Co., WA
her father: Jesse Jones
mother: Susan Francis Varnell

her 2nd m. Thomas J. Dutton bet. 1910-1920 (shows in 1920 census)
b. c1861 Arkansas
d. 28 Feb 1949 Tacoma, Pierce Co., WA (at age 86) [WA Death Index 1940-1996)



his father: John Wesley Marshall
his mother: Sarah Elizabeth Gower


Children with Ida Oppie Jones

Claude Alexander Marshall
b. 5 Oct 1889 Sunset, Montague Co., TX
d. 14 Nov 1967 Seattle, King Co., WA
m. Margaret Moze(b. c1887 Skovakia/Austria)

Thomas Earl Marshall
b.18 Feb 1891 Tecumseh, Oklahoma
d. 14 Jun 1949
m. Dora Christine Larsen 17 Feb 1918 Seattle, WA(dau. of Larsen and Minnie Christensen)(b. abt 1895 Omaha, NE)

Chloe Delta Marshall
b. 28 Mar 1893 Sunset, Montague Co, TX
d. 24 Apr 1962 Tacoma, WA
1m. George Farrington 1911(b. 1878 d. 1950) divorced 1943 Tacoma, WA
2m. Norman Jack Maddex 21 Sep 1948(b.1897 d. 1976) divorced 1960 Tacoma, WA
3m. Albert Myhre (b. 1886 d. 1970 Tacoma, WA)

Maude Ella "Shirley" Marshall
b. 27 Aug 1895 OK
d. 27 Jun 1987 Seattle, WA
m. Rudolph Kiesel 1915 (son of Emil Kiesel)

Clayton Edison Marshall
b. 11 Sep 1897 Tecumseh, OK
d. 2 Dec 1969 Tacoma, WA
m. Elsie Johanna M. Kiesel (dau of Emil Kiesel)

Jesse Dewitt Marshall
b. 19 Oct 1900 Spokane, WA
d. 29 May 1968 Tacoma, WA
m. Jesse Tidwell (b. 17 Sep 1904 Cleburne, TX d. 26 Oct 1985 Puyallup, Pierce Co., WA)


The Marshall family had only a generation before lived in Green, Newton and Jasper Co., Missouri just prior to the Civil War. The family moved to Ft. Scott, Kansas in 1861, where John Wesley Marshall and his three brothers Elias, James, Jasper Marshall and Washington L. Popejoy enlisted in the Union Army.

1870 - US Census, Kansas, Crawford Co., Crawford. page 365.


Marshall, John W. 25 m w farmer $2000/ 300 Missouri

" , Sarah E. 17 f w keeping house Missouri

" ,

Homer

1 m w Kansas


1875 - Kansas State Census Collection, Bourbon, Timberhill twp. p. 280.


J. Wes Marshall 32 m w Farmer 125 (born) Mo (where from before KA) Ill

S. E. Marshall 22 f w Mo Mo

Homer Marshall

7 m w Kas Mo

J. G. Marshall 3 m w " "

Thomas Homer Marshall moves to Texas with his father shortly after the Civil War at about age 12. The Texas Panhandle was a vast wilderness of where they encountered several years of continued drought and blowing dust. They also had to put up with tornados, terrible heat, poisonous snakes and stinging insects. They lost practically everything to the successive failing crops and were very close to starving to death.


1888 , Dec 6 - Thomas Homer Marshall marries Ida Oppa Jones in Montague, Texas [Marriage License]


1889, 5 Oct - The first child, Claude Alexander Marshall, is born in Sunset, Montague Co., TX

c1890 - 1895 -After three or four years in Montague, Texas the family started moving north. They moved first to Oklahoma. Here Thomas Earl Marshall is born in Tecumseh, Oklahoma in Feb of 1891. They were near the Stewart family homestead of Thomas Homer's grandmother. Probably due to poor crops again they moved once more, this time from Oklahoma back to Sunset, Texas where Chloe Delta Marshall is born in March of 1893. After more continuing bad crops they move back to Oklahoma where they stayed from about 1894 to probably at least the Spring of 1898. During this stay Maude "Shirley" Marshall is born in Aug 1895 and Clayton Edison Marshall is born in September of 1897.

1897 -Since Clayton Edison Marshall was born in September of 1897 we doubt they would have started to move from Oklahoma until the Spring of 1898. The family probably wintered in Missouri or Colorado. Thomas Marshall may have had someone to stay with in Missouri since he was from there.

1898 -Even though travel by railroad was available they were simply too poor to afford the passage. In Colorado John Wesley Marshall, Thomas Homer's half brother, split off to go north to Tacoma on his own.

1900, June --Thomas Homer Marshall is in Meridian Precinct, Ada Co., Idaho. Sheet #9, Enumeration Dist. #9, family 161
Marshall, Thomas H.   head     w m   July 1868 31m   11yrs m.                Kansas        Missouri     Illinois   farm labor 0 mo. unemploy.rents




                , Uda I	            wife      w f    April 1872 28m   11yrs m	5/5	  Texas	          Kentucky   Kentucky




                , Claud  A	 son	  w m   Oct 1879 10s	                                  Texas	          Kansas	Texas	 at school




                , Thomas E	son	w m   Mar 1891	8s		                        Texas	        Kansas	      Texas




                , Della	             dau.     w f    Feb 1892	6 s		                       Texas 	        Kansas	     Texas




                , Maud E	 dau.	  w f    Aug 1894	5 s	                           Indian Terr.	Kansas	     Texas




                , Clay E. 	   son	    w m   Sep 1898	1s	                            Oklahoma	Kansas	     Texas



1900, Dec 4 - They are in Spokane, Washington where Jesse Dewitt Marshall is born.

Thomas Homer Marshall brought his family by ox-wagon with a few other desperate families up the interior through Idaho. They traveled then much further north by covered wagon to Washington State. They didn't arrive in Spokane, Washington until October or December of 1900. Delta Marshall remembered the trip as very arduous, especially since she was only seven years old at the time of the families arrival in Spokane. She remembers walking next to the wagon virtually the entire distant from Texas northward. She remembers though that Tacoma was "like Paradise" after coming out of Texas, Oklahoma and Eastern Washington. "Everything was green, wet with mild weather." [interview with Chloe Marshall by Susan Keller]

After the birth of Jesse Marshall in October they decided to move on quickly. They probably took the Oregon Trail through Walla Walla and along the Columbia River to avoid the Cascade range. They did, however have relatives living in Ellensburg they apparently visited but it would have been a much more difficult trip over Snoqualime Pass and would depend on a great deal of luck to avoid the winter storms. They arrived in Tacoma on the 27th of December 1900 according to Oppie's Marshall's diary. Thomas secures a job with the Tacoma Railway and Power Co. as a trolley man

See the History of the Oregon Trail

1901 - Thomas Homer Marshall is in the city directory of Tacoma, Washington.

1904- Thomas Homer Marshall dies of pneumonia.

"Thomas H. Marshall, of Fern Hill died yesterday morning in his room in the Baker Building, near the corner of Thirteenth Street and Pacific Avenue, at the age of 36 years. The deceased had been for some time in the employ of the Tacoma Railway & Power Company. He leaves a widow and six children; the oldest child being 14 years of age and the youngest but 3 years old. Besides his immediate family he is survived by his father and mother. Mr. and Mrs. John Marshall, who live in the Baker Building; by a brother, John G. Marshall and a sister, Mrs. Allie Wilkins. The deceased was a member of Tecumsch Lodge of Odd Fellows. No 24, of Oklahoma. He was a native of Kansas and had been a resident of Fern Hill for two years. The funeral will be held Tuesday afternoon at 2 PM from the undertaker's chapel on St. Helens Avenue." [Newspaper Obituary]
1905 -1920 Ida Oppie Marshall is left with six small children to care for. She moves the family in with her brother-in-law and his family. They get by with Ida Oppie taking extraordinary efforts to keep and feed her large number of children. She would, during the summer months go to pick berries to eat and to sell. Living just on the outskirts of Puyallup she would walk out of town toward Fernhill with her six small children pulling the family cow. The cow was necessary to milk for the youngest child. After picking her full amount of berries she would trudge the kids and the cow back into town. [story of Marlene Marshall Grubb]

1910 - US Census, Washington, Pierce Co., Tacoma.

Series:

T624

Roll:

1665

Page:

202


Marshall, Oppa I. head f w 34 wd 7/6 Texas Kentucky Tennessee

" , Claude A. son m w 20 s Texas Kansas Texas laborer odd jobs

" , Thomas E. son m w 19 s Oklahoma Kansas Texas plumber

" , Delta C. dau f w 17 s

Texas Kansas Texas janitor laundry

" , Maude E. dau f w 14 s

Oklahoma Kansas Texas none

" , Clay E. son m w 12 s

Oklahoma Kansas Texas newspaper boy

" , Jesse De W. son m w 9 s Washington

Kansas Texas none

1920 -1949 - After the children grow up to move away from home, Ida Oppie continues to live with the same family and eventually dies here. [1949 Death Certificate, Pierce Co., WA]


US Census, Washington, King Co., 92 Seattle. Series: T625 Roll: 1927 Page: 272


Marshall, Claude head m 30 m Texas

Texas

Texas holderson shipyard

Marshall, Margaret wife f 31 mar. Krien (?Slovak)

Krien (?Slovak)

Krien (?Slovak)

Marshall, Elise dau f 9 s Wash. Krien

US Census, Washington, Pierce Co., Tacoma.

Series:

T625

Roll:

1936

Page:

211 (Ida Oppie has remarried to Dutton)


Dutton, Thomas J. head m 58 m Arkansas

Arkansas

Arkansas laborer storre

Oppie wife f 45 m Texas Kentucky Alabama

Marshall, Jesse step son m 19 s Washington Missouri Texas laborer shipyard

US Census, Washington, Pierce Co., Tacoma. Series: T625 Roll: 1937 Page: 23


Marshall, Clay E. head m w 23 m Oklahoma United States Texas upholster Furniture Co.

" , Elise H. wife f w 21 m Washington Germany Germany

" , Ralph L. son m w 3 s Washington Oklahoma Washington

" , Thomas E. son m w 1/5 s

Washington Oklahoma Washington
(next door)
Kiesel , Aimel head m w 51 m Germany Berlin, Ger Berlin, Ger
" , Emma wife f w 50 m

Germany

Germany

Germany

" , Eddie son m w 23 s Washington Germany Germany
" , Erlene dau f w 8 s

Washington Germany Germany


US Census, Washington, Pierce Co., Tacoma.
Series:
T625
Roll:
1936
Page:
92

Farrington, George head m w 41 m Iowa Vermont Canada plaster house
" , Delta wife f w 26 m Texas Kansas Oklahoma
" , Leroy son m w 1 3/12 Texas Vermont Texas
US Census, Washington, Pierce Co., Tacoma. Series: T625 Roll: 1937 Page: 118

Kiesel, Rudolph J. head m w 26m Washington Germany Germany checker shipyard
" , Maude E. wife f w 24 m Arkansas Arkansas Texas
" , Dorothy D. dau. f w 3 5/12 Washington Washington Arkansas
" , Virginia P. dau. f w 1 1/12
Washington Washington Arkansas
1930 - US Census, Washington, King Co., Seattle. enumerator dist. 17-43, sheet 11B.

Marshall, Claude A. head m w 40 mar 23 Texas Kansas Texas stevedore on boats
" , Margaret wife f w 42 mar 23 Austria Austria Austria
" , Elsie M. dau f w 20 s Wash. Texas Austria
US Census, Washington, Pierce Co., Tacoma. enumerator dist. 27-56, sheet 1B.
Dutton, Thomas J. head owner m w 69 mar 21 no yes Arkansas Arkansas Arkansas farmer general farming
" ,
Oppie I.
wife f w 59 mar 17 no yes Texas Kentucky Alabama
This poem was composed by Ida Oppie Jones in her own handwriting and sent to Maxine Hipple about 1942.
Have I made the old world brighter by Just a Living here?
Have I made a heart seem lighter by just a word of cheer?
Have I done a deed kindness that will sparkle on earth's sphere?
Is this old world any brighter by just a living here?

Have I spoken words of comfort to those I love so dear?
Is my life a good example as I journey on each year?
Will I leave some worth footprints when I pass where skies are clear?
Have I made some heart feel lighter by Just a Living here?

about 1933 -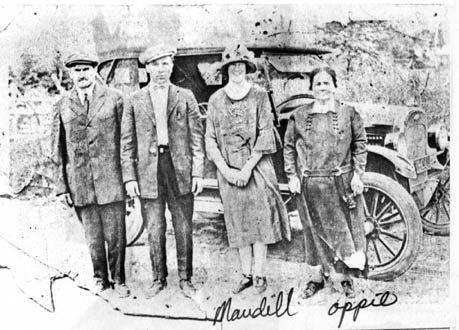 Ida Oppie Jones Marshall (far left is her 2nd husband Thomas Dutton)
with her daughter Maude and her husband Rudolph Kiesel (center couple).
1949- After her death many diaries and other writings that Ida Oppie had written had been passed down finally to her grand-daughter who starts to burn all the diaries that were seen as "the ramblings of a crazy old woman". Susan Keller, only a child at the time, rushes in to grab a few of the volumes out of the fire. All the rest were consummed.
sources:
interview with Chloe Marshall by Susan Keller
Records of Mrs. Maxine Hipple, Austin, TX now deceased. diaries of Ida Oppie Jones Marshall,
story of Marlene Marshall Grubb,
US Census records
1888 TX. Marriage Certificate to Ida Oppie Jones
1904 WA, Pierce Co. Death Certificate
Return to Cheryl's Family Index | Regional History index | email to Cheryl Grubb
---







All information and photos included within these pages are here for the express purpose of personal genealogical research and may not be included or used for any commercial purpose or included in any commercial site without the express permission of Cheryl and Elroy Christenson. Copyright Elroy Christenson 1998-2010.


web pages created by Elroy Christenson- elroy@next1000.com - last updated 2/25/10