Bill and Marlene Grubb

William Grubb Family
Washington State

William Theodore Grubb
b. 10 Dec 1920 Seattle, WA
d. 21 Aug 2003 at home, Seattle, WA

m. Marlene Marilyn Marshall 27 Nov 1948 Alki Congregational Church
b. 17 Feb 1932, Tacoma, WA
her father: Clayton Edison Marshall
her mother: Elsie Johanna Mathilde Kiesel
member of the DAR, Tacoma Genealogical Society and Washington State Pioneers Asso.

his father: George Claiborne Grubb
mother: Hazel Grace Dyer




Bill Grubb is a native of Seattle. His father had been a stonemason in Seattle by 1917. He finally became a fireman for the City of Seattle shortly before Bill was born in 1920.

After high school Bill Grubb attended the University of Washington majoring in chemistry. He apparently had always been good in math. The outbreak of World War II interrupted his studies. He enlists in the U. S. Army as a lieutenant due to ROTC participation. Here he is assigned to an engineering unit and then to the Signal Corps. He was in Okinawa three days after the initial attack to help set up the rhombic antennae. He was here to help set up a short-wave radio tower complex that would enable the Allies to coordinate naval and military activities for the final conquest of Japan. While on the island of Okinawa he seems to have a rather idyllic life. After a typhoon had blown a ship onto the beach near his station he scavenged lumber, building materials and tools. He started work with these necessary ingredients for a small house that he built just up from the beach. Other soldiers and officers were, of course, quite jealous. This kind of building experience came in very handy later when he built several other homes in West Seattle.

1945- '47- Bill comes home from the Army to pick up his education. He gets his degree from the University of Washington but he doesn't find much demand for a chemist in the area and started constructing a first house on one of five lots he bought on the money he sent home from the service. "Bill" Grubb came from a long tradition of house builders and carpenters going back several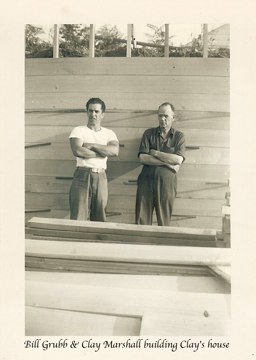 generations so it did seem a logical change of careers.

1948, March -"Bill" and Marlene met after Marlene's parents had moved to West Seattle. They are introduced by her cousin who lived around the corner even though he was 28 and she was just 16. When they first meet he is on crutches from a ski accident. After many walks by the house with her dog and after some urging by his father, Bill asked Marlene to go on a picnic. This started a whirlwind romance that caused them to be engaged by August. In the meanwhile Bill and his father, who had just retired, helped Marlene's father build a house. When the Marshall's first floor was completed Marlene's parents moved in to live in the basement while the second story was still under construction. Since Marlene's dad was so sick, she quit high school to go to business school. With all the construction going on Marlene was either going to school or working by this time and she had to take a bus to and from work. It was more convenient to live closer to the downtown area. Marlene lived in a separate room in Bill's parents house until the wedding.
November -They married in West Seattle in a small chapel, the Alki Congregational Church.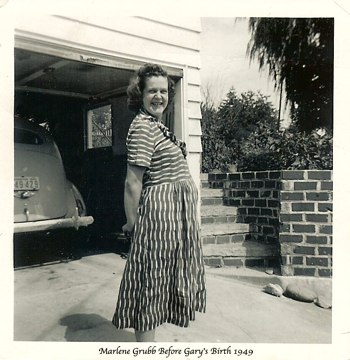 1949, Aug 28 - Gary William Grubb is born. After the wedding Bill and Marlene lived in the basement together until March of 1951. While living here Gary is born.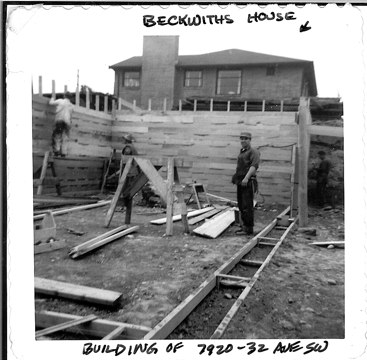 1951- As one house sells he starts on another, sometimes before they are finished. Here "Bill" starts working for the building department for the City of Seattle. At the same time he rode to work in the only vehicle they had, a one ton truck that he used for his construction projects. Marlene's mother is afraid that she will have a miscarriage from such a regularly rough ride.
August - Marlene gives birth to Rand.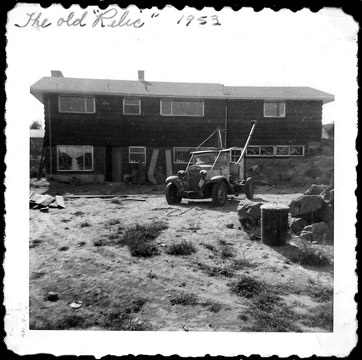 1953 -
They moved into their present home into the basement while finishing the house they had already sold. He does a good job of using scrounged windows, doors and other building material that he discovers in his job. Some of these same kinds of materials are used to renovate the cabin that Bill and three ot
her army buddies bought in Packwood for a ski lodge.

June - Marlene gives birth to Brad. She becomes almost immediately pregnant again.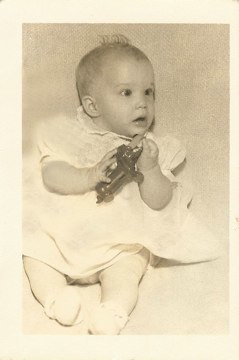 1954 - 23 May - Marlene gives birth to Cheryl (to the rt.). The family finally moved into the upstairs just before Xmas of 1954.
1958, Sept 20 - The "Packwood" cabin was one project that took perhaps even more energy. It was the oldest building in Packwood, Washington at the foot of Mt. Rainier. It had previously been a brothel but was quite rundown and had no plumbing. It had to be leveled, given a foundation and roof, divided into rooms, given a gang of showers, as well as, male and female toilets. Groups of adults and children of from 10 to 20 persons would use the cabin on their frequent weekend visits. They would all ski or hike during the day and play games in the evening around the smell of a wood stove. All meals had to be cooked on the wood cookstove. Cheryl became quite adept at cooking on it and cooked her last Thanksgiving meal in its oven in 1997 just before they sold the building. It has since been torn down.
c 1957 -George Grubb, Bill's father, moves to just one block from Bill's place. Bill worked to fix up the small building on the lot and started building a new home for his parents next door to the original building. Both still stand but only the original building is still owned by the family.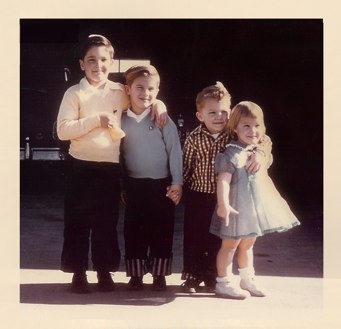 The Grubb kids about 1960. Photo from a 35mm slide, collection of Cheryl

Because of his building background he took a job with the City of Seattle Building Department as an inspector. He became particularly well known and liked by the Chinese community who seemed to not be able to understand the needs for codes and requirements. By working closely with them he worked his way up the ladder to more and more responsibility until he became Chief Building Inspector. One of the many buildings of Seattle that Bill Grubb had to inspect still stands as this cities main landmark. The Space Needle in the Seattle Center was constructed for the Worlds Fair and is still used as a restaurant. On an annual basis it is also used for fireworks displays, especially on New Years Day.
When the children were finally going to school Marlene went back to work. For many years she was a head secretary for a department in the City of Seattle. She was working in the Smith Tower when John Wayne came to play the role of police lieutenant Lon McQ in the filming of "McQ" in Marlene's office in 1974. We still have the moose antlers that hung in his office as a prop.
1982- Bill finally retired from working for the City of Seattle as Chief of the Building Inspectors. They traveled the USA by motor home for several months and enjoy their retirement with the children and grandchildren.
1998- Bill and Marlene Grubb celebrated their Fiftieth Wedding Anniversary with their children with a meal in the Space Needle and later with their friends and their several grand and great-grand children.
2003, 21 Aug. - William "Bill" Grubb dies at home, Seattle, WA after many years of dealing with Alzheimer's disease. The memorial service at the Fauntleroy Church, United Church of Christ brought out about 150 of their friends and colleagues from the many years of working and living in Seattle. This is the obituarary printed in the Seattle Times.
12/10/1920 - 8/21/2003


William "Bill" Grubb, age 82 a native of Seattle, passed away after an extended illness from Alzheimer's surrounded by his family and friends. Born on Dec. 10, 1920, the only child of George and Hazel Grubb. Bill graduated from West Seattle High and from the U. of W. as a Chemical Engineer. He served in W.W. II in the Army Signal Corps in Okinawa. We built many homes in West Seattle and became Chief Building inspector for the City of seattle, Bill shared a passion for outdoor activities with his family. He is lovingly remembered by his wife Marlene and children Gary, Rand and Brad Brubb, and Cheryl Christenson, and g children Alex, Vince, Marc, Kristen, Alexis, Jody, Brenna and gg children Alyssia, Alex Jr. and Hailey. Services will be on Wed., Aug. 27 at 11 a. m. at Fauntleroy United Church of Christ, 9260 Clifornia Ave S. W., Seattle. in lieu of flowers donations may be made to Fontleroy Church of Alzheimer's Foundation, 12721 - 30th N. E. Suite 101, Seattle, WA 98126.
Marlene continues to spend her time in retirement actively tracking down family history. She is a member of the DAR, Washington State Pioneers Asso. and the Tacoma Genealogical Society. She would love to correspond with others who have information on our family line. Her email address is marneymg@comcast.net

SOURCE:
Interviews with Marlene Grubb
Seattle Times Obituary, Aug 2003
US CENSUS
See the CE Marshall Family photo album here.

See the Marshall Family Image Map || Return to Marshall index

________________________________________________________________________









All information and photos included within these pages are here for the express purpose of personal genealogical research and may not be included or used for any commercial purpose or included in any commercial site without the express permission of Cheryl and Elroy Christenson. Copyright Elroy Christenson 1998-2010.


web pages created by Elroy Christenson- elroy@next1000.com - last updated 8/15/10