Clayton & Elsie Marshall with Ralph and Tom, about 1920

Clayton Edison Marshall Family


Oklahoma and Washington State
Clayton Edison Marshall
b. 11 Sep 1897 Tecumseh, Pottawatomie Co., OK
d. 2 Dec 1969 Tacoma, Pierce Co., WA
buried: Tacoma, WA

m. Elsie Johanna M. Kiesel
b. 9 Jun 1899 Tacoma, Pierce Co., WA
d. 12 Dec 1992 Seattle, King Co.WA
her father: Emil Albert Franz Kiesel
her mother: Emma Rosolla Schock

her 2m: Robert "Bob" Gillen 23 Apr 1974
born: unknown
died: 1989 at home, Tacoma, Pierce Co., WA

his father: Thomas Homer Marshall
his mother: Ida Oppie Jones
Children with Elsie Kiesel
Ralph Clayton Marshall
b. 27 Dec1916 Tacoma, WA#
d. 19 Apr 1983 Imperial Beach, San Diego, CA*
m. Elaine Martinsen
Thomas Edison Marshall
b. 21 Jun 1918 Tacoma, WA
d. 17 Oct 1979 Eatonville, WA
1m. Maxine Cournau (one child)
2m. ? (no children)
Marlene M. Marshall
b.17 Feb 1932 Tacoma, WA
d.
m. Wm. "Bill" Grubb
#Washington Births , 1889-1929
* California Death Index, 1940-1997



Clayton Edison Marshall had an upholstery business on Military Road in Tacoma, Washington. His family survived the Depression with Elsie doing the sewing and him doing the rebuilding and tacking.

He helped to form the Upholsterer's Union in Tacoma, Washington.

While Clayton is running his upholstery business his free time is spent building houses. After finishing one he starts another and sells the older finished house for capital. They move around a good deal because of his wheeling and dealing. They lived in Spanaway, Washington in Ida Oppie's (Jones) home until this 9686 Patterson street house was completed.

1916 - Ralph Clayton Marshall is born in Tacoma, Washington.
They lived in 827 So. 92nd.

1917 - They lived at 759 S. 93rd. (on the next block from the previous house)

1918 - Thomas Edison Marshall is born in Tacoma, Washington. Both the boys attend school in Tacoma.
They lived at 8328 So. Yakima.

1919- The lived at 93rd and So. G. St. in Tacoma. In 1920 Emil and Emma Kiesal lived here and we suspect that Elsie and Clayton moved in with them.

1920- They lived at 92?? So. Park Ave., in Tacoma. Erlene, Elsie's sister, said that during this time Mom and Dad lived at 60th and Division St. Portland, OR for a while and worked at Norcell's Furniture; then moved to Spokane, WA. He worked as an upholsterer in Spokane, too. The picture of Ralph and Tom in their cowboy outfits was taken in Spokane.


1920 - US Census, Washington, Pierce Co., Tacoma. Series: T625 Roll: 1937 Page: 23


Marshall, Clay E. head m w 23 m Oklahoma United States Texas upholster Furniture Co.

" , Elise H. wife f w 21 m Washington Germany Germany

" , Ralph L. son m w 3 s Washington Oklahoma Washington

" , Thomas E. son m w 1/5 s

Washington Oklahoma Washington
(next door)
Kiesel , Aimel head m w 51 m Germany Berlin, Ger Berlin, Ger hustler Railway
" , Emma wife f w 50 m

Germany

Germany

Germany

" , Eddie son m w 23 s Washington Germany Germany driver Lumberyard
" , Erlene dau f w 8 s

Washington Germany Germany

1926- They were still living in Spokane.

1930 - They lived at 4636 A. St, Tacoma, WA.


US Census, Washington, Pierce Co., Tacoma. during the date of the census they were living at 4036 Bell St.
Marshall, Clayton E. head renter m w 32 mar at 20yrs old Oklahoma United States United States upholsterer
" , Elise wife H f w 30 mar at 17 yrs old Washington Germany Germany
" , Ralph C. son m w 13 s Washington Oklahoma Washington


1931- They lived at 5028 So., L., Tacoma, WA

1932- Marlene Marshall is born as quite a surprise. Her brothers being much older, Marlene is raised almost as an only child.
They lived at 5221 So. Yakima Ave, Tacoma, WA

1930's & 40's- Ralph Clayton Marshall gets involved in flying. He barn storms around the country and jumped out airplanes with a cast on his leg. Elsie fainted during the stunt. We're unsure about whether he was paid for the stunt or whether he just did it for the fun of it. This early flying training made it possible for him to become a pilot in the US Airforce during World War II. Ralph is stationed for a while in Hawaii.

1934 - They lived at 836 S. 50 th St., Tacoma, WA

1935 - "We lived in Jack Clark's chicken coop at this time while my dad and brothers built 9681 S. D. St house. I was 3 years old, lived here six years." [Marlene Grubb]
this house was later renamed 9681 So. Patterson.

9686 Patterson, Tacoma, WA,
built by C. E. Marshall

Marlene writes about this house and her time here.

"This house was built right across the street from 9681 Patterson St. that my dad and mom also built. They built this one, too, and moved into it in June 1941. We lived there from June 1941 until early June 1947 when we moved to Seattle.

This house is the one I truly think of as home since I was 9 years old when we moved in and 15 years old when we moved out. It was a very impressionable time in one's life and I remember many, many happy times here. This is where I experienced much freedom, being able to play in the large backwoods behind us and having that woderful feeling of belonging to a good loving family, a friendly loving neighborhood and being aable to have all kinds of animals, pets, horses and a large vegetable garden. I had heaven. This was the time when my older brothers went off to WWII (I was so proud to be their sister) and America was at one."
[description written 1997, Marlene (Marshall) Grubb]
The rolled roof was put onto this house by Clayton because Elsie had always wanted a house with this kind of roof.
1940 - US Census, Washington, Pierce Co., Parkland No.1, enum. dist. 27-71, page 28 taken June 1, 1940. sheet 14B, this is the house above
Marshall, Clayton head w m 44 mar 8 Oklahoma upholster furniture mfg.
" , Elsie wife w f 42 mar 8 Washington
" , Marlene dau w f 8 s Washington

1941 - They moved into this house when Marlene was 9 years old and stayed here for an unexpectedly long time until May of 1947.
They lived at 9686 So Patteson, Tacoma. WA.
Elsie was rather artistically inclined. She did some oil painting, copper repose reliefs, and painted bisque fired figures. She taught classes in these various techniques privately and did repairs or refurbishing of ornate picture frames.
1947, June - C. E. Marshall family moved to Seattle. They live in West Seattle near Spokane street, only a couple of blocks from where Bill Grubb was living. This is where Marlene and Bill met. They lived at 4037 -34th S. W., Seattle, WA
1948- Clayton and Elsie started building the house at 10706 - 4th Ave. S. W., Seattle. In the meantime they lived with the Butler family, Elsie's cousin, at 3038 - 39th S.W. Seattle.
Eventually they moved into the Home & Upholstery Shop and Gift Shop at 10706 - 4th Ave. S. W.. Seattle.
1952- Clayton and Elsie move back to Tacoma. They may have first moved into a cabin on Knapp Moore Road.
They eventually moved to So. 114th, Tacoma, WA. Over the ensuing years Clayton and Elsie move around a good deal. Marlene counted 32 moves within her lifetime mostly in the Tacoma area. She thinks that Elsie sees the moves as a way of starting life over again after, perhaps, dealing with a bout of depression. Cheryl recalls that Clayton was "just a really nice guy." Every time they had split pea soup, grandpa aways said the he'd "split all the peas himself". They had a Volkswagen Bug that they drove about. He was very considerate and thoughtful and very hardworking. All the hard work never guaranteed a stable or good income. His craftsmanship was valued but he was probably rarely paid for the time that he put into each project. From one project they received a chair in trade that had been used by President Polk. This chair is still owned by the family. They frequently gave gifts of upholstery items of various kinds to members of the family.
1960's - Thomas E. Marshall became a manager for a lumber company in the Tacoma area. He retired to a cabin at the foot of Mt. Rainier
about 1962- They had the Home and Upholstery Shop in Tacoma at East 112th St.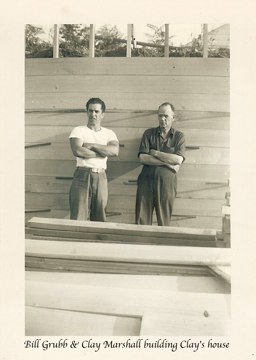 At some point in the 1960's they move to Seatte and live live with Marlene and Bill Grubb at 7920 32nd S. W., Seattle.

At some point in the 1960's Clayton and Elsie move to 9807 5th Pl. S. W., Seattle, WA.
At some point in the 1960's they move again to 800 Jefferson Terrace, Seattle, WA
At some point in the 1960's they move back again to Tacoma where they live at 9202 So Tacoma Way, Tacoma, WA. Here they work for a trailer sales place and lived on the premises.
1967 - Clayton and Elsie sell the business and their home to retire. They move into a small trailer. Clayton still keeps his sewing machine in a shed out back and continues to an occasional project. I have no address for where this was located.
1967-69- Clayton has several strokes making it difficult to take care of himself. Elsie cares for him as best she could but things became increasingly difficult. Clayton dies after a protracted convalescence and further illness. They lived for a while at 3315 McKinley Ave, Tacoma. Clayton is eventually moved into The Heritage nursing home at 7411 Pacific Ave, Tacoma, WA where Clayton dies.
1970- Elsie Marshall has a heart attack and moves in with Marlene and Bill Grubb at 7920 32nd S. W., Seattle.
That same year she moves back to Tacoma and lives at 2902 North Carr, Apt. 3 after her recovery.
Elsie moves into a house near the waterfront in Tacoma. Here she meets a younger man. Within a few months he has a heart attack and dies. Elsie moves back to Seattle and briefly lives with Marlene and Bill.
1973- Elsie was quite the life of the party. While here she meets Bob Gillen. They marry and live on the east side of Tacoma in a small house. They occasionally take trips to Las Vegas. He dies of cancer after about six years. They live at 3596 East B. St., Tacoma, WA.
1983- Ralph Clayton Marshall, Elsie's oldest son, dies in California.
1989- Bob Gillen dies at their home at 3596 East B. St., Tacoma, WA.
1989 about - Elsie lived with Marlene and Bill Grubb for a short period of time. She goes into an assisted living apartment at the El Dorado in Seattle but eventually she couldn't take care of herself.
1992- She goes into the Kenny Home near Marlene and Bill Grubb in Seattle. Marlene visits frequently but her health deteriorates.
1992, Dec.-She finally dies of multiple strokes and general deterioration of health at The Kenny Home.
Source:
Recollections of Marlene Marshall Grubb
Addresses based on telephone books of Tacoma, Pierce Co., WA
Photos collection of Cheryl Grubb Christenson
US Census


CE Marshall Family photo album

Cheryl's Index | Return to Marshall index | email to Cheryl Grubb
---







All information and photos included within these pages are here for the express purpose of personal genealogical research and may not be included or used for any commercial purpose or included in any commercial site without the express permission of Cheryl and Elroy Christenson. Copyright Elroy Christenson 1998-2010.