Clarice and Bradley Witte at their wedding 1938

photo collection of Elroy Christenson

Clarice Christenson Witte History

Daughter of Pete Christenson
---
Clarice Pernella Christenson
b. 24 Nov 1911 Heichman Ranch, Jonesboro, Hamiton Co, TX
d. 7 Apr 1999 Christus St. Joseph Hospital, Paris, TX [SS Death Index]
buried: April 10, 1999 at 2:00 pm St Olaf's Lutheran Rock Church, Norse, Bosque Co., TX

m. Alton Bradley Witte 26 Jun 1938 - (div. Sep 1960)
b. 6 Nov 1914 probably in Bosque Co., TX
d. 12 Jan.1999 TX*
buried: Boggy Cem., Cranfills Gap, Bosque Co., TX
his father: Alvin David Witte (24 AUG 1888--27 FEB 1955)*
his mother: Lela Adams (06 MAR 1891--22 FEB 1980)*

his 2nd m. Zona White Shannon about 1965


her father: Pete Christenson
her mother: Cora Rohne
Children
Linnell Gail Witte
b. 7 Apr 1942 St. Paul's Hosp., Dallas, TX
d.
1m. Lloyd Dale Allen 4 Sept 1960 G. P., TX (div. 1968) one child, Nedra Ann Allen b. 1961.
2m. Glenn Irwin Bower ? Sept 1969- (no issue)

Joe Bradley Witte
b. 31 July 1943 St. Paul's Hosp., Dallas, TX
d. 7 AUG 1999 Lewisville, Denton Co., TX*
buried: Boggy Cem., Cranfills Gap, TX
m. Virginia "Ginny" Lynn Davis -- Chicago, IL
(b. 5 Dec 1948 d. 16 Mar 2015 Savannah, GA of a battle with cancer)


*buried: Boggy Cem., Cranfills Gap, Bosque Co., TX
Clarice went to Dallas, TX to attend nursing school at St. Paul's Hospital graduating as a registered nurse. She wrote "Work was scarce as the Depression was at its worst so I went to Rochester, Minnesota, to seek my fortune. I had many private duty cases for world famous Mayo Brothers at hospitals associated with their clinic. Later I did post-graduate work at the University of Minnesota and University of Texas at Arlington."
Clarice and Bradley, although born and raised around Cranfills Gap, TX. moved to various locals around the United States seeking work. During WWII Bradley went to Gary, Indiana to work for US Steel with the Christenson kin. Before the war was over Bradley and Clarice moved back to Texas. [Violet Christenson]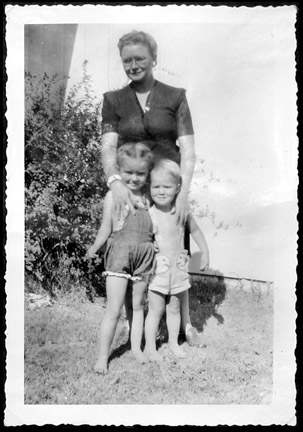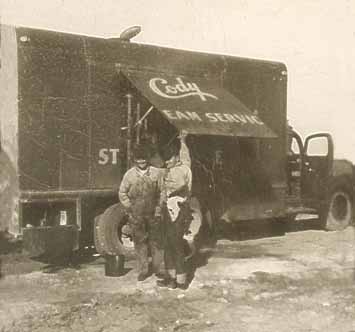 Clarice with Linnel and Joe Chris and Bradley with the pumper about 1949
photo in the collection of Elroy Christenson

Clarice and Bradley follow other friends and relatives to West Texas where he works in the oil fields. Bradley and Chris Christenson worked for Cody and Teague Steam Service. The trucks would have to go out to oil lines often in the coldest weather to pump steam down into the oil lines to melt the parafin to get the oil to flow. They would sometimes be gone for days while the women tied down things at home. The need for aircraft workers and the hope for better working conditions drove them to move.

Around 1950 Clarice's sister and brother leave for Grand Prairie to work in the aircraft industry. They bought a house only two blocks from Chris Christenson and about 10 blocks from Marie Reesing, her sister. Other relatives moved nearby over the next few years. [EC]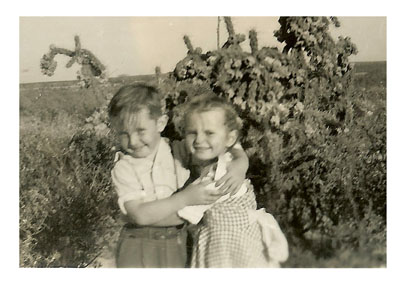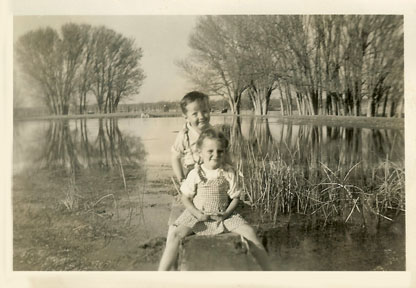 These are photos of Linnell and Elroy in West Texas. The right/bottom picture was taken at the McElroy Ranch in Crane Co., where Violet and Chris had worked. photos in the collection of Elroy Christenson
They moved into the Grand Prairie to work for Chance/Vought Aircraft Co (later named Ling Temco Vought). Bradley apparently worked in electronics, Herman Reesing was more administrative, Chris Christenson worked for building maintenance.

Bradley and Clarice bought a farm near Cranfills Gap which they worked on the weekends. At one point Bradley commuted almost daily the 150 mile one way trip from the farm to Grand Prairie. During one summer plowing season, Joe Bradley, at about the age of six, had been sitting on the hood of the Ford tractor and fell off under the rear tire. Fortunately, the soil had just been turned and was soft enough to absorb his head without injury. It was fortunate that he didn't go under the plow.
After moving to Grand Prairie, my parents bought a house on the edge of a very large housing development at 506 Clarice St.. It was only two block, ironically, from my aunt Clarice and my cousins, Linnell and Joe. As kids of 11 to 6 years we used to ride around the new housing development on the same bicycle barefooted. We caught fireflies and played hid-n-seek in the warm summer nights. We explored and left our names in the foundations and sidewalks of unnumbered houses after the contractors left for the day. We also had quite a party one evening after they had finished paving the street about a block from the house with about 8 inches of sloopy concrete. My sister, Linnell, Joe and I left a lot of foot prints and trails in the extremely wet concrete intersection. We had to wash our legs and feet off that evening before we went into the house. I'll bet they cursed us the next day. The patches and repairs are still visible. We never told a soul what we did until just now. [remembrance of Elroy Christenson 2014]


Clarice continued to be a private registered nurse for about 35 years of her life. She was a member of the Arlington Gem and Mineral Club. She loved to travel and made several trips with her brother Jake and her sister Ann. She did oil painting as a hobby and generally enjoyed having a good time. [obituary]
She lived by herself in Grand Prairie until her memory problems became so severe that she was no long able to take care of herself. She lived with her daughter in Paris, Texas in the last few years and dealt with progressively worsening Alzheimer's disease symptoms. [obituary April 9, 1999]

1961, June 15 - Nedra Ann Allen is born to Linnell and Lloyd Allen.. Linnell had no other children. Nedra had three marriages but no children by any.

Child of Linnell Witte and L. D. Allen

Nedra Allen

b. 15 June 1961

d.

1m. (no issue)
2m. (no issue)
3m. (no issue)

1969, Sep - Linnell marries Glenn Bowers. Glenn was a machinist for many years with Collins Radio where he made parts for the radar mechanism. He also had been auto mechanic and set up his own machine shop in his barn. He worked on the side for the Merico Bakery which had some sophisticated Swiss made equipment. He would help keeping the company running by going in after hours, removing broken parts and replacing them with his machined parts. The company was eventually bought out by Sara Lee with whom he also worked.

In his free time he built and ran drag racers. Linnell and Glenn had a front engine racers, then a rear engine drag racer and eventually an alchohol powered "funny car". They raced locally as well as in Houston, Arkansas, and Atlanta.

1999- April 7 - Clarice Christenson Witte dies of "cardio vascular accident" and is buried in the Rock Church Cemetery near Cranfills Gap, Texas. [death certificate]

Clarice Christenson Witte, RN 87 of Caviness, formerly of Grand Prairie, died Wednesday, Aprl 7, 1999, at Christus St. Joseph's Hospital. Services will be at 2 pm. Saturday, April 10, at St. Olaf' Lutheran Rock Church in Norse, Texas, under the direction of Bright-Holland Funeral Home. The Rev. Arthur Goetz will officiate and burial will in Rock Church Cemetery. Visitation will be from 7-8 pm Friday at the funeral home.
Mrs. Witte was born Nov 24, 1911, in Cranfills Gap, Bosque County, Texas, to Pete and Cora Rohne Christenson. She was an alumnus of St. Paul's Nursing School in Dallas, an Associate with Mayo Clinic in Rochester, Minn., and served as a registered nurse in Dallas area for 35 years. She was a member of the Arlington Gem and Mineral Club and also enjoyed painting very much.
Surviving are a daughter and son-in-law, Linnell Witte and Glen Bowers of Caviness; a son and daughter-in-law, Joe Bradley and Ginny Witte of Lewisville; two grandchildren, Nedra Allen of Blossom and Kirt Witte of Frisco; three step-grandchildren, David Bowers of Paris, Joe Bowers of Paris, and Andy Bowers of Paris; one great -grandchild, ----------- Witte of Frisco; two sisters, Marie Reesing of Clifton and Ann Wrenn of Deland, Fla.; and two brothers, J. B. Christenson of Terrell and Burton Christenson of Seymour. She was preceded in death by three brothers, Emory, Chris, and Leldon Christenson.



Joe Witte in Army uniform
Fort Pack, Louisiana



Joe and "Ginny" Witte




Joe Bradley had learned electronic communications in the military and spent most of his career in the communications field. Joe works for Western Electric which was sold to Southwest Bell. Under this company he installed phone switching equipment. While in Rochester, New York he meets and married his wife "Ginny". In another company switch he works for General Electric and spent at least eighteen months working in Germany on the military bases installing equipment that operated "the red phones" for the President of the United States communications. He continued working around the country installing high tech equipment. [interview with Linnell Bowers. 2014]

He dies after long bout of heart problems in August 1999. His technical abilities was passed on to his son Kirt who becomes a nationally recognized photographer and computer graphic educator.

Child of Joe Witte and Virginia "Ginny" Lynn Davis
Kirt Bradley Witte

b. about 1962

d.

1m. Heather - wife of many years


1999, Aug 7 - Joe Bradley Witte dies.
As a thank you letter to those that remembered him, his son Kirt Bradley Witte sends out a letter with his thoughts.

"I just have few things I want to tell you about my father:

Great Man
with a great soul.
Great Husband
- that always made sure his family was his first priority and that we were always taken care of.
Great Father
- I always had a roof over my head, always had clothes to ear, and always plenty of food to eat.
As a Grandfather
- he was also great! - He was constantly buying wonderful things for his only grandson, _____. Most of ______'s favorite toys were bought by my father, especially the huge gray plastic castle in our backyard. __________ just loves it!
Great Friend
- to those who were really close to him and knew him well.
Great Fisherman
- As most of you know, he's been a fisherman most of his life, but especially the last 20 years. He's probably caught more fish in Lake Lewisville than quit possibly anyone. Including a 52 -pound catfish and crappie worth a $1000 in the "CrappieThon" they use to hold at Lake Lewisville.(And you know as a fisherman, he would never lie about how many fish he caught and how big the were!) ;)
And now I have a few adjectives to describe him as well:
Intelligent
- One of the smartest people I have ever known. Between all his worldly travels, all the books he's read, and especially all of the worldwide research he has done for his coin collection ... He really did know and understand more about the world than most of us ever will . He has definitely "Been There and Done That".
Unselfish
-- He would do anything for his friends and family. One of his last "Great Deeds" was to help me, my wife, and son purchase a new home in Frisco. Without his help, it would have been years and years before we could have bought one on our own. We love our beautiful new house and think of him daily.
Proud
- He took a lot of pride in his work, his family, and of course, his boathouse.
Strong
- Rarely did I ever see anything bother him or get him rellyupset. He was definitely the strong "rock" foudation of our family.
Stubborn
- With just a few exceptions, if you were a nurse or doctor who worked with him during the last 20 years, then YOU KNOW exactly what I am talking about. I won't elaborate further.
He was also a
Great Teacher.
Sometimes he taught me things on purpose and somtimes unintentionally, but he always taught me well.
He taught me how to be a good husband and father, which I think was very importat to him.
He taught me to think for myself and be accoutable tor my actions.
He taught me how to fish, how to ride a bike, how to play chess, and how to lose at poker.
Unintentionally, he taught me that i need to get a job that I love.
Unintentionally, he taught me to become a photographer who loves to travel.
and
He taught me that anything was possible if you worked hard enough for it.
I am very proud of him and proud to be his son.
I know that we all love you and will miss you very much.
Your son,
Kirt Bradley Witte
He had one son - Kirt Witte who is a professor of SCAD 3D Visual Effects Department at the Savannah College of Art and Design in Savannah, GA. Graduated with a BFA from Sam Houston State University in 1991 in photography and an MFA from Savannah College of Art and Design, 2005.
Kirt Witte is co-author and illustrator, St. Patrick's Day in Savannah, Pelican Publishing Co., 1000 Burmaster St., Gretna, LA 70053-2246
Kirt Witte, author and commissioned photo book, "Gardens of Savannah", with 120 of his photos. Twilight Publishers Inc., 2012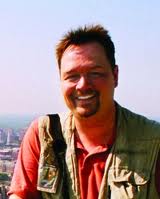 Kirt Witte,
photo courtesy of Kirt Witte Kirt Witte web site

Child of Kirt Witte and Heather

(son) Witte
b. about 1998

d.

m. Heather - wife of many years

SOURCE:

writings of Clarice Christenson Witte
interview with Linnell (Witte) Bowers
story of Violet Christenson
Kirt Witte - website - http://kirtwitte.com
obituary Grand Prairie Herald, April 9, 1999
photos from the collection of Elroy Christenson

Christenson Image Map | Pete's Ancestors | Pete's Children

Pete Christenson | Emroy Christenson | Marie Christenson | Clarice Christenson | Chris M. Christenson | Ane Christenson | Jacob Christenson

---






All information and photos included within these pages was developed by the help of hundreds of researchers. The information here is for the express purpose of personal genealogical research and is freely offered as long as this site is listed as a source. It may not be included or used for any commercial purpose or included in any commercial site without the express permission of Elroy Christenson. Copyright Elroy Christenson 1998-2016.