Marie Christenson Reesing History

Texas

Eldest daughter of Pete Christenson
---
Marie Johanna Christenson
b. 4 May 1909 Heinchman Ranch, Jonesboro, TX
d. 29 August, 1999 Clifton Lutheran Sunset Home, Clifton, TX
buried: St. Olaf's "Old Rock Church", Cranfills Gap, TX plot 356.2


m. Herman Henry Reesing 10 June 1934
b. 30 Jan 1911 Bosque Co., TX
d. 23 Aug 1991 Clifton, TX
buried: St. Olaf's "Old Rock Church", Cranfills Gap, TX plot 356.1
father: Matt H. Reesing (Nor. immig. 1910's) . . . mother: Julia Dahl (Nor. immig. 1910's)

her father: Pete Christenson
her mother: Cora Rohne
Children
Cora Lou Reesing
b. 13 Dec 1934 Cranfills Gap, TX
d.

m. Dr. William DeHart (div. )
2m. Bill Miller
Dr. Darrell Dean Reesing
b. 6 Oct 1936 Cranfills Gap, TX
d. 15 Oct 2008 Cransfills Gap, TX of a heart failure

1m. LaWanda Fern Moon (b. 30 Jul 1938 d. 6 Dec 1994) buried: "Rock Church" plot 357.2
one son,
2m. unknown person(divorced)

Both Herman's parents and Marie's mother came from Loiten, Hedmark, Norway, however, both Marie and Herman were born in Texas.
After World War II, for a few years Herman worked in the oil fields of West Texas with several families including Chris Christenson (Marie's brother's family) and Bradley Witte (Marie's sister's family). Eventually all of these families leave Odessa, Texas for easier and more lucritive work around Dallas.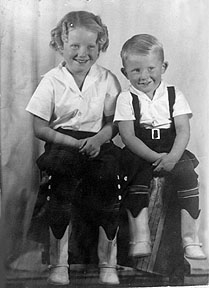 1950's- Herman worked for Ling-Temco Vought aircraft company in Grand Prairie for many years in mid-level management until retirement. Here they raised their two children and got them through college.
Marie had early in her career studied nursing like her other two sisters and one brother. She worked for a dentist in Grand Prairie as a dental hygienist while raising the children.
Once through high school Cora Lou, like her mother, studied nursing and graduated from a nursing school in Dallas, Texas. She moved to Owosso, Michigan where she met her physician husband and had a family of at three children, Laura, Lisa, and Bill. They have since divorced.
Darrell Reesing studied medicine at what was then Arlington State College, now the University of Texas at Arlington. He eventually became a successful dentist with a thriving practice in Grand Prairie, Texas where he also treated many of our relatives. He marries La Wanda Moon and raise one son, Phillip. His wife LaWanda died of a protracted illness. Darrell has since sold his practice and moved to Mansfield, Texas.
After Herman retires from the aircraft industry they buy a house in Clifton, Texas. Here they live in quiet and leisurely lifestyle until Herman starts to have health problems.
1984- Marie and Herman Reesing celebrate their 50th Wedding Anniversary on the 10th of June, 1984 at the Trinity Lutheran Church Fellowship Hall, Clifton, Texas.
1999- Marie (Christenson) Reesing died at the Clifton Lutheran Sunset Home in Clifton, TX after suffering a stroke and a long bout with Alzheimer's disease.
Marie Reesing, 90, of Clifton died Sunday. Services will be at 10 a. m. Wednesday at the Old Rock Church. Burial at Rock Church Cemetary.
Survivors include a son, Dr. Darrell Reesing; daughter, Cora Miller; two brothers, Jake and Burton Christenson; sister Anna Wrenn; four grandchildren; and five great-grandchildren. Clifton Funeral Home [the Waco Tribune Herald, Aug. 31, 1999]
2008, Oct 15 - Darrell Ressing dies at home of a massive heart attack. He was found by his nephew, Larry Christenson, who had checked on him periodically on his farm. He was 72 years of age.

source:

the Waco Tribune Herald, Aug. 31, 1999
Violet Christenson, interview 1995
personal knowedge. Elroy Christenson.
Pete Christenson Image Map | Pete's Ancestors | Pete's Children

Pete Christenson | Cora Rohne | Emroy Christenson | Marie Christenson | Clarice Christenson | Chris M. Christenson | Ane Christenson | Jacob Christenson

Return to Elroy's Family Index || Ancestoral Chart #1
---






All information and photos included within these pages was developed by the help of hundreds of researchers. The information here is for the express purpose of personal genealogical research and is freely offered as long as this site is listed as a source. It may not be included or used for any commercial purpose or included in any commercial site without the express permission of Elroy Christenson. Copyright Elroy Christenson 1998-2010.


web pages created by Elroy Christenson- elroy@next1000.com - last updated 8/10/10