Marie Christenson Reesing History

Texas

Eldest daughter of Pete Christenson
---
Marie Johanna Christenson
b. 4 May 1909 Heinchman Ranch, Jonesboro, TX
d. 29 August, 1999 Clifton Lutheran Sunset Home, Clifton, TX
buried: St. Olaf's "Old Rock Church", Cranfills Gap, TX plot 356.2


m. Herman Henry Reesing 10 June 1934
b. 30 Jan 1911 Bosque Co., TX
d. 23 Aug 1991 Clifton, TX
buried: St. Olaf's "Old Rock Church", Cranfills Gap, TX plot 356.1
father: Matt H. Reesing (Nor. immig. 1910's) . . . mother: Julia Dahl (Nor. immig. 1910's)

her father: Pete Christenson
her mother: Cora Rohne
Children
Cora Lou Reesing
b. 13 Dec 1934 Cranfills Gap, TX
d. living in Linden, Mich.

1m. Dr. William Ellis DeHart (div. )
2m. Bill Miller
Dr. Darrell Dean Reesing
b. 6 Oct 1936 Cranfills Gap, TX
d. 15 Oct 2008 Cranfills Gap, TX of a heart failure

1m. LaWanda Fern Moon 30 Jan 1960 (b. 30 Jul 1938 Altus, OK d. 6 Dec 1994 Tarrant, TX)
buried: "Rock Church" plot 357.2
one son, Phillip Reesing
2m. Lisa A Olssen 12 Sep 2004 Bosque Co. TX(divorced 5 Oct 2005)

Both Herman's parents and Marie's mother came from Loiten, Hedmark, Norway, however, both Marie and Herman were born in Texas.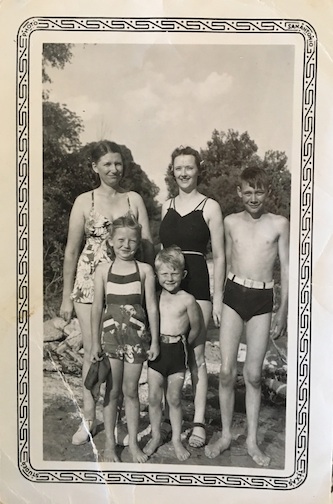 Marie with Cora Lou and Darrell with sister Ann and half brother Burton about 1941
After World War II, for a few years Herman worked in the oil fields of West Texas with several families including Chris Christenson (Marie's brother's family) and Bradley Witte (Marie's sister's family). Eventually all of these families leave Odessa, Texas for easier and more lucrative work around Dallas.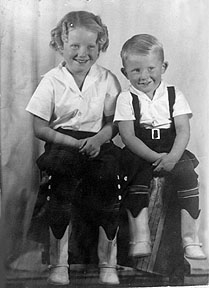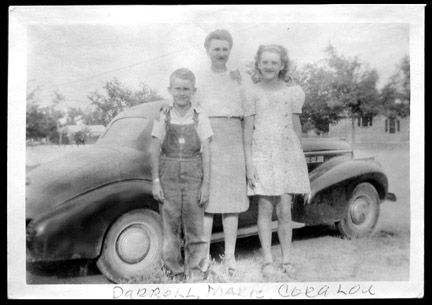 1950's- Herman worked for Ling-Temco Vought aircraft company in Grand Prairie for many years in mid-level management until retirement. Here they raised their two children and got them through college.
Marie had early in her career studied nursing like her other two sisters and one brother. She worked for a dentist in Grand Prairie as a dental hygienist while raising the children.
Once through high school Cora Lou, like her mother, studied nursing and graduated from a nursing school in Dallas, Texas. She moved to Owosso, Michigan where she met her physician husband and had a family of at three children, Laura, Lisa, and Bill. They have since divorced. Cora Lou second married to Bill Miller after 1962.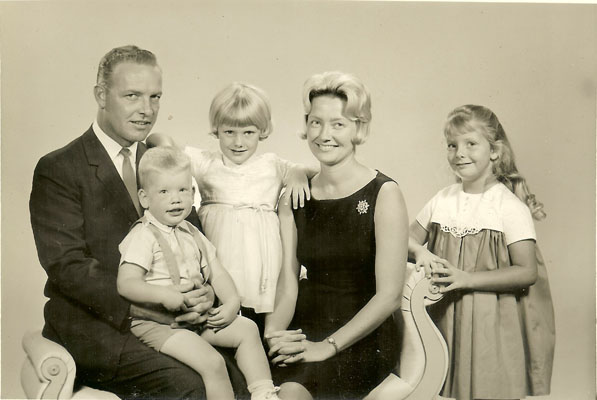 Cora Lou (Reesing) and William Dehart, with Bill, Lisa, and Laura.
Darrell Reesing studied medicine at what was then Arlington State College, now the University of Texas at Arlington. He eventually became a successful dentist with a thriving practice in Grand Prairie, Texas where he also treated many of our relatives. He marries La Wanda Moon and raise one son, Phillip. His wife LaWanda died of a protracted illness. Darrell has since sold his practice and moved to Mansfield, Texas.
After Herman retires from the aircraft industry they buy a house in Clifton, Texas. Here they live in quiet and leisurely lifestyle until Herman starts to have health problems.
1984- Marie and Herman Reesing celebrate their 50th Wedding Anniversary on the 10th of June, 1984 at the Trinity Lutheran Church Fellowship Hall, Clifton, Texas.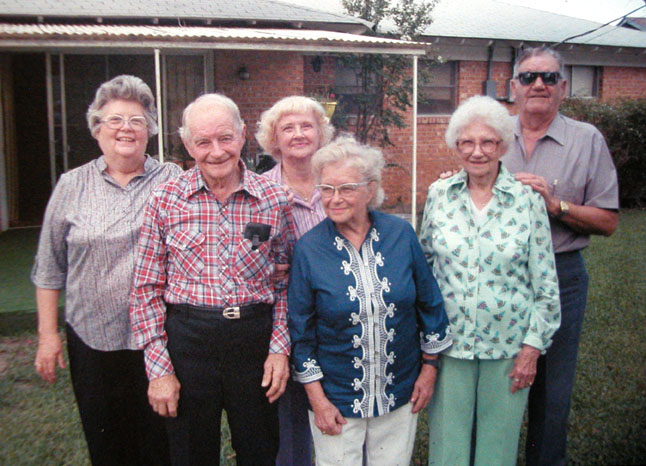 (l to r) Violet and Chris Christenson, Anne
Christenson
Wrenn(back), Clarice
Christenson
Witte, and Marie
Christenson
and Herman Reesing.
I think the photo was taken in Clifton, TX right after Herman had a cataract operation about 1980-85.
1999- Marie (Christenson) Reesing died at the Clifton Lutheran Sunset Home in Clifton, TX after suffering a stroke and a long bout with Alzheimer's disease.
Marie Reesing, 90, of Clifton died Sunday. Services will be at 10 a. m. Wednesday at the Old Rock Church. Burial at Rock Church Cemetery.
Survivors include a son, Dr. Darrell Reesing; daughter, Cora Miller; two brothers, Jake and Burton Christenson; sister Anna Wrenn; four grandchildren; and five great-grandchildren. Clifton Funeral Home [the Waco Tribune Herald, Aug. 31, 1999]
2000, September- Officer Promotions for August 2000 and Planned Officer Promotions for September 2000. [MARINES - Official website for the the US Marine Corps]

4. UNDER THE PROVISIONS OF SECTION 14308 REFERENCE A, THE SECRETARY
OF THE NAVY, ACTING FOR THE PRESIDENT OF THE UNITED STATES, HEREBY
AUTHORIZES THE PROMOTION OF THE FOLLOWING NAMED ACTIVE RESERVE (AR)
OFFICERS, AS INDICATED, TO THE PERMANENT GRADE OF LIEUTENANT COLONEL
THROUGH MAJOR. RANK, PAY, AND ALLOWANCES ARE EFFECTIVE FROM
1 AUG 00.
NAME SSN GRADE MCC
JAMES C. BRADER 8481 LTCOL 080
SCOTT E. STEBBINS 4862 LTCOL HQMC
JERRY D. ADAIR 4460 MAJ HQMC
JEFFREY R. JURGENSEN 2093 MAJ MCRSC
KEVIN M. NASH 8051 MAJ 4TH MARDIV
CHRISTOPHER K. NOLLETTE 4691 MAJ MCRSC
PHILLIP S. REESING 1377 MAJ 082
MICHAEL J. ULSES 3511 MAJ 4TH MAW

2008, Oct 15 - Darrell Reesing dies at home of a massive heart attack. He was found by his nephew, Larry Christenson, who had checked on him periodically on his farm. He was 72 years of age.

Reesing, Darrell Dean (Dr.) Age 72 of Cranfills Gap, Texas, passed away of natural causes on Wednesday, October 15, 2008, at his home in Cranfills Gap. Arrangements were conducted by Clifton Funeral Home. Funeral and graveside services, with military honors by the Clifton American Legion and V. F. W. Post, were administered by Pastor Terry Atkins of St. Olafs Lutheran Church, and internment occurred on October 20, 2008 at The Rock Church, Cranfills Gap. Dr. Reesing was born on October 7, 1936 in Cranfills Gap. His parents were Herman and Marie Reesing. Dr. Reesing spent his childhood growing up near Odessa, Texas and in Grand Prairie, Texas. He graduated from Grand Prairie High School in 1955. He subsequently joined the U. S. Navy where he graduated as the Recruit Training Company Honorman during basic training at Naval Recruit Command Great Lakes. IL. He graduated from Arlington State College in 1962, and he earned his Doctor of Dental Surgery (D. D. S.) degree from the University of Texas Dental Branch in Houston in 1966. He successfully practiced dentistry in Grand Prairie until 1996. He continued practicing dentistry for the U. S. Army at Ft. Hood. Texas and Ft. Sill, Oklahoma from 1998 until he retired in June 2007. He married the former LaWanda F. Moon of Grand Prairie on January 30, 1960. Survivors include one son, Major Phillip Scott Reesing, U. S. Marine Corps on Quantico, VA, sister Cora Lou Miller of Linden, Michigan, and two grandchildren, Kristen Marie Reesing, eight and Matthew Allen Reesing, six, both of Quantico, VA.
[pub. in Dallas Morning News on Dec. 13, 2008]


Children of Darrell Reesing and La Wanda Moon

(Maj.) Phillip Scott Reesing
b. 19 Jul 1964 Harris Co, TX

d. living in Quanitco, VA

m. unknown
two children:
Kristen Marie Reesing
b. 2000 Quanitico, VA
Matthew Allen Reesing
b. 2002 Quanitico, VA
Cora Lou (Reesing) Miller is apparently still living in Linden, Michigan. This email from Lisa DeHart in 2006 gives a number of details on her life and her family.
Hello I think we are some type of cousins-- I am leaving it to you- definitely the family historian - tree keeper I would say you are. What a great thing you have done.. I shall see if you can determine our official title.If you would.
My mother is Cora Lou Reesing ( once was DeHart now Miller) daughter of Marie Christenson (Reesing). She is a wonderful gal. At age of over 70 she still volunteers for the Red Cross and assists those less fortunate than herself using her skills she learned as a nurse in Texas.
I can remember coming to Texas as a girl, we would ride the train, from Michigan to Chicago then to Texas. My favorite memories are of playing Canasta and drinking that great ice tea that Grandma Marie would make. I remember going swimming at the Christenson farm at a swimming hole next to a road that was not too far away. I swear I think that Grandma told me she used to run ice down to the ranch house where the hands were and that Billy the Kid was playing cards there before. ( Mom says that she never heard that- I was kind of the black sheep though so maybe Grandma told me ) I believe Grandma though to this day. Now I have 2 sons myself,
Jacob Micheal Kavner
and
William Irv Kavner
. I still maintain my maiden name of DeHart.
Jacob (Jake) was born 3/25/1992 and William(Willie
)
1/30/1996
.

Myself , Lisa Marie DeHart was born 1/7/1960.
I am a social worker with the State of Nevada working with the less fortunate while embracing the constitution and rights we have fought so hard for to keep our country free.
By the way your art work is beautiful on the web. I remember seeing some of your mother's art work, especially with the bluebonnets. I think mom may have a couple of the pieces.
I hope to hear from you. Lisa


Laura Ann DeHart Boughner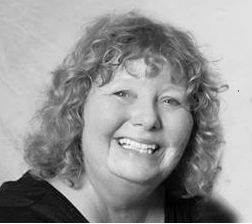 Laura Ann DeHart Boughner - age 55, of Linden, passed away peacefully surrounded by her family on July 18, 2013. Beloved wife of Ron, loving mother of Amanda Barrow, Jennifer Barrow, Elizabeth Boughner and Joseph Boughner. Grandma G.G. of Wyatt and Logan. Daughter of Cora Lou (William) Miller and the late Dr. William DeHart. Sister of Lisa DeHart and William DeHart. Laura also leaves many extended family members and loving friends. A memorial service will be held on Monday, July 29, 2013 11AM at Trinity Lutheran Church, 806 Main St., Fenton. Pastor Dean Dumbrille officiating. Memorial visitation will be on Sunday, July 28, 2013 from 5-8 PM at Temrowski Family Funeral Home, 500 Main St., Fenton. In lieu of flowers, contributions may be made to her children's education fund C/O Ron Boughner. Share memories at
Children of Cora Lou and Wm Ellis DeHart

Laura Ann DeHart

b. 5 May 1958 Howard Co., TX
[Tx Birth Index, 1903-1997

d.18 July 2013 Fenton, MI

1m. Ronald Lee Barrow
children:
Amanda Ann Barrow (b. 1984)
Jennifer Barrow
2m. Ron Boughner
Elizabeth Boughner
Joseph Boughner

Lisa Marie DeHart

b. 7 Jan 1960 Linden, Mich.

d. perhaps living in Nevada

1m. Peter Kavner 7 Jan 1996 Washoe, NV
two sons:
Jacob Michael Kavner 25 Mar 1992
William Irv Kavner 30 Jan 1996

William DeHart

b. about 1962, Linden, Mich.

living 2013

m.


source:

Cora Lou Miller, 1249 Ripley Rd., Linden, MI ( 810) 735-5013
Lisa Marie DeHart letter from 2006, email no good
the Waco Tribune Herald, Aug. 31, 1999
"Tri-County Times," Linden, Michigan
Violet Christenson, interview 1995
personal knowledge. Elroy Christenson.
Pete's Ancestors | Pete's Children

Pete Christenson | Emroy Christenson | Marie Christenson | Clarice Christenson | Chris M. Christenson | Ane Christenson | Jacob Christenson

Elroy's Family Index || Ancestor Chart #1
---






All information and photos included within these pages was developed by the help of hundreds of researchers. The information here is for the express purpose of personal genealogical research and is freely offered as long as this site is listed as a source. It may not be included or used for any commercial purpose or included in any commercial site without the express permission of Elroy Christenson. Copyright Elroy Christenson 1998-2010.


web pages created by Elroy Christenson- elroy@next1000.com - last updated 2/10/14