Children
Thelma Ane Christenson
b. 2 Aug 1941
McClainsboro, IL
.
m. Thomas Edward Chenault 1 June 1963
Wallace Evan Christenson
b. 10 Sep 1943
Grand Prairie, TX*(p.476)
.

m. Patricia Ann Morris 28 May 1963 Juarez, Mex.
31 May 1963 Snyder, TX
Sue Dale Christenson
b. 20 Mar 1945
Tarrant Co., TX
.
m. Thomas Edward Chenault 1 June 1963
Dan Wayne Christenson
b. 6 Aug 1956,
Hobbs, NM
.
m. Nola Nash 30 Apr 1982 Salt Lake, UT
*Texas Department of Health, Bureau of Vital Statistics


1907 - Emroy Princeton Christenson is born in Possum Trot, Texas to Pete and Cora Christenson according to Clarice Christenson. I have no idea why they were in Possum Trot, nor exactly where Possum Trot is on the map or for how long. There is a Possum Trot near the Louisiana border but the most likely candidate may be a ghost town of what became Saturn, Texas about 30 miles south of Austin. It could have been on a trip to Houston that they were way laid with the birth. All of this is sheer speculation.


1910, US Census, Justice Prect. 3, Hamilton Co., Texas,

Roll:

1558

Page:

187

"Jake"Jacob is listed here with his brother P. L. Christenson, the different spelling in the census makes it tricky to track these individuals. He indicates he arrived in 1908 and is a farmer at this time. Emory is three years old here with his father.


Christianson, P. L. Head m w 27 m(mar.) 4 (yrs) Denmark (Danish overwritten)

Denmark

Denmark 1901

NA

English Farmer


" , Cora Wife f w 23 m 4 2 (child. born) Texas Norway Norway English none

" , Emroy son m w 3 s Texas Denmark Texas

" , Mary dau. f w 11/12 s Texas Denmark Texas


" , Jacob brother m w 19 s

Denmark (Danish overwritten)

Denmark

Denmark 1908 al. English Farmer

laborer

1920- Jan 28 - US Census, Precinct #8, Bosque Co., Texas, enum. dist 49, sheet 58, Roll: 1781 Page: 225


Pete lists himself as having immigrated to the USA in 1901 and year naturalized as 1912. His parents are Danish and hers are Norwegian.


Christianson, Pete L. head m w 38 m 1901 na 1912 Denmark Danish Denmark Danish Denmark Danish farmer gen. farm.
__________ , Cora wife f w 34 m Texas Norway Norwegian Norway Norwegian
__________ , Emroy son m w 12 s Texas Denmark Danish Norway Norwegian
__________ , Marie dau f w 10 s Texas Denmark Danish Norway Norwegian
__________ , Clarice dau f w 8 s Texas Denmark Danish Norway Norwegian
__________ , Christian son m w 6 s Texas Denmark Danish Norway Norwegian
__________ , Anna dau f w 5 s Texas Denmark Danish Norway Norwegian
__________ , Jacob son m w 1 s Texas Denmark Danish Norway Norwegian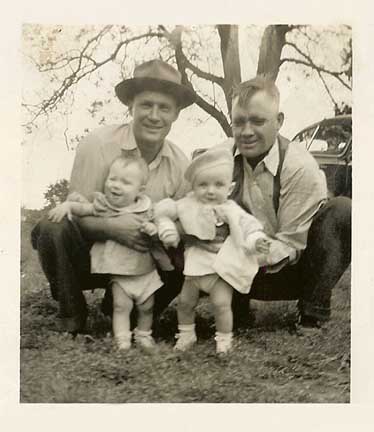 Emroy, Thelma Ane, Ed Johnson and Elroy in Gary, Indiana about 1942.
photo collection of Elroy Christenson

1940-2 Emory and Lorraine move to Gary, Indiana to work in the steel mill alongside his brother Chris, his brother-in-law Bradley Witte and uncle Ed Johnson.

1941, Aug 2 - Thelma Ann is born here in McClainsboro, IL. Emory and Lorraine are living in Illinois working for a different mill than Chris and Ed. The weather in Illinois is tough. Emory and Loraine move back to Texas before the war is over.

1943, Sep 9 - Wallace is born in Grand Prairie, Dallas Co, Texas. Emory is probably working for one of the defense contractors in the area.

1945- Mar 20 - Sue is born in Tarrant Co., Texas. This is in the adjoining county.

"I believe that daddy had changed to working in the oil-field in McCLainsboro Illinois
When Sue was born - Daddy was working at Air Force Plant #4 run by Contental Vaultee in Ft Worth - the predicessor to Lockheed Ft Worth - He helped build the building then he helped build bombers. He was a tool and die maker. He told me that he had registered with his local draft board in Bosque County - and was given a deferrment because he was too old - then he got a draft notice - but was deferred because he was working at LTV Ling Temco Vought in Grand Prairie - then he got a draft notice but got deferred because he had two more children and was a tool and die maker at AF Plant #4 - then he got a notice and was supposed to report --- but got a deferment because Victory in Europe was declared --- got a telegram informing him that the war department did not need him because they had enough troops --- by VE day - Daddy was 42 - willing to go - but happy to be left with his family. He often remarked that the choice to register with his draft board in Cransfills Gap kept him out of the war. His friends that had registered elsewhere - went to WWII and some did not return. " [Dan Christenson 2/1/10]

1956, Aug 6 - Dan is born in Hobbes, New Mexico.
Emroy Christenson and his family moved around a good deal as seen in the birth of their children. He operated a steamer service in the oil fields of west Texas and New Mexico for many years. The picture below shows him in his later years in front of one of the steamer rigs that he operated.


Wallace, Sue, Emroy, Lorriane,Thelma and Dan on their 50th Anniversary, 1990.


1993 1994 1995 1996 1997 1998 1999 2000 2001 2002 - Emroy and Lorraine are living at 400 Tornillo St. in Kermit, Texas. They show up in phone books in the listed years.


2007, Dec 9 - Lorraine Fellers Christenson dies of a massive brain hemorrhage on Dec. 8. She had broken her leg a few months earlier and had made progress up to walking on parallel bars for 200 feet. Dan said of his mother, "Mom has sacrificed of her life and substance for the betterment of mankind all of her life. There are generations of people that can read because of her... Kermit had color in the spring from her flowers. Hundreds of
under-dogs were defended by her." [email from Dan Christenson 12/08/07]

"Loraine Fellers Christenson

Died on 9 Dec 2007 in Covenant Medical Center in Lubbock, Lubbock County, TX

Her Father: Dennis Alexander Fellers Born 19 June 1889

Her Mother: Francis Almeda Pruett Born 26 Nov 1893

Brother: Hubert Austin Fellers Born 2 Jan 1912

Sister: Fay Elaine Fellers Born 22 Oct 1915

Brother: Hoyt Fellers Born 28 Apr 1918

We sold her residence in Kermit in 2008 - the address 400 S Tornillo had been changed by the city to 400 S Kermit The Frog Blvd - much to her dismay. Mom had lived there until she went to the hospital.

Her Services were 12 Dec 2007 at Zion Lutheran Church of Kermit officiated by Pastor Michael Finkenscher. She was interred at Kermit Cemetery - Arrangements by Martinez-Smith & Cooper Funeral Chapel and Crematory of Kermit."[Dan Christenson 2/1/10]



Sources:


US Census Records
Dan Christenson, records and correspondence. <chrisdan@xmission.com>



Pete Christenson Image Map | Pete's Ancestors | Pete's Children

Pete Christenson | Cora Rohne | Emroy Christenson | Marie Christenson | Clarice Christenson | Chris M. Christenson | Ane Christenson | Jacob Christenson


Return to Elroy's Family Index
---






All information and photos included within these pages was developed by the help of hundreds of researchers. The information here is for the express purpose of personal genealogical research and is freely offered as long as this site is listed as a source. It may not be included or used for any commercial purpose or included in any commercial site without the express permission of Elroy Christenson. Copyright Elroy Christenson 1998-2010.


web pages created by Elroy Christenson- elroy@next1000.com - last updated 10/10/11